Details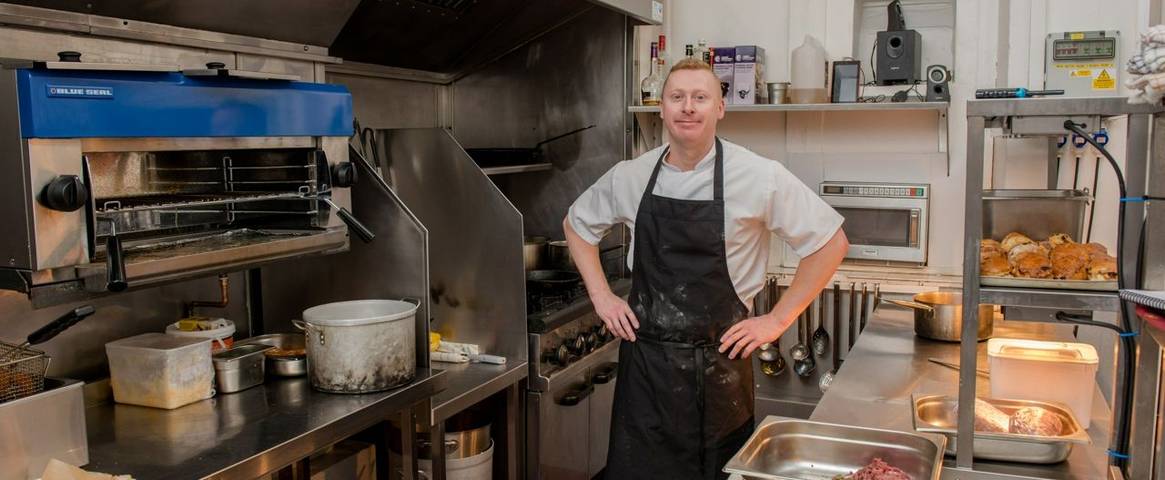 Sean, our chef at Dolserau Hall, Dolgellau, shares a steamed lamb pudding recipe in March's 'recipe of the month'. Our recipes will make you spend less time in the kitchen and more time entertaining your guests whilst still serving a delicious HF quality meal. If they love the meals as much as you do, why not share the recipes with your guests? It might just convince them to join you on a HF holiday if they haven't already.
Steamed lamb pudding filling
Ingredients
1 lamb shoulder, deboned and diced into small pieces
3 red onions, peeled and finely diced
2 sprigs of rosemary, leaves picked and finely chopped
1/2 lemon, washed and deseeded, peel and flesh diced
375ml of white wine 10 tomatoes, peeled and roughly chopped
1 tbsp of tomato paste
lamb stock
olive oil
salt
pepper
sugar
Steamed lamb pudding pastry
Ingredients:
350g of self-raising flour
180g of pork dripping
50ml of iced water, plus extra
While marinating, make the braised lamb filling for the pudding. Place a large casserole pot over a high heat and add some oil. Brown off the diced lamb in small batches, adding each batch to a large mixing bowl olive oil.
In the same pan, sweat the onions until soft, then add the rosemary and diced lemon and cook for 3 minutes. Add the wine and reduce.
Add the tomatoes and tomato paste, cook until soft, then put the lamb chunks back into the pan. Season with salt, pepper and a little sugar.
Cover with the lamb stock and bring to the boil, before turning down to a low heat and gently simmer for at least an hour until the lamb is tender.
While the lamb is braising, make the pastry. Place the flour in a bowl and rub in the dripping using your fingertips
Add the water and bring the pastry together with your hands - if necessary add a little more water. Take care not to over work the pastry, you just want to lightly bring it together 50ml of iced water, plus extra
Wrap in cling film and place in the fridge for half an hour - It should gently rise
While the pastry is resting, check the lamb. If it is lovely and tender, season as needed and take off the heat. Pour into a bowl to cool down
Rub the pudding basins with butter. Cut a circle out of baking parchment and place in the base of the bowl. Dust the rest of the bowl with flour, and tip out any excess
Roll out the pastry to about ½ cm thick and carefully line the bowls with the pastry. Reserve all of the scraps for the lids
Fill the basins with the cooled lamb mix and roll out the scraps to make a lid. Place on top and pinch shut with your thumb and forefinger
Steam your puddings in a pot large enough for your pudding basins. Place the basins in the pot on top of an upturned plate or a folded tea towel to stop them over cooking on the base
Fill the pot with water so that it comes half way up the sides of the basins. Place a lid on the pot and if it is not well fitting, seal with tin foil
Bring to the boil, turn down to a simmer and steam for 45 minutes. Check the water level every 20 minutes and top up if necessary - if you have a good seal on the lid then it should be fine