Details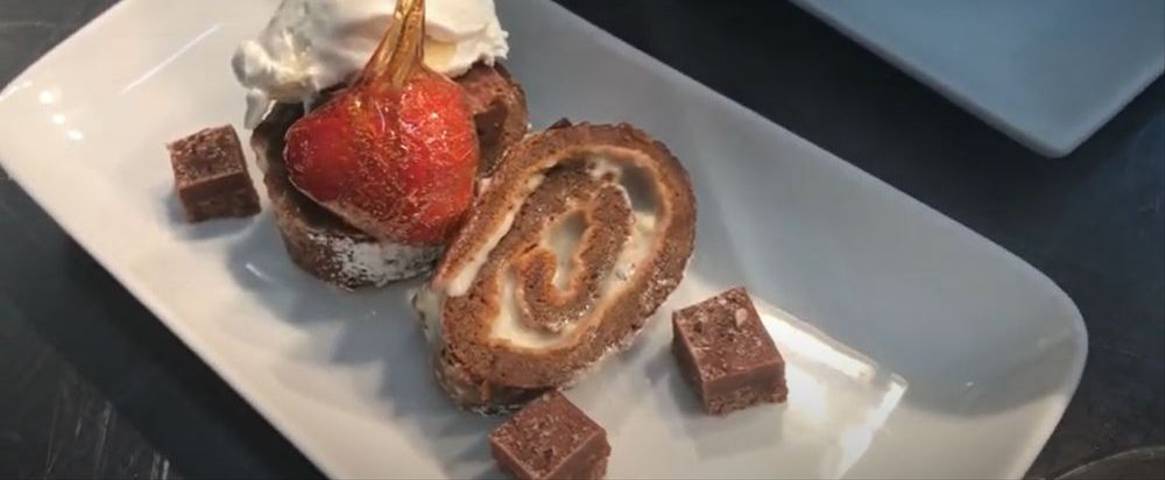 At all our UK country houses food plays a central part. Meals are varied and tasty, with a strong emphasis on ingredients from the area and seasonal produce. Here our chefs take the opportunity to share some of their creations with delicious recipes from the HF kitchens for you to try at home.
Below, Sean, Head Chef at Dolserau Hall in Southern Snowdonia gives us a recipe for Swiss Roll with a twist - using carrot cake to delicious effect – follow the recipe below or watch Sean in action on the video and give his recipe a go.
For the Sponge
3 eggs
150g light brown sugar
2 tablespoon of vegetable oil 
1 teaspoon of vanilla extract
1 teaspoon of baking powder
1 teaspoon of ground ginger
Half teaspoon of ground nutmeg
2 teaspoon of cinnamon
Half teaspoon of salt
95g plain white flour
2 carrots, grated
For the Filling 
200g cream cheese
4 teaspoon unsalted butter
1 teaspoon vanilla extract
250g icing sugar
1 tablespoon chopped hazelnuts & chocolate chips
Icing suger for dusting
For the Toffee Sauce
50g butter
50g brown sugar
50g cream
30ml Merlyn Welsh whiskey cream liqueur
1 tablespoon of treacle
METHOD
Pre heat oven to 160 C fan or 180C gas
1. Whisk eggs until foamy and then add sugar and oil and keep mixing until you get a combined cake batter. Next add ginger, nutmeg, cinnamon, salt, flour, vanilla essence and baking powder to the batter. Continue to mix.
2. Fold in the carrots using a spatula or wooden spoon to keep the air in the mixture. Do not use a machine for this step.
3. Prepare a rectangular tray with greaseproof paper and pour the mixture onto the tray. Spread it to all corners to create an even layer. Now place the tray in your pre heated oven for 15 minutes. Check regularly so the cake doesn't over cook.
4. While the cake is in the oven move onto the cream cheese filling. Mix the cream cheese and butter (softened). Next add the vanilla essence and icing sugar to the cheese and butter. Mix thoroughly until all comes together. Be careful not to over mix this. Leave in the fridge to chill.
5. Make the toffee sauce. You now need to add brown sugar, butter, cream and liqueur to a saucepan. Put on a low heat and mix. When the sauce starts to boil add the treacle, whisk and then take off the heat and leave to one side.
6. When the carrot cake is cooked turn it out onto a clean tea towel and peel off greaseproof paper. Roll cake in tea towel (see video). Now leave for 10-15 minutes to cool.
7. Next, roll out the cake once cooled and add a generous cream cheese filling to all edges of the cake. Sprinkle chopped hazelnuts and chocolate on top of the icing and roll.
8. Once the cake is rolled, wrap it in greaseproof and then clingfilm tightly (see video). Leave to chill for 1 hour or overnight.
9. Finally, once chilled, dust with icing sugar, slice and serve with prepared toffee sauce and ice cream flavour of your choice. Enoy!
Want to try Sean's Food in person?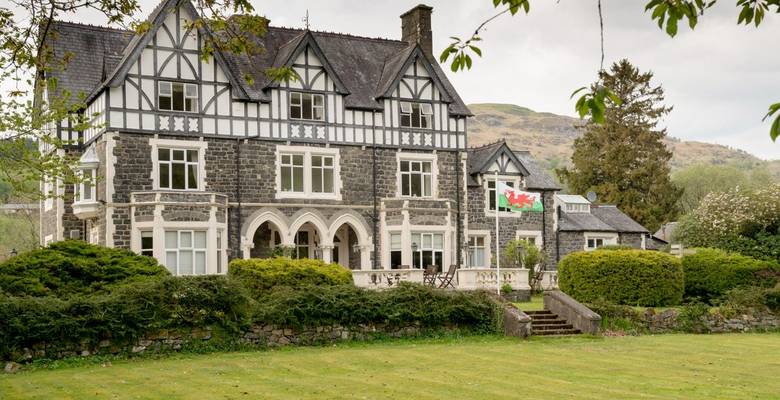 This way to your table
Stood in the heart of the Snowdonia National Park, just a couple of miles from the attractive market town of Dolgellau, Dolserau Hall makes a superb base for getting off the beaten path. And after a fine days walking, refuel with superb local food prepared by Sean and his team in the kitchen.
Take me there