Details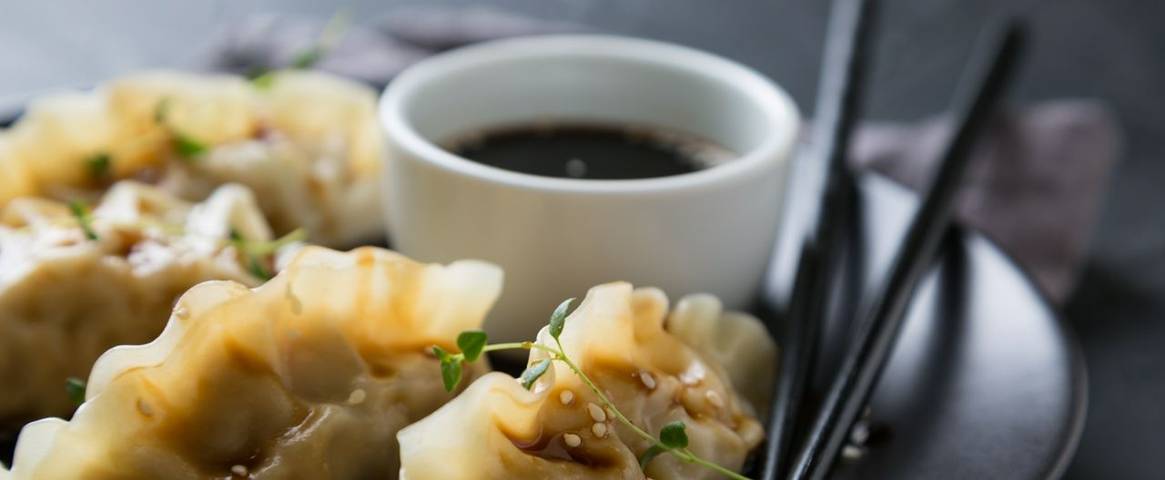 At all our UK country houses food plays a central part. Meals are varied and tasty, with a strong emphasis on ingredients from the area and seasonal produce. Here our chefs take the opportunity to share some of their creations with delicious recipes from the HF kitchens for you to try at home.
Below, Sean, Head Chef at Dolserau Hall in Southern Snowdonia gives us his take on Asian dumplings, which can be made with chicken, pork or vegan quorn mince so can be adapted for vegetarians and vegans – follow the recipe below or watch Sean in action on the video and give his recipe a go.
Dumpling wrappers
250g of bread or plain flour
132g of boiling water
Pinch of salt and pepper
Dumpling filling
300g minced chicken thigh/vegan quorn mince/minced pork 
1 teaspoon baking powder
1 teaspoon bicarbonate soda
3 tablespoons soy sauce
1 tablespoon rice wine vinegar
1 tablespoon chopped garlic
1 tablespoon chopped ginger
1 teaspoon lemongrass puree
1 tablespoon sesame seed oil
Wedge of fine chopped cabbage
1 chopped chilli
Salt and pepper to season
Dipping Sauce 
3 tablespoons soy sauce
2 tablespoons honey
1 tablespoon rice wine vinegar
1 teaspoon chilli flakes
METHOD
1. To start, make the dumpling wrappers. Add a pinch of salt and pepper to the flour and slowly add the hot water using a fork or chopsticks, to incorporate it together until you have something which resembles a ball. Now kneed on a floured surface for a good 10 minutes making the dough elastic and activating the gluten.
2. Next, place the dough in an air-tight sandwich bag and leave to rest while you make the filling, or for at least 1 hour.
3. Put the cabbage, ginger, lemongrass puree, chilli and garlic in a food processor, and whizz to a fine mix or finely chop by hand. Next, add the soy sauce, seasme oil, rice wine vinegar (or white vinegar) and a pinch of salt and whizz again.
4. Tip the ingredients into a bowl and add the minced pork, chicken or quorn, bicarbonate of soda and baking powder. Mix by hand until well combined. Leave in the fridge until ready to use.
5. To assemble the dumpling, hold the dumpling wrapper in the palm of one hand and put a heaped teaspoon of the filling onto the centre of the wrapper.
6. Bring the edges of the skin together. Pinch pleats along one side, then press each pleat against the opposite flat side of the wrapper. With each pinch make sure that you are sealing the parcel and keeping the filling in the centre. Put each dumpling onto a prepared greasproof lined tray or plate.
7. Cook the dumpling in batches. Heat a non-stick frying pan with 1 tablespoon of vegetable oil. Brush off any excess cornflour from the bases of the dumplings. Fry the dumpling on one side only – don't turn them over, you just want one crispy side. They should be golden brown after about 2 minutes.
8. Add a good splash of water to the pan and cover with a steaming lid or cover. Cook over a medium heat for 3-5 minutes until the water has evaporated and the dumpling filling is cooked through. Set aside while you cook the rest.
9. Mix all the dipping sauce ingredients and serve alongside the dumplings in dipping bowls. Enjoy!
Want to try Sean's Food in person?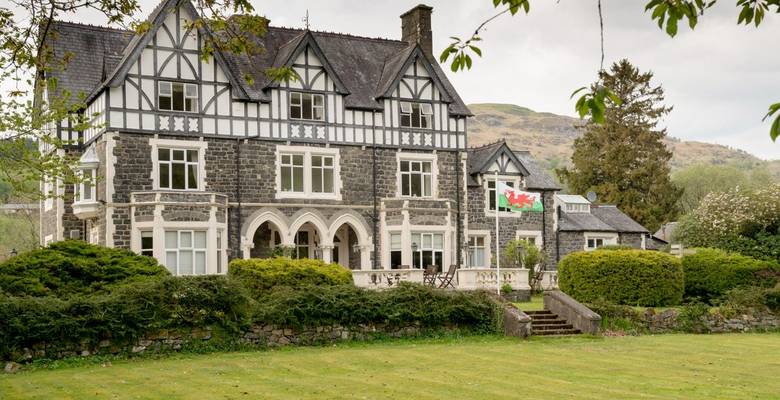 This way to your table
Stood in the heart of the Snowdonia National Park, just a couple of miles from the attractive market town of Dolgellau, Dolserau Hall makes a superb base for getting off the beaten path. And after a fine days walking, refuel with superb local food from Sean and his team in the kitchen.
Take me there