Details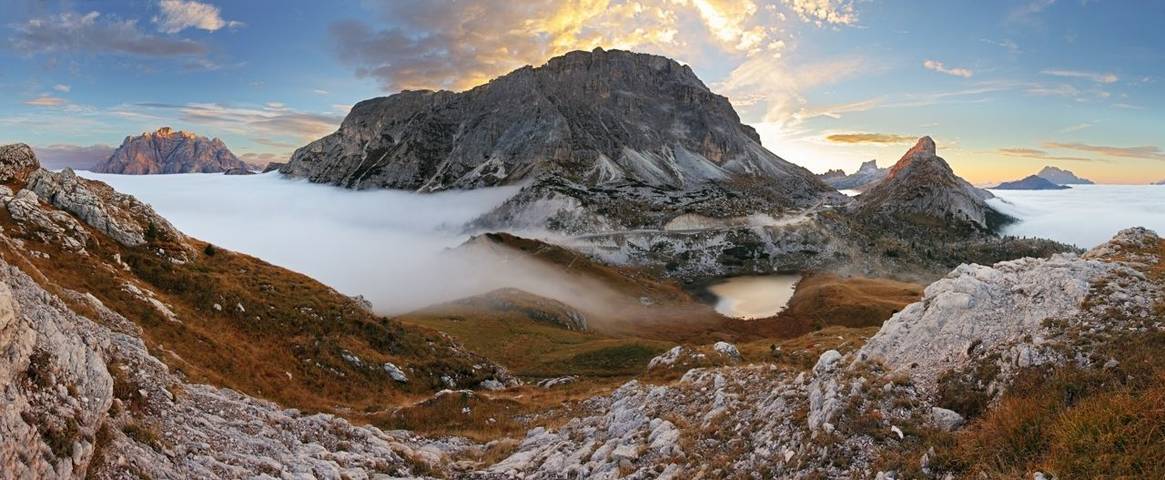 See new wonders, enjoy new challenges and find immense satisfaction on a guided European long distance trail holiday.
Europe has undoubtedly some of the most challenging and well-known trails in the world; they have such distinct characteristics that no two trails are the same. Dream't of tackling a classic trek. Imagine no more and act! See where you can go with HF Holidays...
Traversing the Dolomites
The Dolomites - a magnificent trek through wild landscapes, deep valleys and pretty towns, while savouring Italian hospitality.
Unforgettable and astonishing: the Dolomites Traverse is simply mind-blowing. Italy is known for its diverse landscapes and range of walking holidays, but the rugged peaks of this Alpine region will bring a new challenge, new scenery, and new memories. 
Dolomites Traverse - NEW for 2019
---
Hike through stunning mountain scenery on this thrilling long-distance walk.
Highlights include:
Day 1 - 2

---

Walk through the Alpe di Siusi meadows – Europe's largest mountain plateau which covers 5,200ha

Day 3 - 4

---

Reach the summit of Piz Boè for amazing views spanning 360°

Day 5 - 6

---

Reach Passo di Valparola after hiking along a beautiful undulating ridge that runs for 7km

Day 7 - 8

---

Explore Cortina, a pretty town, famous for hosting the Winter Olympics in 1956

Day 9 - 10

---

See the famous Rifugio Auronzo, located high in the mountains at 2,320m

Day 11

---

Stay in Dobbiaco, cultural centre of the Three Peaks, with a population of only 3,351
Meet Simon - Our Dolomites Traverse Leader 
"I have lived in the Alps for over 15 years, spending most of that time exploring, walking, climbing and guiding walks.

The Dolomites Traverse is one of my favourites, a magnificent hike through stunning mountain scenery. I'm really excited about the challenge of leading these exhilarating new breaks!"
Difficulty rating: 5
8nts from £1,359 per person
Take on Europe's epic trails on a guided walking holiday
Challenging routes, stunning views and miles of history – experience it all on one of our carefully planned trails.
Amalfi Coast Path - NEW for 2019
---
This classic coastal trek treats walkers to varied and scenic hiking from Amalfi to Punta Campanella, taking in limestone scenery, waterfalls, lemon groves and the beautiful Amalfi Sea.

Difficulty rating: 4

8nts from £1,359 per person
Cathar Crossing

---

This challenging route traverses the Pyrenees from France to Spain, and lets you uncover the secrets of the Cathars and the path of the Bonshommes.

Difficulty rating: 4

7nts from £1,149 per person

Camino de Santiago

---

Follow in the footsteps of the pilgrims who have been working their way along this winding trail for more than 1,000 years, heading towards the stunning Santiago de Compostela.

Difficulty rating: 3

7nts from £1,069 per person
Eiger to the Matterhorn

---

From waterfalls and lakes to forests and meadows, the Lauterbrunnen Valley is the perfect place to start as you enjoy the spectacular mountain scenery that sits beneath the imposing peaks of the Eiger and the Matterhorn.

Difficulty rating: 4

7nts from £1,789 per person

Tour Du Mont Blanc

---

Travel through the stunning landscapes of France, Italy and Switzerland, marvelling at the majestic views, snow-capped summits and glistening glaciers that make Mont Blanc special.

Difficulty rating: 5

10nts from £1,899 per person
---
Do you enjoy rising to the occasion or pushing your limits further? Then our Challenge Walking Holidays could be for you!
Or, would you like to experience the highest highs in Europe on our high routes and hutting expeditions? 
Alternatively, if you're looking for something else or a different style of walking holiday, see where we travel to in Europe and around the world.