Details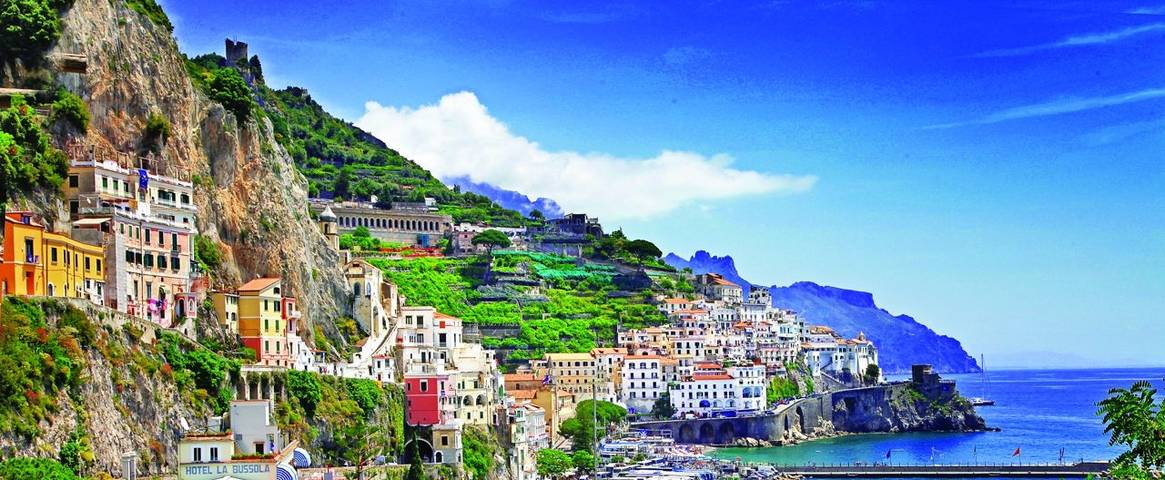 Walking Holidays in Italy
A walking holiday in Italy is the perfect European break away. Home to some of the world's most stunning features, we want to take you to some of Italy's undiscovered locations that deserve your time and money. Hiking in Italy, you could discover lush green hills, gorgeous coastal scenery, and panoramic mountain views in the north - there's a bit of everything for every type of walker. 
We've put together our top destinations to explore hidden Italy:
Lake Garda | South Tyrol | Puglia | Sorrento
---
Lake Garda
Relatively new to HF Holidays, Lake Garda is the largest and most spectacular lake in Italy. The stunning mountain backdrop of Trentino mountains stretches in between the Dolomites and the Alps, which is why Lake Garda has so much charm and beauty. Located directly in the middle between Milan and Venice the lake, whilst hugely popular with outdoor enthusiasts, is still very much undiscovered. Whilst many tourists flock to southern Italy for coastal scenery and gentle landscapes, this beautiful region is the gem of the north. 
Walking in Lake Garda provides a mix of breathtaking scenery with two distinct landscapes; wonderful mountain scenery in the north providing fantastic hiking trails in the Trentino mountains, and delightful easier walks in the south with its much flatter and wider surface. Hiking in Lake Garda is a unique opportunity to explore some of Italy's best features.
South Tyrol
Where Italy meets Austria! Heavily influenced by Italian and German cultures, this alpine region is one of Earth's beautiful creations. Staying in the attractive village of Schenna, you're in a prime position to discover South Tyrol's magnificent hiking trails whether it's in the Alps or in the Trentino mountains. If you love testing walks but don't want to be pushed too hard, South Tyrol offers a wonderful blend of challenge and reward. 
Although very much part of Italy, you could be mistaken for being elsewhere as German and Austrian influences have a huge presence on South Tyrol, partly due to history which means it struggles for identity. However, that hasn't the stopped region from blossming into one of Europe's finest locations and holiday resorts.
Puglia
Located in the 'heel' of Puglia, the region is still relatively undiscovered in Italy despite boasting three UNESCO World Heritage Sites. Hiking in Puglia and the city of Altamura, you'll notice the region has a lot of character dating back to past empires and cultures. If you're after all things Italian, Puglia is the perfect getaway as you're guarenteed an authentic Italian experience.
Sarah Davis, our New Business and Partnerships Manager loved her trip to Puglia:
"Puglia totally exceeded my expectations! It was great to meet our guests and really embrace the experience. Altamura is a charming town, in the day it's really quiet – at night it comes alive with locals and has a charming bustle and atmosphere. Puglia is immersed in ancient history, I discovered a UNESCO world heritage site when walking on the third day!"
HF Holidays currently operates two amazing itineraries:
Guided Walking at Altamura| Sketching & Painting in Puglia
Sorrento
A picturesque coastal city and located next to the Lattari Mountains Regional Park, hiking in Sorrento has grown in popularity over the years. Overlooking the bay of Naples, Sorrento has a maze of charming cobbled streets to explore, and a plethora of cafes to relax in. A unique city that's held on to its historic past whilst still catering for the English-speaking market to attract tourists to the area.
The sights, the history, and the cuisine, makes Sorrento a wonderful experience for all age groups. Walking on the world famous Amalfi Coast is one of the true highlights of your time in Italy - expanding all the way to Sorrento, the Amalfi Coast has 50km of coastline action on the edge of Italy's Sorrentine Peninsula.
HF Holidays currently operate two breathtaking itineraries uncovering one of Italy's most scenic locations.
Guided Walking at & Sightseeing at Sorrento | Amalfi Coast Discovery Tour
---
If you're not interested in Italy, you might find inspiration in our latest blogs on Portugal or the Balearic Islands.
Or we highly recommend the Greek Island of Evia, and Cyprus.
We also have other exceptional European destinations we think you'll love.