Details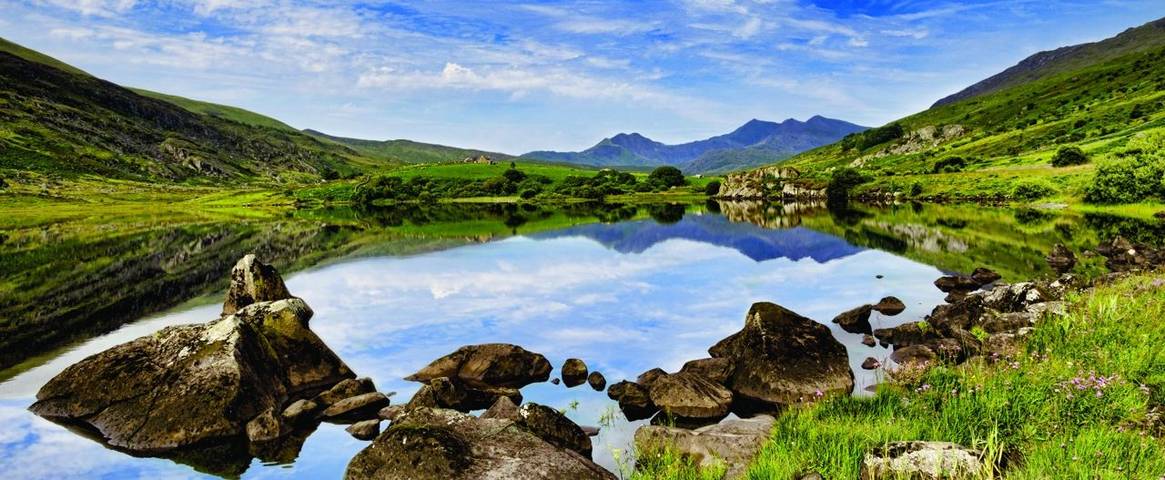 Wales is the small package that good things come in. Geologically diverse and culturally rich, it is compact and accessible but offers myriad opportunities for escaping into nature. Strike out on mountain slopes, explore river valleys and stride along surf-battered cliffs to get a feel for this ancient land. But how well do you really know it? Take our quiz to see just how well you know this superb destination. If you're stuck and need a clue, simply click on the image to learn more. It's just-for-fun, so score yourself and see what sort of travel buff you are...
C) St Davids
Named after the patron saint of Wales, Saint Davids is the smallest city in Wales and Britain, with a population of just over 1,600.
B) Israel
In geographic terms, Wales is one of the world's smallest countries, similar in size to Israel, Slovenia and El Salvador.
B) 3
The three national parks, Snowdonia National Park, Brecon Beacons National Park and Pembrokeshire National Park cover around 20% of the country's landmass and five Areas of Outstanding Natural Beauty
B) 1,085m
Snowdon is the highest mountain in Wales and the highest point in the UK outside the Scottish Highlands - perhaps something is calling you to conquer the 1,085m peak?
C) Carnedd Llewelyn
Named after Prince Llewelyn, Carnedd Llewelyn stands at 1,064m, pushing Glyder Fawr at 1,001m into third place.
D) Pen y Fan
The highest mountain outside Snowdonia and the highest summit in South Wales and the Brecon Beacons, Pen y Fan tops out at 886m. It's also one of the Welsh Three Peaks.
B) 15
The Welsh 3000s are the 15 mountains in Wales that have a height of 3000 feet or more. Geographically they fall within three ranges: The Snowdon Massif , The Glyderau, and The Carneddau.
D) Pembrokeshire Coast Path
The 186 mile coast path twists and turns its way along one of the most breathtaking coastlines in Britain, passing through landscapes rich in history too.
C) 8
The trail follows the impressive hand-dug bank and ditch built in the 8th century on the command of King Offa to divide Mercia from rival kingdoms in what is now Wales.
D) 641
There are 641 castles in Wales, more per square mile than anywhere else in the world. Some watch over mountain passes, while others keep an eye on the city traffic whizzing by; some lie in enigmatic ruins, while others still have families living in them.
A) Brecon Beacons
A corner of the Brecon Becons is stuffed full of fabulous cascades, earning it the nickname Waterfall Country.
A) Bala Lake
Bala Lake, like many of Snowdonia's lakes, was formed when a long, deep glacial valley became blocked by Ice Age debris. It's the largest lake in Wales, with its own Loch-Ness-style mythical monster!
C) Portmeirion
Designed and built by Sir Clough Williams-Ellis between 1925 and 1975 in the style of an Italian village, Portmeirion is a unique place to visit. It also starred as The Village in the 1960s tv show The Prisoner.
D) Harlech Castle
Located in the north-west of the country, Harlech Castle is set amidst awe-inspiring landscape. It was built by Edward I during his invasion of Wales between 1282 and 1289
C) Summit of Mt Snowdon
The Snowdon Mountain Railway has been transporting visitors up to the summit of the highest mountain in England and Wales since 1896 - it's the perfect solution for those daunted by the physical challenge.
B) Slate
At one time the mining town of Blaenau Ffestiniog was the second largest town in north Wales, behind only Wrexham. As the demand for slate declined, so its population began to dwindle.
Score Yourself
So, how did you do? There are no prizes so, just for fun, score yourself...
1-3: Ah, that's not great! Brush up on your knowledge and have another go!
4 - 6: Could do better...hmmm, you've got lot's to learn about Wales and it's wonderful walking routes. Guess you should start planning a trip...
7 - 10: Not bad but there's room for improvement and there are lots more places to discover so keep on exploring!
11 - 14: That's great, well done! You know lots about Wales, time now to get to grips with the last few.
15 - 18: Excellent, what a result! Great knowledge, you clearly know your stuff and are a travel pro.