Details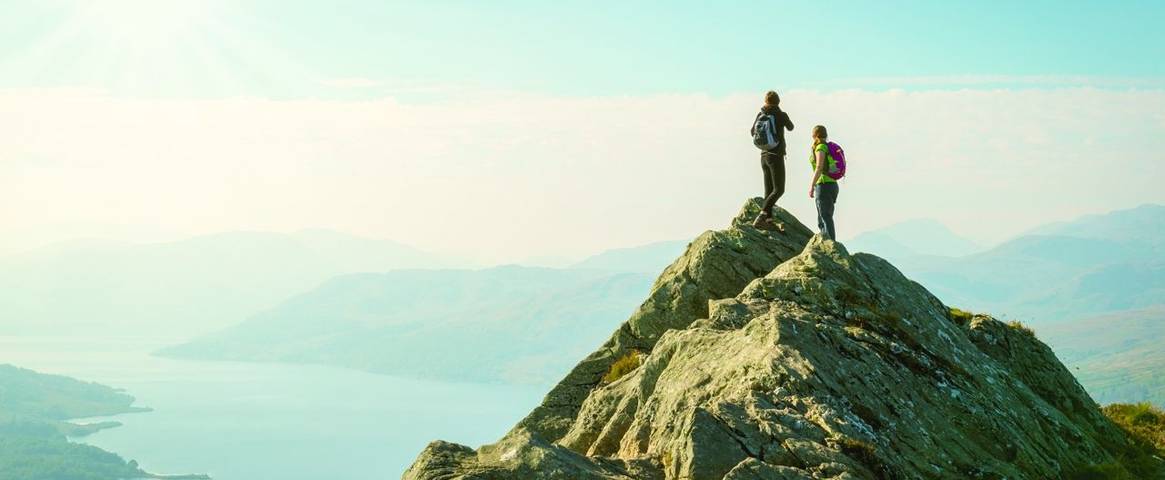 The UK is full of outstanding walking While a lot of the classic routes and finest landscapes are covered by our signature guided walking holidays, or can be accessed under your own steam on a self-guided walking holiday, we also operate a series of walking challenges that are designed to stretch you and provide a framework for exploring the great outdoors. From the highest peaks in each country, to classic combinations, from big mountain walks in Scotland to knocking off the Lakeland Giants, or the Langdale 10, we've exhilarating trails that'll leave you with an immense sense of satisfaction after a cracking outing in the countryside. So, here's our pick of walking challenges to undertake.
The highest peaks in the UK
Standing on top of any of the three highest mountains in Scotland, Wales and England is a cracking achievement. Ben Nevis (1334m), Mt Snowdon (1085m) and Scafell Pike (978m) respectively are great walking challenges. To scale these three, you'll need to be reasonably fit with good stamina, though technically speaking, they're not difficult via the routes we suggest. On our walking holidays, you'll do the climbs in style, staying at our country houses close by. On the days when you're not making a push for the summit, you can warm up or down on lower but no less exciting walks. For the big one, our experienced walk leaders will set the pace and keep you on the right trail, providing motivation to keep going. Alternatuively go it yourslef on a Self-Guided break using our route guides and maps to navigate to the summits. And, if the weather plays ball, you'll be treated to superb views, safe in the knowledge you couldn't climb higher on each country's soil.
Claiming the Three Peaks in 24 hours is an established classic among walking challenges. But what if you could take time to enjoy, not endure these spectacular walks? On our Three Peaks Plus challenge we'll take you to the tops of England, Scotland, and Wales' highest mountains, with some cracking warm-up walks along the way. Tick off Ben Nevis, Scafell Pike, and Snowdon and unwind in three of our own superbly located Country House Hotels. Begin in the Scottish Highlands and enjoy two classic mountain walks, before journeying down to the Lake District to tackle a couple more, then on to Snowdonia for celebrations on the summit of Snowdon. Experience the best of three countries, and their biggest mountains, in one holiday, with all your accommodation, transport and meals taken care of.
Before the national three peaks challenge, there was the Yorkshire Three Peaks, a grand moorland stomp around a 24-mile loop with more than 1,600m of climbing that involves bagging the architecturally disparate peaks of Pen-y-Ghent (694m), Whernside (736m) and Ingleborough (723m) in one go, passing the great landmark of Ribblehead Viaduct and (with a small optional diversion) the geological oddity of Hull Pot on the way. First invented by the schoolmasters J.R. Wynne-Edwards and D.R. Smith in 1887, it sums up the unique grandeur of this brisk and occasionally brutal part of the world. The official challenge is to complete it in under 12 hours, clocking in and out of the Pen-y-Ghent café in Horton-in-Ribblesdale, but we like to split it over two days with accommodation in our stately country house, Newfield Hall close to Malham.
Big Mountain Walks – Scotland
Scotland is full of dramatic and airy scenery and you can experience some of the finest mountain ridges there on an exciting self-guided walking holiday. In the course of a week at Alltshellach, our country house tailored to walkers on the shores of Loch Leven near Glen Coe, you could take on a sporting round of the Trembling Ridges, explore the peaks of the Grey Corries and complete an ascent of Ben Nevis via the magnificent Carn Mor Dearg Arete among others. These routes often follow strong features like a narrow ridge, include a bit of scrambling to add interest, and finish on a pointy summit so you know you've topped out, making them a thrilling way to discover some spectacular landscapes. Inspiration, maps and route guides are available in the Discovery Point at our country house and there's usually an HF Walk Leader on hand to chat to about the climbs as well.
The term Munro often comes up in conversation about Scotland – they're mountains over 3,000ft high (a disappointing 914.6m). Sir Hugh Munro created the definitive list in 1891 classifying 282 peaks this way. Claim the summit and you're said to have bagged a Munro. Bag all 282 and you're considered a Munroist; cue lots of kudos and respect. From this list, two of our experienced walk leaders have handpicked a stunning selection of routes that showcase the different landscapes and types of climb on offer, and which aren't included in the standard selection of guided walks from Alltshellach in Glen Coe. You'll bag ten Munros in a single holiday while also exploring dramatic glens and discovering exceptional viewpoints. Warm up on Beinn Sgulaird, with its views west to the Isle of Mull, take in Stob Ghanhar and Stob Coire Odhair, summit two of the higher peaks in the Mamores, and finally traverse the long ridge between Ben Nevis and Carn Mor Dearg to bag Aonach Beag and Aonach Mor. Now for the rest…
Lakeland Giants – Lake District
The magic marker of 3,000 feet above sea level isn't just for the 282 Munros in Scotland. The Lake District has four mountains which sit majestically above the line; Skiddaw, Helvellyn, Scafell and its slightly bigger twin Scafell Pike. On their own they are brilliant, full days out. Together they are an epic challenge! If you fancy claiming them all during a week's walking, short break or even a weekend, you'll need a head for heights in one or two places, as well as a good level of fitness and hillwalking experience. Using the maps and route notes from the Discovery Point at our base at Derwent Bank you'll be set you up for each in turn. Challenge yourself to perhaps summit Hellvellyn and Skiddaw in a day, then knock off Scafell and Scafell Pike together the following day. You'll have earned the celebratory drink in Bassenthwaite and Wasdale each evening!
A Wainwright is one of 214 fells in the Lake District named after Alfred Wainwright, a British walker and writer who wrote a series of seven definitive pictorial guidebooks to the Lake District mountains. Unwittingly he introduced one of the greatest mountain challenges in Britain, completing the Wainwrights. Because there are so many, there's a real variety of terrain and climbing gradient, from little hills like Latrigg and Cat Bells to beasts like Blencathra and Helvellyn, meaning the're accessible to all. From our country houses in Coniston and Derwentwater, follow in his footsteps on our series of Wainwright Bagging walking holidays and summit the fells related to each of the regional guidebooks. On each holiday you'll bag about 27 fells, and see some of the finest landscapes in each area, giving you incredible insight and a huge sense of satisfaction and achievement.
Although one of the more modestly sized Lake District valleys, Langdale is also among the shapeliest and most accessible too. Just beyond Ambleside you'll find its feast of rounded pikes, scenic tarns and towering summits, and the Langdale 10 makes a superb circuit for the ambitious fell bagger. It takes in (you guessed it) 10 distinct and characterful tops in a route which surpasses 24km in length and 1,700m in ascent. That makes it considerably more physical an undertaking than climbing, say, Ben Nevis from sea-level – and means it's not to be underestimated. Starting from the climbers' haunt – the Old Dungeon Ghyll - ascend Bow Fell, the first of today's Wainwrights. Tick off another nine during the day: Esk Pike, Rossett Crag, Pike O'Stickle, Loft Crag, Harrison Stickle, Pavey Ark, Thurnacar Knott, High Raise, and finally, Sergeant Man. Follow Stickle Ghyll back down to the Langdale Valley and to the pub to celebrate one heck of an achievement.
Not all challenge walks are about height or claiming a summit. This 192-mile walking route runs from one coast of England to the other. It was devised by Alfred Wainwright (him again) in 1973. The trail picks its way from St Bees Head on the Irish Sea to Robin Hood's Bay on the North Sea. Along the way it traverses the Lake District, the Yorkshire Dales and the North York Moors. Three national parks in one walking route! It also includes some of Britain's highest fells and largest lakes, beautiful woodland and valleys, rolling moorland and, at each end of the trail, spectacular coastal scenery. Wainwright initially put a tab behind the bar in Whitby for people who completed his walk. Sad to say, this is long used up, so you'll have to buy your own pint to celebrate these days. The challenge and reward remains exactly the same though.
Walking Challenges with HF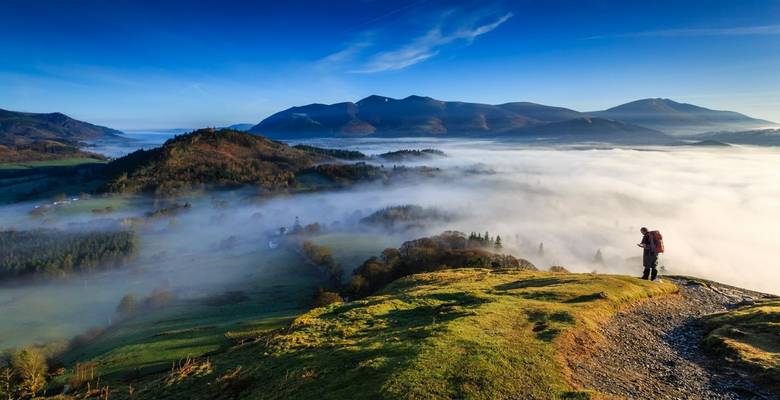 What can you achieve?
Walking Challenges
Stretch yourself on a walking challenge and use it as a framework to discover the great outdoors, while enjoying the huge satisfaction that comes from tackling something tougher.
Start planning your next challenge