Details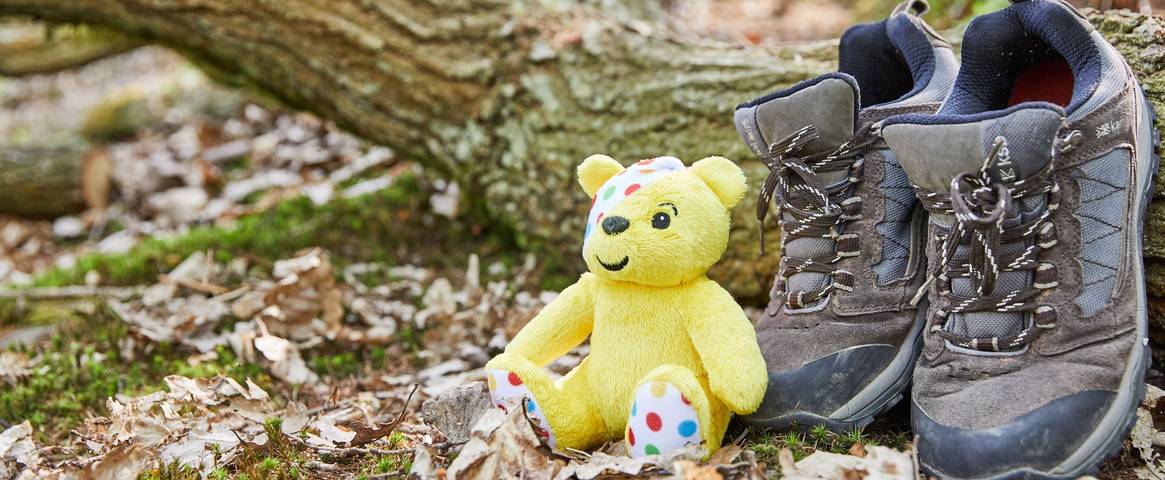 We've partnered up with BBC Children in Need! HF Holidays has always been an organisation which encourages people to get outside on foot and enjoy the countryside. In addition, we have a long history of supporting projects which facilitate this aim. With this in mind, and as an official partner of BBC Children in Need, we'd like to take the opportunity to encourage you to go walking or rambling on the 5th and 6th October to help support the BBC Children in Need's 2019 Appeal.
BBC Children in Need is a UK charity which has raised over £1 billion since 1980 to change the lives of disadvantaged children and young people. Their vision is that every child should have a safe, happy and secure childhood and the chance to reach their full potential. The organisation is currently supporting over 3,000 local charities and projects in communities across the UK which help children and young people who are facing a range of disadvantages such as living in poverty, being disabled or ill or experiencing distress, neglect or trauma.
Each year a televised appeal takes place in November, but this is just part of the fundraising activity. Many events – including the Countryfile Rambles for BBC Children in Need – take place well before this.
How Can You Get Involved?
This autumn, thousands of people will be donning their walking boots and a Pudsey Bobble Hat to help change young lives. The sale of each hat raises vital funds for BBC Children in Need.
HF Holidays Walks
If you are staying at one of our country houses on the 5th or 6th October, buy a Countryfile Ramble Bobble Hat (proceeds go to BBC Children in Need) and join our leaders out on foot in the countryside. Our leaders will also be dressed for the occasion! You could even go a step further and ask people to sponsor your walk. There is loads of information and advice about fundraising on the BBC Children in Need website.
Buy your bobble hat | Join a ramble
Get Together for Your Own Ramble
Set up your own BBC Children in Need Ramble with friends and family on the 5th or 6th of October. Let BBC Children in Need know what you are up to and your walk might even be featured in an episode of Countryfile! Take a look at the BBC Children in Need website to find out details and make sure everyone involved gets their own Countryfile Ramble Bobble Hat!
Buy your bobble hat | Start your own ramble
Join a Public Ramble
Several organisations are holding public rambles which you could join, including our outdoor clothing partner Cotswold Outdoors. Their ramble is in Exeter on Sunday 6th October but there are others to choose from; see the BBC Children in Need website for details and to sign up. Don't forget to buy a Pudsey Bobble Hat ready for the walk!
Buy your bobble hat | Join the Exeter ramble | Find a local ramble
Where to Buy a Countryfile Ramble Bobble Hat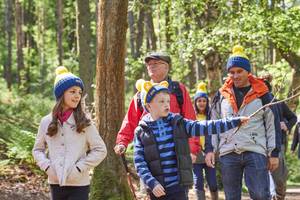 This year's hat is dark blue with a yellow top sporting a yellow 'bobble'. The hat has a polyester lining and is soft and warm – perfect for autumn walking.
Hats can be purchased from the BBC Children in Need shop or from branches of Cotswold Outdoors or from Cotswold Outdoors' online shop. If shopping online, please allow at least 10 days for delivery.
Buy your bobble hat from BBC CiN | Buy your bobble hat online from Cotswold Outdoors | Buy your bobble hat from a Cotswold Outdoor high street shop
Spread the Word
To help with your fundraising efforts and to encourage even more people to take part you could get Ramble Ready by telling people about your plans on social media or setting up a link to your fundraising page. Post pictures of yourself wearing your Countryfile Ramble Bobble Hat on Twitter and Facebook – please include the @BBCCiN, @HFHolidays and @BBCCountryfile handles and the hashtag #rambleready in your posts to help spread the word further.
We do hope you can join in and help us walk together to change young lives with BBC Children in Need.