Details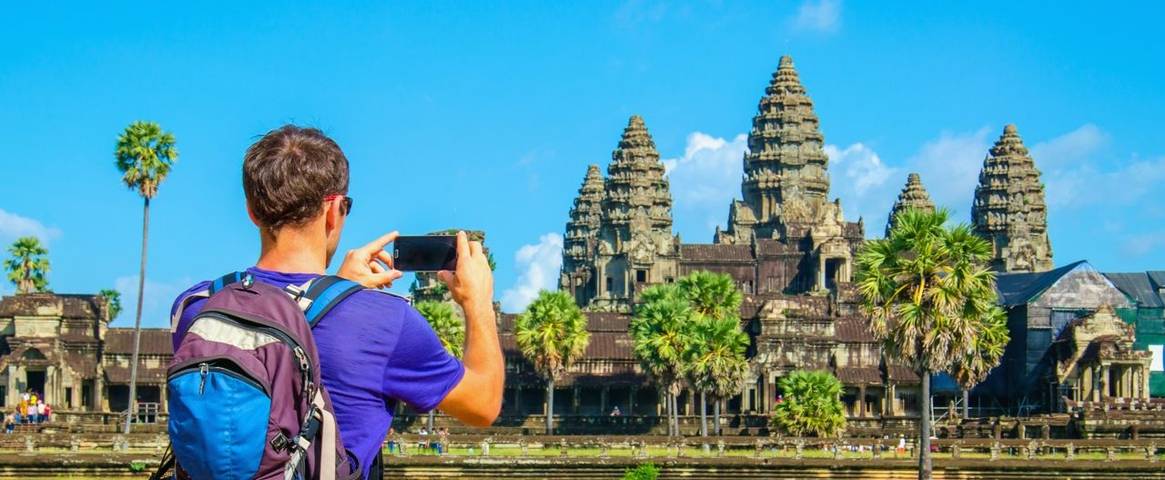 If you get inspired by Jane's trip, you can find out more about the holiday here
Day 2
As our plane approached the small airfield at Luang Prabang International Airport, we were able to see the lush mountainous terrain beneath us. The wide brown ribbon meandering into the distance was our first glimpse of the river Mekong. As we stepped off the 'plane, a wave of hot steamy tropical air engulfed us. We looked around at the scenery surrounding the airfield and we knew our adventure was about to begin! Sabaidee – welcome to Laos!
A few hours later, we met up with our local guide KL, the first of three smiling local guides who would accompany us around temples, through jungle type terrain, to beautiful waterfalls, take us on boat rides on the Mekong, and finally show us the Wat of all Wats, Angkor Wat.
Our time in Luang Prabang was short (only 2 nights, 3 nights for guests) but the Unesco listed town was delightful, with a blend of colonial French history, the bright orange robes of the Buddhist monks and the golden facades of the many temples. Our first evening saw us taking part in a Baci ceremony, a kind of 'welcome to Laos' initiation, where pieces of white string were tied to our wrists, whilst calling the spirits to protect us on our travels. It was a strangely moving ceremony, which was followed by a lovely cooked meal in a local family home.
This was our introduction not only to Laos, but to sticky rice, which was something that prevailed in Laos, but less so in Cambodia. Rice is the staple of Indochina, and is the accompaniment to lunch and dinner, (and breakfast if you choose). Sticky rice is rolled into small balls in the left hand, and then dipped into whichever dish is in front of you. All dishes tend to arrive together, and it's very much encouraged to share all dishes, so just start eating whatever comes out first.
The night market is worth a wander round, local tribes people from the surrounding villages were selling their wares, ranging from beautifully coloured clothes, to street food offering fried crickets, locusts, and such local delicacies. We even spotted a bottle opener in
the shape of Laos made from recycled shell casings, their way of putting a positive spin on the aftermath of the Vietnam War.
Day 3
Early the next morning (5am kind of early, not a time that I see very often, except on these trips!) we were up to witness the daily ritual of the almsgiving ceremony in Luang Prabang. 250 monks from 6 different monasteries walk around the town between prayers and collect alms from locals and tourists. For an extra amount payable locally, our guests can take part in the almsgiving. Being a monk in Laos is similar to our former national service here in the UK – it's obligatory, but they only have to stay there for about 3 months, unless a person decides to become a proper monk. Lots of Lao families have many children, and having a son in a monastery for a few months alleviates the financial burden of having to feed them.
After breakfast, a 45 minute drive took us into the hills surrounding Luang Prabang. We arrived at Ban Long Lau, a rural village typical of the area. It gave us an insight into life in this part of the country with women chopping logs, and drying crops, basic houses constructed from bamboo and a local village school. As we continued, rice fields and rubber plantations were evident. After a couple of undulating hours through jungle we reached pools of water where locals were swimming. This marked the top of the impressive Kuang Si waterfall, yet to come into view. The path descended by the side of the waterfalls, we could feel the spray as we walked down.
After a late lunch, we continued through the Moon Bear conservation area, home to several bears rescued from poachers. We spent a few minutes watching them play fighting and relaxing in a hammock.
Back in town, we joined in with some locals playing Petanque, a legacy from the French colonial days. Our day concluded with a walk up the local Phousi hill for wonderful views overlooking the town, the Mekong and a great sunset.
Day 4
It was time for us to leave this part of Laos, so we missed out on the extra night and the boat ride to Pak Ou caves, but already 1 ½ days had given us so many different experiences. After a visit to the local morning market, a short flight took us to Pakse, in the south of the country. The landscape and local buildings were already very different. The hills had disappeared, and more rice fields and water buffalo were the norm. The Mekong was much wider here and he houses were now wooden, built on stilts, with a storage space underneath for chickens, pigs and a hammock or two. Our next local guide Serm took us to Wat Phu temple, a UNESCO World Heritage site dating back to the 5th century, built by the Khmer. Here we learnt more about the history of the temple., the Khmer and the mythical creatures such as the Naga, important in both Buddhist and Hindu religions. Our base in Pakse was the Hotel Athena, a comfortable hotel in this town on the banks of the Mekong.
Day 5
Today couldn't have been more different. We headed high out of town to the Bolaven Plateau, where at over 1100m above sea level, the temperate climate and volcanic soil resulted in coffee plantations and crop growing. An exciting jeep ride took us through remote villages to an organic coffee farm. It was too wet for us to do the planned walk, but the owner of the coffee farm took us on a tour of his plantation and pointed out the 3 types of coffee bean. Back at the farm he explained the whole coffee process, from picking the bean, to roasting it exactly at the right temperature and finally tasting the end product. A delicious lunch was served while we waited for the monsoon rain to finish. All the food was grown locally on his plantation, and was incredibly tasty.
Back in the jeep to remote waterfalls and then it was time to drive back into Pakse for our next overnight stop.
Day 6
Another day of new experiences, sights and sounds. Today's walk took us from the village Ban Kiet Ngong at the edge of the Xe Pian National Protected Area, one of the most important nature reserves in Laos, and its extensive wetland area. An additional local guide joined us and we set off through the village. We saw drying fish, and walked through chest high rice fields before heading up through the jungle. Our extra man explained the medicinal qualities of the plants in the jungle, and pointed out wildlife including a toad, giant snails and our first poisonous viper. (it was a baby one, and at a safe distance). Apparently the belly of a toad is a fairly successful way of picking winning lottery numbers. We ascended through the jungle and came to a clearing where we enjoyed extensive views over the wetland area. Strange tower-like structures were close by – we were at the top of Phou Asa, no-one knows the history of these towers, and there is a large Buddha footprint nearby. A short walk took us back down to the village in time for lunch.
A 2 hour journey soon went by as we watched rural villages pass by. It was time to transfer to Don Khone, our island in the middle of the Mekong that would be home for the next 2 nights. Motorised wooden boats took us and our bags, and took us directly to our floating bungalow. This offered a unique experience, and whilst not the most comfortable of the hotels on our trip, it did provide us with an amazing ringside view of the Mekong and daily life with boats travelling up and down. The bungalow even swayed each time a boat went passed us. Guest rooms will be split between the bungalows, and proper hotel type bedrooms in another part of the complex.
Day 7
The Mekong here is some 14km wide in a region known as the 4000 islands, namely because of the many islands of various sizes which become more apparent during the dry season. We spent the day with Serm exploring the island, first walking to Liphi waterfall on a flat track, then another gentle walk to Pasoi waterfall where we saw how the locals use wooden stakes to trap the fish.
Day 8
A 30 minute boat ride took us back to the mainland where our driver was waiting to take us to the next highlight – Khone Phapheng waterfall, which is the largest waterfall in the world, in terms of width. It's also known as the Niagara of the East.
We said goodbye to Serm, and were met by Vannak, our Cambodian guide, at the border. The formalities were quickly dealt with, and we walked the few yards through no-man's land. I had the feeling I was playing a bit part in a spy film as we left Laos and walked into Cambodia.
A 2 hour drive followed through the hilly province of Ratanakiri to Ban Lung, the provincial capital. This is a district which had obviously been heavily forested at one time, but now was giving way to rubber, cashew and oil plantations. It was also home to gem mines, waterfalls and ethnic minority groups. After the journey, it was good to stretch the legs on a walk round Yaklom lake, a caldera very popular with locals for spending the afternoon having a picnic.
Our hotel for the next 2 nights was the Terres Rouges Lodge, a former residence of the governor of the province, set in delightful exotic garden. Bedrooms were in buildings spread around the grounds.
Day 9
We visited the local gem mines, where young men and boys were working in appalling conditions, digging shafts 20 m deep to then bring out the spoil and sift through extracting any stones. Seeing this really made me think about my own life at home, and how lucky I was
After this fairly challenging start, it was a relief after that to get on a boat for a while, and glide along the river to Koh Pong, where we started our walk to the nearby waterfalls. Another local custom was shown to us in one of the villages – when someone dies here, after their cremation, their ashes are placed in a special place and individual wooden totem poles are erected as a memorial, but those family members left behind then put items that will help the departed in their next life. We saw a television in one and a bike in another.
Day 10
The morning was spent travelling west and then further south where we picked up the Mekong again. We visited the Pagoda of 100 Columns before getting on another boat at Kratie, which took us to our next island of Koh Trong. A surprise here, we were met by locals on scooters, who then transferred us as pillion passengers, along with our bags, to our next hotel. Apart from scooters and bicycles, water buffalo and carts, this island is totally traffic free.
It was a delight walking around this island, meeting local children on the way. The path was flat, and we shared it with the occasional scooter and bike. Locals were tending to their crops, and we saw water buffalo enjoying a mud bath.
This really was experiencing the 'undiscovered' part of the country, away from the usual hustle and bustle of our daily lives. The outdoor pool at our lodge looked very inviting when we finished our walk and as the sun went down, we saw flying foxes (fruit bats) swooping around the nearby trees.
Day 11
Another pillion ride took us back to our boat after breakfast. Today was all about dolphins, and what a treat that was. The rare Irawaddy dolphin is found in a stretch of the Mekong, covering about 118 miles long. It is said that there are only about 80 dolphins inhabiting this part of the river, and about 120 total in other parts of South East Asia. A wooden boat took us out into the Mekong, and we didn't have to wait very long, before the first pod of dolphin arrived, followed by a second. They were soon jumping out of the water, having lots of fun. We were too, I was so busy trying to get a decent photo, (ok, I didn't, but you can see the fin) I missed most of the action.
We spent the rest of the day travelling to Siem Reap, but guests booking this holiday will first go to Phnom Penh, capital of Cambodia, for one night. The following morning there will be a city tour, and whilst not everyone's cup of tea, a visit to the Killing Fields of Choeng Ek will be made available for those that want to find out more about the atrocities that happened here during the Pol Pot regime during the 1970s. An internal flight from Phnom Penh to Siem Reap later the next day will take them to the comfortable Shinta Mani resort for the final 4 nights of the holiday.
Day 12
Another highlight today, this time we were heading for the UNESCO World Heritage Site of Angkor Park, and the marvellous ancient city of Angkor Thorn. This was the last capital of the great Khmer Empire built under the reign of Jayavarman VII. Bayon Temple is located right in the centre of this ancient city. We also saw Ta Prohm temple, left as it was when discovered, and 'the tree', made famous by Angelina Jolie in 'Tomb Raider'. After a delicious lunch we then walked around the most famous, and largest Buddhist temple in the world, Angkor Wat. Given that many of these temples date from the 12th Century, the detail that could be seen in the engravings, and the faces in the temple walls were just incredible.
The day of surprises wasn't over yet though. That evening we attended a street circus. Cambodian circus PHARE, is run by an NGO scheme which provides local young people with an education and a way of improving their own personal lives. The hour long performance was really spectacular.
Day 13
Every day this tour has provided surprises and different cultural experiences, and insight into how the locals really live. Today was no exception. We were taken about 1 hour out of Siem Reap to the Kompong Kleang floating village on Tonle Sap, the largest freshwater lake in Asia. The quantity of water in the lake varies depending on season, it connects to the Mekong via the Tonle Sap river. Kompong Kleang is one of several floating communities around the lake where houses are built on stilts and locals go about their daily lives on the water. We even saw the school run – no 4 x4 vehicles here. All the children arrive and depart by boat. A lovely packed lunch was taken in a local's house, overlooking the water watching the world go by.
Later that day we visited another temple, Beng Melea, one which has not been renovated, and has just been left in the way it was found. We decided to take a tuk-tuk into town from our hotel that evening, to the Marum restaurant. Beautiful food, served by locals in a training restaurant. Another NGO scheme, giving young people a better opportunity in life.
Day 14
Our final full day was here and it was time to go to the Kulen National Park, approx 60km outside Siem Reap. Kulen Mountain is considered to be the most sacred mountain by the locals, and the summit is adorned with statues of Buddha, and stupas. We walked through the jungle to a hermits cave, then on a forest track up to the summit where we had an overview of the vast jungle terrain beneath us.
Our final evening, and the beautiful Apsara dances held us spellbound during a farewell dinner. These cultural dances were a central part of the Khmer people, but were banned during the Pol Pot years.
All too soon our trip was over. Our Indochina Revealed holiday really gets off the beaten track, so you experience real cultural immersion, engage with local communities, and see how the locals go about their daily lives in all sorts of ways. Of course, there are major highlights as well, too many to mention here. The food was always very tasty, and not too spicy. Parts of the tour were culturally shocking, so perhaps not for you if you want a sanitised 'western' type experience. Laos & Cambodia are very poor destinations; the best you can do is go and find out for yourself. One of the really positive things that we brought back from this tour was just by being there, we were providing some locals with an opportunity to better themselves. If you want lots of miles under your boots, you won't get it on this trip, but what you will get is a Worldwide Journey where walking is a way to experience this part of the world.
Inspired? Find out more about the holiday here