Details
Reading time: 3 - 6 minutes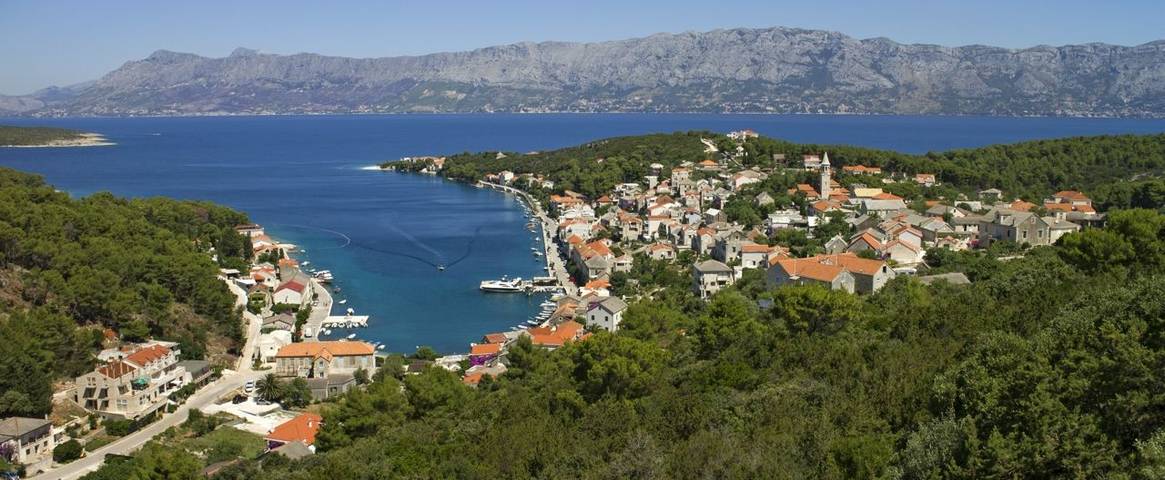 Croatia covers all bases with sparkling white sands, glittering Adriatic waters, and over a thousand sun-bleached islands to its name. But there's much more to this sunny Mediterranean spot; think beautiful vineyards, stellar national parks, turquoise-tinted lakes, ancient walled cities, and no less than 10 UNESCO World Heritage Sites. It's a huge draw for walkers and hikers, too, with well-maintained trails and easy-to-follow paths of varying lengths along its mountains, highlands, and flat plains. Here's why we're so madly in love with it.
Extending for about 45 miles along the Krka River, this much-visited national park in central Dalmatia is dazzling; think thick forest borders, winding paths, shaded trails, and stunning river and waterfall views in all directions. While the undeniable highlight is the magnificent Skradinski Buk– a series of 17 cascading waterfalls with a total drop of 45 metres. It's also worth visiting Roški Slap (another waterfall series) as it tends to be less crowded. And be sure to factor in a trip to the impossibly pretty Visovac Island – home to a centuries-old Franciscan monastery and church.
As the shining star of the Istrian Peninsula, Rovinj is the arty little city bordered on three sides by the Adriatic Sea. Stroll the cobblestone streets of the Old Town, visit the heritage museum housed in a 17th century palace, relax in the cafés and bars along the harbour front, and marvel at the imposing St. Euphemia's Church cathedral with its 61-metre-high bell tower. The town is also famous for its fine arts scene, especially along the narrow and winding Grisia Street where you'll find studios, workshops, galleries, boutiques, stalls, and more.
Poreč is a charming little city that sits in the middle of the Istrian Peninsula overlooking a cluster of handsome offshore islands. Spend time here gazing up at the Roman, Byzantine, and Venetian buildings in the medieval centre and admiring the glittering mosaics of its 6th century basilica. And when you're not busy exploring architectural marvels, hit the beach. Poreč is equally cherished for its Blue Flag-winning golden sands, shallow swimming waters, and upbeat vibe.
South along the coast from Split, Omis is the small seaside town at the mouth of the Cetina River. Once famous for its pirates who ruled the surrounding seas in the 12th and 13th centuries, it now charms with far less swashbuckling attractions. Must-dos include rafting, hiking, and ziplining over the Cetina River – or taking an afternoon stroll around the Old Town and St. Michael's Square. Must-see sights include St. Peter's Church, the old Franciscan Monastery, and the Mirabella Fortress – a 13th century castle that was once a notable pirate hideout.
Wine lovers have certainly been paying Croatia some well-deserved attention, not least for 800-plus wineries and nearly 20,000 registered wine makers who are all making their mark. While there's over a dozen award-winning wines worth checking out, one of the best red tipples includes Plavac Mali – a flavoursome grape grown mostly along the Dalmatian coast. On the food front, countrywide specialties include black risotto, Istrian ham, truffles, and fritule – battered doughnut balls filled with rum and raisins and dusted with powdered sugar.
While happy to grab headlines for its legendary Game of Thrones filming locations, there's more to Croatia's second city of Split; mostly the palm-lined Riva waterfront, wooded peninsula, and wealth of majestic monuments. And while the higgledy-piggledy UNESCO-listed Diocletian's Palace steals the show for its ancient columns, underground cellars, medieval alleyways, and atmospheric walls, don't miss out on St. Domnius Cathedral and the Split City Museum. For shopping, the open-air Green Market (known locally as Pazar) sells all manner of reasonably-priced fresh produce.
Just steps from Split's Old Town, the 123-metre-high Marjan Hill is the gloriously green tip of the city's peninsula that rewards with fabulous walking trails, medieval churches, and plenty of lookout points for far-reaching views. The climb is worth it, not least for the hilltop café where you can grab a well-deserved drink on the outdoor terrace. There's also plenty of surrounding attractions, including 12 churches, a Jewish cemetery dating back to 1573, and a long coastline with a selection of rocky and pebbly beaches against a pine forest backdrop. 
Located on the mainland coast between Split and Dubrovnik, the town of Makarska is built around a sheltered bay and backed by Mount Biokovo. The beaches here are the obvious draw, but there's also a lovely main square filled with open-air restaurants, cafés, and ice cream parlours. Further highlights include the 18th century Tonoli Palace for its Makarska Municipal Museum, and the Franciscan Monastery for its Malacological Museum collection of over 3,000 shells.
With its entire historic centre a designated UNESCO World Heritage Site, Trogir is the medieval town located on an island connected by bridges to the mainland. Time here can be spent exploring the maze of cobblestone streets to seek out hidden courtyards and charming piazzas, climbing to the top of the cathedral bell tower for 360-degree views, and lingering at waterfront cafés and restaurants. 
As one of the prettiest coastal towns on the arrowhead-shaped Istrian Peninsula, Pula is most famous for its 107-foot Roman amphitheatre – one of the best preserved and largest in the world. Built to its final height in AD79, this magnificent structure once accommodating over 20,000 spectators played host to many a gladiatorial battle. Nowadays, it has a capacity for over 7,000 (both seated and standing) and is used for operas, concerts, ice hockey games, and an annual film festival.
All destinations featured are included in our carefully-curated itineraries, either as a guided activity or a free day recommendation. We offer a selection of Croatia holidays, all of which promise excellent walking and hiking opportunities.