Details
Reading time: 2 - 4 minutes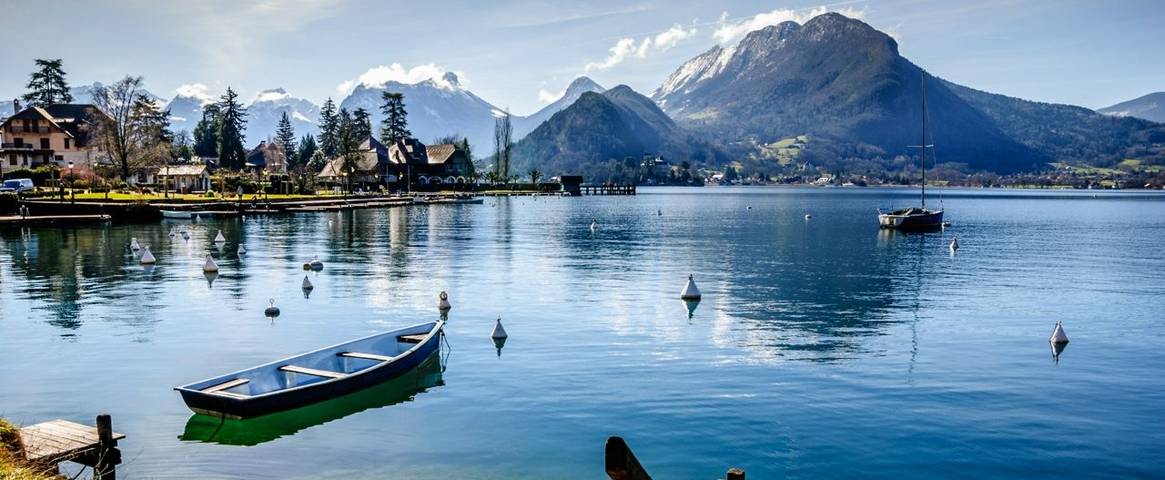 Fewer places in Europe spark passion for walkers and hikers in the way France does. Not only is it filled with snow-capped mountains, Alpine cliffs, rugged hills, and glittering lakes, but every fabled village, town, city, and region is more unmissable than the last. Here's why we're so smitten with it. 
Getting all the love as Europe's cleanest lake, the watery wonder in France's Haute-Savoie region formed about 18,000 years ago from large glaciers in the Alps. Highlights include strolling around the shoreline for turquoise waters and spectacular mountain panoramas before heading to Annecy's compact Old Town to marvel at the flower-filled canals, count bridges (there are lots), relax in the Jardins de l'Europe, and admire the Palais de L'Île that sits in the middle of the Thiou – the country's shortest river. Equally visit-worthy is the 12th century Tamié Abbey where Cistercian monks continue to produce the cheese of the same name. 
For unrivalled walks, hikes, and climbs, the 250-km Cathar Trail (GR367) stretches from Port la Nouvelle on the Mediterranean to the eastern foothills of the Pyrenees. Following in the footsteps of the Cathar people, nothing beats hiking a 58-mile chunk of the route known as the Chemin des Bonshommes. This well-trodden trail includes crossing the border into Spain and includes plenty of interesting pitstops along the way. Must-sees include the villages of Mérens and Ax-les-Thermes, the town of Berga, the Sanctuary of Queralt, and Cadí-Moixeró Natural Park – the mountainous wonderland with peaks that reach over 2,500 metres.   
For eye-popping views, little beats Mont Blanc – the highest mountain in the Alps and the highest in Europe at 4,807 metres. Travelling in a clockwise direction, the trail takes you through the Alpine passes of France, Italy, and Switzerland, tempting with all sorts of remarkable attractions along the way. As one of Europe's snowy staples, Chamonix is a gamechanger when it comes to summer and winter adventures. Since hosting the first Winter Olympics in 1924, this so-called capital of all-mountain skiing and snowboarding comes with a traffic-free centre, plenty of cafés and restaurants, and some lovely examples of Belle Epoque and Art Deco architecture. 
Mused about by the likes of Cézanne, Picasso, Van Gogh, and Matisse, Provence is the sunny south-eastern corner of France that enchants with incredible hiking terrain, sweeping coastlines, chocolate-box towns and villages, and wonderful local markets. It's also famous for its purple-tinged lavender fields, especially during June and mid-July when the flowers are in bloom. There's a slew of exciting walks on offer, including stops at Gréoux-les-Bains, Moustiers-Sainte-Marie, Quinson, and Régusse. 
Known simply as Aix, this chic corner of Provence steals the spotlight for its interesting architecture, charming markets, and fascinating art history. Must-dos include marvelling at works by Cézanne, Kandinsky, and Picasso at Musée Granet, admiring the Gothic and neo-Gothic design of the Cathédrale Saint-Sauveur d'Aix-en-Provence, and spending time at the cafés and restaurants along Le Cours Mirabeau. You can also enjoy a picnic lunch at Parc de La Torse, take afternoon tea overlooking the stunning gardens at Hôtel de Caumont, and take photos by any of the city's 1,000-plus fountains. 
All destinations featured are included in our carefully-curated itineraries. We offer a fabulous selection of France holidays, of which promise excellent walking and hiking opportunities.
"Wonderful walks with good leaders - Moustiers St Marie and the Verdon Gorge were both spectacular days but all walks were very good. Great hotel with excellent food and lovely heated pool. Greoux is charming and picturesque. A great holiday." - HF Holidays guest review of our 'A Week in Provence' guided walking holiday.