HF Holidays Blog
With over 100 years experience, HF Holidays knows the best ingredients for holidays in the great outdoors.
Keep up to date with all the latest news from HF Holidays and the great outdoors. 
Details
"I was happy to be chosen to experience the Pure Grenada tour hosted by the Grenada Tourism Authority. I was so excited, that I had to share my story with you! We were looked after by Lisa Braithwaite who us met us at the airport and Roger Augustine, a very knowledgeable native Grenadian that met us on arrival.
This was my first visit to a different Caribbean island and what a fantastic experience it was. After the flight we cleared customs and were transferred within 20 minutes. We checked in and were greeted with a lovely neck and shoulder massage. Just what was need after the flight!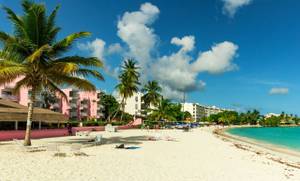 The next day we experienced River Tubing - travelling through the rapids of Balhazar river, spinning and swirling in a modified river tube. It was fun, but also nerve wracking at the same time as it really took me out of my comfort zone. Considering I can't swim, my life jacket became my best friend during this trip!
The cruise to Port Louis marina was so amazing, sitting back and enjoying the calm of the sea, it was nature at its best for me. What really topped it off was the stunning sunset with a rum punch in hand.
We felt like VIPs for our dinner at the Blue Horizons Garden Resort as we were hosted by the manager Arnold Hopkin. It was great to see this hotel as it's the one our guests will be staying at. This was definitely fine dining at it's best. The hotel had a very tranquil feel, and is set on 6 1/4 acres of land. It is home to 27 species of birds and also offers bird watching on a Sunday morning and a Garden tour in the evening, all complementary to HF guests.
The Gouyave Nutmeg Processing Station is the largest nutmeg processing factory on the Island. Here I saw workers choose, grade and package the nutmeg. At the end of the tour, we explored the nutmeg world and took something home as a memory. Grenada is known as the Spice Island and is full of flavors.
The rum distillery dates back to 1785 and it is home to the oldest functioning water-propelled distillery. It uses traditional methods with sugar cane to produce its white rum. We were given the opportunity to see the rum in production and sample a taste. I definitely had to have a go on this one!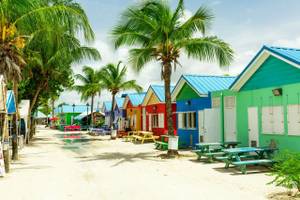 The Underwater Sculpture Park was really amazing and felt like a very different experience. In the Molinere Beausejour Marine Protected Area there are over 100 individual sculptures. These include a mermaid, Christ of the Deep and most recently added, the Nutmeg Princess. This was yet another challenge for me, however with my life jacket again and a very skillful diver, I experienced snorkeling for the very first time. With all the fear, it was well worth it to see some of the sculptures, fish and the corals. This experience was so amazing and it will be one which I will never forget.
Our mode of travel was a mini bus, which was a little bumpy at times on the local roads. The scenery made up for that as it was so vast with lush green mountains, beautiful beaches and the local life of the Grenadians. What I enjoyed the most was how quickly you could get across the island to see even more of its natural beauty. The local cuisine was infused with local spices and the rum punches helped compliment the meals.
My highlight was definitely the sunset cruise. Please take me back there now for the calmness of the sea! I loved everything about this island and I know that our guests will have a great experience.
Don't forget to let us know how the experience was for you!
Start your Grenada adventure >
Details
Thousands of you love to walk and enjoy England and Wales' beautiful National Parks. They are stunningly beautiful in all sorts of diverse ways. That's why, together with Campaign for National Parks, the only national charity dedicated to protecting and improving the National Parks of England and Wales, we invited you to share your #summerofbeauty in our photo competition.
Hannah Garcia, head of Partnerships at HF Holidays reported: "We were blown away by the many fantastic entries demonstrating the outstanding beauty of the National Parks. What's really brilliant is that these Parks are there for everyone to enjoy and we are proud to support the work of Campaign for National Parks to protect them.'
The winning photograph, shown above, was a stunning panorama of the Western Brecon Beacons, taken by Mark Kent. The photo, taken from Fan Foel, overlooks Picws Du and Llyn Fan Fach.
Mark said, ' I've lived in South Wales with my family for just over five years. I fell in love with the Brecon Beacons National Park when I first visited the area, shorty after our arrival. I love to go there whenever I have the opportunity and my timetable allows. My camera always goes with me as I love to capture something of the beauty of creation. It sometimes means a very early start to catch the sunrise!'
Mark will receive a £250 voucher towards an incredible holiday with HF Holidays and a feature spread in Campaign for National Parks' Viewpoint magazine.
Striking images from Dartmoor and Exmoor National Parks were both runners up in the competition. Sue Court's characterful capture of a Highland cow in Dartmoor shows a fun side to the theme.
Julia Amies Green managed to capture a vivid coastal scene at Wind Hill looking towards Lynmouth in Exmoor: the judges loved the vivid colours.
Congratulations to all three winning entries and to everyone who took part.
Need inspiration for your next outdoors adventure?
With so many beautiful National Parks to choose from (13 exactly in the UK), HF Holidays are lucky to have country houses in nine of them. Use the links below to discover your next summer adventure with HF Holidays. 
Brecon Beacons | Exmoor | Lake District | Northumberland | North York Moors | Peak District | Snowdonia | South Downs | Yorkshire Dales
---