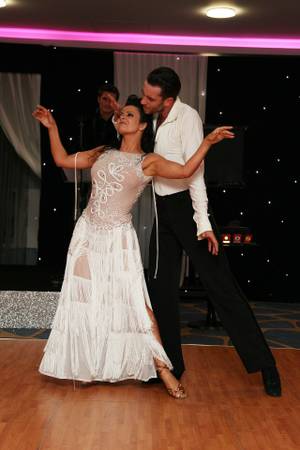 Karen Hardy won a host of national and international titles during her illustrious professional dance career. She won over the nation when she starred in the BBC's 'Strictly Come Dancing' and lifted the glitterball trophy with cricketer Mark Ramprakash in the 2006 final. She then delighted us all when she taught living room audiences to dance in 'It Takes Two'. Here we get the chance to talk to Karen and to find out more about the show, how she learned to dance and pick up some top tips along the way. We also get an update on how you can learn ballroom dancing yourself and how you can join Karen on an HF Special Interest Break in 2020 - we're hosting two special short breaks in the Southern Yorkshire Dales and Shropshire Hills where you can enjoy a weekend of dance with HF Holidays instructors and a small group masterclass with Karen herself.
Read on for more...
Q. Can you tell us a bit about yourself and how you first began ballroom dancing?
I started dancing at the age of 5. I tried ballet classes first but it was very clear from the start I was the little duck at the end of a line of cygnets…so it was Ballroom and Latin American dancing that would capture my attention. On a Saturday morning when mum was food shopping with myself and my brother it was clearly too much to take until she saw a sign opposite the supermarket announcing Saturday morning classes for children. I was hooked from my very first class. Winning medals, dressing up in sparkly costumes, wearing makeup etc etc no wonder I never looked back.
Q. What is your favourite dance? And why do you like it?
I was most famous in my career for the Jive. It is possibly the hardest and most gruelling of them all but it most certainly seperates the boys from the men as I think the saying goes. I performed this dance at the highest level in both Amateur and Professional but if I'm being honest I actually loved the challenge of all the dances I specialised in. Up until I was about 21 all 'ten' dances were considered compulsory by your dance teachers until it would be evident which field you would specialise in. I eventually branched off into the Latin American field (yes the one with the little dresses as many people put it)…being the Cha Cha Cha, Samba, Rumba, Paso Doble and Jive.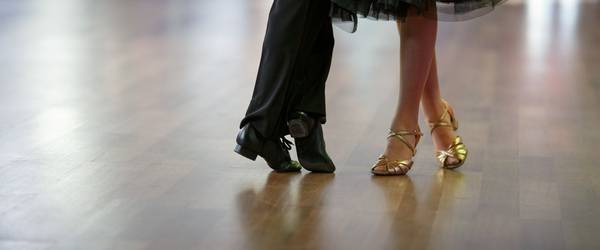 Q. How did you get involved with Strictly Come Dancing?
Ha! Ha!...this is one I owe to Mr Len Goodman himself!!
The start – Approached by the BBC
2005 would see me take on a new role in my career. I was to become involved with the show Strictly Come Dancing. Already an extremely successful primetime television show for BBC1, having released two shows in 2004, series three would see me putting on my dancing shoes once again. Being six years retired from competitive dancing as well as just starting to enjoy a new life as a mother, this was going to prove to be quite a challenge.
I was initially approached to take part in Series 2 after Len Goodman had put me forward but the re-birth of my dancing dream was to be put on hold as I found out I was pregnant.
A year later it was quite a shock to be contacted again by the BBC and later I was to find out it was all down to my husband who had secretly put my name forward, knowing how much I missed dancing.
Preparations
With the contracts signed it was time to put my money where my mouth was and I had to do everything in my power to get my body back into condition. It had been six years since I had last assumed the wardrobe of a competitive dancer and before I could 'wear it well' I had to lose the excess baby weight I had gained from my newly born son as well as get my tummy muscles back into some sort of order. It was an arduous build up to the first day of meeting my allotted celebrity. Going running most days, endless sit ups and press ups and countless hours down at the studio practising being back on 3 inch heels again were all valuable preparations I needed to lead up to performance day."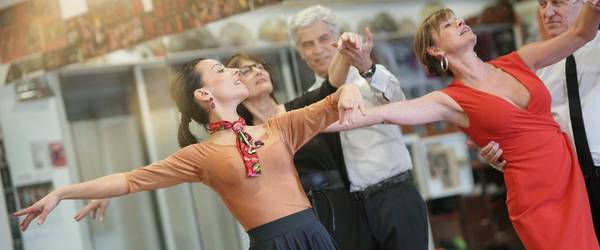 Q. Over the years you have had a fabulous selection of celebrity dance partners on Strictly Come Dancing, winning with cricketer, Mark Ramprakash in 2006. How did it feel to hold up the glitter ball trophy and how did you train him to such a high standard?
It's funny how fate can play a role in determining your future. The BBC asked me to do series 4 at the beginning of 2006, but I only decided a few weeks before the show started that I was going to take part.
My son was only five months old when I started Series 3 and a few months later I had only just stopped breast-feeding, so my hormones had been all over the place. I wasn't sure if I wanted to do it; the fitness regime and the total commitment need cannot be underestimated. My experiences with the wonderful Bill Turnbull in series 3 though, made up my mind to have another try.
I didn't know who Mark was when I first met him. When I put his number into my phone I asked him what his surname was. He replied: "oh, it's long". I typed in 'Long' but he stopped me and said: "actually I meant that it's a long name. My name's Ramprakash". I was so embarrassed but the ice was broken immediately.
From then on it was an incredible roller coaster of experiences and emotions, with millions of viewers watching every Saturday night and obviously voting for us, as we kept coming back week after week.
Again the rehearsals were hard but Mark's natural fitness and desire to win enabled me to teach him at a quicker rate and to create more exciting choreography. The further we got through the show the more the pressure grew and getting through to the final was unbelievable. The competition was very strong and we had to produce a near perfect dance.
Suddenly people were talking about us being favourites but we knew Matt Dawson and Lilia Kopylova were a fantastic couple too and although both Mark and I were used to the pressure we had to put that out of our minds and concentrate on rehearsing the 5 dances required including the favourite ballroom and Latin dances from that series. We chose the Tango and the Salsa and Matt and Lilia opted for the Waltz and the Samba.
The evening from the start was an adrenaline filled blur, the competition was high with Matt and Lilia matching us dance for dance.
The judges said that the quality of dancing in the final was "exceptional" and when we achieved a maximum score of 40 out of 40 for our Salsa it gave us the momentum for the Freestyle, this provided a fitting end to our partnership in a great competition with marvellous lifts interspersed by many different dance steps, our most popular move of the night was to be a very challenging overhead lift which won a double standing ovation, led by judge Len Goodman.
When they announced we had won, I could hardly breathe and the emotion of the moment got to me. Of course I cried and was unable to speak or tell Mark just how proud I was of him.
The other judges were equally impressed, with Bruno Tonioli calling the performance "the crowning glory of a spectacular night"
After winning Mark kindly said, "From the very first day I met Karen Hardy she has given me the experience of a lifetime. It has been an absolute privilege to be on the show." and Matt Dawson said: "There was no question, there was one winner here."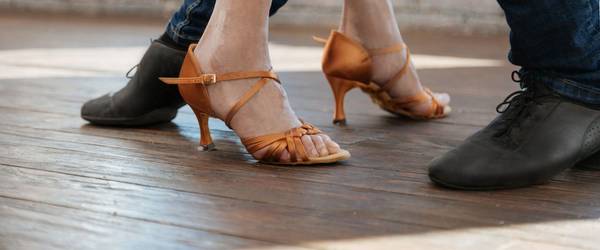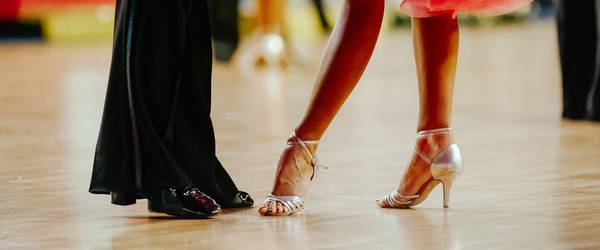 Q. What was your favourite dance routine with Mark and how did you choreograph it?
My most favourite dance routine with Mark had to be our Salsa. Even though it comes with an accompanying memory of fear, to date I think this is still my most favourite dance I ever performed on Strictly. Getting tangled up with our microphones and having to stop on live TV, with Eastenders queuing up behind and the absolute fear of 'OMG what have we done on live TV" overwhelming my nervous system it would be the late Mr Bruce Forsythe who would save the day on live TV. You can still google this moment on Youtube so even if I want to forget it I can't but most of all I will never forget Bruce's words when we went to his dressing room after to apologise.."Karen…I live for moments like this on live TV". He was one of the greatest legends I ever had the opportunity to meet and hugely respect for his true commitment and services to the world of entertainment.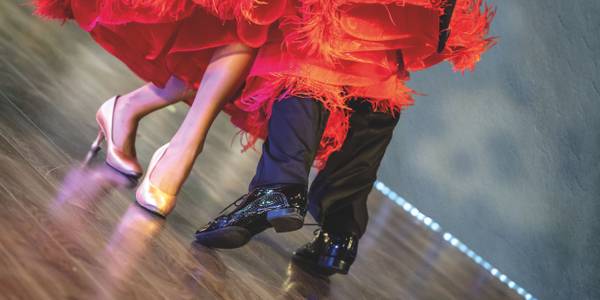 Q. You are also a regular guest on Strictly – It Takes Two, what is it like to be part of the Strictly team, and what do you enjoy most about it?
It's really quite simple…what I love most is that we are one big family. If you've had any involvement with this show it consumes you, eats you alive but most of all makes you realise how much the outside world truly fell in love with our world of Ballroom and Latin American dancing. I wanted to commit in a special way to the sister show of Strictly as it's here you get the real chance to see what goes on behind the scenes and a chance to see the true sides of the dancers and celebrities alike. There is no hiding or faking in this world on the dance floor. You either learn to dance or you're probably out. I love most of all having a small opportunity to really share with the audience the history, reasons or more in-depth knowledge about steps and movements which unfold on the TV screens. As dancers are role is to make the most challenging of steps look the most easiest so it's a dream to get everyone up and having ago in their kitchens whilst cooking dinner.
Q. What are your best moments on Strictly that have brought you special memories?
There are truly so many that I guess I am blessed to have many of them safe in my memory. From winning the amazing title, to meeting some of the greatest celebrities around the world. To the incredible design moments when visualising and creating a look for your celebrity and their dancing and being allowed the opportunity to work with the greatest hair and makeup artists and costum designers all equipped to make your visions come true. To even the amazing red carpet experiences you get to experience. I guess one of my favourite has to be meeting Prince Charles. Training Evander Holyfield to do a Christmas Jive was hysterical to an Argentinian Tango with Mark Ramprakash fighting for the final, to stepping out on the famous BBC dance floor after 6 years of retirement with the wonderful Mr Bill Turnbull all leave me with such incredible memories for a lifetime to come.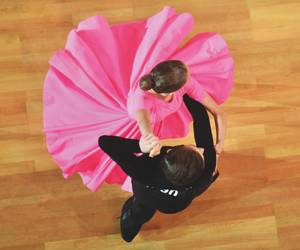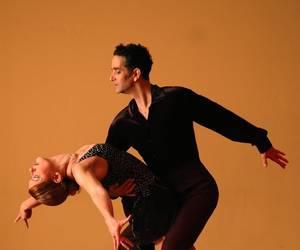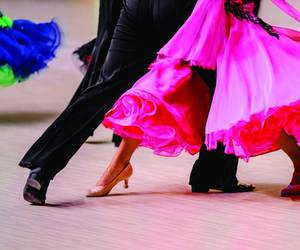 Q. You will shortly be working with HF Holiday Dance Breaks as a dance instructor on their Special Interest dance breaks for 2020. Can you tell us what dances you specialise in, and what guests can look forward to as part of their ballroom dance experience?
My expertise is of course the Latin American division and I can guarantee many will fear stepping on the dance floor with me to start but they won't want to leave when it all comes to an end. Being an instructor I love to always see the talent that stands on the floor in front of me and then I set to work my magic to ensure everyone has a great deal of fun on the dance floor and hopefully for a lifetime to come. Movement and music is one of the greatest experiences for the human spirit and I love seeing everyone enjoying themselves. So I would prepare everyone there will be no boundaries, so don't hold back. You will hear me say one of my many mantras…"If you are going to do it wrong…do it brilliantly wrong!!!" It's then everyone starts to feel at ease.
Q. What do you recommend for a beginner to bring on their HF Holidays Dance break, for example special clothes, shoes, water etc? And what does HF Holidays provide for them?
I recommend everyone to bring lovely comfortable clothing. You do not need to dress down in jogging suits and jeans but rather be apart of my dream world of glamour. So as long as it is comfortable dress up as much or as little as you feel at ease in. If you are a beginner, lower heeled shoes will always make you feel a lot more at ease. Water is a great part of the experience as it will refresh and rejuvenate you as we go through the moves but it's definitely not there as an excuse to have a break…as be careful I'll be watching everyone as I'm aiming to make Strictly champions on this experience.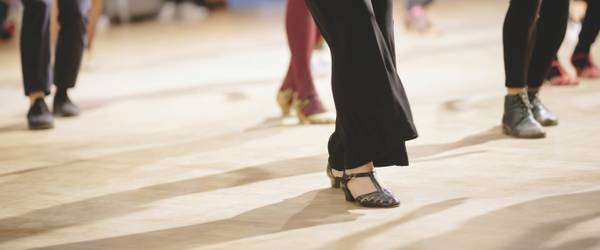 Q. Will the classes also be suitable for improvers who have already had ballroom dancing lessons? What will they learn and accomplish over the break?
All levels are most certainly welcomed. I'm experienced enough to be able to guide the early learners along as well as push those with a lot more experience with higher technical knowledge, that will send them back to their rooms excited to take their dancing to a next level. We will be covering all areas of dance from technical elements to performance values to even simply building up the confidence to ask a stranger to dance…
Q. What do you recommend for beginners who have enjoyed Strictly Come Dancing and want to learn how to dance? What is the best way to start?
There is always one thing I recommend and that is to google your local dance school. You can always tell a good school as their classes will be packed and they are a great deal of fun at the same time. As absolute beginners it's not about taking exams or winning the worlds for your country from the start, as I say to many of my young professional students stepping out to teach dancing for the first time after qualifying. Most people are looking for a fun and enjoyable experience with the added bonus of feeling they have achieved something on the dance floor. Everyone has a different learning curve so it is essential the teachers are watching you develop and identify what you need individually.
Q. Do you have a special message for any readers?
Yes of course…Live Love and Experience dance for a life time to come. Whether it's for five minutes in your front room, at your son or daughter's wedding or on a wonderful holiday somewhere in this world…the fact that you can get up and have a go is a wonderful experience to treasure forever. And as we always say on Strictly…Keeeeeeeeeeeeeeeeeeeeep Dancing. Xx