Covering 90 miles from Saltaire near Shipley, West Yorkshire to Appleby-in-Westmorland, Cumbria, the Dales High Way takes you across the gloriously high country of the Yorkshire Dales. Highlights along the way include Rombald's Moor for Neolithic rock carvings, Malhamdale for dramatic landscapes, and the Howgill Fell range for stunning scenery. You'll also pass beneath the Ribbleshead Viaduct and spend time in Appleby – the charming market town in the heart of the Eden Valley.
What you'll love
Walking the best of this upland trail 
Ascending Ingleborough, one of Yorkshire's Three Peaks 
Keeping your eyes peeled for a variety of wildlife 
Visiting the Victorian model village of Saltaire 
Admiring artworks by David Hockney at Salt's Mill 
Staying at Newfield Hall, our country house near Malham 
What's included
Comfortable en-suite rooms in our partner accommodation(s) 
Cooked or continental breakfast every morning 
Daily packed lunches
Three-course evening meals, plus tea & coffee  
Guided walks with an experienced HF Holidays Leader 
All transport to and from walks where necessary 
Luggage transfers
Trip Notes
Easy to download as a PDF, our trip notes provide detailed information for every holiday. Please click below to find the trip notes for your departure date.
All our carefully-curated itineraries are designed by our experts. While we make every effort to adhere to the described itinerary, we may take alternative routes or adapt the running order for weather and/or operational reasons.
Your leader will give an introductory talk about the holiday.
---
Commencing the 90-mile journey at the Victorian model village of Saltaire gives us the perfect opportunity to visit the iconic building Salt's Mill, a conversion of a textile mill into an Art Gallery containing works by David Hockney, cafes, and exhibitions. We then start the Dales High Way by crossing the River Aire and ascending gently to the high heather-clad Rombald's Moor which lies between Airedale and Wharfedale. It is made up of three local moors, the most famous of which, and our destination today, is Ilkley Moor. Continuing on good paths and just before we reach the highest point for today at Lanshaw Lad, we pass the stone circle known as the Twelve Apostles believed to date from the Bronze Age. After passing the Victorian bath house at White Wells we descend to the spa town of Ilkley.
7½ miles (12km) with 1,020 feet (310m) of ascent and 922 feet (281m) of descent.
---
An impressive long craggy escarpment which dominates Ilkley and the Wharfe valley leads us by the Swastika Stone which has greeted travellers passing this way since the Iron Age, and on towards the Neolithic Piper Crag Stone which juts out above the moor edge. After crossing Addingham High Moor the route drops to join an old Turnpike Road (a toll road from 1755 to 1803 and known locally as the 'Roman road)' above Addingham. The route ascends to Skipton Moor with its impressive vista, and then descends into Skipton, a busy market town known as the 'Gateway to the Dales' and which lies in the Aire Gap.
11 miles (17.5km) with 1,400 feet (425m) of ascent and 1,450 feet (440m) of descent.
---
We ascend out of Skipton up to the small peak of Sharp Haw on grassy terrain. The route descends to the village of Flasby backed by the shapely Flasby hills, and then follows the delightful beckside to the small hamlet of Hetton. Continuing over grassy terrain we ascend to Weets Top, where, on a clear day, the panoramic view is magnificent, and where the dramatic and spectacular change in the landscape of Malhamdale will be obvious. We descend to Gordale House and walk into Malham village by the beautiful waterfall of Janet's Foss.
13 miles (20.5km) with 1,654 feet (504m) of ascent and 1,654 feet (415m) of descent.
---
Today our route takes us through some of the UK's most remarkable limestone scenery. Leaving Gordale Bridge we quickly arrive at Malham Cove which was cut back and formed by glacial melt waters that poured down the impressive dry valley of Watlowes. We pick our way over the limestone pavement at the top of the Cove and ascend gently through Watlowes dry valley before ascending more steeply towards Kirkby Fell. We continue through the limestone scenery via Attermire Scar and Victoria Cave (so named because it was rediscovered on the day of Queen Victoria's accession in 1837), and by Warrendale Knotts into the lovely Dales market town of Settle. From Settle a fine riverside walk along the banks of the Ribble leads to the waterfalls and the 14th century packhorse bridge at Little Stainforth and ascend into the village of Stainforth.
10 miles (16.5kms) with 1,552 feet (473m) of ascent, and 1,647 feet (502m) of descent.
---
Our walk-through magnificent limestone scenery continues today as we ascend out of Stainforth on to the limestone plateau to pass Smearset Scar. After dropping into the southern end of the lovely and secluded valley of Crummockdale we ascend once more into a dramatic landscape of broad limestone terraces. Following an old drover's road, we continue round the southern flank of Simon Fell, through striking limestone pavements, and ascend by an easy but quite lengthy route to the summit of Ingleborough (724m). The rocky summit is vast and offers excellent views all around. We leave the summit by the same way and descend, initially very steeply but then on a paved path, to Chapel le Dale.
11½ miles (18.7kms) with 2,300 feet (700m) of ascent, and 1,870 feet (570m) of descent.
---
The entire path today follows an ancient packhorse route, the Craven Way, which comes up from Ingleton. After leaving Chapel le Dale and passing by Bruntscar and Winterscales it is not long before we come to, and pass beneath, the awesome Ribbleshead Viaduct with its 24 arches, although it is a man-made structure it seems to enhance the natural beauty of the landscape. After passing a lonely signal box the path leaves the railway and ascends steeply around Whernside's northern flank, another delightful section of the walk, to arrive at Wold's End in Dentdale, where the valley opens below in all its stunning beauty. We continue along Deepdale Beck and the River Dee into the delightful village of Dent with its narrow-cobbled streets, founded by Norse settlers.
10 miles (16kms) with 1,100 feet (335m) of ascent, and 1,600 feet (490m) of descent.
---
We start our walk in Dent along the riverside for a short distance before ascending over Frostrow, descending to quiet lanes which lead us to Sedbergh. On clear days there are stunning views of the steep-sided rolling hills of the Howgill Fells. With a shorter day today, there will be free time in the afternoon to explore Sedbergh, England's official Book Town.
5½ miles (8.5Kms) with 570 feet (173m) of ascent, and 610 feet (186m) of descent.
---
The route now crosses the whole of the Howgill Fell range in a wonderful six-mile-long and a grassy and wide ridge walk. The Howgills are unique in character and with their steep sided velvety folds in a compact group they could not be more different from the earlier limestone scenery. From Sedbergh we ascend via the charming Settlebeck Gill to the rounded tops of Arant Haw, Calders, and The Calf, the highest summit in the Howgills at 676m. On a clear day the views are magnificent with the Yorkshire Three peaks, the Lakeland Fells and the northern Pennines all visible in the distance. From The Calf the route continues along the ridge above Bowderdale and then drops down to the valley and finally on a short section of a country lane we arrive at the small village of Newbiggin on Lune.
11 miles (18kms) with 2,330 feet (710m) of ascent, and 1,940 feet (590m) of descent.
---
The final stage of the walk has a relaxed, winding down feel to it. It begins by going over Ravenstonedale Moor to reach the isolated and splendid Sunbiggin Tarn, a Site of Special Scientific Interest. Then just when you were thinking you had left well behind the limestone scenery; a vast expanse of spectacular limestone pavement opens up before you. This is Great Asby Scar, part of the Orton Fell range which sports some of the finest limestone pavements in the UK outside of the Ingleborough and Malham areas. From the top of the scar the views of the Eden Valley are breathtaking. A steady descent takes us to Great Asby, with the last leg of the walk along a lovely beckside to the picturesque Rutter Mill and its delightful waterfall. The route continues alongside Hoff beck, over the ancient crossing at Bandley Bridge, for a final short ascent to the castle in Appleby, an attractive market town.
12½ miles (20 kms) with 706 feet (215m) of ascent, and 1,085 feet (330m) of descent.
---
---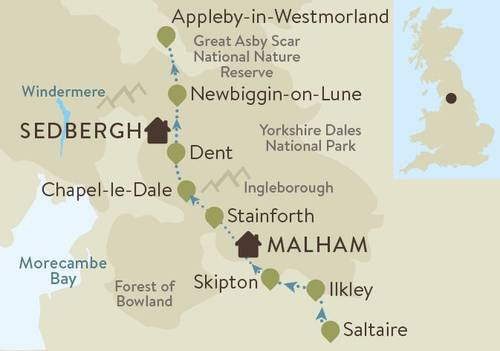 Newfield Hall
Looking every inch the baronial mansion, Newfield Hall sits in two acres of grounds near the village of Malham at the southern base of Yorkshire Dales National Park. Given it was this very landscape which inspired Wordsworth to write a sonnet and Charles Kingsley to pen The Water Babies, the countryside views are as gorgeous as you'd imagine. You'll also have plenty of sightseeing greats within easy travelling distance, most notably Malham Tarn, Janet's Foss, Gordale Scar, Malham Cove, and The Dry Valley of the Watlowes. And then, of course, there's Yorkshire's famous trio of summits: Pen-y-ghent, Whernside, and Ingleborough, collectively known as the three peaks. Stay at Newfield Hall and experience the exceptional service of a VisitEngland ROSE award winner. Find out more about the latest accolade awarded to our country house in the Southern Yorkshire Dales by reading our latest blog.
Thorns Hall
Delivering on all fronts for countryside lovers, this cosy Grade II-listed manor house is just a skip away from Sedbergh – the Cumbrian market town treasured for its cobbled streets, public school, artisan shops, and bookshops (it's known as England's official book town for good reason). You'll also have the Yorkshire Dales National Park on your doorstep as well as the Howgill Fells - the small group of hills adored by legendary fellwalker, illustrator, and guidebook author Alfred Wainwright. The walking opportunities here are outstanding, but if you fancy travelling further afield there's Kendal (home of the mint cake), Hawes, Wensleydale, Appleby-in-Westmorland, and Lake Windemere all within easy driving distance.  
Essential information
The UK has a famously unpredictable climate so it's best to be prepared for weather that's sunny one minute and raining the next.  To make it easier, here's a list of items you should consider packing.  
Essentials 
Suitable footwear such as waterproof walking boots that provide ankle support and good grip 
Waterproof and windproof jacket, preferably insulated 
Comfortable clothing (jeans & waterproof capes are not suitable) 
Waterproof overtrousers 
Gloves and a warm hat (or sunhat) 
Rucksack 
Water bottle (at least 1 litre capacity) 
A small torch 
Sunscreen 
Mobile phone and portable charger 
Watch 
UV sunglasses 
Recommended 
Several base layers (long-sleeve or short-sleeve) 
Cushioned walking socks to avoid blisters 
First aid kit, including plasters and insect repellent 
Sit mat  
Spare pair of socks 
Energy snacks 
Waterproof pouch for valuables 
Rubbish bag (remember to always leave no trace) 
Wallet/purse 
Optional extras
Walking poles, useful for descents 
Flask for hot drinks 
Durable lunch box 
Gaiters 
Blister kit  
Waterproof rucksack liner 
Head torch 
GPS device 
Newfield Hall Calendar
Guided Walking
Self-Guided Walking
Special Interests
Unavailable to Book
All holidays are subject to availability. Supplements may apply.

Non-member fee: £30 per person.
All our carefully-curated itineraries are designed by our experts. While we make every effort to adhere to the described itinerary, we may take an alternative route, or vary the running order for weather and/or operational reasons.

Holiday prices
Date (Start - End)
Itinerary
Double / Twin Room
Single Room
Notes / Offers
Trip Notes
Book
2024

26 Apr - 06 May 2024

10 nights

Guided Trail

Single Call to Enquire

Double from

£1,699 £1,574 pp

from

£1,699 £1,574 pp

Call to Enquire
Save £125 Per Person

Trip Notes

Book Now

31 May - 10 Jun 2024

10 nights

Guided Trail

Single Call to Enquire

Double from

£1,699 £1,574 pp

from

£1,699 £1,574 pp

Call to Enquire
Save £125 Per Person

Trip Notes

Book Now

23 Aug - 02 Sep 2024

10 nights

Guided Trail

Single from

£1,624 £1,499

Double from

£1,699 £1,574 pp

from

£1,699 £1,574 pp

from

£1,624 £1,499

Save £125 Per Person

Trip Notes

Book Now