Discover the beautiful, unspoilt green hills of Croatia's Istrian peninsula. This stunning area offers a wonderful history and many similarities to neighbouring Italy, with pretty hilltop towns surrounded by vineyards and olive groves. Our walks between them on ancient trails past waterfalls and crumbling ruins allow us to fully uncover Istria's delights.
Holiday Highlights
Pretty hilltop towns and waterfalls
Vineyards, olive groves and unspoilt green countryside
Enjoy wonderful Istrian cuisine and wines
Discover historic Poreč and swim in the shimmering waters of the Adriatic
What's included
A full programme of guided walks with 2 options every walking day
All transport to and from walks
The services of experienced HF Holidays' leaders
"With flight" holidays include return flights from the UK and hotel transfers
7 nights' en-suite accommodation.
Half board – 7 buffet breakfasts and 7 evening meals
Welcome to the hotel Valamar Crystal. Unpack and settle in.
---
Today, both walks discover the coastline to the north of Porec.
Option 1 - Beaches, Bays and Capes
Distance: 6 miles (9½km)
Total ascent: Negligible
In summary: Starting from the marina in the quiet seaside village of Červar Porat we follow the flat coastline losing count of the number of delightful beaches, all inviting us to take a dip. We take a rest on the tip of Cape Busuja and admire the mellow Adriatic view. Eventually, we reach Poreč where we can visit the old city, a cultural monument in itself, and walk back to the hotel.
Highlight: Views of the glistening Adriatic.
Option 2 - What did the Romans do for us?
Distance: 10 miles (16km)
Total ascent: Negligible
In summary: On this walk we find that the Romans were very busy in this part of Istria, establishing one of the largest (and best preserved) ceramic production plants in the Western Mediterranean and we view its remains. Following the coast southward, from St Marina we visit bays, beaches and headlands and when the old city of Poreč comes into view, we appreciate that this area has a centuries long history of trade and commerce.
Highlight: The distant view of Poreč
---
Both of our walks will explore the area around Motovun, a pretty hilltop town.
Option 1 - Vineyards to Motovun
Distance: 5 miles (8½km)
Total ascent: 1,200 feet (360m)
Total descent: 600 feet (180m)
In summary: Starting from a bridge over the River Mirna, we pass through woodland skirting the river before ascending the side of the valley. A view of our objective, the mediaeval hill-top town of Motovun, suddenly and dramatically appears before us as we pass through vineyards. We make our final ascent to the much-visited town via an ancient stairway to enter it as travellers over the centuries have done.
Highlight: The stunning distant view of this romantic town.
Option 2 - Motovun and the Parenzana
Distance: 7½ miles (12km)
Total ascent: 1,200 feet (360m)
In summary: After following a similar route to Option 1, we make a sharper ascent of the valley side to reach the Parenzana, a disused railway track following an unlikely route through the rolling hills and now much used by walkers and cyclists. After visiting Motovun we descend through woods and fields with delightful views over the neighbouring valley.
Highlight: Observing Motovun slowly getting larger as we approach much as pre-motorised travellers would have done.
---
Follow a stunning coastal route on the southern tip of Istria.
Option 1 - Dinosaurs walked this way
Distance: 7 miles (11km)
Total ascent: 400 feet (120m)
In summary: Istria's modern motorway speeds us to the jewel on the southern coast – the Kamenja Peninsular. We hike over the limestone on the rugged western coast, reach the breathtaking viewpoint on the southern tip and return on the gentler shores of the eastern side with its tempting beaches and bays. We finish our adventure in the old village of Premantura.
Highlight: Are those really dinosaur footprints?!
Option 2 - Fossils galore
Distance: 8½ miles (13½km)
Total ascent: 700 feet (220m)
In summary: Starting from the quiet village of Pomer, we cross a long tidal causeway before ascending onto the spine of the Kamenja peninsular. Despite our modest height the views are spectacular and the history of this location even more so. This leads us onto the peninsular proper where we pick up the Option 1 track.
Highlight: Two vantage points are visited, each giving 360° views of the amazing seascapes.
---
Each week there is a free day offering an opportunity to relax around the hotel or visit local places of interest.
Poreč: Discover the fascinating history of this ancient city. Alternatively, enjoy one of the many boat trips offered at the habour side. Even a high-speed catamaran day trip to Venice is possible! Or simply take a dip in the sea.
Pula: The capital of Istria has been described as Croatia's Best Kept Secret. It has spectacular Roman remains including an amphitheatre built to house 20,000 spectators, the only remaining Roman amphitheatre in the world with a complete circle wall. It is easily reached by public bus.
Our hotel can arrange a large number of activities and sports from tennis to biking to snorkelling in addition to offering a selection coach trips to attractions in Istria.
---
Walk inland on the Istrian peninsular to discover some characterful hill towns.
Option 1 - Završje to Oprtalj
Distance: 6½ miles (10km)
Total ascent: 900 feet (270m)
Total descent: 700 feet (210m)
In summary: Three hill towns to visit today all very different in character. The first Grožnjan is a thriving centre for tourists, the second, almost deserted and decaying, the third is more of a working town. We use our bus to visit Grožnjan then begin our walk at Završje taking the Parenzana (disused) railway track over its dramatic course to make our final ascent to Oprtalj.
Highlight: The contrasting fortunes of the three towns and the reasons for it.
Option 2 - Grožnjan via Završje to Oprtalj
Distance: 9 miles (14½km)
Total ascent: 1,400 feet (420m)
Total descent: 1,100 feet (330m)
In summary: Our walk starts at Grožnjan and after an exploration of the town we follow roads and tracks high above the Mirna Valley passing through tiny farming communities. We arrive at Završje, surrounded by vineyards and follow behind Option 1 walkers, over 3 viaducts and through 3 tunnels on the old railway line.
Highlight: Wondering at the engineering feats which created the railway.
---
Follow the coast to the south of Porec.
Option 1 - The golden cape
Distance: 7 miles (11km)
Total ascent: Negligible
In summary: After walking through a large camping complex, we follow the beautiful Adriatic coast northwards to Cape Zlatini. A forest park was established here in the 19th century encouraging tourism in the area for the first time. There are wonderful outlooks over numerous small nearby islands and, as we round the cape, the ancient hill city of Rovinj makes a dramatic appearance. We complete our pilgrimage there and take a closer look at its antiquities.
Highlight: The view of Rovinj from Cape Zlatini, the Golden Cape.
Option 2 - A bronze age settlement and an Italianate city
Distance: 9 miles (14½km)
Total ascent: 200 feet (60m)
Total descent: 280 feet (80m)
In summary: We start by making a brief ascent to a vast, remarkably intact, Bronze Age site who's wonderful 360° view gave the occupants good warning of hostile visitors. Descending through pleasant farmland we reach the coast and trace the footsteps of the Option 1 walkers.
Highlight: Sparkling seaward views flecked with small islands.
---
We hope to see you again soon.
---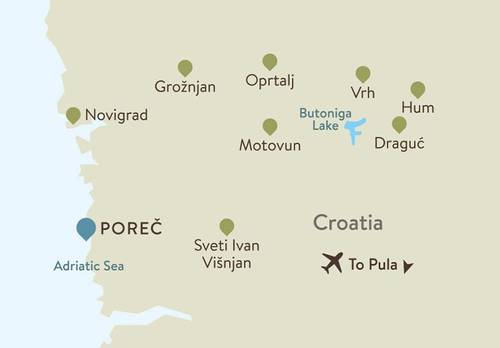 Valamar Crystal Hotel, Croatia, Istria
This modern spacious hotel enjoys a seafront location nestled amongst the trees, yet is only a short coastal stroll from bustling, historic Porec, which provides a wonderful base to explore when we return from our walks. The hotel offers 223 spacious and bright en-suite rooms, a large terrace, bar and outdoor swimming pool.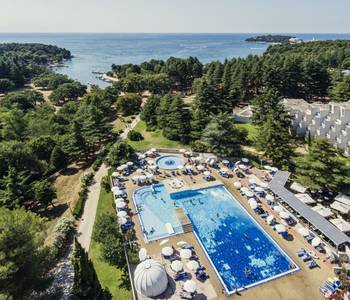 Getting to Valamar Crystal Hotel, Croatia, Istria
Find out more about this location including travel details and room types.
More Information
All holidays are subject to availability and prices are subject to change.
Non-member fee: £10 per person.
These departure dates can be booked with flights or as land only holiday options. All packages that include flights are ATOL protected. Advertised flight prices are based on UK flights departing from London. Regional departures and/or connections to London, if available, can be requested. Cabin upgrades may also be available on request.
Important Information
Double room for sole occupancy: £25
With flight holidays include flights from London Gatwick. Flight supplement from Manchester: £80
Independent travellers can join our transfer from Pula Airport: £48.50 single