Derwent Bank
Lake District

Close to Keswick and situated slap bang on the shore of Derwentwater, with the glassy lake on one side and the razor-edged ridges, humpbacked fells and muscular mountains of the Lake District on the other, beautiful Derwent Bank has been entrancing walkers since 1785. Extensive refurbishment and investment have seen this established walkers' retreat transformed into a beautiful country house hotel perfect for people looking to explore the great outdoors. It's also perfect for drinking in the views over a glass of something chilled on the terrace. With 41 bedrooms across the main house and garden rooms as well as a rustic 'pod' to sleep in, there's plenty of space, along with a pretty orangery, large lounge and relaxed vibe. The lakeside land encompasses a formal garden, extensive lawns and mature trees. The emphasis is on enjoying the great outdoors and it's all made super easy with walkers' facilities from an inspiration point equipped with maps and route ideas to a boot room and drying space – this is the Lakes, after all. With views of Cat Bells and Grizedale Pike, the inspiration for adventure is never far away. Venture out from the house to head to the high peaks such as Scafell Pike, Blencathra and Helvellyn or stick to the lower slopes and lakes; Ullswater, arguably the most beautiful of the Cumbrian lakes, Borrowdale and Buttermere are all within easy reach.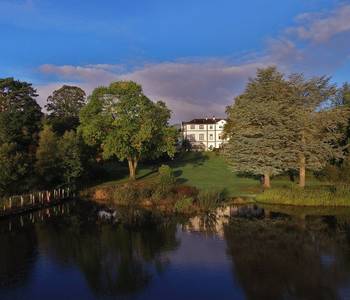 Fly over the Northern Lake District
Our drone video gives you a bird's-eye view of some of the wonderful scenery you can enjoy during walks in the northern Lake District. Take an aerial tour - it's almost as good as being there in person!
What's on?
Guided Walking
Self-Guided Walking
Special Interests
Unavailable to Book
Use our holiday calendar to see what's on when at Derwent Bank and still available to book; click on a holiday option to see more
Discover Lake District
Local Area
Discover the Lake District
The Lake District is England's premier national park with outstanding mountain scenery.
Keswick
The nearest town is Keswick, about two miles away. As a popular tourist destination it has a range of facilities including supermarkets, banks, a post office, pubs and cafés. It is also well known for its huge number of outdoor shops where you can buy an array of clothing and equipment for the outdoors.
During your visit to Derwent Bank you may enjoy visiting the following places of interest:
Derwentwater Launch
Take a leisurely journey around Derwentwater on the ferry - a great way to see the surrounding mountains from a different perspective. The nearest stop at Nichol End is just a few minutes' walk from Derwent Bank. www.keswick-launch.co.uk
Theatre by the Lake
Situated by the lakeshore in Keswick, the theatre offers an excellent repertoire of plays in the main house and smaller studio theatre. The theatre's popularity means that advance booking is recommended, especially in the high season. www.theatrebythelake.com
Honister Slate Mine
Go underground on the mine tour at this famous Lake District mine which is situated at the top of Honister Pass between Borrowdale and Buttermere. Here you can travel underground and learn about the history of Lake District slate production. Honister is around 30 minutes' drive from Derwent Bank, and can also be reached directly using the Honister Rambler bus. www.honister.com
Whinlatter Forest & Go Ape!
Relax at the visitors centre and cafe, or follow the excellent new mountain bike trail; one of the best in Britain. The high-ropes Go Ape course is great option for active teenagers. www.forestry.gov.uk/whinlatter or www.goape.co.uk
Derwent Water Marina
Hire a canoe or sailing boat and enjoy one of England's most beautiful lakes. Just five minutes' walk from Derwent Bank. www.derwentwatermarina.co.uk
Grasmere
Grasmere is about 30 minutes' drive from Derwent Bank and is famous with its connections with William Wordsworth. The poet's homes at Dove Cottage and Rydal Mount can be visited, the former of which includes the Wordsworth Museum. Wordsworth's birthplace can also be visited in Cockermouth; a pleasant market town to the north-west of Derwent Bank. Both Grasmere and Cockermouth can be reached by local bus from Keswick. www.wordsworth.org.uk
Ullswater
About 30 minutes' drive from Derwent Bank is Ullswater, arguably the most beautiful of the Cumbrian lakes. Enjoy its glorious scenery either on foot or by steamer. If you are visiting the Ullswater area you could also visit the superb waterfall of Aira Force or the country house and gardens at Dalemain. www.ullswater-steamers.co.uk or www.dalemain.com
Lake District Wildlife Park
Well worth a visit for the whole family. You can watch the antics of the otters, apes and monkeys and marvel at the flying displays of eagles and vultures. www.lakedistrictwildlifepark.co.uk
Carlisle
Carlisle, about 45 minutes from Derwent Bank is the historic county town of Cumbria. Here you'll find a good selection of shops, the cathedral, and castle. Of particular interest is the Tullie House Museum which is recognised for its exciting, varied events and exhibitions programme and is full of exciting interactive displays. www.tulliehouse.co.uk
Getting to Derwent Bank
Travel Details
Our address is: Derwent Bank, Portinscale, Nr Keswick, Cumbria CA12 5TY
Tel: 01768 773667
By train:
The nearest train station is at Penrith on the main line between London and Glasgow. For train times and route planning by train visit www.nationalrail.co.uk or phone 03457 48 49 50.
By taxi:
The journey from Penrith to Derwent Bank can be made by taxi. The 20-mile journey from Penrith railway station takes approximately 40 minutes. You can pre-book a taxi from our recommended taxi company, Davies Taxis. The price of a 4-seat taxi is around £40. 8-seat taxis are also available at a higher rate. Please pre-book your taxi at least 7 days in advance by contacting:
Davies Taxis*
Tel: +44 (0) 17687 72676
Email: info@daviestaxis.co.uk
The return taxi journey can be arranged on your behalf by the Derwent Bank Manager.
*Davies Taxis is not owned or managed by HF Holidays
By bus:
The X5 bus runs approximately every hour from Penrith station. The nearest bus stop is on the A66, about ¾ mile walk from Derwent Bank. Alight at the Portinscale bus stop and take the road on the left (signposted to Portinscale, Grange and the Newlands Valley). Follow this road through Portinscale village - Derwent Bank is on the left-hand side after the Derwentwater Marina.
Alternatively catch the bus to Keswick and then take a short taxi journey to Derwent Bank in Portinscale.
For bus times see www.traveline.info
By car:
From Penrith - leave the M6 motorway at junction 40 and take the A66 towards Keswick. After 17 miles you'll reach a roundabout in Keswick - continue ahead following signs to Cockermouth and Workington. One mile beyond the roundabout, and 200yds beyond the B5289 turning to Keswick, turn left off off the A66 signposted to Portinscale, Grange and the Newlands Valley. Derwent Bank is approx ¾ mile along this road on the left after the Derwentwater Marina and before the Nichol End Marina. There is a large car park available at Derwent Bank.
Travelling from overseas
For most guests the most convenient option is to book a flight to Manchester Airport. There are direct trains every hour from Manchester Airport to Penrith - this is straightforward journey - allow 2 hours to Penrith. See www.nationalrail.co.uk for train times.
From Penrith station you can complete the journey to Derwent Bank using our transfer, by bus, or by taxi (see above).
Flying to London Heathrow airport is another option, but has a longer onward train journey - allow at least 4½ hours to reach Penrith. From Heathrow first take the train to London Paddington station. Next take the Underground train to London Euston. Finally the main line train from London Euston to Penith takes 3 hours. See www.nationalrail.co.uk for train times.
Array
(
    [0] => Array
        (
            [_index] => hfh-v20200909101758
            [_type] => holiday
            [_id] => 904
            [_score] => 1
            [_source] => Array
                (
                    [name] => 7-Night Northern Lake District Guided Walking Holiday
                    [title] => 
                    [ordering] => 483
                    [code] => DBBOB-7
                    [intro] => Known as the 'Queen of the Lakes', Derwent Water's gentle beauty is easy to explore on our Guided Walking holidays. Surrounded by the picture-postcard valleys of Buttermere and Borrowdale and lofty mountains, the sheer splendour of these landscapes is guaranteed to inspire you.
                    [description] => 
Head out on guided walks to discover the varied beauty of the Lake District on foot
Admire panoramic mountain, lake and river views from fells and peaks
Let an experienced walking leader bring classic routes and offbeat areas to life
Enjoy magnificent Lake District scenery and visit charming Lakeland villages
[categories] => Array ( [Trip Walking Grade] => Array ( [0] => 2 [1] => 3 [2] => 5 ) [Promotions] => Array ( [0] => Save up to £150 per person ) [Holiday Types] => Array ( [0] => Guided Walking ) [Our Country Houses] => Array ( [0] => Derwent Bank, Northern Lake District ) ) [category_text] => Array ( [0] => 2 [1] => 3 [2] => 5 [3] => Save up to £150 per person [4] => Guided Walking [5] => Derwent Bank, Northern Lake District ) [category_keywords] => Array ( [0] => [1] => [2] => [3] => [4] => [5] => ) [locations] => Array ( [Location] => Array ( [0] => Lake District ) [Continent] => Array ( [0] => United Kingdom ) [Country] => Array ( [0] => England ) ) [location_text] => Array ( [0] => Lake District [1] => United Kingdom [2] => England ) [alias] => guided-walking-derwentwater-7 [state] => 1 [start_dates] => Array ( [0] => 2021-04-09 [1] => 2021-05-07 [2] => 2021-05-28 [3] => 2021-06-11 [4] => 2021-07-09 [5] => 2021-08-20 [6] => 2021-09-03 [7] => 2021-09-17 [8] => 2021-04-30 [9] => 2021-05-21 [10] => 2021-06-04 [11] => 2021-07-02 [12] => 2021-07-16 [13] => 2021-08-13 [14] => 2021-08-27 [15] => 2021-09-10 [16] => 2021-10-15 [17] => 2021-02-19 [18] => 2021-02-26 [19] => 2021-03-05 [20] => 2021-03-12 [21] => 2021-11-05 [22] => 2021-11-19 [23] => 2021-11-26 [24] => 2021-07-26 [25] => 2020-09-18 [26] => 2020-09-25 [27] => 2020-10-02 [28] => 2020-10-16 [29] => 2020-11-13 [30] => 2020-11-20 [31] => 2020-11-27 [32] => 2020-10-09 ) [end_dates] => Array ( [0] => 2021-04-16 [1] => 2021-05-14 [2] => 2021-06-04 [3] => 2021-06-18 [4] => 2021-07-16 [5] => 2021-08-27 [6] => 2021-09-10 [7] => 2021-09-24 [8] => 2021-05-07 [9] => 2021-05-28 [10] => 2021-06-11 [11] => 2021-07-09 [12] => 2021-07-23 [13] => 2021-08-20 [14] => 2021-09-03 [15] => 2021-09-17 [16] => 2021-10-22 [17] => 2021-02-26 [18] => 2021-03-05 [19] => 2021-03-12 [20] => 2021-03-19 [21] => 2021-11-12 [22] => 2021-11-26 [23] => 2021-12-03 [24] => 2021-08-02 [25] => 2020-09-25 [26] => 2020-10-02 [27] => 2020-10-09 [28] => 2020-10-23 [29] => 2020-11-20 [30] => 2020-11-27 [31] => 2020-09-18 [32] => 2020-12-04 [33] => 2020-10-16 ) [dates] => Array ( [0] => Array ( [spaces] => 0 [start_date] => 2020-09-18 [end_date] => 2020-09-25 [is_range] => 0 [flags] => Array ( ) [state] => 1 ) [1] => Array ( [spaces] => 0 [start_date] => 2020-09-25 [end_date] => 2020-10-02 [is_range] => 0 [flags] => Array ( ) [state] => 1 ) [2] => Array ( [spaces] => 0 [start_date] => 2020-10-02 [end_date] => 2020-10-09 [is_range] => 0 [flags] => Array ( ) [state] => 1 ) [3] => Array ( [spaces] => 10 [start_date] => 2020-10-09 [end_date] => 2020-10-16 [is_range] => 0 [flags] => Array ( ) [state] => 1 ) [4] => Array ( [spaces] => 0 [start_date] => 2020-10-16 [end_date] => 2020-10-23 [is_range] => 0 [flags] => Array ( ) [state] => 1 ) [5] => Array ( [spaces] => 0 [start_date] => 2020-11-13 [end_date] => 2020-11-20 [is_range] => 0 [flags] => Array ( ) [state] => 1 ) [6] => Array ( [spaces] => 10 [start_date] => 2020-11-20 [end_date] => 2020-11-27 [is_range] => 0 [flags] => Array ( ) [state] => 1 ) [7] => Array ( [spaces] => 10 [start_date] => 2020-11-27 [end_date] => 2020-12-04 [is_range] => 0 [flags] => Array ( ) [state] => 1 ) [8] => Array ( [spaces] => 0 [start_date] => 2021-02-12 [end_date] => 2021-02-19 [is_range] => 0 [flags] => Array ( ) [state] => 0 ) [9] => Array ( [spaces] => 10 [start_date] => 2021-02-19 [end_date] => 2021-02-26 [is_range] => 0 [flags] => Array ( ) [state] => 1 ) [10] => Array ( [spaces] => 10 [start_date] => 2021-02-26 [end_date] => 2021-03-05 [is_range] => 0 [flags] => Array ( ) [state] => 1 ) [11] => Array ( [spaces] => 10 [start_date] => 2021-03-05 [end_date] => 2021-03-12 [is_range] => 0 [flags] => Array ( ) [state] => 1 ) [12] => Array ( [spaces] => 0 [start_date] => 2021-03-12 [end_date] => 2021-03-19 [is_range] => 0 [flags] => Array ( ) [state] => 1 ) [13] => Array ( [spaces] => 0 [start_date] => 2021-03-19 [end_date] => 2021-03-26 [is_range] => 0 [flags] => Array ( ) [state] => 0 ) [14] => Array ( [spaces] => 10 [start_date] => 2021-04-09 [end_date] => 2021-04-16 [is_range] => 0 [flags] => Array ( ) [state] => 1 ) [15] => Array ( [spaces] => 10 [start_date] => 2021-04-30 [end_date] => 2021-05-07 [is_range] => 0 [flags] => Array ( ) [state] => 1 ) [16] => Array ( [spaces] => 10 [start_date] => 2021-05-07 [end_date] => 2021-05-14 [is_range] => 0 [flags] => Array ( ) [state] => 1 ) [17] => Array ( [spaces] => 10 [start_date] => 2021-05-21 [end_date] => 2021-05-28 [is_range] => 0 [flags] => Array ( ) [state] => 1 ) [18] => Array ( [spaces] => 10 [start_date] => 2021-05-28 [end_date] => 2021-06-04 [is_range] => 0 [flags] => Array ( ) [state] => 1 ) [19] => Array ( [spaces] => 10 [start_date] => 2021-06-04 [end_date] => 2021-06-11 [is_range] => 0 [flags] => Array ( ) [state] => 1 ) [20] => Array ( [spaces] => 10 [start_date] => 2021-06-11 [end_date] => 2021-06-18 [is_range] => 0 [flags] => Array ( ) [state] => 1 ) [21] => Array ( [spaces] => 10 [start_date] => 2021-07-02 [end_date] => 2021-07-09 [is_range] => 0 [flags] => Array ( ) [state] => 1 ) [22] => Array ( [spaces] => 10 [start_date] => 2021-07-09 [end_date] => 2021-07-16 [is_range] => 0 [flags] => Array ( ) [state] => 1 ) [23] => Array ( [spaces] => 10 [start_date] => 2021-07-16 [end_date] => 2021-07-23 [is_range] => 0 [flags] => Array ( ) [state] => 1 ) [24] => Array ( [spaces] => 10 [start_date] => 2021-07-26 [end_date] => 2021-08-02 [is_range] => 0 [flags] => Array ( ) [state] => 1 ) [25] => Array ( [spaces] => 10 [start_date] => 2021-08-13 [end_date] => 2021-08-20 [is_range] => 0 [flags] => Array ( ) [state] => 1 ) [26] => Array ( [spaces] => 10 [start_date] => 2021-08-20 [end_date] => 2021-08-27 [is_range] => 0 [flags] => Array ( ) [state] => 1 ) [27] => Array ( [spaces] => 0 [start_date] => 2021-08-27 [end_date] => 2021-09-03 [is_range] => 0 [flags] => Array ( ) [state] => 1 ) [28] => Array ( [spaces] => 10 [start_date] => 2021-09-03 [end_date] => 2021-09-10 [is_range] => 0 [flags] => Array ( ) [state] => 1 ) [29] => Array ( [spaces] => 10 [start_date] => 2021-09-10 [end_date] => 2021-09-17 [is_range] => 0 [flags] => Array ( ) [state] => 1 ) [30] => Array ( [spaces] => 10 [start_date] => 2021-09-17 [end_date] => 2021-09-24 [is_range] => 0 [flags] => Array ( ) [state] => 1 ) [31] => Array ( [spaces] => 10 [start_date] => 2021-10-15 [end_date] => 2021-10-22 [is_range] => 0 [flags] => Array ( ) [state] => 1 ) [32] => Array ( [spaces] => 0 [start_date] => 2021-10-29 [end_date] => 2021-11-05 [is_range] => 0 [flags] => Array ( ) [state] => 0 ) [33] => Array ( [spaces] => 10 [start_date] => 2021-11-05 [end_date] => 2021-11-12 [is_range] => 0 [flags] => Array ( ) [state] => 1 ) [34] => Array ( [spaces] => 0 [start_date] => 2021-11-12 [end_date] => 2021-11-19 [is_range] => 0 [flags] => Array ( ) [state] => 0 ) [35] => Array ( [spaces] => 0 [start_date] => 2021-11-19 [end_date] => 2021-11-26 [is_range] => 0 [flags] => Array ( ) [state] => 1 ) [36] => Array ( [spaces] => 0 [start_date] => 2021-11-26 [end_date] => 2021-12-03 [is_range] => 0 [flags] => Array ( ) [state] => 1 ) ) [duration] => Array ( [0] => 7 ) [from_prices] => Array ( [GBP] => 625.00 ) [from_price_types] => Array ( [GBP] => Land Only ) [was_prices] => Array ( [GBP] => 745.00 ) [itinerary] => Array ( [0] => You're welcome to check in from 4pm onwards. [1] => [2] => [3] => Discover more about Derwent Bank and the local area for ideas on how to fill your free day.  [4] => [5] => [6] => [7] => Enjoy a leisurely breakfast before making your way home.  ) [href] => NOT IN USE [operating_months] => Array ( [0] => 1 [1] => [2] => [3] => [4] => [5] => [6] => [7] => [8] => [9] => [10] => [11] => ) [from_prices_detailed] => Array ( [GBP] => Array ( [Land Only] => 625.00 ) ) [was_prices_detailed] => Array ( [GBP] => Array ( [Land Only] => 745.00 ) ) [date_flags] => Array ( ) [list_image] => https://i.assetzen.net/i/HcTzfWlkx0kv/w:506/h:283/q:70.jpg [images] => Array ( [0] => Array ( [id] => 259 [asset_id] => 1870 [title] => Derwent Bank - Walking - Catbells - AdobeStock_46256619.jpeg [alias] => 1559659374-116546-derwent-bank-walking-catbells-adobestock-46256619-jpeg [title_alias] => [description] => Imported from External System Original File Path: '3. UK/Derwentwater - Derwent Bank - Northern Lake District/Derwent Bank - Walking - Catbells - AdobeStock_46256619.jpeg' [state] => 1 [catid] => 24 [created_at] => 2019-06-04 14:42:54 [created_by] => 322 [modified_at] => 2019-06-04 14:42:55 [Modified_by] => 0 [checked_out_by] => 0 [checked_out_at] => 0000-00-00 00:00:00 [publish_up] => 0000-00-00 00:00:00 [publish_down] => 0000-00-00 00:00:00 [params] => [metakey] => [metadesc] => [metadata] => Array ( [image_credits] => ) [featured] => 0 [xreference] => assetzen:HcTzfWlkx0kv [coords] => [file_path] => assetzen [url_path] => assetzen [file_name] => HcTzfWlkx0kv [file_ext] => assetzen [width] => 3888 [height] => 2592 [tags] => Derwentwater - Derwent Bank - Northern Lake District,3. UK,imported,_import_job:21 [category_alias] => images [category_title] => Images [link_featured] => 0 [original_sid] => HcTzfWlkx0kv [sid] => HcTzfWlkx0kv [credit] => [alt_text] => [caption] => ) ) ) ) [1] => Array ( [_index] => hfh-v20200909101758 [_type] => holiday [_id] => 908 [_score] => 1 [_source] => Array ( [name] => 4-Night Northern Lake District Guided Walking Holiday [title] => [ordering] => 446 [code] => DBBOB-4 [intro] => Known as the 'Queen of the Lakes', Derwent Water's gentle beauty is easy to explore on our Guided Walking holidays. Surrounded by the picture-postcard valleys of Buttermere and Borrowdale and lofty mountains, the sheer splendour of these landscapes is guaranteed to inspire you. [description] =>
Head out on guided walks to discover the varied beauty of the Lake District on foot
Admire panoramic mountain, lake and river views from fells and peaks
Let an experienced walking leader bring classic routes and offbeat areas to life
Enjoy magnificent Lake District scenery and visit charming Lakeland villages
[categories] => Array ( [Trip Walking Grade] => Array ( [0] => 2 [1] => 3 [2] => 5 ) [Holiday Types] => Array ( [0] => Guided Walking ) [Our Country Houses] => Array ( [0] => Derwent Bank, Northern Lake District ) ) [category_text] => Array ( [0] => 2 [1] => 3 [2] => 5 [3] => Guided Walking [4] => Derwent Bank, Northern Lake District ) [category_keywords] => Array ( [0] => [1] => [2] => [3] => [4] => ) [locations] => Array ( [Location] => Array ( [0] => Lake District ) [Continent] => Array ( [0] => United Kingdom ) [Country] => Array ( [0] => England ) ) [location_text] => Array ( [0] => Lake District [1] => United Kingdom [2] => England ) [alias] => guided-walking-derwentwater-4 [state] => 1 [start_dates] => Array ( [0] => 2021-05-03 [1] => 2021-06-07 [2] => 2021-07-05 [3] => 2021-07-19 [4] => 2021-08-16 [5] => 2021-08-30 [6] => 2021-09-13 [7] => 2021-10-18 [8] => 2021-02-22 [9] => 2021-03-01 [10] => 2021-03-08 [11] => 2021-03-15 [12] => 2021-11-08 [13] => 2021-11-15 [14] => 2021-11-22 [15] => 2021-11-29 [16] => 2021-04-12 [17] => 2021-06-14 [18] => 2021-07-12 [19] => 2021-07-26 [20] => 2021-08-23 [21] => 2021-09-06 [22] => 2021-09-20 [23] => 2021-05-10 [24] => 2021-03-29 [25] => 2021-04-19 [26] => 2021-10-04 [27] => 2021-06-28 [28] => 2020-10-05 [29] => 2020-10-26 [30] => 2020-11-16 [31] => 2020-11-23 [32] => 2020-11-30 [33] => 2020-10-19 [34] => 2020-09-28 [35] => 2020-10-12 ) [end_dates] => Array ( [0] => 2021-05-07 [1] => 2021-06-11 [2] => 2021-07-09 [3] => 2021-07-23 [4] => 2021-08-20 [5] => 2021-09-03 [6] => 2021-09-17 [7] => 2021-10-22 [8] => 2021-02-26 [9] => 2021-03-05 [10] => 2021-03-12 [11] => 2021-03-19 [12] => 2021-11-12 [13] => 2021-11-19 [14] => 2021-11-26 [15] => 2021-12-03 [16] => 2021-04-16 [17] => 2021-06-18 [18] => 2021-07-16 [19] => 2021-07-30 [20] => 2021-08-27 [21] => 2021-09-10 [22] => 2021-09-24 [23] => 2021-05-14 [24] => 2021-04-02 [25] => 2021-04-23 [26] => 2021-10-08 [27] => 2021-07-02 [28] => 2020-09-25 [29] => 2020-10-09 [30] => 2020-10-30 [31] => 2020-11-20 [32] => 2020-11-27 [33] => 2020-12-04 [34] => 2020-10-23 [35] => 2020-10-02 [36] => 2020-10-16 ) [dates] => Array ( [0] => Array ( [spaces] => 10 [start_date] => 2020-09-28 [end_date] => 2020-10-02 [is_range] => 0 [flags] => Array ( ) [state] => 1 ) [1] => Array ( [spaces] => 0 [start_date] => 2020-10-05 [end_date] => 2020-10-09 [is_range] => 0 [flags] => Array ( ) [state] => 1 ) [2] => Array ( [spaces] => 0 [start_date] => 2020-10-12 [end_date] => 2020-10-16 [is_range] => 0 [flags] => Array ( ) [state] => 0 ) [3] => Array ( [spaces] => 10 [start_date] => 2020-10-12 [end_date] => 2020-10-16 [is_range] => 0 [flags] => Array ( ) [state] => 1 ) [4] => Array ( [spaces] => 0 [start_date] => 2020-10-19 [end_date] => 2020-10-23 [is_range] => 0 [flags] => Array ( ) [state] => 1 ) [5] => Array ( [spaces] => 0 [start_date] => 2020-10-26 [end_date] => 2020-10-30 [is_range] => 0 [flags] => Array ( ) [state] => 1 ) [6] => Array ( [spaces] => 10 [start_date] => 2020-11-16 [end_date] => 2020-11-20 [is_range] => 0 [flags] => Array ( ) [state] => 1 ) [7] => Array ( [spaces] => 10 [start_date] => 2020-11-23 [end_date] => 2020-11-27 [is_range] => 0 [flags] => Array ( ) [state] => 1 ) [8] => Array ( [spaces] => 10 [start_date] => 2020-11-30 [end_date] => 2020-12-04 [is_range] => 0 [flags] => Array ( ) [state] => 1 ) [9] => Array ( [spaces] => 0 [start_date] => 2021-02-15 [end_date] => 2021-02-19 [is_range] => 0 [flags] => Array ( ) [state] => 0 ) [10] => Array ( [spaces] => 10 [start_date] => 2021-02-22 [end_date] => 2021-02-26 [is_range] => 0 [flags] => Array ( ) [state] => 1 ) [11] => Array ( [spaces] => 10 [start_date] => 2021-03-01 [end_date] => 2021-03-05 [is_range] => 0 [flags] => Array ( ) [state] => 1 ) [12] => Array ( [spaces] => 10 [start_date] => 2021-03-08 [end_date] => 2021-03-12 [is_range] => 0 [flags] => Array ( ) [state] => 1 ) [13] => Array ( [spaces] => 0 [start_date] => 2021-03-15 [end_date] => 2021-03-19 [is_range] => 0 [flags] => Array ( ) [state] => 1 ) [14] => Array ( [spaces] => 0 [start_date] => 2021-03-22 [end_date] => 2021-03-26 [is_range] => 0 [flags] => Array ( ) [state] => 0 ) [15] => Array ( [spaces] => 10 [start_date] => 2021-03-29 [end_date] => 2021-04-02 [is_range] => 0 [flags] => Array ( ) [state] => 1 ) [16] => Array ( [spaces] => 10 [start_date] => 2021-04-12 [end_date] => 2021-04-16 [is_range] => 0 [flags] => Array ( ) [state] => 1 ) [17] => Array ( [spaces] => 10 [start_date] => 2021-04-19 [end_date] => 2021-04-23 [is_range] => 0 [flags] => Array ( ) [state] => 1 ) [18] => Array ( [spaces] => 0 [start_date] => 2021-04-26 [end_date] => 2021-04-30 [is_range] => 0 [flags] => Array ( ) [state] => 0 ) [19] => Array ( [spaces] => 10 [start_date] => 2021-05-03 [end_date] => 2021-05-07 [is_range] => 0 [flags] => Array ( ) [state] => 1 ) [20] => Array ( [spaces] => 10 [start_date] => 2021-05-10 [end_date] => 2021-05-14 [is_range] => 0 [flags] => Array ( ) [state] => 1 ) [21] => Array ( [spaces] => 0 [start_date] => 2021-05-24 [end_date] => 2021-05-28 [is_range] => 0 [flags] => Array ( ) [state] => 0 ) [22] => Array ( [spaces] => 10 [start_date] => 2021-06-07 [end_date] => 2021-06-11 [is_range] => 0 [flags] => Array ( ) [state] => 1 ) [23] => Array ( [spaces] => 10 [start_date] => 2021-06-14 [end_date] => 2021-06-18 [is_range] => 0 [flags] => Array ( ) [state] => 1 ) [24] => Array ( [spaces] => 10 [start_date] => 2021-06-28 [end_date] => 2021-07-02 [is_range] => 0 [flags] => Array ( ) [state] => 1 ) [25] => Array ( [spaces] => 10 [start_date] => 2021-07-05 [end_date] => 2021-07-09 [is_range] => 0 [flags] => Array ( ) [state] => 1 ) [26] => Array ( [spaces] => 10 [start_date] => 2021-07-12 [end_date] => 2021-07-16 [is_range] => 0 [flags] => Array ( ) [state] => 1 ) [27] => Array ( [spaces] => 10 [start_date] => 2021-07-19 [end_date] => 2021-07-23 [is_range] => 0 [flags] => Array ( ) [state] => 1 ) [28] => Array ( [spaces] => 10 [start_date] => 2021-07-26 [end_date] => 2021-07-30 [is_range] => 0 [flags] => Array ( ) [state] => 1 ) [29] => Array ( [spaces] => 10 [start_date] => 2021-08-16 [end_date] => 2021-08-20 [is_range] => 0 [flags] => Array ( ) [state] => 1 ) [30] => Array ( [spaces] => 10 [start_date] => 2021-08-23 [end_date] => 2021-08-27 [is_range] => 0 [flags] => Array ( ) [state] => 1 ) [31] => Array ( [spaces] => 0 [start_date] => 2021-08-30 [end_date] => 2021-09-03 [is_range] => 0 [flags] => Array ( ) [state] => 1 ) [32] => Array ( [spaces] => 10 [start_date] => 2021-09-06 [end_date] => 2021-09-10 [is_range] => 0 [flags] => Array ( ) [state] => 1 ) [33] => Array ( [spaces] => 10 [start_date] => 2021-09-13 [end_date] => 2021-09-17 [is_range] => 0 [flags] => Array ( ) [state] => 1 ) [34] => Array ( [spaces] => 10 [start_date] => 2021-09-20 [end_date] => 2021-09-24 [is_range] => 0 [flags] => Array ( ) [state] => 1 ) [35] => Array ( [spaces] => 10 [start_date] => 2021-10-04 [end_date] => 2021-10-08 [is_range] => 0 [flags] => Array ( ) [state] => 1 ) [36] => Array ( [spaces] => 10 [start_date] => 2021-10-18 [end_date] => 2021-10-22 [is_range] => 0 [flags] => Array ( ) [state] => 1 ) [37] => Array ( [spaces] => 0 [start_date] => 2021-11-01 [end_date] => 2021-11-05 [is_range] => 0 [flags] => Array ( ) [state] => 0 ) [38] => Array ( [spaces] => 10 [start_date] => 2021-11-08 [end_date] => 2021-11-12 [is_range] => 0 [flags] => Array ( ) [state] => 1 ) [39] => Array ( [spaces] => 0 [start_date] => 2021-11-15 [end_date] => 2021-11-19 [is_range] => 0 [flags] => Array ( ) [state] => 1 ) [40] => Array ( [spaces] => 0 [start_date] => 2021-11-22 [end_date] => 2021-11-26 [is_range] => 0 [flags] => Array ( ) [state] => 1 ) [41] => Array ( [spaces] => 0 [start_date] => 2021-11-29 [end_date] => 2021-12-03 [is_range] => 0 [flags] => Array ( ) [state] => 1 ) ) [duration] => Array ( [0] => 4 [1] => 5 ) [from_prices] => Array ( [GBP] => 224.50 ) [from_price_types] => Array ( [GBP] => Land Only ) [was_prices] => Array ( [GBP] => 449.00 ) [itinerary] => Array ( [0] => You're welcome to check in from 4pm onwards. [1] => [2] => [3] => [4] => Enjoy a leisurely breakfast before making your way home.  ) [href] => NOT IN USE [operating_months] => Array ( [0] => 1 [1] => [2] => [3] => [4] => [5] => [6] => [7] => [8] => [9] => [10] => [11] => ) [from_prices_detailed] => Array ( [GBP] => Array ( [Land Only] => 224.50 ) ) [was_prices_detailed] => Array ( [GBP] => Array ( [Land Only] => 449.00 ) ) [date_flags] => Array ( ) [list_image] => https://i.assetzen.net/i/bCZ4JNJdYK3C/w:506/h:283/q:70.jpg [images] => Array ( [0] => Array ( [id] => 250 [asset_id] => 1861 [title] => Derwent Bank - Borrowdale.jpg [alias] => 1559659374-116537-derwent-bank-borrowdale-jpg [title_alias] => [description] => Imported from External System Original File Path: '3. UK/Derwentwater - Derwent Bank - Northern Lake District/Derwent Bank - Borrowdale.jpg' [state] => 1 [catid] => 24 [created_at] => 2019-06-04 14:42:54 [created_by] => 322 [modified_at] => 2019-06-04 14:42:55 [Modified_by] => 0 [checked_out_by] => 0 [checked_out_at] => 0000-00-00 00:00:00 [publish_up] => 0000-00-00 00:00:00 [publish_down] => 0000-00-00 00:00:00 [params] => [metakey] => [metadesc] => [metadata] => Array ( [image_credits] => ) [featured] => 0 [xreference] => assetzen:bCZ4JNJdYK3C [coords] => [file_path] => assetzen [url_path] => assetzen [file_name] => bCZ4JNJdYK3C [file_ext] => assetzen [width] => 3000 [height] => 2000 [tags] => Derwentwater - Derwent Bank - Northern Lake District,3. UK,imported,_import_job:21 [category_alias] => images [category_title] => Images [link_featured] => 0 [original_sid] => bCZ4JNJdYK3C [sid] => bCZ4JNJdYK3C [credit] => [alt_text] => [caption] => ) ) ) ) [2] => Array ( [_index] => hfh-v20200909101758 [_type] => holiday [_id] => 909 [_score] => 1 [_source] => Array ( [name] => 3-Night Northern Lake District Guided Walking Holiday [title] => [ordering] => 411 [code] => DBBOB-3 [intro] => Known as the 'Queen of the Lakes', Derwent Water's gentle beauty is easy to explore on our Guided Walking holidays. Surrounded by the picture-postcard valleys of Buttermere and Borrowdale and lofty mountains, the sheer splendour of these landscapes is guaranteed to inspire you. [description] =>
Head out on guided walks to discover the varied beauty of the Lake District on foot
Admire panoramic mountain, lake and river views from fells and peaks
Let an experienced walking leader bring classic routes and offbeat areas to life
Enjoy magnificent Lake District scenery and visit charming Lakeland villages
[categories] => Array ( [Trip Walking Grade] => Array ( [0] => 2 [1] => 3 [2] => 5 ) [Holiday Types] => Array ( [0] => Guided Walking ) [Our Country Houses] => Array ( [0] => Derwent Bank, Northern Lake District ) ) [category_text] => Array ( [0] => 2 [1] => 3 [2] => 5 [3] => Guided Walking [4] => Derwent Bank, Northern Lake District ) [category_keywords] => Array ( [0] => [1] => [2] => [3] => [4] => ) [locations] => Array ( [Location] => Array ( [0] => Lake District ) [Continent] => Array ( [0] => United Kingdom ) [Country] => Array ( [0] => England ) ) [location_text] => Array ( [0] => Lake District [1] => United Kingdom [2] => England ) [alias] => guided-walking-derwentwater-3 [state] => 1 [start_dates] => Array ( [0] => 2021-04-30 [1] => 2021-05-21 [2] => 2021-06-04 [3] => 2021-07-02 [4] => 2021-07-16 [5] => 2021-08-13 [6] => 2021-08-27 [7] => 2021-09-10 [8] => 2021-10-15 [9] => 2021-02-19 [10] => 2021-02-26 [11] => 2021-03-05 [12] => 2021-03-12 [13] => 2021-03-19 [14] => 2021-10-29 [15] => 2021-11-05 [16] => 2021-11-19 [17] => 2021-11-26 [18] => 2021-04-09 [19] => 2021-06-11 [20] => 2021-07-09 [21] => 2021-08-20 [22] => 2021-09-03 [23] => 2021-09-17 [24] => 2021-07-30 [25] => 2021-05-28 [26] => 2021-05-07 [27] => 2021-04-02 [28] => 2021-05-14 [29] => 2021-09-24 [30] => 2021-10-08 [31] => 2021-10-22 [32] => 2021-04-16 [33] => 2020-10-02 [34] => 2020-10-16 [35] => 2020-10-30 [36] => 2020-11-13 [37] => 2020-11-20 [38] => 2020-11-27 [39] => 2020-12-04 [40] => 2020-10-09 [41] => 2020-09-25 ) [end_dates] => Array ( [0] => 2021-05-03 [1] => 2021-05-24 [2] => 2021-06-07 [3] => 2021-07-05 [4] => 2021-07-19 [5] => 2021-08-16 [6] => 2021-08-30 [7] => 2021-09-13 [8] => 2021-10-18 [9] => 2021-02-22 [10] => 2021-03-01 [11] => 2021-03-08 [12] => 2021-03-15 [13] => 2021-03-22 [14] => 2021-11-01 [15] => 2021-11-08 [16] => 2021-11-22 [17] => 2021-11-29 [18] => 2021-04-12 [19] => 2021-06-14 [20] => 2021-07-12 [21] => 2021-08-23 [22] => 2021-09-06 [23] => 2021-09-20 [24] => 2021-08-02 [25] => 2021-05-31 [26] => 2021-05-10 [27] => 2021-04-05 [28] => 2021-05-17 [29] => 2021-09-27 [30] => 2021-10-11 [31] => 2021-10-25 [32] => 2021-04-19 [33] => 2020-10-05 [34] => 2020-10-19 [35] => 2020-11-02 [36] => 2020-11-16 [37] => 2020-11-23 [38] => 2020-11-30 [39] => 2020-12-07 [40] => 2020-10-12 [41] => 2020-09-28 ) [dates] => Array ( [0] => Array ( [spaces] => 0 [start_date] => 2020-09-25 [end_date] => 2020-09-28 [is_range] => 0 [flags] => Array ( ) [state] => 1 ) [1] => Array ( [spaces] => 0 [start_date] => 2020-10-02 [end_date] => 2020-10-05 [is_range] => 0 [flags] => Array ( ) [state] => 1 ) [2] => Array ( [spaces] => 0 [start_date] => 2020-10-09 [end_date] => 2020-10-12 [is_range] => 0 [flags] => Array ( ) [state] => 1 ) [3] => Array ( [spaces] => 10 [start_date] => 2020-10-16 [end_date] => 2020-10-19 [is_range] => 0 [flags] => Array ( ) [state] => 1 ) [4] => Array ( [spaces] => 10 [start_date] => 2020-10-30 [end_date] => 2020-11-02 [is_range] => 0 [flags] => Array ( ) [state] => 1 ) [5] => Array ( [spaces] => 10 [start_date] => 2020-11-13 [end_date] => 2020-11-16 [is_range] => 0 [flags] => Array ( ) [state] => 1 ) [6] => Array ( [spaces] => 10 [start_date] => 2020-11-20 [end_date] => 2020-11-23 [is_range] => 0 [flags] => Array ( ) [state] => 1 ) [7] => Array ( [spaces] => 10 [start_date] => 2020-11-27 [end_date] => 2020-11-30 [is_range] => 0 [flags] => Array ( ) [state] => 1 ) [8] => Array ( [spaces] => 10 [start_date] => 2020-12-04 [end_date] => 2020-12-07 [is_range] => 0 [flags] => Array ( ) [state] => 1 ) [9] => Array ( [spaces] => 0 [start_date] => 2021-02-07 [end_date] => 2021-02-10 [is_range] => 0 [flags] => Array ( ) [state] => 0 ) [10] => Array ( [spaces] => 0 [start_date] => 2021-02-12 [end_date] => 2021-02-15 [is_range] => 0 [flags] => Array ( ) [state] => 0 ) [11] => Array ( [spaces] => 10 [start_date] => 2021-02-19 [end_date] => 2021-02-22 [is_range] => 0 [flags] => Array ( ) [state] => 1 ) [12] => Array ( [spaces] => 10 [start_date] => 2021-02-26 [end_date] => 2021-03-01 [is_range] => 0 [flags] => Array ( ) [state] => 1 ) [13] => Array ( [spaces] => 10 [start_date] => 2021-03-05 [end_date] => 2021-03-08 [is_range] => 0 [flags] => Array ( ) [state] => 1 ) [14] => Array ( [spaces] => 0 [start_date] => 2021-03-12 [end_date] => 2021-03-15 [is_range] => 0 [flags] => Array ( ) [state] => 1 ) [15] => Array ( [spaces] => 10 [start_date] => 2021-03-19 [end_date] => 2021-03-22 [is_range] => 0 [flags] => Array ( ) [state] => 1 ) [16] => Array ( [spaces] => 10 [start_date] => 2021-04-02 [end_date] => 2021-04-05 [is_range] => 0 [flags] => Array ( ) [state] => 1 ) [17] => Array ( [spaces] => 10 [start_date] => 2021-04-09 [end_date] => 2021-04-12 [is_range] => 0 [flags] => Array ( ) [state] => 1 ) [18] => Array ( [spaces] => 10 [start_date] => 2021-04-16 [end_date] => 2021-04-19 [is_range] => 0 [flags] => Array ( ) [state] => 1 ) [19] => Array ( [spaces] => 10 [start_date] => 2021-04-30 [end_date] => 2021-05-03 [is_range] => 0 [flags] => Array ( ) [state] => 1 ) [20] => Array ( [spaces] => 10 [start_date] => 2021-05-07 [end_date] => 2021-05-10 [is_range] => 0 [flags] => Array ( ) [state] => 1 ) [21] => Array ( [spaces] => 10 [start_date] => 2021-05-14 [end_date] => 2021-05-17 [is_range] => 0 [flags] => Array ( ) [state] => 1 ) [22] => Array ( [spaces] => 10 [start_date] => 2021-05-21 [end_date] => 2021-05-24 [is_range] => 0 [flags] => Array ( ) [state] => 1 ) [23] => Array ( [spaces] => 10 [start_date] => 2021-05-28 [end_date] => 2021-05-31 [is_range] => 0 [flags] => Array ( ) [state] => 1 ) [24] => Array ( [spaces] => 10 [start_date] => 2021-06-04 [end_date] => 2021-06-07 [is_range] => 0 [flags] => Array ( ) [state] => 1 ) [25] => Array ( [spaces] => 10 [start_date] => 2021-06-11 [end_date] => 2021-06-14 [is_range] => 0 [flags] => Array ( ) [state] => 1 ) [26] => Array ( [spaces] => 10 [start_date] => 2021-07-02 [end_date] => 2021-07-05 [is_range] => 0 [flags] => Array ( ) [state] => 1 ) [27] => Array ( [spaces] => 10 [start_date] => 2021-07-09 [end_date] => 2021-07-12 [is_range] => 0 [flags] => Array ( ) [state] => 1 ) [28] => Array ( [spaces] => 10 [start_date] => 2021-07-16 [end_date] => 2021-07-19 [is_range] => 0 [flags] => Array ( ) [state] => 1 ) [29] => Array ( [spaces] => 10 [start_date] => 2021-07-30 [end_date] => 2021-08-02 [is_range] => 0 [flags] => Array ( ) [state] => 1 ) [30] => Array ( [spaces] => 10 [start_date] => 2021-08-13 [end_date] => 2021-08-16 [is_range] => 0 [flags] => Array ( ) [state] => 1 ) [31] => Array ( [spaces] => 10 [start_date] => 2021-08-20 [end_date] => 2021-08-23 [is_range] => 0 [flags] => Array ( ) [state] => 1 ) [32] => Array ( [spaces] => 0 [start_date] => 2021-08-27 [end_date] => 2021-08-30 [is_range] => 0 [flags] => Array ( ) [state] => 1 ) [33] => Array ( [spaces] => 10 [start_date] => 2021-09-03 [end_date] => 2021-09-06 [is_range] => 0 [flags] => Array ( ) [state] => 1 ) [34] => Array ( [spaces] => 10 [start_date] => 2021-09-10 [end_date] => 2021-09-13 [is_range] => 0 [flags] => Array ( ) [state] => 1 ) [35] => Array ( [spaces] => 10 [start_date] => 2021-09-17 [end_date] => 2021-09-20 [is_range] => 0 [flags] => Array ( ) [state] => 1 ) [36] => Array ( [spaces] => 0 [start_date] => 2021-09-24 [end_date] => 2021-09-27 [is_range] => 0 [flags] => Array ( ) [state] => 1 ) [37] => Array ( [spaces] => 10 [start_date] => 2021-10-08 [end_date] => 2021-10-11 [is_range] => 0 [flags] => Array ( ) [state] => 1 ) [38] => Array ( [spaces] => 10 [start_date] => 2021-10-15 [end_date] => 2021-10-18 [is_range] => 0 [flags] => Array ( ) [state] => 1 ) [39] => Array ( [spaces] => 0 [start_date] => 2021-10-22 [end_date] => 2021-10-25 [is_range] => 0 [flags] => Array ( ) [state] => 1 ) [40] => Array ( [spaces] => 0 [start_date] => 2021-10-29 [end_date] => 2021-11-01 [is_range] => 0 [flags] => Array ( ) [state] => 1 ) [41] => Array ( [spaces] => 10 [start_date] => 2021-11-05 [end_date] => 2021-11-08 [is_range] => 0 [flags] => Array ( ) [state] => 1 ) [42] => Array ( [spaces] => 0 [start_date] => 2021-11-12 [end_date] => 2021-11-15 [is_range] => 0 [flags] => Array ( ) [state] => 0 ) [43] => Array ( [spaces] => 0 [start_date] => 2021-11-19 [end_date] => 2021-11-22 [is_range] => 0 [flags] => Array ( ) [state] => 1 ) [44] => Array ( [spaces] => 0 [start_date] => 2021-11-26 [end_date] => 2021-11-29 [is_range] => 0 [flags] => Array ( ) [state] => 1 ) ) [duration] => Array ( [0] => 3 [1] => 4 ) [from_prices] => Array ( [GBP] => 174.50 ) [from_price_types] => Array ( [GBP] => Land Only ) [was_prices] => Array ( [GBP] => 349.00 ) [itinerary] => Array ( [0] => You're welcome to check in from 4pm onwards. [1] => [2] => [3] => Enjoy a leisurely breakfast before making your way home.  ) [href] => NOT IN USE [operating_months] => Array ( [0] => 1 [1] => [2] => [3] => [4] => [5] => [6] => [7] => [8] => [9] => [10] => [11] => ) [from_prices_detailed] => Array ( [GBP] => Array ( [Land Only] => 174.50 ) ) [was_prices_detailed] => Array ( [GBP] => Array ( [Land Only] => 349.00 ) ) [date_flags] => Array ( ) [list_image] => https://i.assetzen.net/i/hvENR7DK3XkL/w:506/h:283/q:70.jpg [images] => Array ( [0] => Array ( [id] => 251 [asset_id] => 1862 [title] => Derwent Bank hotel and Derwent Water area. Stills from drone. [alias] => 1559659374-116533-derwent-bank-hotel-and-derwent-water-area-stills-from-drone [title_alias] => [description] => Imported from External System Original File Path: '3. UK/Derwentwater - Derwent Bank - Northern Lake District/Derwent Bank - 10553_Drone Still_0027 - DareHare Media.JPG' [state] => 1 [catid] => 24 [created_at] => 2019-06-04 14:42:54 [created_by] => 322 [modified_at] => 2019-06-04 14:42:55 [Modified_by] => 0 [checked_out_by] => 0 [checked_out_at] => 0000-00-00 00:00:00 [publish_up] => 0000-00-00 00:00:00 [publish_down] => 0000-00-00 00:00:00 [params] => [metakey] => [metadesc] => [metadata] => Array ( [image_credits] => ) [featured] => 0 [xreference] => assetzen:hvENR7DK3XkL [coords] => [file_path] => assetzen [url_path] => assetzen [file_name] => hvENR7DK3XkL [file_ext] => assetzen [width] => 4000 [height] => 2250 [tags] => Derwentwater - Derwent Bank - Northern Lake District,3. UK,imported,_import_job:21 [category_alias] => images [category_title] => Images [link_featured] => 0 [original_sid] => hvENR7DK3XkL [sid] => hvENR7DK3XkL [credit] => Derwent Bank, Northern Lake District [alt_text] => [caption] => ) ) ) ) [3] => Array ( [_index] => hfh-v20200909101758 [_type] => holiday [_id] => 670 [_score] => 1 [_source] => Array ( [name] => 7-Night Northern Lake District Self-Guided Walking Holiday [title] => [ordering] => 547 [code] => DBPOA-7 [intro] => Enjoy a break in the Lake District with the walking experts; we have all the ingredients for your perfect self-guided walking holiday. Our 4-star country house, Derwent Bank, is idyllically situated on the shores of Derwent Water and geared to the needs of walkers and outdoor enthusiasts. Discover the beauty of the Lake District at your pace, and we'll help you create a holiday full of lasting memories. [description] =>
Use our Discovery Point, stocked with walk guides on all the walks in the local area
Cycle around the lake or in nearby Whinlatter Forest
Take in a performance at Keswick's superb Theatre by the Lake
[categories] => Array ( [Trip Walking Grade] => Array ( [0] => 1 [1] => 2 [2] => 3 [3] => 4 [4] => 5 ) [Promotions] => Array ( [0] => Save up to £150 per person ) [Holiday Types] => Array ( [0] => Self-Guided Walking ) [Our Country Houses] => Array ( [0] => Derwent Bank, Northern Lake District ) ) [category_text] => Array ( [0] => 1 [1] => 2 [2] => 3 [3] => 4 [4] => 5 [5] => Save up to £150 per person [6] => Self-Guided Walking [7] => Derwent Bank, Northern Lake District ) [category_keywords] => Array ( [0] => [1] => [2] => [3] => [4] => [5] => [6] => [7] => ) [locations] => Array ( [Location] => Array ( [0] => Lake District ) [Continent] => Array ( [0] => United Kingdom ) [Country] => Array ( [0] => England ) ) [location_text] => Array ( [0] => Lake District [1] => United Kingdom [2] => England ) [alias] => self-guided-walking-derwentwater-7 [state] => 1 [start_dates] => Array ( [0] => 2020-11-13 [1] => 2020-11-20 [2] => 2021-02-19 [3] => 2021-02-26 [4] => 2021-03-05 [5] => 2021-03-12 [6] => 2021-04-09 [7] => 2021-04-30 [8] => 2021-05-07 [9] => 2021-05-21 [10] => 2021-05-28 [11] => 2021-06-04 [12] => 2021-07-02 [13] => 2021-07-09 [14] => 2021-07-16 [15] => 2021-08-13 [16] => 2021-08-20 [17] => 2021-08-27 [18] => 2021-09-03 [19] => 2021-09-10 [20] => 2021-09-17 [21] => 2021-09-27 [22] => 2021-10-15 [23] => 2021-11-05 [24] => 2021-11-19 [25] => 2021-11-26 [26] => 2020-11-27 [27] => 2020-11-06 [28] => 2020-10-09 [29] => 2021-11-12 ) [end_dates] => Array ( [0] => 2020-11-20 [1] => 2020-11-27 [2] => 2021-02-26 [3] => 2021-03-05 [4] => 2021-03-12 [5] => 2021-03-19 [6] => 2021-04-16 [7] => 2021-05-07 [8] => 2021-05-14 [9] => 2021-05-28 [10] => 2021-06-04 [11] => 2021-06-11 [12] => 2021-07-09 [13] => 2021-07-16 [14] => 2021-07-23 [15] => 2021-08-20 [16] => 2021-08-27 [17] => 2021-09-03 [18] => 2021-09-10 [19] => 2021-09-17 [20] => 2021-09-24 [21] => 2021-10-04 [22] => 2021-10-22 [23] => 2021-11-12 [24] => 2021-11-26 [25] => 2021-12-03 [26] => 2020-12-04 [27] => 2020-11-13 [28] => 2020-10-16 [29] => 2021-11-19 ) [dates] => Array ( [0] => Array ( [spaces] => 0 [start_date] => 2020-09-25 [end_date] => 2020-10-02 [is_range] => 0 [flags] => Array ( ) [state] => 0 ) [1] => Array ( [spaces] => 0 [start_date] => 2020-10-02 [end_date] => 2020-10-09 [is_range] => 0 [flags] => Array ( ) [state] => 0 ) [2] => Array ( [spaces] => 0 [start_date] => 2020-10-09 [end_date] => 2020-10-16 [is_range] => 0 [flags] => Array ( ) [state] => 1 ) [3] => Array ( [spaces] => 0 [start_date] => 2020-10-16 [end_date] => 2020-10-23 [is_range] => 0 [flags] => Array ( ) [state] => 0 ) [4] => Array ( [spaces] => 10 [start_date] => 2020-11-06 [end_date] => 2020-11-13 [is_range] => 0 [flags] => Array ( ) [state] => 1 ) [5] => Array ( [spaces] => 0 [start_date] => 2020-11-13 [end_date] => 2020-11-20 [is_range] => 0 [flags] => Array ( ) [state] => 1 ) [6] => Array ( [spaces] => 10 [start_date] => 2020-11-20 [end_date] => 2020-11-27 [is_range] => 0 [flags] => Array ( ) [state] => 1 ) [7] => Array ( [spaces] => 10 [start_date] => 2020-11-27 [end_date] => 2020-12-04 [is_range] => 0 [flags] => Array ( ) [state] => 1 ) [8] => Array ( [spaces] => 0 [start_date] => 2021-02-12 [end_date] => 2021-02-19 [is_range] => 0 [flags] => Array ( ) [state] => 0 ) [9] => Array ( [spaces] => 10 [start_date] => 2021-02-19 [end_date] => 2021-02-26 [is_range] => 0 [flags] => Array ( ) [state] => 1 ) [10] => Array ( [spaces] => 10 [start_date] => 2021-02-26 [end_date] => 2021-03-05 [is_range] => 0 [flags] => Array ( ) [state] => 1 ) [11] => Array ( [spaces] => 10 [start_date] => 2021-03-05 [end_date] => 2021-03-12 [is_range] => 0 [flags] => Array ( ) [state] => 1 ) [12] => Array ( [spaces] => 10 [start_date] => 2021-03-12 [end_date] => 2021-03-19 [is_range] => 0 [flags] => Array ( ) [state] => 1 ) [13] => Array ( [spaces] => 0 [start_date] => 2021-03-19 [end_date] => 2021-03-26 [is_range] => 0 [flags] => Array ( ) [state] => 0 ) [14] => Array ( [spaces] => 10 [start_date] => 2021-04-09 [end_date] => 2021-04-16 [is_range] => 0 [flags] => Array ( ) [state] => 1 ) [15] => Array ( [spaces] => 10 [start_date] => 2021-04-30 [end_date] => 2021-05-07 [is_range] => 0 [flags] => Array ( ) [state] => 1 ) [16] => Array ( [spaces] => 10 [start_date] => 2021-05-07 [end_date] => 2021-05-14 [is_range] => 0 [flags] => Array ( ) [state] => 1 ) [17] => Array ( [spaces] => 10 [start_date] => 2021-05-21 [end_date] => 2021-05-28 [is_range] => 0 [flags] => Array ( ) [state] => 1 ) [18] => Array ( [spaces] => 10 [start_date] => 2021-05-28 [end_date] => 2021-06-04 [is_range] => 0 [flags] => Array ( ) [state] => 1 ) [19] => Array ( [spaces] => 10 [start_date] => 2021-06-04 [end_date] => 2021-06-11 [is_range] => 0 [flags] => Array ( ) [state] => 1 ) [20] => Array ( [spaces] => 10 [start_date] => 2021-07-02 [end_date] => 2021-07-09 [is_range] => 0 [flags] => Array ( ) [state] => 1 ) [21] => Array ( [spaces] => 10 [start_date] => 2021-07-09 [end_date] => 2021-07-16 [is_range] => 0 [flags] => Array ( ) [state] => 1 ) [22] => Array ( [spaces] => 10 [start_date] => 2021-07-16 [end_date] => 2021-07-23 [is_range] => 0 [flags] => Array ( ) [state] => 1 ) [23] => Array ( [spaces] => 10 [start_date] => 2021-08-13 [end_date] => 2021-08-20 [is_range] => 0 [flags] => Array ( ) [state] => 1 ) [24] => Array ( [spaces] => 10 [start_date] => 2021-08-20 [end_date] => 2021-08-27 [is_range] => 0 [flags] => Array ( ) [state] => 1 ) [25] => Array ( [spaces] => 10 [start_date] => 2021-08-27 [end_date] => 2021-09-03 [is_range] => 0 [flags] => Array ( ) [state] => 1 ) [26] => Array ( [spaces] => 10 [start_date] => 2021-09-03 [end_date] => 2021-09-10 [is_range] => 0 [flags] => Array ( ) [state] => 1 ) [27] => Array ( [spaces] => 10 [start_date] => 2021-09-10 [end_date] => 2021-09-17 [is_range] => 0 [flags] => Array ( ) [state] => 1 ) [28] => Array ( [spaces] => 0 [start_date] => 2021-09-17 [end_date] => 2021-09-24 [is_range] => 0 [flags] => Array ( ) [state] => 1 ) [29] => Array ( [spaces] => 10 [start_date] => 2021-09-27 [end_date] => 2021-10-04 [is_range] => 0 [flags] => Array ( ) [state] => 1 ) [30] => Array ( [spaces] => 10 [start_date] => 2021-10-15 [end_date] => 2021-10-22 [is_range] => 0 [flags] => Array ( ) [state] => 1 ) [31] => Array ( [spaces] => 0 [start_date] => 2021-10-29 [end_date] => 2021-11-05 [is_range] => 0 [flags] => Array ( ) [state] => 0 ) [32] => Array ( [spaces] => 10 [start_date] => 2021-11-05 [end_date] => 2021-11-12 [is_range] => 0 [flags] => Array ( ) [state] => 1 ) [33] => Array ( [spaces] => 10 [start_date] => 2021-11-12 [end_date] => 2021-11-19 [is_range] => 0 [flags] => Array ( ) [state] => 1 ) [34] => Array ( [spaces] => 0 [start_date] => 2021-11-12 [end_date] => 2021-11-19 [is_range] => 0 [flags] => Array ( ) [state] => 0 ) [35] => Array ( [spaces] => 10 [start_date] => 2021-11-19 [end_date] => 2021-11-26 [is_range] => 0 [flags] => Array ( ) [state] => 1 ) [36] => Array ( [spaces] => 10 [start_date] => 2021-11-26 [end_date] => 2021-12-03 [is_range] => 0 [flags] => Array ( ) [state] => 1 ) ) [duration] => Array ( [0] => 7 ) [from_prices] => Array ( [GBP] => 525.00 ) [from_price_types] => Array ( [GBP] => Land Only ) [was_prices] => Array ( [GBP] => 645.00 ) [itinerary] => Array ( [0] => You're welcome to check in from 4pm onwards. [1] => Our easiest routes allow plenty of time to savour the magnificent mountain landscapes. All our walk notes suggest the best places to stop, great pubs, and tea rooms. Latrigg short walk - 1½ miles Mirehouse & St Bega's Church - 1½ miles Friar's Crag - 2 miles Brandlehow Woods - 2½ miles Through the Jaws of Borrowdale - 4 miles Around Buttermere - 4 miles Around Swinside - 5 miles Ashness Bridge - 5 miles [2] => Some longer walks on valley and lakeside paths, plus a few of the easier lower fells. Experience the true flavour of Lakeland as you follow these varied routes. Walla Crag & Ashness Bridge - 6 miles Borrowdale & Derwent Water - 6 miles Cat Bells Terrace - 7 miles Cat Bells - 7 miles Watendlath & Derwent Water - 8 miles Newlands Valley - 9 miles Latrigg via Keswick - 9 miles Around Derwent Water - 9 miles [3] => For those who love the high mountains. Expect some rough paths as you head to some of these famous summits, but there are plenty of rewards when you reach the top. Haystacks - 5 miles Blencathra - 7 miles High Stile - 9 miles Scafell Pike - 9 miles Cat Bells, Maiden Moor & High Spy - 12 miles Newlands Round - 13 miles [4] => Enjoy a leisurely breakfast before making your way home.  ) [href] => NOT IN USE [operating_months] => Array ( [0] => 1 [1] => [2] => [3] => [4] => [5] => [6] => [7] => [8] => [9] => [10] => [11] => ) [from_prices_detailed] => Array ( [GBP] => Array ( [Land Only] => 525.00 ) ) [was_prices_detailed] => Array ( [GBP] => Array ( [Land Only] => 645.00 ) ) [date_flags] => Array ( ) [list_image] => https://i.assetzen.net/i/WBZyzboQvCrH/w:506/h:283/q:70.jpg [images] => Array ( [0] => Array ( [id] => 3895 [asset_id] => 7009 [title] => Walking Up Cat Bells in Cumbria, UK [alias] => 1591269811-116561-walking-up-cat-bells-in-cumbria-uk [title_alias] => [description] => A woman walking on the footpath up to Cat Bells a peak in the Derwent Fells near Keswick in the English Lake District. [state] => 1 [catid] => 24 [created_at] => 2020-06-04 11:23:31 [created_by] => 323 [modified_at] => 2020-06-04 11:23:31 [Modified_by] => 0 [checked_out_by] => 0 [checked_out_at] => 0000-00-00 00:00:00 [publish_up] => 0000-00-00 00:00:00 [publish_down] => 0000-00-00 00:00:00 [params] => [metakey] => [metadesc] => [metadata] => Array ( [image_credits] => Anthony Brown ) [featured] => 0 [xreference] => assetzen:WBZyzboQvCrH [coords] => [file_path] => assetzen [url_path] => assetzen [file_name] => WBZyzboQvCrH [file_ext] => assetzen [width] => 3000 [height] => 2000 [tags] => Derwentwater - Derwent Bank - Northern Lake District,3. UK,imported,_import_job:21 [category_alias] => images [category_title] => Images [link_featured] => 0 [original_sid] => WBZyzboQvCrH [sid] => WBZyzboQvCrH [credit] => Anthony Brown [alt_text] => [caption] => ) ) ) ) [4] => Array ( [_index] => hfh-v20200909101758 [_type] => holiday [_id] => 671 [_score] => 1 [_source] => Array ( [name] => 4-Night Northern Lake District Self-Guided Walking Holiday [title] => [ordering] => 529 [code] => DBPOA-4 [intro] => Enjoy a break in the Lake District with the walking experts; we have all the ingredients for your perfect self-guided walking holiday. Our 4-star country house, Derwent Bank, is idyllically situated on the shores of Derwent Water and geared to the needs of walkers and outdoor enthusiasts. Discover the beauty of the Lake District at your pace, and we'll help you create a holiday full of lasting memories. [description] =>
Use our Discovery Point, stocked with walk guides on all the walks in the local area
Cycle around the lake or in nearby Whinlatter Forest
Take in a performance at Keswick's superb Theatre by the Lake
[categories] => Array ( [Trip Walking Grade] => Array ( [0] => 1 [1] => 2 [2] => 3 [3] => 4 [4] => 5 ) [Holiday Types] => Array ( [0] => Self-Guided Walking ) [Our Country Houses] => Array ( [0] => Derwent Bank, Northern Lake District ) ) [category_text] => Array ( [0] => 1 [1] => 2 [2] => 3 [3] => 4 [4] => 5 [5] => Self-Guided Walking [6] => Derwent Bank, Northern Lake District ) [category_keywords] => Array ( [0] => [1] => [2] => [3] => [4] => [5] => [6] => ) [locations] => Array ( [Location] => Array ( [0] => Lake District ) [Continent] => Array ( [0] => United Kingdom ) [Country] => Array ( [0] => England ) ) [location_text] => Array ( [0] => Lake District [1] => United Kingdom [2] => England ) [alias] => self-guided-walking-derwentwater-4 [state] => 1 [start_dates] => Array ( [0] => 2020-11-09 [1] => 2020-11-16 [2] => 2020-11-23 [3] => 2021-02-22 [4] => 2021-03-01 [5] => 2021-03-08 [6] => 2021-03-15 [7] => 2021-03-29 [8] => 2021-04-12 [9] => 2021-04-19 [10] => 2021-05-03 [11] => 2021-05-17 [12] => 2021-05-24 [13] => 2021-06-07 [14] => 2021-06-28 [15] => 2021-07-05 [16] => 2021-07-12 [17] => 2021-07-19 [18] => 2021-07-26 [19] => 2021-08-16 [20] => 2021-08-23 [21] => 2021-08-30 [22] => 2021-09-06 [23] => 2021-09-13 [24] => 2021-09-20 [25] => 2021-09-27 [26] => 2021-10-04 [27] => 2021-10-18 [28] => 2020-11-30 [29] => 2021-04-26 [30] => 2020-10-12 [31] => 2020-09-28 ) [end_dates] => Array ( [0] => 2020-11-13 [1] => 2020-11-20 [2] => 2020-11-27 [3] => 2021-02-26 [4] => 2021-03-05 [5] => 2021-03-12 [6] => 2021-03-19 [7] => 2021-04-02 [8] => 2021-04-16 [9] => 2021-04-23 [10] => 2021-05-07 [11] => 2021-05-21 [12] => 2021-05-28 [13] => 2021-06-11 [14] => 2021-07-02 [15] => 2021-07-09 [16] => 2021-07-16 [17] => 2021-07-23 [18] => 2021-07-30 [19] => 2021-08-20 [20] => 2021-08-27 [21] => 2021-09-03 [22] => 2021-09-10 [23] => 2021-09-17 [24] => 2021-09-24 [25] => 2021-10-01 [26] => 2021-10-08 [27] => 2021-10-22 [28] => 2020-12-04 [29] => 2021-04-30 [30] => 2020-10-16 [31] => 2020-10-02 ) [dates] => Array ( [0] => Array ( [spaces] => 0 [start_date] => 2020-09-21 [end_date] => 2020-09-25 [is_range] => 0 [flags] => Array ( ) [state] => 0 ) [1] => Array ( [spaces] => 0 [start_date] => 2020-09-28 [end_date] => 2020-10-02 [is_range] => 0 [flags] => Array ( ) [state] => 0 ) [2] => Array ( [spaces] => 0 [start_date] => 2020-09-28 [end_date] => 2020-10-02 [is_range] => 0 [flags] => Array ( ) [state] => 1 ) [3] => Array ( [spaces] => 0 [start_date] => 2020-10-05 [end_date] => 2020-10-09 [is_range] => 0 [flags] => Array ( ) [state] => 0 ) [4] => Array ( [spaces] => 10 [start_date] => 2020-10-12 [end_date] => 2020-10-16 [is_range] => 0 [flags] => Array ( ) [state] => 1 ) [5] => Array ( [spaces] => 0 [start_date] => 2020-10-19 [end_date] => 2020-10-23 [is_range] => 0 [flags] => Array ( ) [state] => 0 ) [6] => Array ( [spaces] => 0 [start_date] => 2020-10-26 [end_date] => 2020-10-30 [is_range] => 0 [flags] => Array ( ) [state] => 0 ) [7] => Array ( [spaces] => 0 [start_date] => 2020-11-09 [end_date] => 2020-11-13 [is_range] => 0 [flags] => Array ( ) [state] => 1 ) [8] => Array ( [spaces] => 10 [start_date] => 2020-11-16 [end_date] => 2020-11-20 [is_range] => 0 [flags] => Array ( ) [state] => 1 ) [9] => Array ( [spaces] => 10 [start_date] => 2020-11-23 [end_date] => 2020-11-27 [is_range] => 0 [flags] => Array ( ) [state] => 1 ) [10] => Array ( [spaces] => 10 [start_date] => 2020-11-30 [end_date] => 2020-12-04 [is_range] => 0 [flags] => Array ( ) [state] => 1 ) [11] => Array ( [spaces] => 0 [start_date] => 2021-02-15 [end_date] => 2021-02-19 [is_range] => 0 [flags] => Array ( ) [state] => 0 ) [12] => Array ( [spaces] => 10 [start_date] => 2021-02-22 [end_date] => 2021-02-26 [is_range] => 0 [flags] => Array ( ) [state] => 1 ) [13] => Array ( [spaces] => 10 [start_date] => 2021-03-01 [end_date] => 2021-03-05 [is_range] => 0 [flags] => Array ( ) [state] => 1 ) [14] => Array ( [spaces] => 10 [start_date] => 2021-03-08 [end_date] => 2021-03-12 [is_range] => 0 [flags] => Array ( ) [state] => 1 ) [15] => Array ( [spaces] => 10 [start_date] => 2021-03-15 [end_date] => 2021-03-19 [is_range] => 0 [flags] => Array ( ) [state] => 1 ) [16] => Array ( [spaces] => 0 [start_date] => 2021-03-22 [end_date] => 2021-03-26 [is_range] => 0 [flags] => Array ( ) [state] => 0 ) [17] => Array ( [spaces] => 10 [start_date] => 2021-03-29 [end_date] => 2021-04-02 [is_range] => 0 [flags] => Array ( ) [state] => 1 ) [18] => Array ( [spaces] => 0 [start_date] => 2021-04-12 [end_date] => 2021-04-16 [is_range] => 0 [flags] => Array ( ) [state] => 1 ) [19] => Array ( [spaces] => 10 [start_date] => 2021-04-19 [end_date] => 2021-04-23 [is_range] => 0 [flags] => Array ( ) [state] => 1 ) [20] => Array ( [spaces] => 10 [start_date] => 2021-04-26 [end_date] => 2021-04-30 [is_range] => 0 [flags] => Array ( ) [state] => 1 ) [21] => Array ( [spaces] => 0 [start_date] => 2021-04-26 [end_date] => 2021-04-30 [is_range] => 0 [flags] => Array ( ) [state] => 0 ) [22] => Array ( [spaces] => 10 [start_date] => 2021-05-03 [end_date] => 2021-05-07 [is_range] => 0 [flags] => Array ( ) [state] => 1 ) [23] => Array ( [spaces] => 10 [start_date] => 2021-05-17 [end_date] => 2021-05-21 [is_range] => 0 [flags] => Array ( ) [state] => 1 ) [24] => Array ( [spaces] => 10 [start_date] => 2021-05-24 [end_date] => 2021-05-28 [is_range] => 0 [flags] => Array ( ) [state] => 1 ) [25] => Array ( [spaces] => 10 [start_date] => 2021-06-07 [end_date] => 2021-06-11 [is_range] => 0 [flags] => Array ( ) [state] => 1 ) [26] => Array ( [spaces] => 10 [start_date] => 2021-06-28 [end_date] => 2021-07-02 [is_range] => 0 [flags] => Array ( ) [state] => 1 ) [27] => Array ( [spaces] => 10 [start_date] => 2021-07-05 [end_date] => 2021-07-09 [is_range] => 0 [flags] => Array ( ) [state] => 1 ) [28] => Array ( [spaces] => 10 [start_date] => 2021-07-12 [end_date] => 2021-07-16 [is_range] => 0 [flags] => Array ( ) [state] => 1 ) [29] => Array ( [spaces] => 10 [start_date] => 2021-07-19 [end_date] => 2021-07-23 [is_range] => 0 [flags] => Array ( ) [state] => 1 ) [30] => Array ( [spaces] => 10 [start_date] => 2021-07-26 [end_date] => 2021-07-30 [is_range] => 0 [flags] => Array ( ) [state] => 1 ) [31] => Array ( [spaces] => 10 [start_date] => 2021-08-16 [end_date] => 2021-08-20 [is_range] => 0 [flags] => Array ( ) [state] => 1 ) [32] => Array ( [spaces] => 10 [start_date] => 2021-08-23 [end_date] => 2021-08-27 [is_range] => 0 [flags] => Array ( ) [state] => 1 ) [33] => Array ( [spaces] => 10 [start_date] => 2021-08-30 [end_date] => 2021-09-03 [is_range] => 0 [flags] => Array ( ) [state] => 1 ) [34] => Array ( [spaces] => 10 [start_date] => 2021-09-06 [end_date] => 2021-09-10 [is_range] => 0 [flags] => Array ( ) [state] => 1 ) [35] => Array ( [spaces] => 10 [start_date] => 2021-09-13 [end_date] => 2021-09-17 [is_range] => 0 [flags] => Array ( ) [state] => 1 ) [36] => Array ( [spaces] => 10 [start_date] => 2021-09-20 [end_date] => 2021-09-24 [is_range] => 0 [flags] => Array ( ) [state] => 1 ) [37] => Array ( [spaces] => 10 [start_date] => 2021-09-27 [end_date] => 2021-10-01 [is_range] => 0 [flags] => Array ( ) [state] => 1 ) [38] => Array ( [spaces] => 10 [start_date] => 2021-10-04 [end_date] => 2021-10-08 [is_range] => 0 [flags] => Array ( ) [state] => 1 ) [39] => Array ( [spaces] => 0 [start_date] => 2021-10-11 [end_date] => 2021-10-15 [is_range] => 0 [flags] => Array ( ) [state] => 0 ) [40] => Array ( [spaces] => 10 [start_date] => 2021-10-18 [end_date] => 2021-10-22 [is_range] => 0 [flags] => Array ( ) [state] => 1 ) [41] => Array ( [spaces] => 0 [start_date] => 2021-11-01 [end_date] => 2021-11-05 [is_range] => 0 [flags] => Array ( ) [state] => 0 ) ) [duration] => Array ( [0] => 4 ) [from_prices] => Array ( [GBP] => 300.00 ) [from_price_types] => Array ( [GBP] => Land Only ) [was_prices] => Array ( [GBP] => 359.00 ) [itinerary] => Array ( [0] => You're welcome to check in from 4pm onwards. [1] => Our easiest routes allow plenty of time to savour the magnificent mountain landscapes. All our walk notes suggest the best places to stop, great pubs, and tea rooms. Latrigg short walk - 1½ miles Mirehouse & St Bega's Church - 1½ miles Friar's Crag - 2 miles Brandlehow Woods - 2½ miles Through the Jaws of Borrowdale - 4 miles Around Buttermere - 4 miles Around Swinside - 5 miles Ashness Bridge - 5 miles [2] => Some longer walks on valley and lakeside paths, plus a few of the easier lower fells. Experience the true flavour of Lakeland as you follow these varied routes. Walla Crag & Ashness Bridge - 6 miles Borrowdale & Derwent Water - 6 miles Cat Bells Terrace - 7 miles Cat Bells - 7 miles Watendlath & Derwent Water - 8 miles Newlands Valley - 9 miles Latrigg via Keswick - 9 miles Around Derwent Water - 9 miles [3] => For those who love the high mountains. Expect some rough paths as you head to some of these famous summits, but there are plenty of rewards when you reach the top. Haystacks - 5 miles Blencathra - 7 miles High Stile - 9 miles Scafell Pike - 9 miles Cat Bells, Maiden Moor & High Spy - 12 miles Newlands Round - 13 miles [4] => Enjoy a leisurely breakfast before making your way home.  ) [href] => NOT IN USE [operating_months] => Array ( [0] => 1 [1] => [2] => [3] => [4] => [5] => [6] => [7] => [8] => [9] => [10] => [11] => ) [from_prices_detailed] => Array ( [GBP] => Array ( [Land Only] => 300.00 ) ) [was_prices_detailed] => Array ( [GBP] => Array ( [Land Only] => 359.00 ) ) [date_flags] => Array ( ) [list_image] => https://i.assetzen.net/i/UiJLxRa9BwSr/w:506/h:283/q:70.jpg [images] => Array ( [0] => Array ( [id] => 3896 [asset_id] => 7010 [title] => A hiker walking down towards Seathwaite, Grains Gill from Scafell Pike in the English Lake District. UK. [alias] => 1591269811-116545-a-hiker-walking-down-towards-seathwaite-grains-gill-from-scafell-pike-in-the-english-lake-district-uk [title_alias] => [description] => A hiker walking down towards Seathwaite, Grains Gill from Scafell Pike in the English Lake District. UK. [state] => 1 [catid] => 24 [created_at] => 2020-06-04 11:23:31 [created_by] => 323 [modified_at] => 2020-06-04 11:23:31 [Modified_by] => 0 [checked_out_by] => 0 [checked_out_at] => 0000-00-00 00:00:00 [publish_up] => 0000-00-00 00:00:00 [publish_down] => 0000-00-00 00:00:00 [params] => [metakey] => [metadesc] => [metadata] => Array ( [image_credits] => Duncan Andison ) [featured] => 0 [xreference] => assetzen:UiJLxRa9BwSr [coords] => [file_path] => assetzen [url_path] => assetzen [file_name] => UiJLxRa9BwSr [file_ext] => assetzen [width] => 7000 [height] => 4412 [tags] => Derwentwater - Derwent Bank - Northern Lake District,3. UK,imported,_import_job:21 [category_alias] => images [category_title] => Images [link_featured] => 0 [original_sid] => UiJLxRa9BwSr [sid] => UiJLxRa9BwSr [credit] => Duncan Andison [alt_text] => [caption] => ) ) ) ) [5] => Array ( [_index] => hfh-v20200909101758 [_type] => holiday [_id] => 673 [_score] => 1 [_source] => Array ( [name] => 3-Night Northern Lake District Self-Guided Walking Holiday [title] => [ordering] => 511 [code] => DBPOA-3 [intro] => Enjoy a break in the Lake District with the walking experts; we have all the ingredients for your perfect self-guided walking holiday. Our 4-star country house, Derwent Bank, is idyllically situated on the shores of Derwent Water and geared to the needs of walkers and outdoor enthusiasts. Discover the beauty of the Lake District at your pace, and we'll help you create a holiday full of lasting memories. [description] =>
Use our Discovery Point, stocked with walk guides on all the walks in the local area
Cycle around the lake or in nearby Whinlatter Forest
Take in a performance at Keswick's superb Theatre by the Lake
[categories] => Array ( [Trip Walking Grade] => Array ( [0] => 1 [1] => 2 [2] => 3 [3] => 4 [4] => 5 ) [Holiday Types] => Array ( [0] => Self-Guided Walking ) [Our Country Houses] => Array ( [0] => Derwent Bank, Northern Lake District ) ) [category_text] => Array ( [0] => 1 [1] => 2 [2] => 3 [3] => 4 [4] => 5 [5] => Self-Guided Walking [6] => Derwent Bank, Northern Lake District ) [category_keywords] => Array ( [0] => [1] => [2] => [3] => [4] => [5] => [6] => ) [locations] => Array ( [Location] => Array ( [0] => Lake District ) [Continent] => Array ( [0] => United Kingdom ) [Country] => Array ( [0] => England ) ) [location_text] => Array ( [0] => Lake District [1] => United Kingdom [2] => England ) [alias] => self-guided-walking-derwentwater-3 [state] => 1 [start_dates] => Array ( [0] => 2020-09-25 [1] => 2020-11-13 [2] => 2020-11-20 [3] => 2021-02-07 [4] => 2021-02-12 [5] => 2021-02-19 [6] => 2021-02-26 [7] => 2021-03-05 [8] => 2021-03-12 [9] => 2021-03-19 [10] => 2021-04-09 [11] => 2021-04-30 [12] => 2021-05-14 [13] => 2021-05-21 [14] => 2021-06-04 [15] => 2021-07-02 [16] => 2021-07-09 [17] => 2021-07-16 [18] => 2021-08-13 [19] => 2021-08-20 [20] => 2021-08-27 [21] => 2021-09-03 [22] => 2021-09-10 [23] => 2021-09-17 [24] => 2021-09-24 [25] => 2021-10-01 [26] => 2021-10-08 [27] => 2021-10-15 [28] => 2021-10-22 [29] => 2021-10-29 [30] => 2021-11-05 [31] => 2021-11-19 [32] => 2021-11-26 [33] => 2020-11-27 [34] => 2020-12-04 [35] => 2021-05-07 [36] => 2020-11-06 [37] => 2020-10-16 [38] => 2021-11-12 ) [end_dates] => Array ( [0] => 2020-09-28 [1] => 2020-11-16 [2] => 2020-11-23 [3] => 2021-02-10 [4] => 2021-02-15 [5] => 2021-02-22 [6] => 2021-03-01 [7] => 2021-03-08 [8] => 2021-03-15 [9] => 2021-03-22 [10] => 2021-04-12 [11] => 2021-05-03 [12] => 2021-05-17 [13] => 2021-05-24 [14] => 2021-06-07 [15] => 2021-07-05 [16] => 2021-07-12 [17] => 2021-07-19 [18] => 2021-08-16 [19] => 2021-08-23 [20] => 2021-08-30 [21] => 2021-09-06 [22] => 2021-09-13 [23] => 2021-09-20 [24] => 2021-09-27 [25] => 2021-10-04 [26] => 2021-10-11 [27] => 2021-10-18 [28] => 2021-10-25 [29] => 2021-11-01 [30] => 2021-11-08 [31] => 2021-11-22 [32] => 2021-11-29 [33] => 2020-11-30 [34] => 2020-12-07 [35] => 2021-05-10 [36] => 2020-11-09 [37] => 2020-10-19 [38] => 2021-11-15 ) [dates] => Array ( [0] => Array ( [spaces] => 0 [start_date] => 2020-09-25 [end_date] => 2020-09-28 [is_range] => 0 [flags] => Array ( ) [state] => 1 ) [1] => Array ( [spaces] => 0 [start_date] => 2020-10-02 [end_date] => 2020-10-05 [is_range] => 0 [flags] => Array ( ) [state] => 0 ) [2] => Array ( [spaces] => 0 [start_date] => 2020-10-09 [end_date] => 2020-10-12 [is_range] => 0 [flags] => Array ( ) [state] => 0 ) [3] => Array ( [spaces] => 0 [start_date] => 2020-10-09 [end_date] => 2020-10-12 [is_range] => 0 [flags] => Array ( ) [state] => 0 ) [4] => Array ( [spaces] => 0 [start_date] => 2020-10-16 [end_date] => 2020-10-19 [is_range] => 0 [flags] => Array ( ) [state] => 0 ) [5] => Array ( [spaces] => 10 [start_date] => 2020-10-16 [end_date] => 2020-10-19 [is_range] => 0 [flags] => Array ( ) [state] => 1 ) [6] => Array ( [spaces] => 0 [start_date] => 2020-10-30 [end_date] => 2020-11-02 [is_range] => 0 [flags] => Array ( ) [state] => 0 ) [7] => Array ( [spaces] => 10 [start_date] => 2020-11-06 [end_date] => 2020-11-09 [is_range] => 0 [flags] => Array ( ) [state] => 1 ) [8] => Array ( [spaces] => 10 [start_date] => 2020-11-13 [end_date] => 2020-11-16 [is_range] => 0 [flags] => Array ( ) [state] => 1 ) [9] => Array ( [spaces] => 0 [start_date] => 2020-11-20 [end_date] => 2020-11-23 [is_range] => 0 [flags] => Array ( ) [state] => 1 ) [10] => Array ( [spaces] => 10 [start_date] => 2020-11-27 [end_date] => 2020-11-30 [is_range] => 0 [flags] => Array ( ) [state] => 1 ) [11] => Array ( [spaces] => 10 [start_date] => 2020-12-04 [end_date] => 2020-12-07 [is_range] => 0 [flags] => Array ( ) [state] => 1 ) [12] => Array ( [spaces] => 10 [start_date] => 2021-02-07 [end_date] => 2021-02-10 [is_range] => 0 [flags] => Array ( ) [state] => 1 ) [13] => Array ( [spaces] => 10 [start_date] => 2021-02-12 [end_date] => 2021-02-15 [is_range] => 0 [flags] => Array ( ) [state] => 1 ) [14] => Array ( [spaces] => 10 [start_date] => 2021-02-19 [end_date] => 2021-02-22 [is_range] => 0 [flags] => Array ( ) [state] => 1 ) [15] => Array ( [spaces] => 10 [start_date] => 2021-02-26 [end_date] => 2021-03-01 [is_range] => 0 [flags] => Array ( ) [state] => 1 ) [16] => Array ( [spaces] => 10 [start_date] => 2021-03-05 [end_date] => 2021-03-08 [is_range] => 0 [flags] => Array ( ) [state] => 1 ) [17] => Array ( [spaces] => 0 [start_date] => 2021-03-12 [end_date] => 2021-03-15 [is_range] => 0 [flags] => Array ( ) [state] => 1 ) [18] => Array ( [spaces] => 10 [start_date] => 2021-03-19 [end_date] => 2021-03-22 [is_range] => 0 [flags] => Array ( ) [state] => 1 ) [19] => Array ( [spaces] => 0 [start_date] => 2021-04-02 [end_date] => 2021-04-05 [is_range] => 0 [flags] => Array ( ) [state] => 0 ) [20] => Array ( [spaces] => 10 [start_date] => 2021-04-09 [end_date] => 2021-04-12 [is_range] => 0 [flags] => Array ( ) [state] => 1 ) [21] => Array ( [spaces] => 10 [start_date] => 2021-04-30 [end_date] => 2021-05-03 [is_range] => 0 [flags] => Array ( ) [state] => 1 ) [22] => Array ( [spaces] => 10 [start_date] => 2021-05-07 [end_date] => 2021-05-10 [is_range] => 0 [flags] => Array ( ) [state] => 1 ) [23] => Array ( [spaces] => 0 [start_date] => 2021-05-14 [end_date] => 2021-05-17 [is_range] => 0 [flags] => Array ( ) [state] => 1 ) [24] => Array ( [spaces] => 10 [start_date] => 2021-05-21 [end_date] => 2021-05-24 [is_range] => 0 [flags] => Array ( ) [state] => 1 ) [25] => Array ( [spaces] => 0 [start_date] => 2021-06-04 [end_date] => 2021-06-07 [is_range] => 0 [flags] => Array ( ) [state] => 1 ) [26] => Array ( [spaces] => 0 [start_date] => 2021-06-11 [end_date] => 2021-06-14 [is_range] => 0 [flags] => Array ( ) [state] => 0 ) [27] => Array ( [spaces] => 10 [start_date] => 2021-07-02 [end_date] => 2021-07-05 [is_range] => 0 [flags] => Array ( ) [state] => 1 ) [28] => Array ( [spaces] => 10 [start_date] => 2021-07-09 [end_date] => 2021-07-12 [is_range] => 0 [flags] => Array ( ) [state] => 1 ) [29] => Array ( [spaces] => 10 [start_date] => 2021-07-16 [end_date] => 2021-07-19 [is_range] => 0 [flags] => Array ( ) [state] => 1 ) [30] => Array ( [spaces] => 10 [start_date] => 2021-08-13 [end_date] => 2021-08-16 [is_range] => 0 [flags] => Array ( ) [state] => 1 ) [31] => Array ( [spaces] => 10 [start_date] => 2021-08-20 [end_date] => 2021-08-23 [is_range] => 0 [flags] => Array ( ) [state] => 1 ) [32] => Array ( [spaces] => 10 [start_date] => 2021-08-27 [end_date] => 2021-08-30 [is_range] => 0 [flags] => Array ( ) [state] => 1 ) [33] => Array ( [spaces] => 0 [start_date] => 2021-09-03 [end_date] => 2021-09-06 [is_range] => 0 [flags] => Array ( ) [state] => 1 ) [34] => Array ( [spaces] => 10 [start_date] => 2021-09-10 [end_date] => 2021-09-13 [is_range] => 0 [flags] => Array ( ) [state] => 1 ) [35] => Array ( [spaces] => 0 [start_date] => 2021-09-17 [end_date] => 2021-09-20 [is_range] => 0 [flags] => Array ( ) [state] => 1 ) [36] => Array ( [spaces] => 10 [start_date] => 2021-09-24 [end_date] => 2021-09-27 [is_range] => 0 [flags] => Array ( ) [state] => 1 ) [37] => Array ( [spaces] => 10 [start_date] => 2021-10-01 [end_date] => 2021-10-04 [is_range] => 0 [flags] => Array ( ) [state] => 1 ) [38] => Array ( [spaces] => 10 [start_date] => 2021-10-08 [end_date] => 2021-10-11 [is_range] => 0 [flags] => Array ( ) [state] => 1 ) [39] => Array ( [spaces] => 10 [start_date] => 2021-10-15 [end_date] => 2021-10-18 [is_range] => 0 [flags] => Array ( ) [state] => 1 ) [40] => Array ( [spaces] => 10 [start_date] => 2021-10-22 [end_date] => 2021-10-25 [is_range] => 0 [flags] => Array ( ) [state] => 1 ) [41] => Array ( [spaces] => 10 [start_date] => 2021-10-29 [end_date] => 2021-11-01 [is_range] => 0 [flags] => Array ( ) [state] => 1 ) [42] => Array ( [spaces] => 10 [start_date] => 2021-11-05 [end_date] => 2021-11-08 [is_range] => 0 [flags] => Array ( ) [state] => 1 ) [43] => Array ( [spaces] => 10 [start_date] => 2021-11-12 [end_date] => 2021-11-15 [is_range] => 0 [flags] => Array ( ) [state] => 1 ) [44] => Array ( [spaces] => 0 [start_date] => 2021-11-12 [end_date] => 2021-11-15 [is_range] => 0 [flags] => Array ( ) [state] => 0 ) [45] => Array ( [spaces] => 10 [start_date] => 2021-11-19 [end_date] => 2021-11-22 [is_range] => 0 [flags] => Array ( ) [state] => 1 ) [46] => Array ( [spaces] => 10 [start_date] => 2021-11-26 [end_date] => 2021-11-29 [is_range] => 0 [flags] => Array ( ) [state] => 1 ) ) [duration] => Array ( [0] => 3 ) [from_prices] => Array ( [GBP] => 147.50 ) [from_price_types] => Array ( [GBP] => Land Only ) [was_prices] => Array ( [GBP] => 295.00 ) [itinerary] => Array ( [0] => You're welcome to check in from 4pm onwards. [1] => Our easiest routes allow plenty of time to savour the magnificent mountain landscapes. All our walk notes suggest the best places to stop, great pubs, and tea rooms. Latrigg short walk - 1½ miles Mirehouse & St Bega's Church - 1½ miles Friar's Crag - 2 miles Brandlehow Woods - 2½ miles Through the Jaws of Borrowdale - 4 miles Around Buttermere - 4 miles Around Swinside - 5 miles Ashness Bridge - 5 miles [2] => Some longer walks on valley and lakeside paths, plus a few of the easier lower fells. Experience the true flavour of Lakeland as you follow these varied routes. Walla Crag & Ashness Bridge - 6 miles Borrowdale & Derwent Water - 6 miles Cat Bells Terrace - 7 miles Cat Bells - 7 miles Watendlath & Derwent Water - 8 miles Newlands Valley - 9 miles Latrigg via Keswick - 9 miles Around Derwent Water - 9 miles [3] => For those who love the high mountains. Expect some rough paths as you head to some of these famous summits, but there are plenty of rewards when you reach the top. Haystacks - 5 miles Blencathra - 7 miles High Stile - 9 miles Scafell Pike - 9 miles Cat Bells, Maiden Moor & High Spy - 12 miles Newlands Round - 13 miles [4] => Enjoy a leisurely breakfast before making your way home.  ) [href] => NOT IN USE [operating_months] => Array ( [0] => 1 [1] => [2] => [3] => [4] => [5] => [6] => [7] => [8] => [9] => [10] => [11] => ) [from_prices_detailed] => Array ( [GBP] => Array ( [Land Only] => 147.50 ) ) [was_prices_detailed] => Array ( [GBP] => Array ( [Land Only] => 295.00 ) ) [date_flags] => Array ( ) [list_image] => https://i.assetzen.net/i/4cUTWwd7xfj1/w:506/h:283/q:70.jpg [images] => Array ( [0] => Array ( [id] => 412 [asset_id] => 2192 [title] => View of Ullswater Lake, Lake District, UK [alias] => 1560769498-118552-view-of-ullswater-lake-lake-district-uk [title_alias] => [description] => View of Ullswater Lake, Lake District, UK [state] => 1 [catid] => 24 [created_at] => 2019-06-17 11:04:58 [created_by] => 325 [modified_at] => 2019-06-17 11:04:58 [Modified_by] => 0 [checked_out_by] => 0 [checked_out_at] => 0000-00-00 00:00:00 [publish_up] => 0000-00-00 00:00:00 [publish_down] => 0000-00-00 00:00:00 [params] => [metakey] => [metadesc] => [metadata] => Array ( [image_credits] => ) [featured] => 0 [xreference] => assetzen:4cUTWwd7xfj1 [coords] => [file_path] => assetzen [url_path] => assetzen [file_name] => 4cUTWwd7xfj1 [file_ext] => assetzen [width] => 7372 [height] => 2533 [tags] => Coast to Coast,8. Trails,imported,_import_job:21 [category_alias] => images [category_title] => Images [link_featured] => 0 [original_sid] => 4cUTWwd7xfj1 [sid] => 4cUTWwd7xfj1 [credit] => [alt_text] => [caption] => ) ) ) ) [6] => Array ( [_index] => hfh-v20200909101758 [_type] => holiday [_id] => 610 [_score] => 1 [_source] => Array ( [name] => 7-Night Northern Lake District Gentle Guided Walking Holiday [title] => [ordering] => 698 [code] => DBBEW-7 [intro] => Known as the 'Queen of the Lakes', Derwentwater's gentle beauty is easy to explore on our Guided Walking holidays. Surrounded by the picture-postcard valleys of Buttermere and Borrowdale and lofty mountains, the sheer splendour of these landscapes is guaranteed to inspire you. [description] =>
Head out on guided walks to discover the varied beauty of the Lake District on foot
Explore this beautiful national park at a very gentle pace with plenty of time to admire your surroundings   
Let an experienced walking leader bring classic routes and offbeat areas to life
Enjoy magnificent Lake District scenery and visit charming Lakeland villages
[categories] => Array ( [Trip Walking Grade] => Array ( [0] => 1 [1] => 2 [2] => 3 ) [Promotions] => Array ( [0] => Save up to £50 per person ) [Holiday Types] => Array ( [0] => Gentle Walks ) [Our Country Houses] => Array ( [0] => Derwent Bank, Northern Lake District ) ) [category_text] => Array ( [0] => 1 [1] => 2 [2] => 3 [3] => Save up to £50 per person [4] => Gentle Walks [5] => Derwent Bank, Northern Lake District ) [category_keywords] => Array ( [0] => [1] => [2] => [3] => [4] => [5] => ) [locations] => Array ( [Location] => Array ( [0] => Lake District ) [Continent] => Array ( [0] => United Kingdom ) [Country] => Array ( [0] => England ) ) [location_text] => Array ( [0] => Lake District [1] => United Kingdom [2] => England ) [alias] => gentle-walking-derwentwater-7 [state] => 1 [start_dates] => Array ( [0] => 2021-09-27 [1] => 2020-11-06 ) [end_dates] => Array ( [0] => 2021-10-04 [1] => 2020-11-13 ) [dates] => Array ( [0] => Array ( [spaces] => 10 [start_date] => 2020-11-06 [end_date] => 2020-11-13 [is_range] => 0 [flags] => Array ( ) [state] => 1 ) [1] => Array ( [spaces] => 10 [start_date] => 2021-09-27 [end_date] => 2021-10-04 [is_range] => 0 [flags] => Array ( ) [state] => 1 ) ) [duration] => Array ( [0] => 7 ) [from_prices] => Array ( [GBP] => 815.00 ) [from_price_types] => Array ( [GBP] => Land Only ) [was_prices] => Array ( [GBP] => 865.00 ) [itinerary] => Array ( [0] => You're welcome to check in from 4pm onwards. [1] => [2] => [3] => Discover more about Derwent Bank and the local area for ideas on how to fill your free day.  [4] => [5] => [6] => [7] => Enjoy a leisurely breakfast before making your way home.  ) [href] => NOT IN USE [operating_months] => Array ( [0] => 1 [1] => [2] => [3] => [4] => [5] => [6] => [7] => [8] => [9] => [10] => [11] => ) [from_prices_detailed] => Array ( [GBP] => Array ( [Land Only] => 815.00 ) ) [was_prices_detailed] => Array ( [GBP] => Array ( [Land Only] => 865.00 ) ) [date_flags] => Array ( ) [list_image] => https://i.assetzen.net/i/RbdtZsitb0UX/w:506/h:283/q:70.jpg [images] => Array ( [0] => Array ( [id] => 3143 [asset_id] => 5659 [title] => Lake District, Cumbria, UK [alias] => 1573556020-118579-lake-district-cumbria-uk [title_alias] => [description] => Morning light illuminating traditional dry stone wall, farmers gate in the Lake District, Cumbria. [state] => 1 [catid] => 24 [created_at] => 2019-11-12 10:53:40 [created_by] => 322 [modified_at] => 2019-11-12 10:53:40 [Modified_by] => 0 [checked_out_by] => 0 [checked_out_at] => 0000-00-00 00:00:00 [publish_up] => 0000-00-00 00:00:00 [publish_down] => 0000-00-00 00:00:00 [params] => [metakey] => [metadesc] => [metadata] => Array ( [image_credits] => Matthew Dixon ) [featured] => 0 [xreference] => assetzen:RbdtZsitb0UX [coords] => [file_path] => assetzen [url_path] => assetzen [file_name] => RbdtZsitb0UX [file_ext] => assetzen [width] => 9614 [height] => 3000 [tags] => Coast to Coast,8. Trails,imported,_import_job:21 [category_alias] => images [category_title] => Images [link_featured] => 0 [original_sid] => RbdtZsitb0UX [sid] => RbdtZsitb0UX [credit] => Matthew Dixon [alt_text] => [caption] => ) ) ) ) [7] => Array ( [_index] => hfh-v20200909101758 [_type] => holiday [_id] => 554 [_score] => 1 [_source] => Array ( [name] => 7-Night Northern Lake District Family Walking Adventure [title] => [ordering] => 888 [code] => DBFAM-7 [intro] => England's largest national park protects wonderful Cumbrian mountain upland areas and large expanses of water. From the top of Cat Bells, see how tiny Derwent Water looks or take on the challenge of reaching the summit of Scafell Pike – England's highest peak. The summit of Helvellyn gives sweeping views towards Ullswater while Skiddaw favours Bassenthwaite Lake – the only body of water in the park to actually be called a lake! Less challenging options include walking through the beautiful Borrowdale Valley and along the wild western shore of Crummock Water. There is also a walk where guests are dropped off at a hilltop to go downhill all the way to Keswick. No matter how much – or how little – walking you wish to do, you'll get to enjoy the best of the local scenery. [description] =>
Under 18s GO FREE
Bedtime stories
Campfire – fire lighting practice
Make and float a boat competition
Fun games such as Bag Beetle
[categories] => Array ( [Trip Walking Grade] => Array ( [0] => 1 [1] => 3 [2] => 5 ) [Promotions] => Array ( [0] => Under 18s GO FREE ) [Holiday Types] => Array ( [0] => Family Walking Holidays ) [Our Country Houses] => Array ( [0] => Derwent Bank, Northern Lake District ) ) [category_text] => Array ( [0] => 1 [1] => 3 [2] => 5 [3] => Under 18s GO FREE [4] => Family Walking Holidays [5] => Derwent Bank, Northern Lake District ) [category_keywords] => Array ( [0] => [1] => [2] => [3] => [4] => [5] => ) [locations] => Array ( [Location] => Array ( [0] => Lake District ) [Continent] => Array ( [0] => United Kingdom ) [Country] => Array ( [0] => England ) ) [location_text] => Array ( [0] => Lake District [1] => United Kingdom [2] => England ) [alias] => family-walking-derwentwater-7 [state] => 1 [start_dates] => Array ( [0] => 2021-08-06 ) [end_dates] => Array ( [0] => 2021-08-13 ) [dates] => Array ( [0] => Array ( [spaces] => 10 [start_date] => 2021-08-06 [end_date] => 2021-08-13 [is_range] => 0 [flags] => Array ( ) [state] => 1 ) ) [duration] => Array ( [0] => 7 ) [from_prices] => Array ( [GBP] => 999.00 ) [from_price_types] => Array ( [GBP] => Land Only ) [was_prices] => Array ( [GBP] => ) [itinerary] => Array ( [0] => Arrive at Derwent Water [1] => [2] => [3] => [4] => [5] => [6] => [7] => Enjoy a leisurely breakfast before making your way home.  ) [href] => NOT IN USE [operating_months] => Array ( [0] => 1 [1] => [2] => [3] => [4] => [5] => [6] => [7] => [8] => [9] => [10] => [11] => ) [from_prices_detailed] => Array ( [GBP] => Array ( [Land Only] => 999.00 ) ) [was_prices_detailed] => Array ( [GBP] => Array ( [Land Only] => ) ) [date_flags] => Array ( ) [list_image] => https://i.assetzen.net/i/B2F4wC0LrUU9/w:506/h:283/q:70.jpg [images] => Array ( [0] => Array ( [id] => 818 [asset_id] => 2741 [title] => Family-DerwentBank-AdobeStock_86371713.jpeg [alias] => 1562336402-99994-family-derwentbank-adobestock-86371713-jpeg [title_alias] => [description] => Imported from External System Original File Path: '10. Family/Family-DerwentBank-AdobeStock_86371713.jpeg' [state] => 1 [catid] => 24 [created_at] => 2019-07-05 14:20:02 [created_by] => 325 [modified_at] => 2019-07-05 14:20:02 [Modified_by] => 0 [checked_out_by] => 0 [checked_out_at] => 0000-00-00 00:00:00 [publish_up] => 0000-00-00 00:00:00 [publish_down] => 0000-00-00 00:00:00 [params] => [metakey] => [metadesc] => [metadata] => Array ( [image_credits] => ) [featured] => 0 [xreference] => assetzen:B2F4wC0LrUU9 [coords] => [file_path] => assetzen [url_path] => assetzen [file_name] => B2F4wC0LrUU9 [file_ext] => assetzen [width] => 4282 [height] => 3212 [tags] => 10. Family,imported,_import_job:17 [category_alias] => images [category_title] => Images [link_featured] => 0 [original_sid] => B2F4wC0LrUU9 [sid] => B2F4wC0LrUU9 [credit] => [alt_text] => [caption] => ) ) ) ) [8] => Array ( [_index] => hfh-v20200909101758 [_type] => holiday [_id] => 997 [_score] => 1 [_source] => Array ( [name] => 7-Night Northern Lake District Christmas & New Year Guided Walking Holiday [title] => [ordering] => 964 [code] => DBXFW-7 [intro] => The landscaped gardens sloping down to the stunning lake coupled with the variety of walks on offer make Derwentwater an ideal location for your festive holiday. Warm, welcoming inns round off both lakeside and high mountain walks, where you can enjoy a camaraderie special for this time of year. There's something magical about walking in winter. Whether it's the frosty footsteps, the clear crisp air, or the breathtaking views, it's a wonderful time to go walking. Join our festive breaks and choose from a guided walking holiday in the company of one of our knowledgeable leaders. We pull out all the stops on our festive holidays, with fabulous food, lots of seasonal entertainment and great walks and activities. The walks are tailored to the time of year and will remain flexible to suit the weather conditions. Each day three grades of walk will be offered. So wrap up warm, lace up your boots and go for an invigorating walk. [description] =>
Stay in the comfort of our cosy Country House on the shores of Derwent Water
Plenty of exercise to walk off the festive excesses 
Enjoy an excellent variety of walks boasting stunning views of Lakeland fells, lakes and tumbling waterfalls
Take in a magical theatre performance at Keswick's Theatre by the Lake if staying with us on Boxing Day
Let your experienced leader bring classic winter routes to life
[categories] => Array ( [Trip Walking Grade] => Array ( [0] => 2 [1] => 3 [2] => 5 ) [Holiday Types] => Array ( [0] => Guided Walking [1] => Festive Breaks ) [Our Country Houses] => Array ( [0] => Derwent Bank, Northern Lake District ) ) [category_text] => Array ( [0] => 2 [1] => 3 [2] => 5 [3] => Guided Walking [4] => Festive Breaks [5] => Derwent Bank, Northern Lake District ) [category_keywords] => Array ( [0] => [1] => [2] => [3] => [4] => [5] => ) [locations] => Array ( [Location] => Array ( [0] => Lake District ) [Continent] => Array ( [0] => United Kingdom ) [Country] => Array ( [0] => England ) ) [location_text] => Array ( [0] => Lake District [1] => United Kingdom [2] => England ) [alias] => festive-walking-derwentwater-7 [state] => 1 [start_dates] => Array ( [0] => 2020-12-23 [1] => 2020-12-27 ) [end_dates] => Array ( [0] => 2020-12-30 [1] => 2021-01-03 ) [dates] => Array ( [0] => Array ( [spaces] => 10 [start_date] => 2020-12-23 [end_date] => 2020-12-30 [is_range] => 0 [flags] => Array ( ) [state] => 1 ) [1] => Array ( [spaces] => 10 [start_date] => 2020-12-27 [end_date] => 2021-01-03 [is_range] => 0 [flags] => Array ( ) [state] => 1 ) ) [duration] => Array ( [0] => 7 ) [from_prices] => Array ( [GBP] => 979.00 ) [from_price_types] => Array ( [GBP] => Land Only ) [was_prices] => Array ( [GBP] => 0.00 ) [itinerary] => Array ( [0] => You're welcome to check in from 4pm onwards. [1] => After a short journey by coach we explore the superb Borrowdale Valley; the easier walk heading into Langstrath, the medium enjoying the popular paths around Rosthwaite and Grange Fell, while the harder has the fabulous summit of Glaramara in its sights. [2] => We'll build up an appetite for our Christmas dinner with a choice of walks to the top of, or along the side of, the shapeliest fell on Derwent Water, Cat Bells. Expect to see a few other walkers out on one of the Lake District's most popular mountains! [3] =>  Today's walks head either south into the gorgeous Newlands Valley (easier and medium), with fell views to rival any in the Lakes, or if you want to bag a summit then Barrow, just to the west of Derwent Water offers great views of the Skiddaw and Blencathra ranges. [4] => Discover more about Derwent Bank and the local area for ideas on how to fill your free day.  [5] => In the National Park's north eastern corner lies the incomparable lake of Ullswater, surrounded by famous fells and intricate valleys carved into the fellside. We explore Gowbarrow on the easier walk, Glencoyne on the medium, and plan to stand on the topmost rocks of Place Fell on the harder walk (which lies to the east of the lake) for views out as far as the Pennines. [6] => Follow the western shore of Derwent Water from the pretty hamlet of Rosthwaite on the easier walk, enjoy great views from the east side of the lake from Walla Crag on the medium, or tackle something harder to the west on Grisedale Pike, at nearly 2,500 feet its striking appearance is almost instantly recognisable from the vicinity of Keswick. [7] => Enjoy a leisurely breakfast before making your way home.  ) [href] => NOT IN USE [operating_months] => Array ( [0] => 1 [1] => [2] => [3] => [4] => [5] => [6] => [7] => [8] => [9] => [10] => [11] => ) [from_prices_detailed] => Array ( [GBP] => Array ( [Land Only] => 979.00 ) ) [was_prices_detailed] => Array ( [GBP] => Array ( [Land Only] => 0.00 ) ) [date_flags] => Array ( ) [list_image] => https://i.assetzen.net/i/yKQl9OXrJ4ru/w:506/h:283/q:70.jpg [images] => Array ( [0] => Array ( [id] => 707 [asset_id] => 2609 [title] => Winter Sunrise on Skiddaw [alias] => 1562150137-116557-winter-sunrise-on-skiddaw [title_alias] => [description] => The winter sun striking the Lakeland peaks of Skiddaw above Keswick. Image taken near Tewet tarn [state] => 1 [catid] => 24 [created_at] => 2019-07-03 10:35:37 [created_by] => 324 [modified_at] => 2019-07-03 10:35:37 [Modified_by] => 0 [checked_out_by] => 0 [checked_out_at] => 0000-00-00 00:00:00 [publish_up] => 0000-00-00 00:00:00 [publish_down] => 0000-00-00 00:00:00 [params] => Array ( ) [metakey] => [metadesc] => [metadata] => Array ( [image_credits] => Copyright © 2017 George Robertson ) [featured] => 0 [xreference] => assetzen:yKQl9OXrJ4ru [coords] => [file_path] => assetzen [url_path] => assetzen [file_name] => yKQl9OXrJ4ru [file_ext] => assetzen [width] => 6016 [height] => 3384 [tags] => Derwentwater - Derwent Bank - Northern Lake District,3. UK,imported,_import_job:21 [link_featured] => 0 [original_sid] => yKQl9OXrJ4ru [sid] => yKQl9OXrJ4ru [credit] => Copyright © 2017 George Robertson [alt_text] => [caption] => ) ) ) ) [9] => Array ( [_index] => hfh-v20200909101758 [_type] => holiday [_id] => 18 [_score] => 1 [_source] => Array ( [name] => Cumbria Way Guided Trail [title] => [ordering] => 744 [code] => DBLCA [intro] => Our Cumbria Way route is from Carlisle to Ulverston and passes through Dalston, Caldbeck, Keswick, Grange, Elterwater, Coniston and Gawthwaite. It passes through a variety of terrain, from the pastoral beauty of the Caldew Valley and the wildness of the northern fells, to the shorelines of Derwent and Coniston Waters. It is not a high-level route, only once ascending above 2,000 feet, instead it follows the valleys and contours around the higher ground. [description] =>
A grand journey through the heart of the Lake District
Walk the length of Cumbria from Carlisle to Ulverston
Stay at Derwent Bank and Monk Coniston
[categories] => Array ( [Trip Walking Grade] => Array ( [0] => 4 ) [Holiday Types] => Array ( [0] => Guided Trails [1] => UK Multi-Centre ) [Our Country Houses] => Array ( [0] => Derwent Bank, Northern Lake District ) ) [category_text] => Array ( [0] => 4 [1] => Guided Trails [2] => UK Multi-Centre [3] => Derwent Bank, Northern Lake District ) [category_keywords] => Array ( [0] => [1] => [2] => [3] => ) [locations] => Array ( [Location] => Array ( [0] => Lake District ) [Continent] => Array ( [0] => United Kingdom ) [Country] => Array ( [0] => England ) ) [location_text] => Array ( [0] => Lake District [1] => United Kingdom [2] => England ) [alias] => cumbria-way [state] => 1 [start_dates] => Array ( [0] => 2021-09-20 [1] => 2021-10-04 ) [end_dates] => Array ( [0] => 2021-09-27 [1] => 2021-10-11 ) [dates] => Array ( [0] => Array ( [spaces] => 0 [start_date] => 2021-04-26 [end_date] => 2021-05-03 [is_range] => 0 [flags] => Array ( ) [state] => 0 ) [1] => Array ( [spaces] => 10 [start_date] => 2021-09-20 [end_date] => 2021-09-27 [is_range] => 0 [flags] => Array ( ) [state] => 1 ) [2] => Array ( [spaces] => 10 [start_date] => 2021-10-04 [end_date] => 2021-10-11 [is_range] => 0 [flags] => Array ( ) [state] => 1 ) ) [duration] => Array ( [0] => 7 ) [from_prices] => Array ( [GBP] => 899.00 ) [from_price_types] => Array ( [GBP] => Land Only ) [was_prices] => Array ( [GBP] => 959.00 ) [itinerary] => Array ( [0] => Your leader will give you an introductory talk about your holiday [1] => Our walk starts in the border city of Carlisle. We leave streets and buildings behind as we walk through the pastoral beauty of the Caldew Valley to Sebergham, passing through the village of Dalston and enjoying the riverside views of Rose Castle, the imposing former home of the Bishops of Carlisle. 12½ miles (20km), with 750 feet (220m) of ascent. [2] => From Sebergham we walk along the banks of the River Caldew and through wooded hillsides to the village of Caldbeck, made famous by John Peel whose grave is in the village churchyard. We ascend to the summit of High Pike (2,157 feet), the most northerly of the Lakeland peaks, with fine views to Scotland and the Pennines. We descend below Great Lingy Hill, walking past old mine workings along Grainsgill Beck as we head along the valley to Mosedale. 9½ miles (15.5km), with 2,300 feet (700m) of ascent. [3] => Along the River Caldew valley with Bowscale Fell on our left and Carrock Fell to the right, we continue between Knott and Mungrisdale Common, passing Great Calva to Skiddaw House. We leave the River Caldew, which has its source on the eastern slopes of Skiddaw and continue in high open country between Skiddaw and Blencathra. The path contours Lonscale Fell and along the side of Glenderaterra Valley, passing below Lonscale Crags. Passing Latrigg we descend to Keswick and back to Derwent Bank. 10½ miles (17km), with 1,200 feet (380m) of ascent. [4] => We follow the creeks, inlets and bays of Derwent Water below Cat Bells with superb views across Derwent Water to Skiddaw. The countryside changes to the lush valley scenery of Borrowdale, full of ancient woodland and spectacular rocky crags so typical of the volcanic rock of the central Lakeland fells. From Rosthwaite we follow the river to enter Stonethwaite and Langstrath valley beneath the towering heights of Eagle Crag, Heron Crag and Sergeant's Crag. We cross Stake Beck and ascend to Stake Pass. Crossing open moorland, we descend into the valley of Mickleden and down below the Langdale Pikes to finish in Great Langdale at New Dungeon Ghyll. 14½ miles (23km), with 2,400 feet (740m) of ascent. [5] => From New Dungeon Ghyll we follow Great Langdale Beck past Elterwater and Skelwith Force waterfall to Skelwith Bridge. The route turns west to Colwith Force waterfall, and meanders through fields, ancient lanes and woodland paths to the beauty spot of Tarn Hows. We continue through pasture and woodland to Coniston and along the western side of Coniston Water to finish at Sunny Bank. 14½ miles (23½km), with 1,650 feet (520m) of ascent. [6] => Crossing Torver Beck at Sunny Bank we follow tracks over rough country to reach Beacon Tarn. Heading towards Gawthwaite we say goodbye to the Lake District National Park. We descend to the village of Broughton Beck and ascend again to Osmotherley parish church which has good views of the Coniston fells. Crossing field paths we climb Bortree Stile for a fine view over Morecambe Bay, and then along the wooded banks of Gillbanks Beck towards the market town of Ulverston and the end of The Cumbria Way. 11½ miles (18.5km), with 1,550 feet (480m) of ascent. [7] => ) [href] => NOT IN USE [operating_months] => Array ( [0] => 1 [1] => [2] => [3] => [4] => [5] => [6] => [7] => [8] => [9] => [10] => [11] => ) [from_prices_detailed] => Array ( [GBP] => Array ( [Land Only] => 899.00 ) ) [was_prices_detailed] => Array ( [GBP] => Array ( [Land Only] => 959.00 ) ) [date_flags] => Array ( ) [list_image] => https://i.assetzen.net/i/99l2QRDspAd0/w:506/h:283/q:70.jpg [images] => Array ( [0] => Array ( [id] => 598 [asset_id] => 2445 [title] => Langdale Fell: Landscape of Langdale Fell in the Lake District National Park, Cumbria, England with a native Herdwick sheep … [alias] => 1561127955-100234-langdale-fell-landscape-of-langdale-fell-in-the-lake-district-national-park-cumbria-england-with-a-native-herdwick-sheep [title_alias] => [description] => Imported from External System Original File Path: '3. UK/Coniston - Monk Coniston - Southern Lake District/Coniston - Langdale Fells - AdobeStock_145425211.jpg' Original title: "Langdale Fell: Landscape of Langdale Fell in the Lake District National Park, Cumbria, England with a native Herdwick sheep grazing by a stream on a windy but sunny Spring day." was shortened. [state] => 1 [catid] => 24 [created_at] => 2019-06-21 14:39:15 [created_by] => 325 [modified_at] => 2019-06-21 14:39:15 [Modified_by] => 0 [checked_out_by] => 0 [checked_out_at] => 0000-00-00 00:00:00 [publish_up] => 0000-00-00 00:00:00 [publish_down] => 0000-00-00 00:00:00 [params] => Array ( ) [metakey] => [metadesc] => [metadata] => Array ( [image_credits] => ©alanmbarr - stock.adobe.com ) [featured] => 0 [xreference] => assetzen:99l2QRDspAd0 [coords] => [file_path] => assetzen [url_path] => assetzen [file_name] => 99l2QRDspAd0 [file_ext] => assetzen [width] => 2572 [height] => 1720 [tags] => Coniston - Monk Coniston - Southern Lake District,3. UK,imported,_import_job:17 [link_featured] => 0 [original_sid] => 99l2QRDspAd0 [sid] => 99l2QRDspAd0 [credit] => ©alanmbarr - stock.adobe.com [alt_text] => [caption] => ) ) ) ) )