Spend time in sweet-scented Provence with our rail-only trip to the south of France. Hop across the English Channel via Eurostar from London St Pancras before switching to France's premier high-speed rail service for a scenic journey to the sunny corner of the country that's been mused about by many an artistic great. Relax in a comfortable seat and watch the French countryside fly by as you think about the highlights ahead; incredible hiking terrain, sweeping coastlines, chocolate-box towns and villages, and wonderful local markets stocked with the very best bread, olives, cheese, meats, and wine.
What you'll love
Discovering unspoilt Provence, famed for its food and wine
Unwinding in Gréoux-les-Bains, known for its thermal spring
Visiting charming hilltop villages including Moustiers-Sainte-Marie
Exploring delightful Quinson and the Verdon Gorge
Reliving the golden age of rail travel
Trekking through the majestic Luberon Valley
What's included
Full programme of guided walks led by local HF Holidays Leaders
HF Holidays Tour Manager
Comfortable accommodation
Half-board (breakfast and evening meal)
All sightseeing and entrance fees (as per itinerary)
Air-conditioned transport
Return flights from the UK including hold baggage and airport transfers
Trip Notes
Easy to download as a PDF, our trip notes provide detailed information for every holiday. Please click below to find the trip notes for your departure date.
All our carefully-curated itineraries are designed by our experts. While we make every effort to adhere to the described itinerary, we may take alternative routes or adapt the running order for weather and/or operational reasons.
Meet your HF Holidays Leader at London St. Pancras and board the Eurostar to Lille. At Lille, change to the TGV train for your onward journey to Aix-En-Provence. A short transfer of about an hour will take you to your hotel.
---
Today both walks start and finish at the hotel.
Option 1 - Up to the Valansole plateau and discovering Greoux
Distance: 7 miles (11km)
Total ascent: 1,000 feet (300m)
In summary: We will climb up to the vast plateau of Valensole behind the town to take in the wide sweeping horizon towards Manosque and the mountains. Using an old livestock droving route, passing lavender and olive plantations, we travel across the plateau. Meeting the old road from Manosque we start our descent to arrive eventually beneath the ancient walls of Gréoux castle. We have time to explore before a final short descent into the heart of the old town, where you can choose to explore its narrow streets and linger over a drink or continue back to the hotel and a swim perhaps.
Highlight: Spectacular views down to Manosque from the Valensole plateau.
Option 2 - Crossing the Verdon to the hamlet of Les Maurras
Distance: 8½ miles (13½km)
Total ascent: 1,700 feet (510m)
In summary: The harder walk takes us in the opposite direction to the easier group, starting by crossing the Verdon River on Gréoux's ancient bridge. We follow the river bank for a short time before climbing steeply up on wooded tracks. Views open up as we travel towards the remote hamlet of Les Maurras, an area known for its truffles. Continuing to climb we pass over the subterranean route of the old Verdon irrigation canal which we will see later in the week. Arriving at the highest point of the day we are greeted by a view of Gréoux's castle in the distance, before descending and climbing again to pass the remote chapel of Notre Dame des Oeufs, enjoying views over the lower Verdon valley. Our final descent leads us back over the river and into town.
Highlight: Visit the Notre Dame des Oeufs and discover it's local custom.
---
Today both groups take the coach to the bustling hill town of Forcalquier and its thriving atmospheric weekly market.
Option 1 - Forcalquier to the Abbey of Salagon at Mane
Distance: 4 miles (6½km)
Total ascent: 600 feet (180m)
In summary: The easier group will have time to explore this historic town and its market, perhaps climbing to the Citadel to see the carillon and observe the magnificent view before setting off. Our tracks are stony in places but never too steep as we cross the wooded limestone plateau on our journey to Mane. We will pass interesting stone bories, old shepherds' shelters, and it may be possible to visit the ancient Abbey of Salagon and its ethno-botanical gardens.
Highlight: A local interest guide will accompany the group today to explain more about the local area.
Option 2 - Discovering the sculpted landscape from Forcalquier to Mane
Distance: 8 miles (13km)
Total ascent: 1,300 feet (390m)
In summary: After a brief look around the market we make a steady climb out of Forcalquier to the plateau of Les Mourres to see the strangely shaped limestone rocks created by water and wind erosion over the centuries. On descending we will pass dry stone bories (huts) and old shepherds' shelters before passing the abbey to arrive at Mane for welcome refreshments.
Highlight: The limestone rocks at Les Mourres.
---
Today both groups will travel by coach to the village of Céreste for walks in the majestic Luberon valley.
Option 1 - Easier Walk at Céreste
Distance: 7.5 miles (12km)
Total ascent: 920 feet (280m)
This varied hike in the Luberon starts in the village of Céreste. After a steady climb, we reach a scenic ridge with beautiful views over the Calavon Valley on one side and the Luberon on the other. Our walk leads us to the old citadel of Montjustin, which we will visit. On the return, we'll cross Roman and medieval bridges and discover rich flora and ancient ruins. The picturesque village of Céreste, with its delightful pavement cafés, will be the start and finish of our route.
Option 2 - Harder walk at Céreste
Distance: 9.5 miles (15km)
Total ascent: 1,050 feet (320m)
Today's more challenging walk follows the same route as option 1 before parting ways by crossing a valley and climbing to the other side. Here we'll find the remains of the medieval Carluc Priory. Believed to have been built in the 11th century and surrounded by an even older necropolis, this ruined chapel once served as a welcome resting spot for Christian pilgrims making arduous journeys between Italy and Spain. We'll finish our journey by returning to Céreste.
---
Each week there is a free day when no guided walks are offered. This is an ideal opportunity to relax around the hotel, walk independently or visit local places of interest. Some options for your free day may include:
Gréoux-les-Bains: Explore the town of Gréouxles-Bains and learn about the therapeutic qualities of its natural spring - discovered by the Romans. Walk up to the Castle of the Templars before stopping for lunch at one of the town's many restaurants.
Manosque and Aix-en-Provence: There are bus connections to Manosque and Aix en Provence. Your leaders will be able to direct you to the timetable and the right bus stop.
Regusse: Take a taxi to this charming village and and see its two fine 16th century windmills, a symbol of the region.
Hotel facilities: Enjoy the facilities of the Hotel Villa Borghese; swim in its heated pool, enjoy a relaxing lunch on the terrace or play a game of table tennis or boules.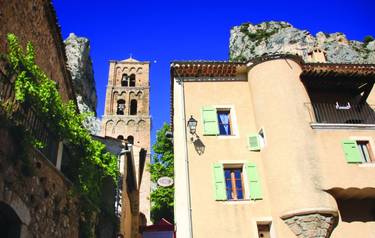 ---
Our walks today take different routes to finish in the medieval streets of Moustiers St Marie.
Option 1 - Lac Saint Croix to Moustiers Saint Marie
Distance: 6 miles (9½km)
Total ascent: 750 feet (230m)
In summary: We will be dropped off near to Lac Ste Croix and the first part of the walk follows the lake shore to Pont de Galetas where the river emerges from the upper Verdon Gorge. After leaving the lake we follow the line of a stream called La Maïre through woods to Le Petit Lac where there are good views of the craggy cliffs of the upper plateau. From here we climb through scenic fields to enter the village of Moustiers-Ste-Marie, famed for its ceramics and pilgrims' church with a golden star hung high above in the cleft in the crags.
Highlight: Time to explore the streets of Moustiers-Ste-Marie.
Option 2 - The Crête de l'ourbes & Moustiers Saint Marie.
Distance: 7 miles (11km)
Total ascent: 2,100ft (630m)
In summary: This walk takes us steeply up to the craggy ridge of L'Oubes with great views over the Lac St Croix and the start of the Upper Verdon Gorge. After crossing the summit and descending to a dry riverbed the terrain becomes more open before the final spectacular descent to Moustiers St Marie on a twisting ancient road.
Highlight: Walk up to the chapel of Notre Dame de Beauvoir perched high on its rock for magnificent views.
---
A pleasant drive brings both groups to the lower Verdon Gorge. Both groups will have the opportunity to walk in the gorge and see the remains of the old Verdon canal, built to channel water to the city of Aix en Provence. The paths in the gorge are narrow in places but have handrails; there are also occasional metal staircases with handrails.
Option 1 - Quinson: The chapel of Saint Maxime and the Verdon gorge.
Distance: 6½ miles (10.5km)
Total ascent: 900ft (270m) 
In summary: We climb up a rough zigzag path to the plateau of Male Sauque to follow fairly level tracks until we descend to the chapel of St Maxime. This is an ideal lunch spot and there is time to admire the view down to the gorge. We descend to a shady woodland path that leads us to the Verdon gorge and old canal. Passing through a short tunnel, we walk on top of the retaining wall of the old canal and eventually follow a suspended wooden walkway (with handrail) that is just a few feet above the river. It is then a short walk to the village of Quinson which has an interesting museum dedicated to prehistoric man's settlement in this region.
Highlight: The breathtaking Verdon gorge.
Option 2 - Verdon gorge from Quinson to the chapel of St Maxime
Distance: 6 miles (9½km)
Total ascent: 900 feet (270m)
In summary: The harder walk starts in the gorge on a rocky, but fairly level, path with occasional steps cut into the rock. There are metal handrails and staircases in places and a timber walkway suspended above the river, before the path follows the top of the retaining wall of an old Napoleonic canal. After passing through a short tunnel we initially ascend through woodland before a final short steep ascent to the ridge and chapel of St Maxime. We return descending a steep, but stepped, route down the side of a gorge, to arrive back at river level, then follow the original route back to the Verdon Bridge and well earned refreshments. There is a short level river walk back to the village of Quinson where our transport awaits.
Highlight: Discover one of Europe's most beautiful river canyons.
---
Depart for your relaxing rail journey back to London St. Pancras via Lille and the Eurostar
---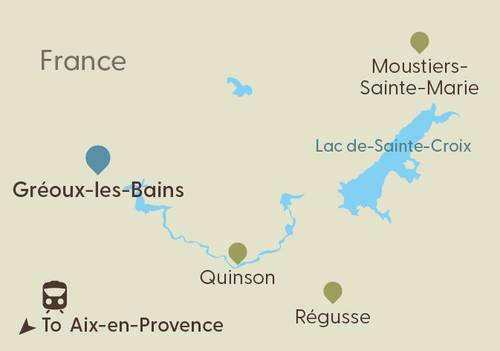 Villa Borghese - Provence
The 4-star Villa Borghese has a fine tradition of service and is a member of the prestigios Châteaux Demeures de Tradition and the Relais du Silence groups. The owners of Villa Borghese will be very happy to welcome you to their hotel which is in a lovely, quiet and comfortable setting surrounded by gardens and woodland. Gréoux-les-Bains is close to the Verdon Gorges, the Luberon and the lavender fields in Provence. The hotel has an outdoor pool, tennis courts, fitness centre and spa. 
Rooms
Villa Borghese has 54 en-suite bedrooms, most of which have a balcony or terrace.

Facilities in the bedrooms include:
Telephone
TV
Hairdryer
Safe deposit box
Air conditioning
Shaving point
Mini-bar (extra charge)
The hotel is surrounded by a small wood and offers pleasant views from the bedrooms.
About your stay
There is a small outdoor heated swimming pool next to the sun terrace.

Villa Borghese has a tennis court, table tennis, and a spa offering a range of treatments (extra charge). 

Relax at the cosy bar with an open fireplace.

The hotel offers its guests free Wi-Fi.
Food & drink
Holidays at Gréoux-les-Bains are half-board with a 3-course served dinner.
The hotel prides itself on serving locally sourced produce from within 20km of the town.
Your evenings
The friendly atmosphere of our holidays continues into the evening.
Enjoy a glass of wine or local beer before hearing about the next day's activities. Your evening meal is the main focus of the evening. After dinner relax on the terrace or in the bar, with a drink and chat with your fellow guests or try your hand in a friendly game of boules.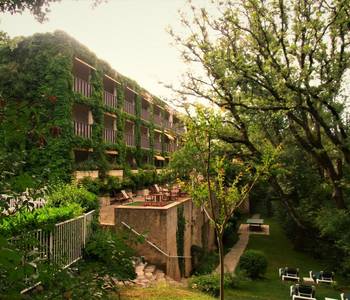 Getting to Villa Borghese - Provence
Find out more about this location including travel details and room types.
More Information
Essential information
It's best to be prepared for all weather conditions. To make it easier, here is a list of items you should consider packing.   
Essentials  
Walking boots 
Waterproof jacket 
Waterproof trousers 
Insulated jacket/top 
Walking clothing  
Walking socks (plus spares)  
Sunhat 
Gloves/mitts and warm hat
Water bottle (minimum 2 litre capacity)  
Headtorch 
High-factor sunscreen (minimum SPF 30)  
Sunglasses with a dark lens 
Rucksack (15-30 litres)  
Mobile phone 
Personal first aid kit (containing your medication, blister plasters, etc.) 
Passport 
Visa (if applicable) 
Copy of your travel insurance policy 
UK Global Health Insurance Card (formerly known as EHIC) 
Recommended
Collapsible walking poles 
Swimwear and travel towel
Snacks
Dry bags
Rubbish bags
Insect repellent
Optional extras
Camera 
Sit mat
Flask for hot drinks 
Durable lunch box
Gaiters 
GPS device 
All holidays are subject to availability. Supplements may apply.

Non-member fee: £30 per person.
Advertised rail prices are based on trains departing from London St Pancras.


Date (Start - End)
Itinerary
Double / Twin Room
Single Room
Notes / Offers
Trip Notes
Book
2024

18 May - 25 May 2024

7 nights

Itinerary Rail from London St Pancras International Station

Single Call to Enquire

Double Call to Enquire

Call to Enquire
Call to Enquire

Trip Notes

31 Aug - 07 Sep 2024

7 nights

Itinerary Rail from London St Pancras International Station

Single Call to Enquire

Double from

£1,999 pp

from

£1,999 pp

Call to Enquire

Trip Notes

Book Now

21 Sep - 28 Sep 2024

7 nights

Itinerary Rail from London St Pancras International Station

Single Call to Enquire

Double from

£1,999 pp

from

£1,999 pp

Call to Enquire

Trip Notes

Book Now
Date (Start - End)
Itinerary
Double / Twin Room
Single Room
Notes / Offers
Trip Notes
Book
2024

18 May - 25 May 2024

7 nights

Itinerary

Single Call to Enquire

Double Call to Enquire

Call to Enquire
Call to Enquire

Trip Notes

31 Aug - 07 Sep 2024

7 nights

Itinerary

Single Call to Enquire

Double from

£1,699 pp

from

£1,699 pp

Call to Enquire

Trip Notes

Book Now

21 Sep - 28 Sep 2024

7 nights

Itinerary

Single Call to Enquire

Double from

£1,699 pp

from

£1,699 pp

Call to Enquire

Trip Notes

Book Now