Nestled between Naples and Salerno on southern Italy's Sorrento Peninsula, the Amalfi Coast is one of the world's most photo-worthy stretches of shoreline. Cliff-hugging paths, colourful hillside villas, and mountain villages untouched by time have earned it a place on the UNESCO list. Spend a week indulging in all the Amalfi Coast has to offer; from getting hands on with a trio of Italian cooking lessons to hiking the Path of the Gods – a route that takes you high above Amalfi's steeply sloping terraces of citrus trees for spectacular views over the Med.
What you'll love
Discovering the Amalfi Coast
Hiking the famous Path of the Gods
Experiencing authentic Italian cuisine
Learning to cook with organic local produce
Making and tasting your own gelato
The option to spend your free day on the isle of Capri
What's included
Full programme of guided walks led by local HF Holidays Leader
Comfortable accommodation
Daily breakfast
4 dinners and 1 lunch including wine
Air-conditioned transport
Three cooking lessons plus various tasting
Return flights from the UK including hold baggage and airport transfers
Trip Notes
Easy to download as a PDF, our trip notes provide detailed information for every holiday. Please click below to find the trip notes for your departure date.
All our carefully-curated itineraries are designed by our experts. While we make every effort to adhere to the described itinerary, we may take alternative routes or adapt the running order for weather and/or operational reasons.
Arrive in Napoli and transfer to hotel. Enjoy a welcome drink, unpack, and settle in before dinner.
---
Cheese tasting, pizza making, and Tre Calli Hike
Distance: 6 miles (10 km)
Ascent: 1200 ft (400m)
Our first day lines-up a short walk to a local cheesemaker in Bomerano. We'll learn all about the cheesemaking process, sample some fresh formaggio, and get hands on in creating our own paninis or slices of pizza. After dining on our creations for lunch, we'll set off on a woodland track that opens out onto magnificent views over the Mediterranean Sea. The second part of the walk slowly ascends the slopes of Monte Tre Calli before dropping back down to the village for a well-earned drink.
---
Praiano Beach Walk
Distance: 5½ miles (9 km)
Ascent: 1950 ft (580m)
Leaving from our hotel in Bomerano, we'll follow a scenic trail along the Amalfi Coast that slowly descends to the shoreline. Walking side-by-side with the Mediterranean, we'll eventually drop into Praiano where there's free time to find lunch and explore. Eat at one of the authentic seafood restaurants set on the coast or take a dip in the water and enjoy the beach. For the more adventurous there are sea kayaks available for hire. We round off the day with what's arguably the most Italian of all experiences – a pasta making class.
---
Free Day - Amalfi Cooking & Walking
Each week there's a free day when no guided walks are offered. This is an ideal opportunity to relax at the hotel, walk independently, or visit local places of interest.
Travel on a hydrofoil across the Gulf of Naples to visit the glitzy island of Capri. All broad swathes of sand beneath soaring cliffs, this easy-on-the-eye isle has been a magnet for the rich and famous since the days of ancient Rome. Visit the flower-festooned Gardens of Augustus, explore the 2000-year-old ruins of Villa Jovis, or give your credit card a workout in the designer boutiques.
Alternatively, you can spend some well-earned downtime on one of Amalfi's beautiful beaches or get to know Bomerano better and pick out a place to eat that evening.
---
Valle delle Ferriere & Amalfi
Distance: 8 miles (13 km)
Ascent: 1100 ft (340m)
Descent: 3250 ft (100m)
This morning a short transfer takes us to the starting point of a hike to Valle delle Ferriere. Despite being just a stone's throw from the bustle of the Amalfi Coast, the waterfall-splashed landscapes of this protected nature reserve feel like a world away. We'll follow wooden walkways through forested valleys littered with remnants of the region's long-gone iron industry be rewarded with superb views throughout. Finish in the fascinating town of Amalfi and after free time to explore, we'll step inside the kitchen of a master gelato maker and learn how to create one of the world's favourite frozen treats. We'll help make homemade gelato to a traditional family recipe and after working up an appetite, grab a spoon to sample a scoop or two. 
---
Path of the Gods
Distance: 5½ miles (8.5 km)
Ascent: 1300 ft (400m)
Descent: 1300 ft (400m)
Today we take on the Path of the Gods – a lofty mountaintop trail that cuts across the Amalfi coastline from Bomerano to Positano. Skirt mountain villages almost untouched by time and cross landscapes of lemon trees, terraced gardens, and olive groves that tumble down to the sea. Then, top it all with a farmhouse meal made of organic locally-grown ingredients, all served with a side order of sea views. From farm to fork, it doesn't get much fresher.
---
Agerola and cooking class
Distance: 2½ miles (4 km)
Ascent: 350 ft (100m)
Our final day takes us on a short walk to Agerola. There'll be time to explore the village followed by an authentic Italian cooking class. Learn to cook like a local alongside an expert chef and take home tips and tricks to impress friends and family with at your next dinner party. Using fresh, seasonal ingredients, prepare a selection of typical dishes that we'll dine on during a leisurely lunch.
---
 Return to the airport for your flight home.
---
Hotel B&B Oasi Fantasia - Amalfi Coast
This charming little B&B is one of our favourites, not least for having a standout location just a few minutes stroll from the Path of the Gods. Each room is slightly different in size, but all are beautifully decorated in detailed mosaic tiles and have everything you need for a good night's sleep. Outside there's a terrace area for alfresco dining, plus a cluster of bars and restaurants right on the doorstep.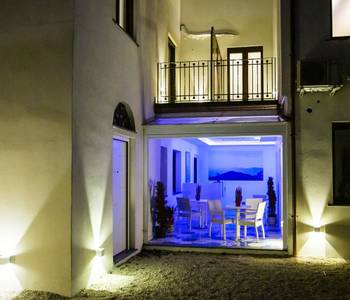 Getting to Hotel B&B Oasi Fantasia - Amalfi Coast
Find out more about this location including travel details and room types.
More Information
Essential information
It's best to be prepared for all weather conditions. To make it easier, here is a list of items you should consider packing.   
Essentials  
Walking boots 
Waterproof jacket 
Waterproof trousers 
Insulated jacket/top 
Walking clothing  
Walking socks (plus spares)  
Sunhat 
Gloves/mitts and warm hat
Water bottle (minimum 2 litre capacity)  
Headtorch 
High-factor sunscreen (minimum SPF 30)  
Sunglasses with a dark lens 
Rucksack (15-30 litres)  
Mobile phone 
Personal first aid kit (containing your medication, blister plasters, etc.) 
Passport 
Visa (if applicable) 
Copy of your travel insurance policy 
UK Global Health Insurance Card (formerly known as EHIC) 
Recommended
Collapsible walking poles 
Swimwear and travel towel
Snacks
Dry bags
Rubbish bags
Insect repellent
Optional extras
Camera 
Sit mat
Flask for hot drinks 
Durable lunch box
Gaiters 
GPS device 
All holidays are subject to availability. Supplements may apply.

Non-member fee: £30 per person.
All packages that include flights are ATOL protected. Advertised prices listed below show the lowest economy flight price option for that departure. On holidays where we offer local UK airports, details will appear in the "Important Information" section below and available alternative flight options will be offered when you book. Seating upgrades may be available on request and at an additional charge, please call 020 3974 8865 for a quote.


Date (Start - End)
Itinerary
Double / Twin Room
Single Room
Notes / Offers
Trip Notes
Book
2024

27 Apr - 04 May 2024

7 nights

Cooking & Walking Flight from London Heathrow Airport

Single from

£1,974 £1,874

Double from

£1,659 £1,559 pp

from

£1,659 £1,559 pp

from

£1,974 £1,874

Save £100 Per Person

Trip Notes

Book Now

11 May - 18 May 2024

7 nights

Cooking & Walking Flight from London Heathrow Airport

Single Call to Enquire

Double from

£1,699 £1,599 pp

from

£1,699 £1,599 pp

Call to Enquire
Save £100 Per Person

Trip Notes

Book Now

21 Sep - 28 Sep 2024

7 nights

Cooking & Walking Flight from London Heathrow Airport

Double from

£1,729 pp

from

£1,729 pp

from

£2,044

Trip Notes

Book Now

28 Sep - 05 Oct 2024

7 nights

Cooking & Walking Flight from London Heathrow Airport

Single from

£2,014 £1,914

Double from

£1,699 £1,599 pp

from

£1,699 £1,599 pp

from

£2,014 £1,914

Save £100 Per Person

Trip Notes

Book Now
Date (Start - End)
Itinerary
Double / Twin Room
Single Room
Notes / Offers
Trip Notes
Book
2024

27 Apr - 04 May 2024

7 nights

Cooking & Walking

Single from

£1,814 £1,714

Double from

£1,499 £1,399 pp

from

£1,499 £1,399 pp

from

£1,814 £1,714

Save £100 Per Person

Trip Notes

Book Now

11 May - 18 May 2024

7 nights

Cooking & Walking

Single Call to Enquire

Double from

£1,549 £1,449 pp

from

£1,549 £1,449 pp

Call to Enquire
Save £100 Per Person

Trip Notes

Book Now

21 Sep - 28 Sep 2024

7 nights

Cooking & Walking

Double from

£1,579 pp

from

£1,579 pp

from

£1,894

Trip Notes

Book Now

28 Sep - 05 Oct 2024

7 nights

Cooking & Walking

Single from

£1,864 £1,764

Double from

£1,549 £1,449 pp

from

£1,549 £1,449 pp

from

£1,864 £1,764

Save £100 Per Person

Trip Notes

Book Now
Important information
With flights holidays: Price includes return flights to Naples Airport, hold baggage and airport transfers
Regional flights: Please click BOOK NOW to view alternative UK airport options
Our airport taxi service operates at this resort – price available on request