Fondly known as Malta's little sister, rural and peaceful Gozo is the second-largest of the three islands that make up the Maltese archipelago. Complete with lovely beaches, pretty villages, interesting archaeological sites, and reliably good weather, life here is gloriously slow-paced. This holiday will be spent exploring the island's coastal paths leading to secluded coves and rocky headlands backed by the glittering Mediterranean Sea.
What you'll love
Admiring the stunning interiors at Victoria's cathedral
Stopping for a coffee at Mgarr-ix-Xini
Taking a boat ride through the caves to the open sea
Sampling island-grown produce
Enjoying a mid-walk swim at San Blas Bay
Discovering the 17th-century Dwerjra Tower
What's included
Full programme of guided walks led by local HF Holidays Leaders
HF Holidays Tour Manager
Comfortable accommodation
Half-board (breakfast and evening meal)
All sightseeing and entrance fees (as per itinerary)
Air-conditioned transport
Return flights from the UK including hold baggage and airport transfers
Trip Notes
Easy to download as a PDF, our trip notes provide detailed information for every holiday. Please click below to find the trip notes for your departure date.
All our carefully-curated itineraries are designed by our experts. While we make every effort to adhere to the described itinerary, we may take alternative routes or adapt the running order for weather and/or operational reasons.
Welcome to Grand Hotel. Unpack and settle in.
---
Today we explore the coastal area along the south coast of Gozo. Here you'll find precipitous cliffs and deep-cut fjords, rocky headlands and little urbanisation. 
Option 1 - Along the coast to Xlendi
Distance: 5 miles (8km) 
Ascent: 600 feet (180m)
In summary: Following the coast path, we take in dramatic views of the cliffs. We continue along the coastline passing Xlendi Tower, the oldest freestanding watchtower on Gozo.
Highlight: Beautiful fossil embedded limestone formations and Xlendi Tower perched magnificently on a cliff top.
Option 2 - The Southern Coast to Xlendi
Distance: 8 miles (13km)
Total ascent: 1,000 feet (300m) 
In summary: We walk from our hotel and cross scenic countryside towards the inlet of Mgarr-ix-Xini. We then walk along the coastal path through one of Gozo's most remote areas taking in spectacular clifftop views.
Highlight: Mgarr-ix-Xini is the perfect location for a picturesque coffee stop.
---
The Church of Pilgrimage at Ta Pinu starts the day. From here the north coast offers some spectacular cliff scenery. Heading eastwards there are some beautiful 'wind sculptures' to admire as well as quaint fishermen's storerooms, formed in the softer rock of the higher cliffs, on our way to Marsalforn or Victoria
Option 1 - Ta Pinu, Scultped cliffs & Marsalforn
Distance: 6 miles (10km)
Ascent: 150 feet (40m)
Descent: 450 feet (140m)
In summary: Our day begins at the sanctuary church of Ta Pinu with time to explore. We'll then head to the coast via the village of Ghasri. On reaching the coast we'll see the beautiful inlet of Ghar il Qamh, fascinating saltpans and weather-sculpted cliffs. We finish at Marsalforn with refreshments.
Highlight: Don't miss the fishermen's sheds cut into the cliff face. 
Option 2 - Marsalforn via Hekka Point
Distance: 7½ miles (12.5km)
Ascent: 300 feet (90m)
Descent: 600 feet (190m) 
In summary: We too start with a visit to Ta Pinu, but then begin walking uphill to Ta Ghammer with its stations of the cross. We then head for Hekka Point via the village of Gharb. We'll then follow the other party to Marsalforn via the saltpans and cliffs.
Highlight: The village of Gharb has a spectacular basilica built between the 17th and 18th centuries.
---
Both walks follow quiet countryside roads to Marsalforn and the scenic northern coastline taking in Ramla Beach, the longest sandy beach on Gozo and the spectacular viewpoint from Tal-Mixta Cave.    
Option 1 - Ta'Pinu to Ramla
Distance : 6.5 miles (10.5km)
Ascent: 650 feet (200m)
Descent: 750 feet (220m)
In summary: Our walk starts from Ta Pinu Church, we then head for the coast at Marsalforn. We follow the spectacular rugged northern coastline to Ramla beach, the longest sandy beach on Gozo.
Highlight: The sanctuary church of Ta Pinu is well worth a visit. 
Option 2 - Ta Pinu to San Blas
Distance: 9 miles (14.5km)
Ascent: 1,000 feet (300m)
In summary: We begin walking towards the coast at Marsalforn, from here we follow the rugged northern coastline past Ramla Bay and the iconic viewpoint at Tal-Mixta cave. We then continue past San Blas beach and the beautiful San Blas gardens to finish at Nadur Observatory.
Highlight: Stunning views from Tal-Mixta cave, high up on the headland above Ramla.
---
Today there are no organised walks, allowing you time to explore the local area or relax in the Hotel or at the beach.
Ta'Mena Estate
The Ta"Mena estate, which the Spiteri family owns, is situated in the picturesque Marsalforn Valley between Victoria and Marsalforn Bay. The estate includes a fruit garden, an olive grove with about 1500 olive trees, an orange grove, and over ten hectares of vineyards. It enjoys the panoramic views of the Gozo Citadel and the surrounding hills and villages. They cultivate vines, olives, lemons, oranges, various fruit trees, strawberries, tomatoes, melons, watermelons and other vegetables. They produce their own wine. There is also an opportunity to buy.  HF Holidays groups have visited in previous years and thoroughly enjoyed it. 
Malta Trip 
There is an excellent scheduled ferry service between Gozo and Malta and the crossing takes approximately 25 minutes. The ferry leaves Gozo from Mgarr and arrives on Malta at Cirkewwa. The ferry timetable is available from www.gozochannel.com 
---
A combination of man's burrowing and gigantic sea erosion has shaped the landscape of today's walks. On the Harder Walk, we'll descend by cliff paths to Xlendi before a spectacular ascent of the cliffs to the west leads to Dwerja Point. Both walks visit Dwerja Point where once stood the dramatic sea-arch known as the Azure Window. Sadly, due to a combination of sea erosion and high winds, the Azure Window collapsed in March 2017. If time and weather permit, a boat trip can be taken from the Inland Sea through a tunnel in the rock out to view the nearby cliffs and Fungus Rock. Both walks continue on into Victoria, the island's capital, for well-earned refreshments
Option 1 - Fungus Rock & the Inland Sea
Distance: 6 miles (9½km)
Ascent: 550 feet (180m)
Descent: 700 feet (220m)
In summary: The day starts with a gradual descent to see Fungus Rock - prominently guarding the entrance to Dwerjra Bay and onto Dwerjra Point where we can see the site of the collapsed Azure Window sea arch. We then circle the Inland Sea before heading for some sightseeing in Victoria.
Highlight: There's opportunity to take a boat ride through the caves into the open sea.
Option 2 - Xlendi Cliffs & Dwejra Bay
Distance: 9 miles (14½km)
Total ascent: 1,200 feet (380m) 
In summary: Our walk starts at the village of Munxar and follows a dramatic coast path to the resort of Xlendi. After a spectacular ascent to the cliff tops we'll walk on to Wardija Point and then follow the route of the other party all the way to Victoria. 
Highlight: Take a look inside the 17th Century Dwerjra Tower - one of only four surviving coastal watchtowers on Gozo.
---
Today's walks offer extensive views over the straits to Comino and Malta. Our groups traverse a delightful flat rock shore and then enjoy charming coves, verdant gardens and wonderful wild flowers. Both walks visit the beautiful Dahlet Qorrot beach with the opportunity for a dip. Continuing, both groups make their way through the outskirts of Nadur, arriving at one of the most stunning viewpoints on Gozo.
Option 1 - Qala, Dahlet Qorrot and Nadur
Distance: 7 miles (11km)
Total ascent: 800 feet (240m) 
In summary: We start our day at Qala for great views of the strait to Comino and Malta. We then walk through open countryside to the small harbour of Dahlet Qorrot, before taking lunch at the lovely San Blas Gardens. We finish by walking through a fertile valley to Nadur, and back to our hotel.
Highlight: We'll look out for beautiful wildflowers and verdant gardens as well as glorious coastal views. 
Option 2 - Strait, Strands and Coves
Distance: 9 miles (16km) 
Total ascent: 1,000 feet (420m) 
In summary: We walk in the remote north-east corner of the island, walking the coastline for fantastic views of Comino and Malta. We'll visit St Anthony's gun battery, then Dahlet Qorrot Beach, before picking up the route back to the hotel via Nadur.
Highlight: Dahlet Qorrot is a beautiful little secluded bay. The bay is perfect for a rest stop or maybe a mid-walk swim.
---
We hope to see you again soon.
---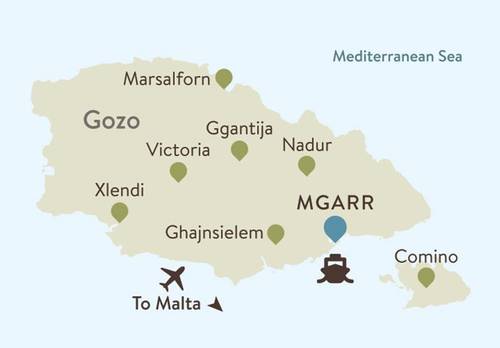 Grand Hotel - Gozo
The charming 4-star Grand Hotel with its comfortable accommodation, and friendly efficient service, occupies a commanding location overlooking Mgarr harbour and has views across the straits to Comino and Malta.  Winner of three HF Hotel Awards in 2018 based on outstanding guest feedback. The hotel features indoor and outdoor swimming pools, a well equipped bar and two restaurants. 
Rooms
The hotel has 93 en-suite bedrooms, many of which have a balcony with either sea views over Mgarr Harbour or the open countryside.

All bedrooms have:
En-suite bathroom with bath with shower 
Air conditioning
TV
Telephone
Mini-bar
Hairdryer
Free Wi-Fi
About your stay
The hotel has a range of facilities to enjoy after a day's walking, including a:
Lounge bar
Games room
Mini cinema
Outdoor swimming pool
Sauna
Jacuzzi
Gymnasium
Indoor pool
Food & drink
Our holidays at the Grand Hotel are on a half-board basis and include breakfast and evening meal.
Breakfast
There is an extensive selection of hot and cold options for breakfast from a self-select buffet.
Lunch (payable locally)
You can buy picnic lunches from the hotel (order the evening before). Alternatively you can buy ingredients from the supermarket in the village or eat in a café during the walks; your leaders will advise you of all the options.
Evening meal
The Grand Hotel has a buffet dinner, comprising a choice of soup, antipasti/salad dishes, plus hot pasta. Main courses always include a choice of meat or fish, plus hot vegetables. The sweet course is usually fresh fruit/fruit salad or gateau. There will be a vegetarian option if requested; we recommend that you discuss any special dietary requirements with the restaurant manager or chef.
Drinks
The hotel has a well-stocked bar serving beer, wine and spirits.
Your evenings
The friendly atmosphere of our holidays continues into the evening.
Enjoy a glass of wine or local beer before hearing about the next day's walks.
On most evenings there will be some kind of entertainment: watch a film in the hotel's own cinema: relax in the hotel with a drink and chat with your fellow guests.
Your leader will inform you of what options are available.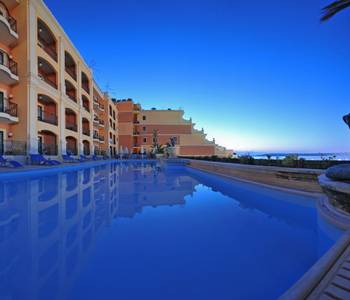 Getting to Grand Hotel - Gozo
Find out more about this location including travel details and room types.
More Information
Essential information
It's best to be prepared for all weather conditions. To make it easier, here is a list of items you should consider packing.   
Essentials  
Walking boots 
Waterproof jacket 
Waterproof trousers 
Insulated jacket/top 
Walking clothing  
Walking socks (plus spares)  
Sunhat 
Gloves/mitts and warm hat
Water bottle (minimum 2 litre capacity)  
Headtorch 
High-factor sunscreen (minimum SPF 30)  
Sunglasses with a dark lens 
Rucksack (15-30 litres)  
Mobile phone 
Personal first aid kit (containing your medication, blister plasters, etc.) 
Passport 
Visa (if applicable) 
Copy of your travel insurance policy 
UK Global Health Insurance Card (formerly known as EHIC) 
Recommended
Collapsible walking poles 
Swimwear and travel towel
Snacks
Dry bags
Rubbish bags
Insect repellent
Optional extras
Camera 
Sit mat
Flask for hot drinks 
Durable lunch box
Gaiters 
GPS device 
All holidays are subject to availability. Supplements may apply.

Non-member fee: £30 per person.
All packages that include flights are ATOL protected. Advertised prices listed below show the lowest economy flight price option for that departure. On holidays where we offer local UK airports, details will appear in the "Important Information" section below and available alternative flight options will be offered when you book. Seating upgrades may be available on request and at an additional charge, please call 020 3974 8865 for a quote.


Date (Start - End)
Itinerary
Double / Twin Room
Single Room
Notes / Offers
Trip Notes
Book
2024

15 Feb - 22 Feb 2024

7 nights

Itinerary Flight from London Heathrow Airport

Single Call to Enquire

Double Call to Enquire

Call to Enquire
Call to Enquire

Trip Notes

29 Feb - 07 Mar 2024

7 nights

Itinerary Flight from London Heathrow Airport

Double from

£1,349 pp

from

£1,349 pp

from

£1,496

Trip Notes

Book Now

14 Mar - 21 Mar 2024

7 nights

Itinerary Flight from London Heathrow Airport

Double from

£1,349 pp

from

£1,349 pp

from

£1,496

Trip Notes

Book Now

28 Mar - 04 Apr 2024

7 nights

Itinerary Flight from London Heathrow Airport

Double from

£1,399 pp

from

£1,399 pp

from

£1,546

Trip Notes

Book Now
Date (Start - End)
Itinerary
Double / Twin Room
Single Room
Notes / Offers
Trip Notes
Book
2024

15 Feb - 22 Feb 2024

7 nights

Itinerary

Single Call to Enquire

Double Call to Enquire

Call to Enquire
Call to Enquire

Trip Notes

29 Feb - 07 Mar 2024

7 nights

Itinerary

Double from

£1,199 pp

from

£1,199 pp

from

£1,346

Trip Notes

Book Now

14 Mar - 21 Mar 2024

7 nights

Itinerary

Double from

£1,199 pp

from

£1,199 pp

from

£1,346

Trip Notes

Book Now

28 Mar - 04 Apr 2024

7 nights

Itinerary

Double from

£1,249 pp

from

£1,249 pp

from

£1,396

Trip Notes

Book Now
Important information
With flights holidays: Price includes return flights to Malta Airport, hold baggage and airport transfers
Our airport taxi service operates at this resort – price available on request
Independent travellers can join our transfer from Malta airport: £28.50pp one way