Few places rival the Scottish Highlands for adventure. So when it comes to family holidays, our characterful country house in Glen Coe has plenty to please. With an enviable setting right on the shores of Loch Leven, the grounds of this stately Scottish house make the perfect playground for kids. Elsewhere, you're spoilt for choice. Discover dramatic glens where historic battles took place, hit the heights with a ride on the UK's only gondola-style chairlift, or tackle Ben Nevis – Britain's tallest mountain.
What you'll love
Under 11s GO FREE

 

Enjoying gentle waterside strolls or bagging Munros

 

Spending time in charming highland villages

 

Discovering Scotland's fascinating history 

 

Swimming in Loch Leven 

 

Staying at our comfortable country house
What's included
Comfortable en-suite accommodation in our country house 
Cream tea on arrival day 
Cooked or continental breakfast every morning 
Daily packed lunches 
Three-course evening meals, plus tea & coffee 
Guided walking with experienced HF Holidays Leaders 
Choice of up to four guided walks (on walking days) 
All transport to and from walks where necessary 
Easy-to-follow routes, maps, and information in our Discovery Point if you want to explore independently  
Trip Notes
Easy to download as a PDF, our trip notes provide detailed information for every holiday. Please click below to find the trip notes for your departure date.
All our carefully-curated itineraries are designed by our experts. While we make every effort to adhere to the described itinerary, we may take alternative routes or adapt the running order for weather and/or operational reasons.
You're welcome to check in from 4pm onwards. Enjoy a complimentary cream tea on arrival.
---
Option 1 - Ardgour Estate
Distance: 3.5 miles (6km)
Ascent: 100 feet (40m)
Take the Corran Ferry across Loch Linnhe for a walk in the grounds of Ardgour House - seat of the Macleans of Ardgour. Starting at Corran we'll pass through the hamlet of Clovullin and see a group of small lochs formed by glaciers 10,000 years ago.
Option 2 - Inchree Forest and the Ardgour Estate
Distance: 6.5 miles (10.5km)
Ascent: 500 feet (160m)
We start in Onich where we'll walk by disused quarries and enter Inchree forest to follow woodland trails full of squirrel hides. Then, hop aboard the Corran Ferry for spectacular mountain views as we cross Loch Linnhe to explore the Ardgour Estate.
Option 3 - Maclean's Towel
Distance: 6 miles (10km) 
Ascent: 2,450 feet (760m) 
Cross over on the Corran ferry to the Ardgour Peninsula, then climb the side of the spectacular Maclean's Towel waterfall to the summit of Meall Breac. Throughout the walk there are great views over the immense Loch Linnhe and the mountains of Glen Coe beyond. 
Option 4 - Sgurr na h-Eanchainne
Distance: 7 miles (11.5km) 
Ascent: 2,750 feet (840m) 
Cross over on the Corran ferry to walk in the mountains of the Ardgour Peninsula. Our route takes us past Maclean's Towel waterfall then around the ridge onto the summit of Sgurr na h-Eanchainne at just over 700 metres high. 
---
Option 1 - Inverlochy to Nevis Gondola
Distance: 4.5 miles (7km)
Ascent: 550 feet (160m)
From the ruins of Old Inverlochy Castle we head up towards the towering mountains and through the forests of Glen Domhanaidh. Once we arrive at the Aonach Mor Ski Centre, there are amazing views towards the north face of Ben Nevis.
Option 2 - Gleann Domhanaidh Forest
Distance: 6.5 miles (10km)
Ascent: 1400 feet (420m)
A walk that starts from Old Inverlochy Castle and ascends through the forests of Glen Domhanaidh for exhilarating views over Fort William and Loch Linnhe. Our walk ends at the Aonach Mor ski centre and gondola.
Option 3 - Aonach Mor
Distance: 4.5 miles (7km)
Ascent: 2000 feet (600m)
Using the ski gondola to take the initial strain, this walk ascends from the over 2,000ft height of the top station to the summit of Aonach Mor. At an altitude of 4,006 feet, Aonach Mor is a significant peak; the 8th highest in Britain. Fortunately, the gondola takes us halfway up this lofty summit.
Option 4 - Aonach Traverse
Distance: 9.5 miles (15.5km)
Ascent: 2500 feet (760m)
Starting at the top of the gondola this is a challenging and rough mountain walk which bags the summits of Aonach Mor and Aonach Beag - Scotland's 7th and 8th highest peaks. Enjoy dramatic views of Ben Nevis and its towering cliff before descending into Glen Nevis and passing the spectacular Steall Falls.
---
Option 1 - Glen Nevis
Distance: 5.5 miles (9km)
Ascent: 250 feet (80m)
Enjoy a scenic walk along the shores of Glen Nevis, beneath the slopes of Ben Nevis and into Fort William.
Option 2 - Nevis Gorge
Distance: 8 miles (12.5km)  
Ascent: 700ft (220m)  
We'll meander through Nevis Gorge keeping an eye on Ben Nevis high above us. Enjoy the tranquillity of this wooded gorge, where the torrent churns between giant boulders, providing a soundtrack of trickling water. Soak up the sight of Steall Waterfall, the third highest cascade in Britain, before emerging into the wide vistas of Steall meadow. 
Option 3 - Below the North Face
Distance: 9 miles (14km) 
Ascent: 2,600ft (800m) 
Set your sights on the climbers' hut that sits below the mighty north face of Ben Nevis as you begin climbing up and up. Then once we reach it, we'll contour below the Castle Ridge buttress and descend via the Pony Track to Glen Nevis. You'll have the chance to see the famed towering cliffs of the north face up close – revered for its excellent rock and ice climbing.  
Option 4 - Ben Nevis
Distance: 10 miles (16.5km) 
Ascent: 4,500ft (1,380m) 
Britain's highest mountain, Ben Nevis, is on the agenda today. It's a challenging climb to the summit from Glen Nevis along the Pony Track, but it's a walk to write home about. You'll zig zag all the way to the top where for a few moments you'll be the highest person in Britain. 
---
Option 1 - Hospital Lochan
Distance: 4 miles (7km)
Ascent: 600 feet (180m)
Walk from Glencoe village along one of the area's most pleasant and scenic paths. We make a complete circuit of Hospital Lochan before heading to the visitor centre to discover the violent history of Glen Coe and the Clan MacDonald.
Option 2 - Historic Glen Coe
Distance: 8 miles (13km)  
Ascent: 1,200ft (360m)  
Discover Glen Coe's turbulent history and connections to the Clan MacDonald as we follow woodland paths to the scenic 'Hospital Lochan' before reaching Clachaig Inn. This former climber's hostel is steeped in history - nearby Signal Rock was the gathering point for the MacDonalds of Glen Coe in times of emergency. 
Option 3 - Buachaille Etive Beag
Distance: 6 miles (10km)  
Ascent: 3,050 feet (940m) 
The little sister to Buachaille Etive Mor - one of Scotland's most iconic mountains - Buachaille Etive Beag is a magnificent ridge in its own right. Starting from Glen Coe, we'll follow a good path to the ridge and visit both summits before descending into another valley and returning to Glen Coe.
Option 4 - Buachaille Etive Mor
Distance: 9.5 miles (15km) 
Ascent: 3,200 feet (980m) 
Ascend steeply from Glen Coe up a rocky path through Coire Altruim onto Buachaille Etive Mor. We'll then follow the undulating ridge to the summit of Stob Dearg where there's an eagle's eye view over Rannoch Moor and Glen Coe stretching out beneath. Afterwards, we'll descend and follow the valley to the Kingshouse inn. 
---
Option 1 - Beside Loch Linnhe
Distance: 5 miles (8km)
Total ascent: 150 feet (40m)
In summary: Walk along the shoreline of Loch Linnhe on a cycle track that follows the route of the old railway from Ballachulish.
Highlight: Look out for the monuments to James Stewart and the Appin murder that feature in 'Kidnapped', written by Robert Louis Stevenson.
Option 2 - Gleann a Chaolais Circuits
Distance: 6 miles (10km) 
Ascent: 950ft (300m) 
From the house we'll head towards Ballachulish Bridge, which crosses over Loch Leven and Loch Linnhe. You'll have ample opportunity to see the lochs from a different angle as well as the imposing sight of Beinn a Bheithir on the other side. There'll be a stop at St John's Church in Ballachulish, but the highlight has to be the forested trails of Gleann a Chaolais – a hiker's delight. 
Option 3 - Sgorr Dhearg from St John's Church
Distance: 9.5 miles (15km) 
Ascent: 3,900ft (1180m) 
Starting at sea level on the opposite side of Loch Leven from Alltshellach, we'll follow a gently rising track through the forest. The path then narrows and steepens until it emerges from the forest below the dramatic horseshoe ridge of Beinn a' Bheithir.  
We'll head towards the col then turn left along a wide ridge up to the summit of Beinn Dhearg. In the right conditions, you'll see the mountains above Glencoe, Ben Nevis, and several Hebridean Islands. 
The same route will take us through the verdant valley of Gleann a' Chalois before we dip into the forest and over the Balachulish Bridge to the house. 
Option 4 - Sgorr Dhonuill
Distance: 9.5 miles (15.5km)
Ascent: 3,850 feet (1,160m)
Ascend on forestry tracks up through a steep, stony gully onto the main Beinn a'Bheithir ridge which is followed eastwards to reach the summit of Sgorr Dhonuill (1,001m). Sgorr Dhearg and Sgorr Dhonuill are the twin peaks visible from Alltshellach. At the end of the walk, you can relax in the bar area with a well-earned drink and gaze upward at the peak you've just conquered.
---
Enjoy a leisurely breakfast before making your way home.
---
Alltshellach
For a combination of mountain views, olde-worlde charm, and somewhere comfortable to sleep, this stately Scottish house in North Ballachulish has an enviable setting right on the shores of Loch Leven. The walking opportunities here are as every bit rugged and romantic as you'd expect, especially around Glen Coe, the Mamores, Kinlochleven, Bidean nam Bian, and Ben Nevis – the 1,345-metre-high peak towering above glistening lochans and glacial valleys in the north-west Highlands. You can also spend time in Fort William and ride the Hogwarts-esque Jacobite steam train as it makes its way through beauty spots such as Loch Eil, Glenfinnan, and Arisaig to the fishing port of Mallaig.
Rooms
Designed with your comfort in mind, Alltschellach has 38 well-appointed guest rooms available in three categories: Classic, Premium, and Superior. 
Classic Rooms are comfortable en-suite guest rooms, ideal for a peaceful night's sleep. Amenities include free Wi-Fi, tea and coffee-making facilities, toiletries (hand wash, shampoo, and shower gel), and a TV. 
Premium Rooms are more spacious en-suite guest rooms. Amenities include free Wi-Fi, tea and coffee-making facilities, toiletries (hand wash, shampoo, body lotion, shower gel), and a 32-inch TV. Extras include bathrobes, slippers, and comfortable mattresses.
Superior Rooms are even more spacious en-suite guest rooms offering upgraded views of the surrounds. Amenities include free Wi-Fi, tea and coffee-making facilities, toiletries (hand wash, shampoo, body lotion, shower gel), and a 32-inch TV. Extras include bathrobes, slippers, and comfortable mattresses.
We love: Room 21 for its extra space, corner position, and gorgeous views across Loch Leven. Equally fabulous is Room 23 (known as the Bishop's Room) on the second floor. 
The Choose Your Room service is available at our UK country houses, allowing you the option of choosing and confirming a specific room for an extra charge of £30 per room. This is subject to availability. Upgrade supplements apply. 
Check in & check out
You are welcome to check in from 4:00pm at the earliest. On arrival, you'll enjoy a complimentary cream tea and get to meet your fellow guests, our HF Holidays Leaders, and the rest of the friendly team.  
On the day of departure, we kindly ask all guests to check out by 10:00am. You'll be asked to settle your bill prior to leaving. You may, of course, make a charitable donation to our HF Holidays Pathways Fund if you wish. Please note that we only accept card payments.  
Room supplements
| | | | |
| --- | --- | --- | --- |
| Superior | Premium single | Premium double/twin | Choose your room |
| £25 pppn | £20 pppn | £20 pppn | £30 per room |
About your stay
A warm welcome
We want you to feel comfortable from the moment you arrive. You'll find a welcome pack in your room with guest registration forms, menus, order forms for dinners and picnic lunches, the Wi-Fi password, and the front door code. Our houses are locked at night, so we recommend noting the Duty Manager's number on arrival in case of an emergency (or getting locked out). 
Evening entertainment
While evening entertainment varies from house to house, the HF Holidays Big Pub Quiz held after dinner on Wednesdays is a weekly staple. Your HF Holidays Leader may be around for tips on guided and self-guided walking routes as well as visit-worthy local attractions. 
Walks talks 
Our HF Holidays Leaders host guided walking information briefings before dinner on arrival days. This is followed by a group Walks Talk for information on the following day's walking delights (held before dinner every evening). Self-guided walking guests are, of course, welcome.  
The walking day
Prior to setting off on walks, your HF Holidays Leader will run you through a short safety briefing. There's also an up-to-date weather forecast on display at the house to ensure you have appropriate clothing and footwear. If you choose to do your own walks or are on a self-guided walking holiday, we ask that you please complete an Independent Walker Card each day. These can be found near the Discovery Point in the house. 
Food & drink
Led by experienced chefs, we serve a wide range of dishes made with fresh and seasonal ingredients. We always aim to source the best produce available and use home-grown herbs and vegetables from our own gardens whenever possible. Additionally, we have a licensed bar with beers, soft drinks, and a superb selection of spirits. Full-board comes as standard and includes a cream tea on arrival and a hearty breakfast on departure day.
HF Holidays understands the importance of managing allergens effectively to ensure food is safe for guests with food allergies. Whilst we are always able to confidently inform guests which allergens are present in our ingredients and dishes, we are unable to guarantee absolute freedom from the 14 main allergens in our kitchens. Vegetarian and vegan menu choices are available. If you have allergies, food intolerances, or any special dietary requirements, please inform our reservation team at the time of booking.
Accessibility
For accessibility and assistance information, please contact our expert team on 020 3974 8865 or view the accessibility information online for Alltshellach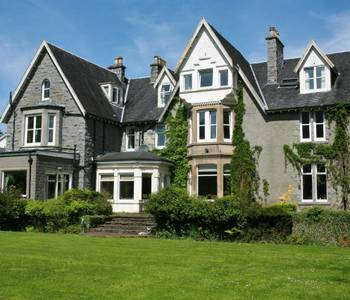 Getting to Alltshellach
Find out more about this location including travel details and room types.
More Information
Essential information
The UK has a famously unpredictable climate so it's best to be prepared for weather that's sunny one minute and raining the next.  To make it easier, here's a list of items you should consider packing.  
Essentials 
Suitable footwear such as waterproof walking boots that provide ankle support and good grip 
Waterproof and windproof jacket, preferably insulated 
Comfortable clothing (jeans & waterproof capes are not suitable) 
Waterproof overtrousers 
Gloves and a warm hat (or sunhat) 
Rucksack 
Water bottle (at least 1 litre capacity) 
A small torch 
Sunscreen 
Mobile phone and portable charger 
Watch 
UV sunglasses 
Recommended 
Several base layers (long-sleeve or short-sleeve) 
Cushioned walking socks to avoid blisters 
First aid kit, including plasters and insect repellent 
Sit mat  
Spare pair of socks 
Energy snacks 
Waterproof pouch for valuables 
Rubbish bag (remember to always leave no trace) 
Wallet/purse 
Optional extras
Walking poles, useful for descents 
Flask for hot drinks 
Durable lunch box 
Gaiters 
Blister kit  
Waterproof rucksack liner 
Head torch 
GPS device 
Alltshellach Calendar
Guided Walking
Self-Guided Walking
Special Interests
Unavailable to Book
All holidays are subject to availability. Supplements may apply.

Non-member fee: £30 per person.
All our carefully-curated itineraries are designed by our experts. While we make every effort to adhere to the described itinerary, we may take an alternative route, or vary the running order for weather and/or operational reasons.

Holiday prices
Date (Start - End)
Itinerary
Double / Twin Room
Single Room
Notes / Offers
Trip Notes
Book
2024

03 Aug - 10 Aug 2024

7 nights

Family Walks

Single Call to Enquire

Double from

£1,285 pp

from

£1,285 pp

Call to Enquire

Trip Notes

Enquire
Important information
Maximum 3 free child places under 11 years per full paying adult price on UK country house stays.
Family rooms are subject to availability. Sole occupancy charges may apply. 
Children under 11 go free
Children 11-17 years on 7-night breaks £99pp for 2023 and £109pp for 2024
All children's rates are based on sharing a bedroom with one or more adults.
Children under 14 must be accompanied by a responsible adult on all walks, though this need not be a parent or guardian