Snowdonia is simply stunning in the winter, especially when there's something to celebrate. There's something magical about walking in winter. Whether it's the frosty footsteps, the clear crisp air, or the breathtaking views, it's a wonderful time to go walking. Join our festive breaks and choose from a guided walking holiday in the company of one of our knowledgeable leaders. We pull out all the stops on our festive holidays, with fabulous food, lots of seasonal entertainment and great walks and activities. The walks are tailored to the time of year and will remain flexible to suit the weather conditions. Each day three grades of walk will be offered. So wrap up warm, lace up your boots and go for an invigorating walk.
Holiday Highlights
Head out on full day walks to discover the varied beauty of Snowdonia on foot
Plenty of exercise to walk off the festive excesses
A choice of guided walks in spectacular winter scenery
Let a local leader bring classic routes and offbeat areas to life
Enjoy magnificent Snowdonia mountainscape scenery
Look out for wildlife, find secret corners and learn about Welsh history
A relaxed pace of discovery in a sociable group keen to get some fresh air in one of Britain's most beautiful walking areas
Just relax, soak up the party atmosphere, enjoy wonderful festive fare and leave all the organising to us
Discover what makes the Snowdonia so special from the sweeping valleys to the rocky peaks
Evenings in our country house where you share a drink, celebrate and re-live the day's adventures
What's included
Wonderful meals – full selection at breakfast, your choice of picnic lunch, an excellent evening meal and plenty of festive treats
A programme of organised walks and activities
The services of experienced HF Holidays' guides
A packed programme of evening activities offering something festive for everyone, including some old HF favourites
Any transport to and from the walks
Trip Notes
Trip notes are detailed, downloadable PDF's for each holiday, please click the button below to find the right trip notes for your departure date.
On our Guided Walking holidays, we believe that choice is key. Our walks descriptions will help you choose according to your interests and fitness. The walks are grouped together with care by local experts to give the best experience. While every effort will be made to adhere to the described itinerary, we may occasionally vary the sequence shown here or substitute an alternative route to suit local conditions or for other operational reasons, potentially at short notice. Some of our breaks have more than one itinerary. To check which itinerary is running on your holiday date please refer to the Dates, Prices & Trip Notes tab.
You're welcome to check in from 4pm onwards.
Enjoy a complimentary Afternoon Tea on arrival.
---
Option 1 - Panorama Viewpoint & Barmouth
Distance: 3½ miles (5½km)
Total ascent: 750 feet (240m)
In Summary: Starting just outside Barmouth, we ascend gradually to the Panorama viewpoint above the town, arguably one of the best in Wales. We then descend beside a stream to the estuary and can walk out onto the famous trestle bridge for some sea air and wildlife spotting, before finishing our walk in Barmouth town
Highlight: The Trestle Bridge across the Mawddach is a great experience looking right up the middle of the estuary.
Option 2 - Over the hills to Barmouth
Distance: 5 miles (8km) 
Total ascent: 1,500 feet (460m) 
In Summary: Follow the stunning panorama walk above the Mawddach Estuary, heading over the hills to Barmouth.
Highlight: This walk combines spectacular ridge walking with wonderful views of the coast and estuary, and beyond to the Snowdonian mountains.
Option 3 - Bwlch-y-Rhiwgyr Pass
Distance: 8½ miles (13½km)
Ascent: 2,400 ft (720m) 
In Summary: We ascend from Caerdeon to the Bwlch-y-Rhiwgyr pass, then follow the crest of a wide grassy ridge, with wonderful estuary and coastal views, descending gradually to finish along the beach to Barmouth
Highlight: Superb views over The Mawddach estuary from the Bwlch-y-Rhiwgyr pass.
---
Option 1 - Brithdir & Torrent Walk
Distance: 4.5 miles (7km)
Ascent: 490 feet (150m)
In Summary: An easy circular walk from Dolserau Hall to visit the remains of the Roman fortlet and St Mark's Church in Brithdir. We then walk on one of the most popular paths in the Dolgellau area, Torrent Walk.
Highlight: Enjoy an easy calming walk from the house visiting ancient forts and walking along the river.
Option 2 - Foel Caerynwch and Torrent Walk
Distance: 6 miles (9½km)
Ascent: 1,200 feet (360m)
In Summary: A circular walk from the house, we start by walking through the tranquil woods behind the house crossing streams and fields reaching Brithdir. We then ascend up to the summit of Foel Caerynwch where you can take some time to enjoy the views. Following that, we will descend to reach the very interesting St Mark's Church before walking along the river back to the house.
Highlight: Short and easy summit walk with great views at the top and a visit to St Mark's Church.
Option 3 - Llanfechreth & Old Precipice Walk
Distance: 12 miles (19.5km)
Ascent: 1,300 feet (400m)
In Summary: The Old Precipice Walk is one of the most famous attractions of the Dolgellau area, and affords wonderful views down the Mawddach estuary and over to Cadair Idris. We'll walk from Dolserau Hall to the village of Llanfachreth picking up the Precipice Walk and enjoying views of the reservoir before heading back down to the house.
Highlight: Legend has it that there is a marble fairy castle at the bottom of Llyn Cynwch. 
---
Option 1 - Old Precipice Walk
Distance: 6 miles (10km)
Total ascent: 850 feet (260m) 
In Summary: The Precipice Walk is a real classic - a contouring path with amazing views over the Mawddach Estuary and the surrounding mountains (and it's nothing like as scary as the name suggests!).
Highlight: This panoramic trail enjoys wonderful views of Coed y Brenin Forest, the Mawddach Estuary and Cadair Idris. 
Option 2 - Coed y Brenin & Old Precipice Walk
Distance: 9 miles (14km)
Total ascent: 2,100 feet (640m)
In Summary: Walk from the Coed y Brenin Forest to Dolserau Hall, passing the Rhaeadr Ddu waterfall, ruins of the Glasdir Copper mine, and following the famous Precipice Walk.
Highlight: The 60 foot cascade of Rhaeadr Ddu (Black Waterfall), is one of the most spectacular in Snowdonia.
Option 3 - Cader Idris Ridge
Distance: 8½ miles (13½km)
Total ascent: 3,150 feet (960m)
In Summary: Ascend to the top of Cader Idris via the Minffordd path. This outstanding mountain walk continues along this wonderful ridge, taking in two more summits, before descending gradually to Dolgellau.
Highlight: A fabulous ridge walk atop one of Britain's most loved mountains, with great views down the Mawddach Estuary to the sea.
---
The day has been left free for you to relax or explore the local area.
---
Option 1 - Dolgellau and Glyn Aran
Distance: 7 miles (11½km)
Ascent: 1,150 ft (340m)
In Summary: Leaving the House, we walk up the Afon Clywedog , then on quiet lanes and footpaths to descend the Aran valley to Dolgellau.  We return to the house on quiet lanes on the other side of the valley.
Highlight: The beautiful Torrent Walk alongside the Afon Clywedog, and an opportunity to explore the historic town of Dolgellau.
Option 2 - Cymer Abbey, Dolgellau and Glyn Aran
Distance: 10 miles (16km)
Ascent: 1,350 ft (460m)
In Summary: We walk west along quiet lanes to the site of Cymer Abbey, and into Dolgellau. Leaving Dolgellau, we climb up the Aran valley, and on footpaths and quiet lanes to descend the Clywedog valley to the House
Highlight: A visit to Cymer Abbey, an opportunity to explore historic Dolgellau, and the beautiful Torrent Walk alongside the Afon Clywedog
Option 3 - New Precipice Walk & Dolgellau
Distance: 12 miles (19km)
Ascent: 1,950 feet (560m)
In Summary: We walk on quiet lanes down the Mawddach valley to the village of Llanelltyd then climb through woods to the balcony New Precipice Walk, passing abandoned gold mines. Descending through woods, we cross the Afon Mawddach to follow the Mawddach Trail to Dolgellau, then by quiet lanes back to the House.
Highlight: Remains of gold mines, stunning views of Cader Idris and the Mawddach estuary, and a chance to explore historic Dolgellau.
---
Exploring the Ardudwy coast, the easier walk starts at Pensarn to follow the Afon Artro to its estuary, then we stroll on the delightful pebbly beach at Llandanwg. We then turn inland to Llanfair for great views, before enjoying the perfect golden sands of Harlech beach. There's a short ascent to finish in the historic town and a chance to visit the castle. The medium walk starts near Llanbedr village, following much of the same route, but ascending a little higher above Harlech for great views of its castle on the final leg. The harder walk explores the wild area to the north of Harlech, ascending to the stone circle of Bryn Cader Faner. We then head southwest with lovely coastal views, gradually descending to finish in Harlech town.
Option 1 - The Ardudwy Coast & Harlech
Distance: 4 miles (6.5km) 
Total ascent: 750 feet (240m) 
In Summary: Today we'll explore the Ardudwy Coast, visiting the Artro estuary and walking on the delightful beach at Llandanwg. En route we might visit a slate cavern and then continue to Harlech with its impressive castle, built by Edward I in 1283 to control the Welsh. 
Highlight: Harlech's impressive castle, built by Edward I. 
Option 2 - Along the coast to Harlech
Distance: 6½ miles (10.5km) 
Total ascent: 850 feet (260m) 
In Summary: Follow the coast from Llanbedr to Harlech. Our walk takes in the delightful beach at Llandanwg, and the rolling hills above the coast. 
Highlight: Visit Harlech Castle which commands a wonderful position overlooking the sweeping sands of Cardigan Bay with the mountains of Snowdonia behind.
Option 3 - Over the hills to Harlech
Distance: 8½ miles (13.5km) 
Total ascent: 1,850 feet (540m) 
In Summary: Walk on the lower slopes of the Rhinogs above the Ardudwy coast. Our walk passes a beautiful lake, and an ancient stone circle before we descend gradually to Harlech. 
Highlight: There are great views along the coast, and of Harlech castle on the final leg. 
---
Enjoy a leisurely breakfast before making your way home.
---
Dolserau Hall
Walkers in the know head to southern Snowdonia to uncover one of Wales' best-kept secrets. Stood in the heart of the Snowdonia National Park, just a couple of miles from the attractive market town of Dolgellau, Dolserau Hall makes a superb base for getting off the beaten path.  The tranquillity of the location wraps around you. A smart country house with breathtaking views from every room, attractive gardens and vistas that stretch across the valley to the summit of Cadair Idris, you're surrounded by rural inspiration. Depending on what mood strikes, explore the Rhinogs, take on a classic ridge walk with great views, set foot on the Mawddach Trail or follow the coast to Harlech, where the eponymous medieval castle stands on a wonderful position overlooking the sweeping sands of Cardigan Bay. Croeso I Cymru, as they say around here.
Need to know
We appreciate that COVID-19 continues to impact the nations.  The English, Scottish and Welsh governments are not always in sync, so measures in our country houses may vary between the nations. We thank all guests for adhering to the measures we have introduced to keep our guests, leaders and team members safe.
You can see our latest FAQs and guarantees at https://www.hfholidays.co.uk/coronavirus-travel-advice 
Ventilation, Physical Distancing Measures and Group Sizes around the Houses
We will keep our public areas well ventilated; for your comfort you might want to pack an extra layer to keep you comfortable.
With the relaxation of physical distancing, we will be allowing larger groups to dine and relax in the bar together.
Hand sanitiser stations will be made available in frequently used public areas for guests and staff use. It is advisable to bring additional hand sanitiser for whilst you are out walking.
We always follow the latest regional government advice, but our one recommendation is don't forget your face mask! There is no requirement to wear a face covering in communal areas, but you may of course choose to. Some places throughout the UK may still require you to wear a mask even if the government legislation does not. With this in mind we suggest you bring a personal supply of face coverings for the duration of your stay.
Servicing Bedrooms:
At this stage we are not reintroducing our daily room servicing.  Extra tea, coffee, milk, towels and toiletries will be available on request from our team. Bins can be left outside your door for emptying.
COVID-19 Symptoms or Cases 
If a guest has symptoms of COVID-19 then they should inform the house team and immediately self-isolate to minimise any risk of transmission and make arrangements to request a COVID test. If a guest receives a positive test result, they should return home if they reasonably can. They should where possible use private transport but only drive themselves if they can do so safely. If a guest cannot reasonably return home, they should discuss their circumstances with the House Manager. Additional charges may be levied if a guest needs to self-isolate for longer than their planned holiday.
What can you do to help keep everyone safe?
Wear a face mask/covering where required and please bring plenty of face coverings for the duration of your stay
Carry/use hand sanitiser
Wash your hands frequently with soap and water when possible
Cover your mouth and nose with a tissue or your sleeve when you cough or sneeze
Avoid passing round objects such as cameras & phones
If you are displaying symptoms of Coronavirus, please do not travel to an HF Holidays House
Rooms
Tea & coffee-making facilities, TV, Hairdryer, Toiletries, Wi-Fi
Stay in the smartly presented rooms in the main house or in one of the handful of bedrooms in the converted coach house close by. With 23 rooms, Dolserau Hall has plenty of space and there's a range of Classic and Premium Rooms to choose from. Enjoy the extra space of Room 1 and soak luxuriously in the tub that comes with the room, or watch the light change outside from the comfort and privacy of the sofa in front of the large picture window in Room 5.
All 'Classic' rooms are ensuite and furnished to a high standard. There are also several 'Premium' Rooms that are either larger or have a desirable view, a more luxurious mattress and larger television – upgrade your stay for just an extra £15-25 per person per night. You can choose a specific room for an extra £30 per room, subject to availability. Upgrade supplements still apply.
Check in:
Check in opens at 4pm for all guests. Guests will be unable to access any of the Country House facilities, including leaving luggage before 4pm.
We are delighted to invite you to enjoy a complimentary Afternoon Tea on arrival. Relax and meet your fellow guests and leaders. 
Check out:
Check out time: 10am
Please note, you will need to settle your bill before departure and payment will only be possible by card.  Gratuities and donations to the Pathway Fund can also be made by card.
Facilities
Free Wi-Fi, boot room and drying room, extensive garden, lounge bar, library and board games to borrow
After a day rambling over the slopes of the Rhinogs or summiting a cracking peak, come back to the house and its specially tailored walkers' facilities. Wander through the Coach House garden and admire the far-reaching views. Settle into the lounge bar and sink into the comfy leather sofas here. Grab a book or a board game and make yourself comfortable.
Welcome Information
A Welcome Information Pack providing details about the Country House and your holiday will be available in each bedroom. This personal pack of information will detail what to expect during your stay in the house, the menu for the duration of your stay, dinner & picnic lunch order forms and the guest registration form for completion.
Our houses are locked at night-time and accessible with a door code which is available in the Welcome Pack. However, we also recommend making a note of the Duty Manager number on arrival, in case of an emergency or getting locked out.
Evenings
Join our team after dinner on Wednesday evenings to see if you've got the knowledge to triumph in the HF Big Pub Quiz!  There will also be another evening of entertainment at the beginning of the week which will vary depending on the house you are visiting.
If there are leaders resident, they will be available to chat to guests about self-guided walks. You can borrow walking route notes and maps from our Discovery Point.
Walks Talks – Guided Walking Information Briefings
Self-Guided guests are always welcome to join our Guided Walking briefings to hear about the local conditions. 
Our leaders will deliver a Guided Walking Information Briefing on each arrival day before and after dinner followed by a group Walks Talk to let guests know about the following day's walks. Walks Talks are usually before and after dinner prior to each walking day. The information is repeated so you can join whichever time suits you. 
If you are undecided which walk to do, our leaders will be available in the bar or lounge to answer any questions you might have. Our website contains up-to-date information about the walks for each holiday.
Before you leave for your walk your leader will run through a short safety briefing for the day.
Each day, the latest weather forecast will be displayed for all guests to check to ensure appropriate clothing is worn for the walks.
Please note, if you decide to do your own walks, or you are on a self-guided walking holiday, you must complete an Independent Walker Card each day. These can be found near the Discovery Point in the house.
Food & Drink
As at all our country houses, holidays are full board, from afternoon tea served as a welcome treat through that evening's meal to a hearty breakfast on the day of departure. Food at Dolserau Hall is varied with a strong emphasis on the use of seasonal British produce. Our experienced chefs create each dish using only the freshest ingredients and, when in season, use home grown herbs and vegetables taken from our own gardens to give a true taste of the local area.
Along with many hospitality business across the UK we are presently experiencing disruption to our food and drink supply chain. COVID continues to limit the ability of suppliers to deliver and the war in Ukraine (along with several other global challenges) is impacting availability of many basic products.  We are working hard to ensure that these challenges do not negatively impact your holiday but ask for your understanding should we need to make last minute changes to dishes or menus.
Accessibility
For accessibility and assistance information, please contact our expert team on 020 3974 8865 or view the accessibility information online for Dolserau Hall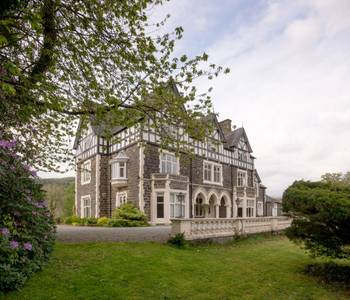 Getting to Dolserau Hall
Find out more about this location including travel details and room types.
More Information
Essential Information
"There's no such thing as bad weather, just the wrong type of clothing!" goes the adage. Come prepared for all eventualities and you'll walk in comfort as well as safety. Britain's famous for its changeable weather, so here's our advice on what to wear and bring.
Essentials
Walking boots providing ankle support and good grip.
A waterproof jacket and over-trousers
Gloves and a warm hat (it can be chilly at any time of the year)
Rucksack
Water bottle (at least 1 litre capacity)
A small torch (everywhere in winter, year round in mountains)
Recommended
Several layers of clothing, which can be added or removed
Specialist walking socks to avoid blisters.
A first aid kit inc plasters– your leader's first aid kit doesn't contain any medication
Sit mat (insulated pad to sit on when you stop for a break)
You might also want
Walking poles, particularly useful for descents.
Insect repellent
Flask for hot drinks
Rigid lunch box
Gaiters
Blister kit (eg Compeed) just in case
Waterproof rucksack liner
Sun hat and sunscreen (we may just get lucky and have some festive sunshine!)
Denim jeans and waterproof capes are not suitable on any walks.
All holidays are subject to availability. Prices are subject to change.
Prices based on two people sharing. Supplements may apply.
Non-member fee: £30 per person.


Holiday Prices
Date (Start - End)
Itinerary
Single Room
Double Room
Notes / Offers
Trip Notes
Book
2022

23 Dec - 30 Dec 2022

7 nights

Christmas

Single Fully Booked

Double from

£1,174 pp

Fully Booked

from

£1,174 pp

Trip Notes

Book Now

27 Dec - 03 Jan 2022

7 nights

Christmas

Single Fully Booked

Double from

£1,099 pp

Fully Booked

from

£1,099 pp

Trip Notes

Book Now