The warm waters of the Adriatic lap the southern coast of Croatia and the 1,000 or so islands which lie just offshore. From our base in the small coastal town of Baška Voda, enjoy marvellous walking options along the mainland coast, on the delightful island of Brac, and around the yawning chasm of the Cetina Gorge. There's also a boat trip to the coastal town of Omis and walks in the foothills of the Biokovo Mountains.
What you'll love
Walking through the Cetina Gorge
Taking a boat trip to the town of Omiš
Stopping at charming coastal resorts for a dip in the Adriatic Sea
An evening boat ride to Makarska to enjoy the town lit up at night
Outstanding beachfront accommodation in Baška Voda
The option to visit Split or Trogir on your free day
What's included
Full programme of guided walks led by local HF Holidays Leaders
HF Holidays Tour Manager
Comfortable accommodation
Half-board (breakfast and evening meal)
All sightseeing and entrance fees (as per itinerary)
Air-conditioned transport
Return flights from the UK including hold baggage and airport transfers
Trip Notes
Easy to download as a PDF, our trip notes provide detailed information for every holiday. Please click below to find the trip notes for your departure date.
All our carefully-curated itineraries are designed by our experts. While we make every effort to adhere to the described itinerary, we may take alternative routes or adapt the running order for weather and/or operational reasons.
Welcome to Hotel Bacchus. Unpack and settle in.
---
Today's walks use panoramic elevated paths in the foothills of the Biokovo Mountains. The views along the coast and across to the islands are superb throughout. Both walks will visit Vepric Shrine, a wooded Catholic pilgrimage site, before following the coastline along promenade to finish in Makarska.
Option 1 - Hillside villages and Makarska
Distance: 5½ miles (9km)
Total ascent: 1,000 feet (300m)
In summary: Starting at the village of Bast we ascend though the village before contouring south east on a wide path with good views over the coast.Then our descent takes us through scattered pines and olive groves to reach Vepric Shrine. After a short visit we will be transported to Makarska for refreshments and an optional walk around the peninsula.
Highlight: Explore the bustling harbour of Makarska.
Option 2 - Bast village high tracks and Makarska
Distance: 10 miles (16km)
Total ascent: 1,500 feet (450m)
In summary: Starting at Bast, this walk gradually ascends on a higher broad track on the flanks of the Biokovo mountains, initially in shaded forest before the views open out over Makarska. We can see the locations of walks earlier in the week on Brač and high above Makar before descending to Vepric Shrine and onto Makarska to join the easier group at the harbour.
Highlight: Superb views down to the coast and across to the islands. 
---
The island of Brač lies approximately four miles offshore from the mainland, and is about the same size as the Isle of Wight. The island's coastline has a series of attractive harbour villages, two of which will be visited on our walks. We travel to Brač by boat from Baška Voda harbour. We will arrive at Sumartin harbour and from here walk to a secluded cove and through olive groves to the equally attractive harbour at Povlja. Here our boat will be waiting for the return trip.
Option 1 - Island coast and harbour villages
Distance: 6½ miles (10.5km)
Total ascent: 450 feet (140m)
In summary: After time to explore or enjoy a relaxed morning coffee in Sumartin, we ascend out of the town and enjoy a wide track above the east coast of the island with stunning views across to the mountains on the mainland. At the hamlet of Rasotica we see how the local inhabitants collect water where there are no natural springs, before a possible swim in the nearby picturesque cove. A good track leads us to lunch in the shade of an olive grove before walking to the north coast of the island with its basilica and harbour.
Highlight: The islands beautiful coastline with it's attractive harbour villages.
Option 2 - Island coast, terraces and harbour village
Distance: 8 miles (13km)
Total ascent: 450 feet (140m)
In summary: This coast to coast walk starts by following the route of the easier group with an ascent to a col for our picnic lunch before continuing to Povlja. We will have time to explore the Basilica, before taking a new route on good paths to the small harbour of Ticqa Luka, where in the past, boats moored to load stone from the adjacent quarry. The route continues around the headland with good views of the mainland before returning to Povlja, where we can perhaps enjoy a swim before catching our boat back. 
Highlight: The boat journey from Baška Voda harbour to Brač 
---
Both walks will start at the village of Makar, which sits on the hillside not far from Makarska, commanding superb views of the coast below, making their way via differing routes to Tučepi.
Option 1 - Above Kotišina via villages to Tučepi
Distance: 6 miles (9½km)
Total ascent: 500 feet (150m)
Total descent: 1,200 feet (360m)
In summary: On mostly good paths, this gentle paced walk reveals the contrasts between the traditional life at the base of the Biokovo range and the welcoming facilities of an attractive coastal resort. We visit old churches and small villages with an option to visit the Veliki Kaštel, a 17th century fort built into the cliffs, and recently renovated as a small interpretation centre.
Highlight: Admire the view out to the islands of Brač and Hvar.
Option 2 - Into the Biokovo Mountains
Distance: 7 miles (11km) 
Total ascent: 2,200 feet (660m)
In summary: The most challenging walk of the week ascends on a remarkably constructed former mule track before contouring in welcome shade high above the coast. A slightly rougher descent takes us to a traditional café.
Highlight: An exhilarating mountain day with spectacular views.
---
Each week there is a free day when no guided walks are offered. This is an ideal opportunity to relax around the hotel, walk independently or visit local places of interest. Some options for your free day may include:
Makarska: A relaxing option is to walk along the coast to Makarska. This is a generally straightforward walk, taking around two hours, with plenty of opportunities for swimming along the way. In Makarska you may want to have lunch in one of the waterfront cafés, before returning to Baška Voda on one of the regular local buses.
Split: Split is the capital of the region and is located 50km northwest of Baška Voda. The city can be reached by local bus, and the initial approach to the city through rows of dilapidated apartment blocks appears unpromising. At its heart, however, is an enthralling old town of narrow streets and ancient buildings. The principal sights are the cathedral of St Domnius and the remains of Diocletian's Palace with its spectacular gates, museum and temple. It is popular to combine this with a visit to Trogir. Your leaders will organise this if there is sufficient interest.
Trogir: A little further away is the equally impressive city of Trogir. Built on an island, this beautiful walled city has a maze of narrow medieval streets, elegant waterfront cafés, a wide waterfront promenade and dramatic fortifications. The city is also the best example of Croatian cultural life on the Dalmatian coast. The magnificent cathedral inspired UNESCO to name the town a World Heritage Site in 1997.
Krka National Park: The Krka River and its wonderful waterfalls define the landscape of Šibenik-Knin country and are the focus of the Krka National Park. The Krka waterfalls are a Karstic phenomenon. Your leaders will organise this if there is sufficient interest.
---
Today our walks start and finish at the hotel to enjoy the foothills of the Biokovo Mountains which rise above the village. Both groups will descend to the coast at the neighbouring resort of Brela. We will then follow the coastline on a promenade through small beach resorts with the opportunity to pause for a drink or swim on our way back to Baška Voda.
Option 1 - Villages, Views and Promenade
Distance: 6 miles (9½ km)
Total ascent: 1,100 feet (330m)
In summary: We explore the mainly abandoned Dalmatian village of Topici before continuing northwest, parallel to the coast, walking through small tourist resorts en route back to Baška Voda. On wide paths with wonderful views this is a popular walk with numerous places to stop after lunch for a swim in the brilliantly clear waters of the Adriatic.
Highlight: Take a dip in the crystal clear waters of the Adriatic.
Option 2 - Napoleon's Road, High Col and Promenade
Distance: 10 miles (16km)
Total ascent: 1,900 feet (570m)
In summary: The harder walk will ascend to a high mountain col. Using a part of the extraordinary Napoleon's Old Road we ascend to one of the best lunch spot of the week with views in every direction. A stony descent takes us to the coastal promenade for a delightful return to our hotel.
Highlight: The stunning Napolean's Road
---
The Cetina Gorge is an impressive natural feature that has been carved through the limestone of the Biokovo Mountains. We start inland at the village of Kostanje, behind the coastal mountain range.
Option 1 - In to the Gorge
Distance: 7 miles (11km)
Total ascent: 800 feet (240m)
In summary: Enjoying contrasting scenery to the coastal region, an easy morning through quiet villages takes us to a dramatic lunch spot with views to the Cetina River below. From here we follow a well-graded path through trees leading us to our boats which take us to a historic mill for refreshment, and through the gorge to Omiš on the coast.
Highlight: The delightful boat journey through the gorge to the coastal town of Omiš.
Option 2 - Above the Cetina Gorge
Distance: 8 miles (13km)
Total ascent: 900ft (270m)
In summary: We will take an alternative route to the easier route to visit a church for lunch with distant views high above the morning's path, and then rejoin the path down to and into the gorge.
Highlight: Marvel at the Cetina Gorge; an impressive natural feature that has been carved through the limestone of the Biokovo Mountains.
---
We hope to see you again soon.
---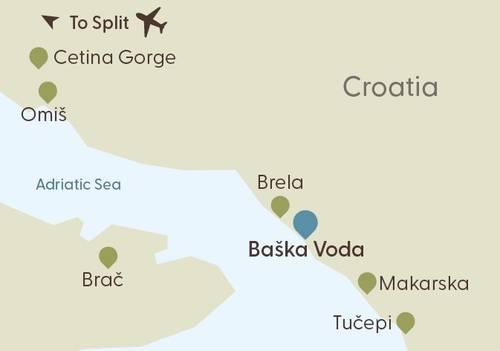 Hotel Villa Bacchus - Dalmatian Coast
The 4-star Hotel Bacchus is located on the seafront, overlooking the crystal-clear Adriatic Sea and the island of Brač. There is a peaceful pebble beach in front of the hotel where sun loungers and beach towels can be hired. Built in 2003, Hotel Villa Bacchus is owned by the Divic family, and guests have rated the accommodation, meals and service very highly.
Rooms
The hotel has 27 en-suite bedrooms, many with superb views of the sea or the mountains.

The facilities in each room include:
Air-conditioning
Hairdryer
Mini-bar
Safe deposit box
Telephone
Satellite TV
About your stay
The hotel has a good range of facilities and public rooms, including a lounge bar perfect for meeting fellow guests.

There's an attractive restaurant which takes full advantage of the sea views and opens onto a terrace where meals can be taken in good weather.

Hotel Bacchus offers a modern leisure suite on the lower floor with a sauna and spa pool - perfect for relaxing at the end of the day.

The hotel also has internet access.
Food & drink
Our holidays at Hotel Bacchus are on a half-board basis and include breakfast and evening meal.
Breakfast
There is an extensive selection of hot and cold options for breakfast from a s self-select buffet. Hot options are cooked fresh to order and include boiled or poached eggs, bacon, and omelettes.
Lunch (payable locally)
There are a number of shops in Baška Voda, where you can buy ingredients for your picnic lunch. On other days it may be possible to eat in local cafés; your leader will advise you of all the options.
Evening meal
The three course evening meal offers a mixture of Croatian and international dishes, and, as might be expected, there are fish and seafood options. The starter is selected from a superb buffet with a wide variety of salads, soup and hot dishes. Main course is selected from the extensive menu.
Drinks
The hotel has a well-stocked bar serving beer, wine and spirits
Your evenings
The friendly atmosphere of our Guided Walking holidays continues into the evening.
Enjoy a glass of wine or local beer whilst finding out more about the next day's walks. We'll enjoy a leisurely evening meal and you may also like to join your leader for an evening stroll along the prom to the harbour and visit one of the local bars, or enjoy a boat trip along the beautiful Adriatic Coast.
Your leader will also keep you informed of any local events going on nearby. Alternatively, you may like to relax on the terrace or in the bar, with a drink and chat with your fellow guests.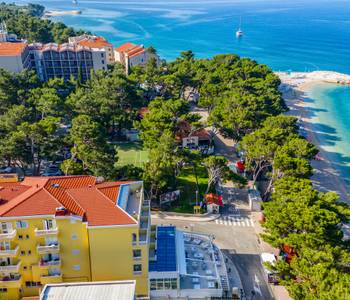 Getting to Hotel Villa Bacchus - Dalmatian Coast
Find out more about this location including travel details and room types.
More Information
Essential information
It's best to be prepared for all weather conditions. To make it easier, here is a list of items you should consider packing.   
Essentials  
Walking boots 
Waterproof jacket 
Waterproof trousers 
Insulated jacket/top 
Walking clothing  
Walking socks (plus spares)  
Sunhat 
Gloves/mitts and warm hat
Water bottle (minimum 2 litre capacity)  
Headtorch 
High-factor sunscreen (minimum SPF 30)  
Sunglasses with a dark lens 
Rucksack (15-30 litres)  
Mobile phone 
Personal first aid kit (containing your medication, blister plasters, etc.) 
Passport 
Visa (if applicable) 
Copy of your travel insurance policy 
UK Global Health Insurance Card (formerly known as EHIC) 
Recommended
Collapsible walking poles 
Swimwear and travel towel
Snacks
Dry bags
Rubbish bags
Insect repellent
Optional extras
Camera 
Sit mat
Flask for hot drinks 
Durable lunch box
Gaiters 
GPS device 
All holidays are subject to availability. Supplements may apply.

Non-member fee: £30 per person.
All packages that include flights are ATOL protected. Advertised prices listed below show the lowest economy flight price option for that departure. On holidays where we offer local UK airports, details will appear in the "Important Information" section below and available alternative flight options will be offered when you book. Seating upgrades may be available on request and at an additional charge, please call 020 3974 8865 for a quote.


Date (Start - End)
Itinerary
Double / Twin Room
Single Room
Notes / Offers
Trip Notes
Book
2024

13 May - 20 May 2024

7 nights

Itinerary Flight from London Gatwick Airport

Double from

£1,799 pp

from

£1,799 pp

from

£2,163

Trip Notes

Book Now

20 May - 27 May 2024

7 nights

Itinerary Flight from London Gatwick Airport

Single Call to Enquire

Double from

£1,849 pp

from

£1,849 pp

Call to Enquire

Trip Notes

Book Now

03 Jun - 10 Jun 2024

7 nights

Itinerary Flight from London Gatwick Airport

Double from

£1,849 pp

from

£1,849 pp

from

£2,213

Trip Notes

Book Now

10 Jun - 17 Jun 2024

7 nights

Itinerary Flight from London Gatwick Airport

Double from

£1,849 pp

from

£1,849 pp

from

£2,213

Trip Notes

Book Now

09 Sep - 16 Sep 2024

7 nights

Itinerary Flight from London Gatwick Airport

Double from

£1,849 pp

from

£1,849 pp

from

£2,213

Trip Notes

Book Now

16 Sep - 23 Sep 2024

7 nights

Itinerary Flight from London Gatwick Airport

Double from

£1,849 pp

from

£1,849 pp

from

£2,213

Trip Notes

Book Now

23 Sep - 30 Sep 2024

7 nights

Itinerary Flight from London Gatwick Airport

Double from

£1,849 pp

from

£1,849 pp

from

£2,213

Trip Notes

Book Now

30 Sep - 07 Oct 2024

7 nights

Itinerary Flight from London Gatwick Airport

Double from

£1,749 pp

from

£1,749 pp

from

£2,092

Trip Notes

Book Now
Date (Start - End)
Itinerary
Double / Twin Room
Single Room
Notes / Offers
Trip Notes
Book
2024

13 May - 20 May 2024

7 nights

Itinerary

Double from

£1,549 pp

from

£1,549 pp

from

£1,913

Trip Notes

Book Now

20 May - 27 May 2024

7 nights

Itinerary

Single Call to Enquire

Double from

£1,599 pp

from

£1,599 pp

Call to Enquire

Trip Notes

Book Now

03 Jun - 10 Jun 2024

7 nights

Itinerary

Double from

£1,599 pp

from

£1,599 pp

from

£1,963

Trip Notes

Book Now

10 Jun - 17 Jun 2024

7 nights

Itinerary

Double from

£1,599 pp

from

£1,599 pp

from

£1,963

Trip Notes

Book Now

09 Sep - 16 Sep 2024

7 nights

Itinerary

Double from

£1,599 pp

from

£1,599 pp

from

£1,963

Trip Notes

Book Now

16 Sep - 23 Sep 2024

7 nights

Itinerary

Double from

£1,599 pp

from

£1,599 pp

from

£1,963

Trip Notes

Book Now

23 Sep - 30 Sep 2024

7 nights

Itinerary

Double from

£1,599 pp

from

£1,599 pp

from

£1,963

Trip Notes

Book Now

30 Sep - 07 Oct 2024

7 nights

Itinerary

Double from

£1,499 pp

from

£1,499 pp

from

£1,842

Trip Notes

Book Now
Important information
With flights holidays: Price includes return flights to Split Airport, hold baggage and airport transfers
Independent travellers can join our transfer from Split Airport: £24pp one way