Experience Catalonia's culture and cuisine with a week of walks in the Catalan countryside and along the Cami de Ronda – a snaking network of cliff-hugging paths that ticks-off some of the Costa Brava's most incredible coastal scenery. Soak up spectacular sea views in Cap de Creus Natural Park, discover the former home of surrealist painter and proud Catalonian, Salvador Dali, and be wowed by medieval Besalú with its remarkable Romanesque bridge spanning the Fluvià river. But the real showstopper is La Garrotxa Volcanic Zone National Park, a 10-million-year-old landscape of ancient lava flows and extinct volcanoes that's now a haven for rare plants, wildlife, and walking opportunities.
What you'll love
Enjoying coastal walks along the Cami de Ronda
Spending time in traditional whitewashed fishing villages 
Learning about Salvador Dali at his former home in Cadaqués 
Exploring the well-preserved medieval town of Besalú 
Visiting La Garrotxa Volcanic Zone National Park 
Splitting your week between the coast and countryside
What's included
Full programme of guided walks led by local HF Holidays Leaders
HF Holidays Tour Manager
Comfortable accommodation
Half-board (breakfast and evening meal)
All sightseeing and entrance fees (as per itinerary)
Air-conditioned transport
Return flights from the UK including hold baggage and airport transfers
Trip Notes
Easy to download as a PDF, our trip notes provide detailed information for every holiday. Please click below to find the trip notes for your departure date.
All our carefully-curated itineraries are designed by our experts. While we make every effort to adhere to the described itinerary, we may take alternative routes or adapt the running order for weather and/or operational reasons.
Arrive at Hotel Riu Flavia in Olot. Free time to unpack and settle in.
---
Our first morning takes us into one of mainland Europe's most impressive volcanic landscapes. Catalonia's volcanoes last erupted just over 11,000 years ago. Nowadays, La Garrotxa Volcanic Zone National Park is ideal walking territory for its canvas of extinct craters and cones carpeted in the region's rich vegetation. There's also time spent in Olot in the afternoon - it's a lively municipality that dates back to the 9th century and has some interesting historical buildings and is also well known for its cultural activity. 
Option 1 - La Garrotxa Volcanic Zone National Park
Distance: 7.5 miles (12km)
Ascent: 1,500 feet (450m)
Starting from La Fageda en Gorda, our walk takes us to the Croscat Volcano – the site of Garrotxa's most recent eruption some 11,500 years ago. Explore the exposed northeast flank of this remarkable volcanic cone and learn all about the powerful seismic and geothermal forces that created it. After lunch we'll continue our hike through the towering beech forests of Fageda d'en Jorda before we are picked up. 
Option 2 - Olot and La Garrotxa Volcanic Zone National Park
Distance: 10 miles (16km)
Ascent: 1,820 feet (550m)
Descent: 1,480 feet (450m)
A slightly longer walk that starts directly from the hotel and takes the Cami Vell de Batet path towards the Croscat Volcano. This option also visits the Croscat volcano but takes a lengthier route through the Fageda d'en Jorda beech forest to join the option 1 group at Can Serra car park at the end of the day and return to Olot.
---
All day three walks start at the charming Church of St Iscle. We'll explore hillsides littered with beautiful old farmhouses and stop at some impressive viewpoints along the way.
Option 1 - Volcanoes and castles
Distance: 4.5 miles (7km)
Ascent: 1,500 feet (460m)
From the church we ascend along a wide track and over the shallow basin of Can Tía volcano. A steady climb along an old forest track brings us to the Penya Peguera and the remains of the 11th century Castell de Colltort, strategically located on top of a ridge. From the caste we descend back to the church.
Option 2 - Castles and Volcanoes
Distance: 5.5 miles (9km)
Ascent: 1,700 feet (520m)
This route also departs from the church but extends the walk southwards through a beautiful valley before joining the option 1 group at the edge of the Can Tía volcano.
---
Today we transfer from Olot to Port de la Selva. Our luggage will stay with the coach while we explore the medieval town of Santa Pau. Afterwards, we'll travel to the eastern edge of La Garrotxa Volcanic Zone National Park where our walks begin.
Option 1 - El Torn to Besalú
Distance: 6 miles (10km)
Ascent: 1,300 feet (400m)
Descent: 1,650 feet (500m)
A walk from the small hamlet of El Torn through Mediterranean oak woodlands and past the tiny chapel of Sant Ftuitós d'Ossinya. We'll visit the town of Besalú from the east, crossing the arched Romanesque bridge. From here we transfer to our hotel in Port de la Selva
Option 2 - Menhir del Diablo, El Torn, and Besalú
Distance: 10 miles (16km)
Ascent: 1,650 feet (500m)
Descent: 2,450 feet (750m)
The Neolithic standing stones known as the Devil's Menhir is where our walk starts. We join the same route as option 1 in the hamlet of El Torn and continue to Besalú.
---
Each week there's a free day when no guided walks are offered. This is an ideal opportunity to relax at the hotel, walk independently, or visit local places of interest.
Port de la Selva is a former fishing village to the north of the Cap de Creus which remains largely unspoilt. Take your pick from beaches or rocky coves for swimming, snorkelling, or simply relaxing. If you fancy lunch with a view, there's some excellent seafood restaurants and pizzerias along the waterfront.  
---
Both walks today include a substantial stretch of dramatic coastal path and explore Port Lligat – the former home of Spanish surrealist artist, Salvador Dali. We round off in Cadaqués to admire its characterful blue and white buildings cascading down the cliffs to the sea.
Option 1 - Along the coast to Cadaqués
Distance: 5 miles (8km)
Ascent: 600 feet (180m)
Walkers on this route can stop by the Visitor Centre at Cap de Creus Natural Park before following a scenic coastal path south. After reaching Port Lligat we'll hike over the headland to Cadaqués where there will be free time to explore.
Option 2 - In the footsteps of Salvador Dali
Distance: 8½ miles (14km)
Ascent: 1,200 feet (360m)
This walk starts by heading west towards La Tudela, an area with dramatic rock formations which provided the inspiration for some of Dali's surrealist landscapes. We then walk a short stretch of the GR11 trail to join the option 1 route which we follow to Cadaqués.
---
Our final day explores the wild interior of Cap de Creus Natural Park. Departing from Cadaqués, both walks follow a section of the GR92 long-distance trail. We'll discover areas that were once the heart of Catalonia's grape growing industry, devastated by the phylloxera plague that killed vines across much of Europe in the late 19th century.
Option 1 - Cadaqués to Port de la Selva via The GR92
Distance: 7½ miles (12km)
Ascent: 1,050 feet (320m)
After a steep ascent on the GR92, we'll pass by Puig de San Vicenc. Enjoy spectacular sea views as we follow a delightful stretch of path that snakes around dry valleys and stone shepherds' huts before descending to the outskirts of Port de la Selva.
Option 2 - Cadaqués to Port de la Selva via the GR92 and Punta de la Creu
Distance: 9 miles (15km)
Ascent: 1,050 feet (320m)
The harder walk initially follows the same route as option 1 but extends things with a loop north. We join the GR11 trail and walk around Punta de la Creu for fantastic views over the Mediterranean Sea and Port de la Selva's bay before descending into town.
---
Return to the airport for your flight home.
---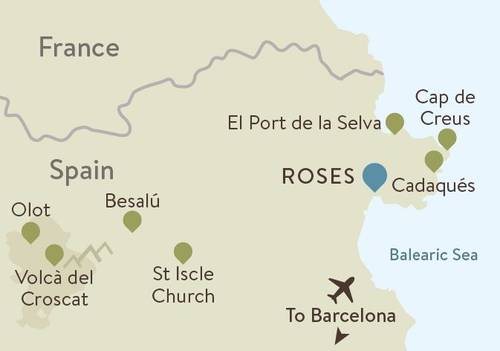 Hotel Riu Fluvia, Olot - Spain
With an enviable setting in the heart of La Garrotxa Volcanic Zone National Park, Hotel Riu Fluvia boasts beautiful views of the surrounding countryside and simple yet comfortable rooms with all mod cons. Walkers will be within rolling-out-of-bed distance from some spectacular trails. Facilities include an outdoor swimming pool, terrace, garden area, and dining room and bar with mountain panoramas.
Hotel Spa Porto Cristo, Port de la Selva - Spain
Located just 30 metres from the beach, Hotel Spa Porto Cristo is ideal for those that love the Spanish coast. Housed in a mid-19th century building tastefully converted into 4-star accommodation, well-appointed rooms are geared up for post-walk relaxation. The elegant restaurant and reading room both come with knockout views over the Mediterranean Sea whilst an outdoor terrace is ideal for alfresco drinks on warm evenings.
Essential information
It's best to be prepared for all weather conditions. To make it easier, here is a list of items you should consider packing.   
Essentials  
Walking boots 
Waterproof jacket 
Waterproof trousers 
Insulated jacket/top 
Walking clothing  
Walking socks (plus spares)  
Sunhat 
Gloves/mitts and warm hat
Water bottle (minimum 2 litre capacity)  
Headtorch 
High-factor sunscreen (minimum SPF 30)  
Sunglasses with a dark lens 
Rucksack (15-30 litres)  
Mobile phone 
Personal first aid kit (containing your medication, blister plasters, etc.) 
Passport 
Visa (if applicable) 
Copy of your travel insurance policy 
UK Global Health Insurance Card (formerly known as EHIC) 
Recommended
Collapsible walking poles 
Swimwear and travel towel
Snacks
Dry bags
Rubbish bags
Insect repellent
Optional extras
Camera 
Sit mat
Flask for hot drinks 
Durable lunch box
Gaiters 
GPS device 
All holidays are subject to availability. Supplements may apply.

Non-member fee: £30 per person.
All packages that include flights are ATOL protected. Advertised prices listed below show the lowest economy flight price option for that departure. On holidays where we offer local UK airports, details will appear in the "Important Information" section below and available alternative flight options will be offered when you book. Seating upgrades may be available on request and at an additional charge, please call 020 3974 8865 for a quote.


Date (Start - End)
Itinerary
Double / Twin Room
Single Room
Notes / Offers
Trip Notes
Book
2024

20 Apr - 27 Apr 2024

7 nights

Itinerary Flight from London Heathrow Airport

Single from

£1,950 £1,825

Double from

£1,649 £1,524 pp

from

£1,649 £1,524 pp

from

£1,950 £1,825

Save £125 Per Person

Trip Notes

Book Now

27 Apr - 04 May 2024

7 nights

Itinerary Flight from London Heathrow Airport

Single from

£1,950 £1,825

Double from

£1,649 £1,524 pp

from

£1,649 £1,524 pp

from

£1,950 £1,825

Save £125 Per Person

Trip Notes

Book Now

04 May - 11 May 2024

7 nights

Itinerary Flight from London Heathrow Airport

Single from

£2,050 £1,950

Double from

£1,749 £1,649 pp

from

£1,749 £1,649 pp

from

£2,050 £1,950

Save £100 Per Person

Trip Notes

Book Now

21 Sep - 28 Sep 2024

7 nights

Itinerary Flight from London Heathrow Airport

Single from

£2,100 £1,975

Double from

£1,799 £1,674 pp

from

£1,799 £1,674 pp

from

£2,100 £1,975

Save £125 Per Person

Trip Notes

Book Now

28 Sep - 05 Oct 2024

7 nights

Itinerary Flight from London Heathrow Airport

Single from

£2,100 £1,975

Double from

£1,799 £1,674 pp

from

£1,799 £1,674 pp

from

£2,100 £1,975

Save £125 Per Person

Trip Notes

Book Now

05 Oct - 12 Oct 2024

7 nights

Itinerary Flight from London Heathrow Airport

Single from

£2,050 £1,950

Double from

£1,749 £1,649 pp

from

£1,749 £1,649 pp

from

£2,050 £1,950

Save £100 Per Person

Trip Notes

Book Now

12 Oct - 19 Oct 2024

7 nights

Itinerary Flight from London Heathrow Airport

Single from

£2,050 £1,950

Double from

£1,749 £1,649 pp

from

£1,749 £1,649 pp

from

£2,050 £1,950

Save £100 Per Person

Trip Notes

Book Now
Date (Start - End)
Itinerary
Double / Twin Room
Single Room
Notes / Offers
Trip Notes
Book
2024

20 Apr - 27 Apr 2024

7 nights

Itinerary

Single from

£1,850 £1,725

Double from

£1,549 £1,424 pp

from

£1,549 £1,424 pp

from

£1,850 £1,725

Save £125 Per Person

Trip Notes

Book Now

27 Apr - 04 May 2024

7 nights

Itinerary

Single from

£1,850 £1,725

Double from

£1,549 £1,424 pp

from

£1,549 £1,424 pp

from

£1,850 £1,725

Save £125 Per Person

Trip Notes

Book Now

04 May - 11 May 2024

7 nights

Itinerary

Single from

£1,900 £1,800

Double from

£1,599 £1,499 pp

from

£1,599 £1,499 pp

from

£1,900 £1,800

Save £100 Per Person

Trip Notes

Book Now

21 Sep - 28 Sep 2024

7 nights

Itinerary

Single from

£1,950 £1,825

Double from

£1,649 £1,524 pp

from

£1,649 £1,524 pp

from

£1,950 £1,825

Save £125 Per Person

Trip Notes

Book Now

28 Sep - 05 Oct 2024

7 nights

Itinerary

Single from

£1,950 £1,825

Double from

£1,649 £1,524 pp

from

£1,649 £1,524 pp

from

£1,950 £1,825

Save £125 Per Person

Trip Notes

Book Now

05 Oct - 12 Oct 2024

7 nights

Itinerary

Single from

£1,900 £1,800

Double from

£1,599 £1,499 pp

from

£1,599 £1,499 pp

from

£1,900 £1,800

Save £100 Per Person

Trip Notes

Book Now

12 Oct - 19 Oct 2024

7 nights

Itinerary

Single from

£1,900 £1,800

Double from

£1,599 £1,499 pp

from

£1,599 £1,499 pp

from

£1,900 £1,800

Save £100 Per Person

Trip Notes

Book Now
Important information
With flights holidays: Price includes return flights to Barcelona Airport, hold baggage and airport transfers
Independent travellers can join our transfer from Barcelona Airport: £45pp one way