Pretty Provençal towns and the surrounding countryside provide delightful walking and plenty to explore. Climb to the vast plateau of Valansole behind Gréoux-les-Bains town, walk above the awe-inspiring Verdon Gorge and visit Moustiers-Sainte-Marie, deemed to be one of the prettiest villages in France. Immerse yourself in the landscape of Matisse, Cezanne and Van Gogh in this quiet corner of France. Rolling fields, blue skies, gorgeous villages and excellent food and wine epitomise everyone's image of Provence. We hope that this holiday will deliver that, and a little bit more. As well as sitting in the Route de le Lavande, an area steeped in the culture of lavender production, Gréoux-les-Bains straddles the exquisite Luberon region and the mighty Verdon Gorge (the Grand Canyon of France) with 800m sheer cliffs which sum up this area's unspoilt countryside. The traditional Provençal market in the hilltop village of Forcalquier has run for centuries on Mondays and we can make our picnic lunch from delicious local breads, olives, tapenade, cheese and meats.  Gréoux-les-Bains, a former spa town, is off the main Provençal tourist track and is a bustling town full of local commerce. It has an impressive hilltop castle, reached by walking up pretty pedestrianised roads, and a smattering of tourist shops in the old town. The hotel is 15 minutes walk from the old town where there are good cafés in the pleasant central square.
Holiday Highlights
Discover unspoilt Provence, famed for its food and wine
Relax in pretty Gréoux-les-Bains, known for its thermal spring
Visit charming hill-top villages including Moustiers-Sainte-Marie, officially one of the prettiest in France
Explore delightful Quinson and enjoy views of the spectacular Verdon Gorge
Visit the 16th Century windmills while walking in and around Regusse
What's included
A full programme of guided walks with 2 options every walking day
All transport to and from the walks
The services of experienced HF Holidays leaders
"With flight" holidays include return flights from the UK and hotel transfers
7 night's accommodation in en-suite rooms
Half board - continental breakfast and evening meal
Welcome to Hotel Villa Borghese. Unpack and settle in.
---
Today both walks start and finish at the hotel.
Option 1 - Up to the Valansole plateau and discovering Greoux
Distance: 7 miles (11km)
Total ascent: 1,000 feet (300m)
In summary: We will climb up to the vast plateau of Valensole behind the town to take in the wide sweeping horizon towards Manosque and the mountains. Using an old livestock droving route, passing lavender and olive plantations, we travel across the plateau. Meeting the old road from Manosque we start our descent to arrive eventually beneath the ancient walls of Gréoux castle. We have time to explore before a final short descent into the heart of the old town, where you can choose to explore its narrow streets and linger over a drink or continue back to the hotel and a swim perhaps.
Highlight: Spectacular views down to Manosque from the Valensole plateau.
Option 2 - Crossing the Verdon to the hamlet of Les Maurras
Distance: 9 miles (14½km)
Total ascent: 1,700 feet (510m)
In summary: The harder walk takes us in the opposite direction to the easier group, starting by crossing the Verdon River on Gréoux's ancient bridge. We follow the river bank for a short time before climbing steeply up on wooded tracks. Views open up as we travel towards the remote hamlet of Les Maurras, an area known for its truffles. Continuing to climb we pass over the subterranean route of the old Verdon irrigation canal which we will see later in the week. Arriving at the highest point of the day we are greeted by a view of Gréoux's castle in the distance, before descending and climbing again to pass the remote chapel of Notre Dame des Oeufs, enjoying views over the lower Verdon valley. Our final descent leads us back over the river and into town.
Highlight: Visit the Notre Dame des Oeufs and discover it's local custom.
---
Today both groups take the coach to the bustling hill town of Forcalquier and its thriving atmospheric weekly market.
Option 1 - Forcalquier to the Abbey of Salagon at Mane
Distance: 4 miles (6½km)
Total ascent: 600 feet (180m)
In summary: The easier group will have time to explore this historic town and its market, perhaps climbing to the Citadel to see the carillon and observe the magnificent view before setting off. Our tracks are stony in places but never too steep as we cross the wooded limestone plateau on our journey to Mane. We will pass interesting stone bories, old shepherds' shelters, and it may be possible to visit the ancient Abbey of Salagon and its ethno-botanical gardens.
Highlight: A local interest guide will accompany the group today to explain more about the local area.
Option 2 - Discovering the sculpted landscape from Forcalquier to Mane
Distance: 8 miles (13km)
Total ascent: 1,300 feet (390m)
In summary: After a brief look around the market we make a steady climb out of Forcalquier to the plateau of Les Mourres to see the strangely shaped limestone rocks created by water and wind erosion over the centuries. On descending we will pass dry stone bories (huts) and old shepherds' shelters before passing the abbey to arrive at Mane for welcome refreshments.
Highlight: The limestone rocks at Les Mourres.
---
Today both groups will travel by coach to the village of Regusse, crossing the Verdon and into the neighbouring region of Haute Var.
Option 1 - A walk around Régusse
Distance: 7 miles (11km)
Total ascent: 600 feet (180m)
In summary: Starting on the edge of the village we enter mature oak and cedar woodland. We then climb steadily before reaching the lower slopes of La Colle, climbing high enough for good views south over Regusse and the vast forests of the Var that stretch towards Mont St Victoire near Aix en Provence. Returning to the village there should be time to explore and see its two fine 16th century windmills before finishing in a welcoming café/bar.
Highlight: Visit the windmills at Regusse.
Option 2 - Régusse: climbing up to the view from La Colle
Distance: 9 miles (14½km)
Total ascent: 1,300 feet (390m)
In summary: Starting from the same point, we initially follow a similar route through mature woodland, crossing a minor road before making the steady climb to the summit of La Colle. We then walk the ridge and we are rewarded by panoramic views. To the north is Moustiers and its huge lake, with the plateau of Valansole and Mont Ventoux in the distance; to the south we can see Mont St Victoire and St Baume on the horizon. Our descent is on wide stony tracks, steep in places, with occasional views of Regusse far below. We arrive in the outskirts of the village and follow the route of the easier group into town.
Highlight: Panoramic views from the summit of La Colle.
---
Each week there is a free day when no guided walks are offered. This is an ideal opportunity to relax around the hotel, walk independently or visit local places of interest. Some options for your free day may include:
Gréoux-les-Bains:
Explore the town of Gréouxles-Bains and learn about the therapeutic qualities of its natural spring that was discovered by the Romans. Walk up to the Castle of the Templars before stopping for lunch at one of the town's many restaurants.
Hotel facilities:
Enjoy the facilities of the Hotel Villa Borghese: a swim in its heated pool, a relaxing lunch on the terrace or a game of table tennis or boules.
Manosque and Aix-en-Provence:
There are bus connections to Manosque and Aix en Provence. Your leaders will be able to direct you to the timetable and the right bus stop.
For information on Gréoux-les-Bains please visit www. gréouxles-bains.com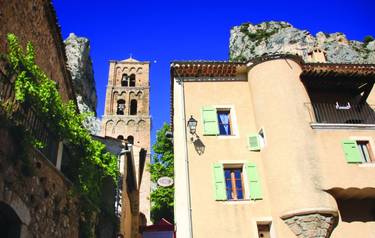 ---
Our walks today take different routes to finish in the medieval streets of Moustiers St Marie.
Option 1 - Ancient route into Moustiers Saint Marie
Distance: 6 miles (9½km)
Total ascent: 1,000 feet (300m)
In summary: We will be dropped off at the ancient monastery of Notre Dame de Segriès, now a retreat. We walk up its driveway passing the monastery chapel and buildings to reach another part of the huge plateau of Valansole. From here we descend on a minor road and follow woodland tracks to Embourgues we catch advance views of the way that Moustier St Marie clings dramatically to the cliff ahead. Finally, we ascend to an olive grove and then contour round the hill to cross a charming stone bridge and pass through the ancient Porte de Riou to explore the medieval streets of Moustiers St Marie.
Highlight: Time to explore the streets of Moustiers St Marie.
Option 2 - The Crête de l'ourbes & Moustiers Saint Marie.
Distance: 7 miles (11km)
Total ascent: 2,100ft (630m)
In summary: This walk takes us steeply up to the craggy ridge of L'Oubes with great views over the Lac St Croix and the start of the Upper Verdon Gorge. After crossing the summit and descending to a dry riverbed the terrain becomes more open before the final spectacular descent to Moustiers St Marie on a twisting ancient road.
Highlight: Walk up to the chapel of Notre Dame de Beauvoir perched high on its rock for magnificent views.
---
A pleasant drive brings both groups to the lower Verdon Gorge. Both groups will have the opportunity to walk in the gorge and see the remains of the old Verdon canal, built to channel water to the city of Aix en Provence. The paths in the gorge are narrow in places but have handrails; there are also occasional metal staircases with handrails.
Option 1 - Quinson: the chapel of Saint Maxime and the Verdon gorge.
Distance: 7 miles (11km)
Total ascent: 900ft (270m) 
In summary: We climb up a rough zigzag path to the plateau of Male Sauque to follow fairly level tracks until we descend to the chapel of St Maxime. This is an ideal lunch spot and there is time to admire the view down to the gorge. We descend to a shady woodland path that leads us to the Verdon gorge and old canal. Passing through a short tunnel, we walk on top of the retaining wall of the old canal and eventually follow a suspended wooden walkway (with handrail) that is just a few feet above the river. It is then a short walk to the village of Quinson which has an interesting museum dedicated to prehistoric man's settlement in this region.
Highlight: The breathtaking Verdon gorge.
Option 2 - Verdon gorge from Quinson to the chapel of St Maxime
Distance: 6 miles (9½km)
Total ascent: 900 feet (270m)
In summary: The harder walk starts in the gorge on a rocky, but fairly level, path with occasional steps cut into the rock. There are metal handrails and staircases in places and a timber walkway suspended above the river, before the path follows the top of the retaining wall of an old Napoleonic canal. After passing through a short tunnel we initially ascend through woodland before a final short steep ascent to the ridge and chapel of St Maxime. We return descending a steep, but stepped, route down the side of a gorge, to arrive back at river level, then follow the original route back to the Verdon Bridge and well earned refreshments. There is a short level river walk back to the village of Quinson where our transport awaits.
Highlight: Discover one of Europe's most beautiful river canyons.
---
We hope to see you again soon.
---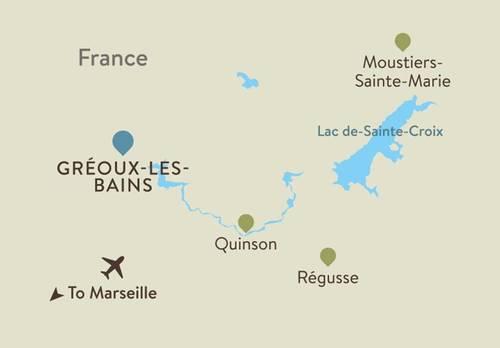 Villa Borghese - Provence
The 4-star Villa Borghese has a fine tradition of service and is a member of the prestigios Châteaux Demeures de Tradition and the Relais du Silence groups. The owners of Villa Borghese will be very happy to welcome you to their hotel which is in a lovely, quiet and comfortable setting surrounded by gardens and woodland. Gréoux-les-Bains is close to the Verdon Gorges, the Luberon and the lavender fields in Provence.  The hotel has an outdoor pool, tennis courts, fitness centre and spa. 
Rooms
Villa Borghese has 50 en-suite bedrooms, most of which have a balcony or terrace.

Facilities in the bedrooms include:
Telephone
TV
Hairdryer
Safe deposit box
Air conditioning
Shaving point
Mini-bar (extra charge)
The hotel is surrounded by a small wood and offers pleasant views from the bedrooms.
Facilities
There is a small outdoor heated swimming pool next to the pleasant terrace.

Villa Borghese contains tennis courts, table tennis, and a spa offering treatments (extra charge). 

Relax at the cosy bar with an open fireplace.

The hotel offers it guests free WiFi.
Food & Drink
Holidays at Gréoux-les-Bains are Half Board with a 3-course served dinner.
The hotel prides itself on serving locally sourced produce from within 20km of the town.
Your Evenings
The friendly atmosphere of our holidays continues into the evening.
Enjoy a glass of wine or local beer before hearing about the next day's activities. Your evening meal is the main focus of the evening. After dinner relax on the terrace or in the bar, with a drink and chat with your fellow guests or try your hand in a friendly game of boules.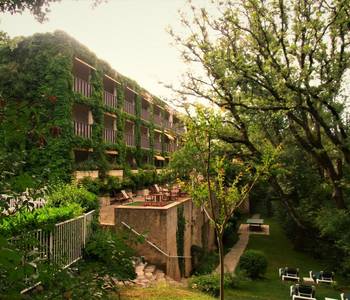 Getting to Villa Borghese - Provence
Find out more about this location including travel details and room types.
More Information
What to Bring
Essential Equipment
To enjoy walking/hiking comfortably and safely, footwear, clothing and equipment needs to be suitable for the conditions. Safety and comfort are our priorities, so our advice is to come prepared for all eventualities.
Footwear with a good grip on the sole (e.g.Vibram sole) is the key to avoiding accidents.
Walking/hiking boots providing ankle support and good grip are recommended (ideally worn in), and specialist walking socks to avoid blisters.
Several layers of clothing, which can be added or removed, are better than a single layer (include spares).
Fabrics (lightweight and fast drying) designed for the outdoors are recommended.
Waterproof jacket and waterproof over trousers.
Warm hat and gloves. 
Denim jeans and capes are not suitable on any walks.
Rucksack with a waterproof liner.
Thermos flask for hot drink.
Water bottle (at least 2 litre).
Spare high-energy food such as a chocolate bar.
Small torch.
First aid kit – your leader's first aid kit doesn't contain any medication or blister kits (such as Compeed).
Sun hat and sunglasses
Sun cream.
Optional Equipment
Walking poles are useful, particularly for descents.
Insect repellent.
Camera.
Gaiters.
All holidays are subject to availability and prices are subject to change.
Non-Member fee: £10 per person. Non-member associate fee: £10 per person.
These departure dates can be booked with flights or as land only holiday options. All packages that include flights are ATOL protected. Advertised flight prices are based on UK flights departing from London. Regional departures and/or connections to London, if available, can be requested. Cabin upgrades may also be available on request.
Date (Start - End)
Nights
Itinerary
Price
Status
Trip Notes
Book
2020

25 Apr - 02 May

7
2020 Itinerary

£1,349

Available

Trip Notes

Book Now

02 May - 09 May

7
2020 Itinerary

£1,349

£1,199
Save £150 Per Person

Trip Notes

Book Now

09 May - 16 May

7
2020 Itinerary

£1,349

Available

Trip Notes

Book Now

16 May - 23 May

7
2020 Itinerary

£1,349

£1,199
Save £150 Per Person

Trip Notes

Book Now

05 Sep - 12 Sep

7
2020 Itinerary

£1,349

Available

Trip Notes

Book Now

12 Sep - 19 Sep

7
2020 Itinerary

£1,349

Available

Trip Notes

Book Now

19 Sep - 26 Sep

7
2020 Itinerary

£1,349

Available

Trip Notes

Book Now

26 Sep - 03 Oct

7
2020 Itinerary

£1,349

Available

Trip Notes

Book Now
Important Information
Double room for sole occupancy: £34 per night 
With flight holidays include flights from London Heathrow.
UK connecting flights to meet our Heathrow British Airways flight available from Manchester, Leeds Bradford, Newcastle, Glasgow or Edinburgh.   £139
Independent travellers can join our transfer from Marseille Airport: £21.50 single
Our airport taxi service operates at this resort: £150 per single taxi journey