In the middle of the Atlantic Ocean, the small island of Madeira is volcanic with rugged mountains draped in lush colourful vegetation and crammed with bright flowers. Just 35 miles long and 13 miles wide, this unique tropical gem offers diverse walking landscapes and much to explore, making this a truly 'must-see' destination. Walk the famous levada paths to waterfalls and breathtaking views. Explore lush valleys and discover the wild beauty of the coast. Spend a sightseeing day in Funchal and the isolated Curral das Freiras. In the middle of the Atlantic Ocean, off the west coast of Africa, Madeira is a magical volcanic island with rugged mountains draped in lush colourful vegetation and crammed with bright flowers. Over its fascinating history, Madeira has attracted merchants, explorers and pirates. Christopher Columbus married the first Governor's granddaughter in the 15th century when the Portuguese settlers arrived. The island has a wealthy history of sugar cane plantations, although sugar cane is no longer the main crop. This has been replaced with vines that produce the famous Madeira wine. This beautiful island rising from the ocean with steep cliffs and high mountains was once believed to be the lost civilisation of Atlantis. Funchal is the island's capital and main port. White houses and distinctive tiled roofs flow down to the harbour, favoured by cruise ships. Reflecting its wealth and history, the capital now makes a great destination for shopping and sightseeing. The old town has narrow, cobbled streets and restored fishermen's houses. The market, built in 1937, has two storeys and is vibrant and colourful, thanks to the wares of its famous flower sellers. At the seafront, a modern cable car station takes passengers to the hilltop town of Monte. This is where the wealthy merchants of Funchal lived to enjoy the cooler air and is well known as the start of the famous wooden toboggan ride down the cobbled streets. Madeira enjoys an all year round mild climate and has been an exclusive holiday
Holiday Highlights
Discover this island paradise - emerald green mountains and dramatic coastlines
Visit bustling Funchal to uncover the city's fascinating colonial history, gardens and wine trade
Follow Madeira's famous levadas to stunning waterfalls and panoramic views
Visit Cabo Girao and stand on the highest cliff skywalk in Europe, open every day to see spectacular views
With a fantastic variety of walks, 'the Pearl of the Atlantic' cannot fail to delight and surprise, such as the Caminho Real de Encumeada
What's included
A full programme of guided walks with 2 options every walking day plus 1 full sightseeing day
All transport to and from the walks
The services of experienced  HF Holidays' leaders
'With flight' holidays include return flights from the UK and hotel transfers
7 nights' accommodation in en-suite rooms
Half Board – extensive breakfast and evening buffet meal
Welcome to Hotel Galosol. Unpack and settle in.
---
Today we visit the second highest sea cliff in Europe, the Cabo Girao. This high viewpoint has now been enhanced with a breath-taking glass viewing platform.
Option 1 - Cabo Girao & Levada do Norte
Distance: 7½ miles (12km) 
Total ascent: Minimal 
In summary: We firstly visit the famous high cliff of Cabo Girao (Europe's second highest sea cliff for views and a little excitement. Test your nerve on the glass floored viewing platform high above the sea and new vineyards below. After coffee we continue by coach to commence our first levada walk on the Levada do Norte. This levada gives us splendid views out to sea and leads us eventually to viewpoints over the dramatic gorge of the Ribeira Brava.
Highlight: Take a deep breath and step out onto the Cabo Girao viewing platform - the views are staggering.
Option 2 - Cabo Girao & Levada do Facho
Distance: 11 miles (18km) 
Total ascent: 130 feet (40m)
In summary: We also visit the Cabo Girao and after visiting the viewing platform will commence a descent to Levado do Facho, with views over vineyards and the town of Camara de Lobos. After a short walk through a levada tunnel and the western side of the Cabo Girao promontory we join the start of the easier walk to Boa Morte and views of the Ribeira Brava gorge.
Highlight: We'll get great views of the Cabo Girao cliffs from all angles; the viewing platform, from the levadas and even from the inside as we pass through a short tunnel in the cliff.
---
Today we will visit the capital, Funchal. Our local interest guide will take us on a guided tour of this small, pretty city to include the cathedral, the colourful Mercado dos Labradores and a visit to the famous Blandy's Winery, home of Madeira wine, with an opportunity to taste the products. In the afternoon, we travel by coach high into the mountains to a viewpoint overlooking the Central Highlands and the Curral das Freiras (Valley of the Nuns). Then we can walk down the old path which
leads to the Curral das Freiras. For many centuries this was the only means of reaching this remote valley.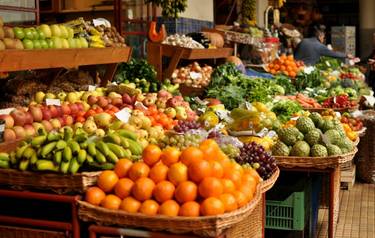 ---
Our walks today take us to the western end of the island. We'll travel past Funchal and enter the Ribeira Brava Gorge. The coach will then take us high onto the western moors. This end of the island differs greatly from the high volcanic peaks in the east. Here rolling moorland offers views over the sea in both directions on a clear day. Torches are useful on this day, when walking through one of the levada tunnels.
Option 1 - The Moorland Levada
Distance: 8 miles (13km) 
Total ascent: 100 feet (30m) 
Total descent: 1,000 feet (300m) 
In summary: Today's walk follows a gentle levada path to a lovely viewpoint over the hills and woods of Rabacal before descending to Levada das 25 Fontes which will lead us via a tunnel through a mountain ridge to meet our coach.
Highlight: Rabacal is considered one of Madeira's most beautiful areas.
Option 2 - Levada das 25 Fontes
Distance: 9½ miles (15km) 
Total ascent: 260 feet (80m)
Total descent: 1,000 feet (300m)
In summary: We head off on the Levada da Bica da Cana to reach a higher viewpoint to the East. Returning via our outward route we shall pick up the route of the easier walk to Rabacal , the Levada das 25 Fontes and then via the tunnel to the coach pick-up.
Highlight: Stunning views of the Cascalho Gorge make the small climb to our first viewpoint totally worth it. 
---
Each week there is a free day when no guided walks are offered. This is an ideal opportunity to relax around the hotel, walk independently or visit local places of interest. Some options for your free day may include:
Hotel: Have a relaxing day enjoying the facilities of the hotel or book an activity with Loko Loko Adventure Activity Centre where our guests receive a 10% discount. This can be a tour of the island by bus, jeep, boat or segway. Other options include horse riding or bike hire.
Funchal: Take the local bus into Funchal and explore further, including a visit to the Monte Palace Tropical Gardens via cable car from the harbour area, shopping or visiting one of the city's museums or the Story of Madeira Exhibition.
Local information website: For information on Madeira please visit www.madeira-web.com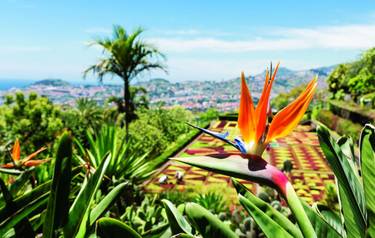 ---
Today offers both groups an exhilarating high mountain experience.
Option 1 - Pico do Suno-Portela
Distance: 7 miles (11km) 
Total ascent: 300 feet (100m)
Total descent: 2,000 feet (600m) 
In summary: Our walk starts on the Poiso Moors and offers the opportunity to reach a ridge with fine views of the Central Highlands. We continue to the fire tower on Pico do Suna. Our walk then descends to the Levada do Furado which we follow to the Lamaceiros waterhouse. After lunch we descend to the village of Portela for a drink and our coach home.
Highlight: Sections of the Levada do Furado are built into the cliff face - a unique walking experience. 
Option 2 - Boca do Corrida to Encumeada
Distance: 4 miles (6½km) 
Total ascent: 1,800 feet (550m) 
Total descent: 2,300 feet (700m)
In summary: Our walk follows the ridge between Pico Arieiro and Pico Ruivo, the highest point on the island. The route is at times cut into the volcanic hillside and at times through the cliffs. Our final ascent is to the viewing platform atop the mountain. From Pico Ruivo we descend to Achada Teixeira for our transport home.
Highlight: Dramatic scenery and spectacular views across the island and into deep ravines.
---
Our walks on our final day are at the far eastern end of the island.
Option 1 - Ponta do Sao Lourenco
Distance: 5 miles (8km)
Total ascent: 600 feet (180m)
In summary: We start our day in the town of Canical on the most easterly part of the island, the Sao Lourenco peninsula. Our coastal walk gives us great views of the sea cliffs before returning to Canical to explore its cafes and museums.
Highlight: The Whale Museum has fascinating exhibits on these great creatures, and on Madeira's whaling past.
Option 2 - Pico do Facho & Canical
Distance: 8 miles (13km)
Total ascent: 1,000 feet (300m)
In summary: Our walk begins at the entrance to the Canical Tunnel, climbing steadily to the viewpoint on Pico do Facho. Turning onto a splendid coastal path we return to Canical for refreshments before undertaking the Ponta da Sao Lourenco walk in the afternoon.
Highlight: This is a spectacular stretch of coast with views to match.
---
We hope to see you again soon.
---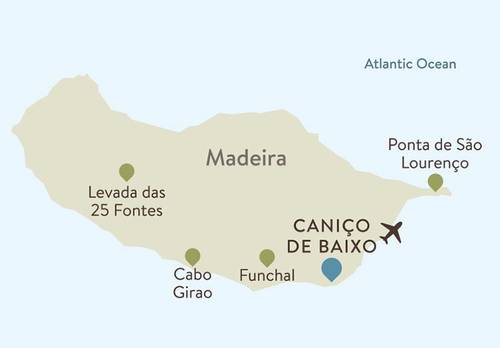 Hotel Galosol - Madeira
A short bus ride from Funchal, and Occupying an enviable position on the southeast coast, the clifftop 4-star Hotel Galosol offers fine views of the Atlantic Ocean, the Ilhas Desertas and the rocky Madeiran shore.  The hotel is located within the resort of Caniço de Baixo, a residential area with shops and a few local restaurants.  The hotel has an impressive range of facilities including indoor and outdoor swimming pools, gym and wellness centre. 
Rooms
The hotel has 123 spacious en-suite bedrooms.

These air conditioned rooms are bright and offer modern, comfortable beds. The warm Mediterranean colours and decoration create a cosy atmosphere. The balcony comes with table and chairs which invites you to relax. 
Satellite TV with English channels is standard, as is the radio channel, rooms also contain a minibar and safe (small charge). The spacious bathrooms/WC are equipped with a large mirror, vanity mirror, hairdryer, bidet and have either a bath tub or a large shower.
Facilities
Guests have free use of Onda Revital Club, offering fitness classes, weekly morning jogging and yoga. The Wellness Centre has an indoor pool, saunas and Jacuzzi. There are outdoor and indoor pools.
There is a weekly entertainment programme including some live music. The bar and coffee shop overlook the sea. As well as the main restaurant there are several bars on site.
Wi-Fi is free throughout the common areas of the hotel.
Food & Drink
Our Holidays in Madeira are on a Half Board basis and include breakfast and evening meal.
Breakfast
The buffet breakfast, served from 7.30am until 10am includes a variety of breads, jams, spreads, yogurt, cheese, fresh vegetables, muesli-bar, cereals, soft-boiled eggs, freshly cooked scrambled or fried eggs, omelettes and fresh fruit salad. There may also be some seasonal fruit such as bananas, passion fruit, papaya, melon and orange.
Lunch (payable locally)
You may be able to purchase a picnic lunch from the hotel. Alternatively it is possible to buy ingredients from local shops or on some days to eat at one of the local cafés; your leaders will advise you of the options.
Evening meal
This meal is buffet style and available from 6.30pm until 9pm. The hotel prides itself on serving fresh, locally sourced produce and offers daily meat, fish and vegetarian selections, plus plenty of salads. For dessert there are fruit pastries, delicious cakes and other fresh cream desserts. Tea and coffee is served after the meal.
Drinks
The hotel has a well-stocked bar serving beer, wine and spirits.
Your Evenings
Each evening your leaders will tell you about the the next day's activities and answer any questions you may have. During the evening you may like to join in an optional organised activity, such as a quiz, or chat in the bar overlooking the sea.
On the final evening you can enjoy a local meal tasting local dishes and delicacies, a wonderful finale to this unique holiday. Vegetarian options are also available.
There is an opportunity to visit the island's capital, Funchal, one evening and walk along the promenade followed by listening to some live music over a sociable drink.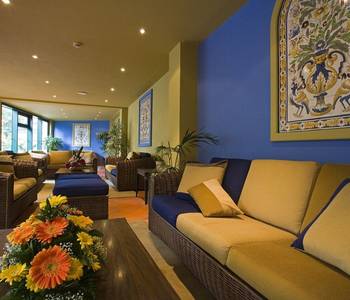 Getting to Hotel Galosol - Madeira
Find out more about this location including travel details and room types.
More Information
What to Bring
Essential Equipment
To enjoy walking/hiking comfortably and safely, footwear, clothing and equipment needs to be suitable for the conditions. Safety and comfort are our priorities, so our advice is to come prepared for all eventualities.
Footwear with a good grip on the sole (e.g.Vibram sole) is the key to avoiding accidents.
Walking/hiking boots providing ankle support and good grip are recommended (ideally worn in), and specialist walking socks to avoid blisters.
Several layers of clothing, which can be added or removed, are better than a single layer (include spares).
Fabrics (lightweight and fast drying) designed for the outdoors are recommended.
Waterproof jacket and waterproof over trousers.
Warm hat and gloves. Gaiters are an optional but useful extra.
Denim jeans and capes are not suitable on any walks.
Rucksack with a waterproof liner.
Thermos flask for hot drink.
Water bottle (at least 2 litre).
Spare high-energy food such as a chocolate bar.
Small torch.
First aid kit – your leader's first aid kit doesn't contain any medication or blister kits (such as Compeed).
Sun hat and sunglasses
Sun cream.
Optional Equipment
Walking poles are useful, particularly for descents.
Insect repellent.
Sunglasses.
Camera.
All holidays are subject to availability and prices are subject to change.
Non-member associate fee: £10 per person.
These departure dates can be booked with flights or as land only holiday options. All packages that include flights are ATOL protected. Advertised flight prices are based on UK flights departing from London. Regional departures and/or connections to London, if available, can be requested. Cabin upgrades may also be available on request.
Date (Start - End)
Version
Price
Status
Trip Notes
Book
2019
23 Sep - 30 Sep
2019 Itinerary

£1,149

Unavailable
30 Sep - 07 Oct
2019 Itinerary

£1,149

Unavailable
07 Oct - 14 Oct
2019 Itinerary

£1,149

Unavailable
23 Dec - 30 Dec
2019 Itinerary

£1,599

Available
Book Now
30 Dec - 06 Jan
2019 Itinerary

£1,499

£1,349
Save £150 Per Person
Book Now
2020
13 Jan - 20 Jan
2019 Itinerary

£1,199

£1,099
SAVE £100 PER PERSON
Book Now
20 Jan - 27 Jan
2019 Itinerary

£1,199

Available
Book Now
03 Feb - 10 Feb
2019 Itinerary

£1,199

Available
Book Now
10 Feb - 17 Feb
2019 Itinerary

£1,199

Available
Book Now
17 Feb - 24 Feb
2019 Itinerary

£1,249

Available
Book Now
24 Feb - 02 Mar
2019 Itinerary

£1,249

Available
Book Now
02 Mar - 09 Mar
2019 Itinerary

£1,249

Available
Book Now
09 Mar - 16 Mar
2019 Itinerary

£1,249

Available
Book Now
16 Mar - 23 Mar
2019 Itinerary

£1,249

Available
Book Now
07 Sep - 14 Sep
2019 Itinerary

£1,249

Available
Book Now
14 Sep - 21 Sep
2019 Itinerary

£1,249

Available
Book Now
21 Sep - 28 Sep
2019 Itinerary

£1,249

Available
Book Now
28 Sep - 05 Oct
2019 Itinerary

£1,249

Available
Book Now
05 Oct - 12 Oct
2019 Itinerary

£1,249

Available
Book Now
12 Oct - 19 Oct
2019 Itinerary

£1,249

Available
Book Now
Date (Start - End)
Version
Price
Status
Trip Notes
Book
2019
30 Sep - 07 Oct
2019 Itinerary

£949

Unavailable
07 Oct - 14 Oct
2019 Itinerary

£949

Unavailable
23 Dec - 30 Dec
2019 Itinerary

£1,149

Available
Book Now
30 Dec - 06 Jan
2019 Itinerary

£1,149

£999
Save £150 Per Person
Book Now
2020
13 Jan - 20 Jan
2019 Itinerary

£999

£899
SAVE £100 PER PERSON
Book Now
20 Jan - 27 Jan
2019 Itinerary

£999

Available
Book Now
03 Feb - 10 Feb
2019 Itinerary

£999

Available
Book Now
10 Feb - 17 Feb
2019 Itinerary

£999

Available
Book Now
17 Feb - 24 Feb
2019 Itinerary

£999

Available
Book Now
24 Feb - 02 Mar
2019 Itinerary

£999

Available
Book Now
02 Mar - 09 Mar
2019 Itinerary

£999

Available
Book Now
09 Mar - 16 Mar
2019 Itinerary

£999

Available
Book Now
16 Mar - 23 Mar
2019 Itinerary

£999

Available
Book Now
07 Sep - 14 Sep
2019 Itinerary

£999

Available
Book Now
14 Sep - 21 Sep
2019 Itinerary

£999

Available
Book Now
21 Sep - 28 Sep
2019 Itinerary

£999

Available
Book Now
28 Sep - 05 Oct
2019 Itinerary

£999

Available
Book Now
05 Oct - 12 Oct
2019 Itinerary

£999

Available
Book Now
12 Oct - 19 Oct
2019 Itinerary

£999

Available
Book Now
Important Information
Double room for sole occupancy: £20 per night
Sea view: £20 per room per night
With flight holidays include flights from Gatwick. Flight supplements from Manchester and Birmingham: £75
Independent travellers can join our transfer from Funchal Airport: £8.50 single
Our airport taxi service operates at this resort: £26 per single taxi journey