Discover prehistoric temples, dramatic coastal walks and rural inland paths on this colourful island in the middle of the Mediterranean Sea. Malta is a bustling and cheerful island offering plenty of walking and sightseeing opportunities with trips including a day out to the Island's capital, Valletta. Malta also has dramatic coastal walking and idyllic rural inland paths that are never too far from the sun kissed sea.  Situated in the heart of the Mediterranean, Malta has been influenced greatly by its neighbours, historically, culturally and linguistically. Life is usually taken at a more leisurely pace than you may be used to. The warmth of the Maltese people and the fascination of the island's 7,000 years of history enchant many of its visitors to return time and time again. The landscape of Malta is one of low hills with terraced green and brown fields. The coastline, although only 85 miles in total, is extremely varied, with cliffs, harbours, bays, creeks, sandy beaches and rocky coves. The combination of natural beauty, together with the many prehistoric sites found in every corner, make Malta an ideal island for walking and sightseeing. Our holiday programme will combine an exploration of the unspoilt areas of the island with visits to some of the many interesting remains of Malta's ancient heritage, including Neolithic temples, 4th century catacombs, Roman ruins and churches built by the Knights of St John.
Holiday Highlights
Gentle walking at a leisurely pace through dramatic coastal scenery
Rich history including Neolithic temples and churches built by the Knights of St John, historic Valletta and Mdina
Year round sunshine - ideal for spring or autumn getaway
What's included
A full programme of guided walks with 2 options every walking day plus 1 full sightseeing day
All transport to and from the walks
The services of experienced  HF Holidays' leaders
'With flight' holidays include return flights from the UK and hotel transfers
7 night's accommodation in en-suite rooms
Half Board - continental breakfast and evening meal
Welcome to Hotel Solana. Unpack and settle in.
---
These walks explore the northern tip of Malta, from the older part of Mellieha village and onto rocky open ground to contour around the northern coastline with fine views of Gozo and Comino.
Option 1 - Northeast Peninsula
Distance: 5 miles (8km)
Total ascent: 600 feet (180m)
In summary: We start by walking through the oldest part of Mellieha, where we'll see views out to Gozo and Comino. We then walk the coastline, with a short detour inland to the 'Red Tower', before arriving at Ramla Bay.
Highlight: Spectacular views of Gozo and Comino.
Option 2 - Selmun Palace, Bays & Roman Road back to Mellieha
Distance: 8 miles (13km)
Total ascent: 900 feet (270m)
In summary: We take a different route out of Mellieha, heading for the Selmun Palace and then onto the coast to Selmun Bay. We follow the coastline to Xemxija, before heading back to Mellieha along a Roman road.
Highlight: The route back to Mellieha is littered with Roman and ancient sights.
---
The World Heritage City of Valletta merits a great deal of exploration and this sightseeing day will introduce you to the key sights. Our tour starts with a walking tour around the city with a blue badge guide, stopping at Upper Barrakka Gardens with panoramic views over the Grand Harbour and the Three Cities, and concluding with a visit to St John's Co-Cathedral. There is then free time for you to explore Valletta before an optional, awe-inspiring harbour cruise.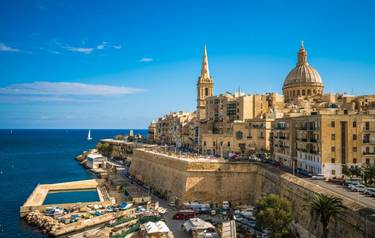 ---
Today's visit is to the Dingli Cliffs, the highest point on Malta. We walk through Buskett Gardens (once the hunting ground of the Grand Masters) towards the Dingli Cliffs. Close to the cliffs we see the remains of Ghar ilKbir cave dwellings and a series of distinctive prehistoric cart ruts. This visit will be enhanced by a local guide who was brought up in the area. The afternoon is spent sightseeing with the option of:
(a) visiting 4th century catacombs, the museum of Roman Antiquities and soaking up the atmosphere in the Silent City of Mdina or
(b) visiting the temple complex of Hagar Qim, which can be seen before descending to Wied iz-Zurrieq where there is the option of a boat trip to the Blue Grotto in good weather.
Option 1 - Caves, Cliffs & Catacombs
Distance: 5 miles (8km)
Total ascent: 300 feet (90m)
In summary: Today we walk through Maltese history. Starting in the old hunting grounds of Buskett Gardens we'll walk towards the coast and the Ghar-il-Kbir cave dwellings. We'll reach Rabat for lunch, with time to explore the 4th Century catacombs, St Pauls church and the Museum of Roman Antiquities. We'll finish our day in the 'Silent City' of Mdina.
Highlight: Our local guide is full of knowledge about the history of the island.
Option 2 - Cliffs & Temples by the sea
Distance: 8 miles (13km)
Total ascent: 800 feet (240m)
In summary: The first part of our day follows the same route as the other party as far as Ghar-il-Kbir. At the coast we'll descend to the undercliff, passing two wayside chapels. We'll reach Ghar Lapsi for lunch, and a swim, before heading into more rugged terrain to the large temple complex of Hagar Qim, finishing our walk at Wied ir Zurrieq.
Highlight: Our local guide is full of knowledge about the history of the island.
---
Each week there is a free day when no guided walks are offered. This is an ideal opportunity to relax around the hotel, walk independently or visit local places of interest. Some options for your free day may include:
Gozo: For guests holidaying on Malta only, a day trip to Gozo is popular. Using a hired coach it is possible to see many of the popular sights on the island including the Rotunda Church at Xewkija, the sea arch and Inland Sea at Dwejra Bay and the delightful fishing village of Xlendi. The day is rounded off by a visit to Victoria, the island's capital, in order to walk around the ramparts of the citadel and visit the cathedral.
Valletta: Although we visited Valletta on day 3, it is impossible to explore this World Heritage City in one day. On a return visit options available are the National Museum of Archaeology, where a fascinating collection of artefacts from Malta's prehistoric sites are housed; the War Museum, which tells the story of the siege of Malta during the Second World War; Manoel Theatre (a beautiful old theatre), and an inhabited 16th century patrician town house.
Mdina & Rabat: Mdina is an important UNESCO Heritage Site. It is the oldest city on the island and derives its name from the Arabic word 'medina' meaning walled city. Mdina is lamp-lit by night and often referred to as the 'silent city'. The cathedral and cathedral museum are fascinating places with their rich cultural and religious treasures. The impressive palaces are still home to some of Malta's aristocratic families.
Rabat is home to the famous catacombs of St Paul and St Agatha and the impressive St Paul's Church, which stands above a grotto where St Paul is said to have taken refuge after his shipwreck on Malta.
Local information website: For information on Malta please visit www.malta.gov.mt
---
These walks link two traditional Maltese fishing villages on the South Eastern corner of the island.
Option 1 - Marsaxlokk to Marsascala
Distance: 6 miles (9½km)
Total ascent: 400 feet (120m)
In summary: Beginning in the pretty fishing village of Marsaxlokk, we cross the Delimara peninsula, we can observe wind and wave rock sculptures. We then head north, after lunch, finishing our walk in Marsascala.
Highlight: The two historic villages of Marsaxlokk and Marsascala.
Option 2 - Pretty Bay to Marsascala
Distance: 9 miles (14½km)
Total ascent: 400 feet (120)
In summary: Starting in the aptly named Pretty Bay, our route follows the coastline to Marsaxlokk. We will then follow the route of the easier group to Marsascala.
Highlight: Pretty Bay is well worth the visit.
---
From the ancient city of Mdina – the original capital of Malta – we descend into the fertile Qleigha Valley and a series of manmade reservoirs called the Chadwick Lakes. There is time to view the wayside chapel and the honeycomb of ancient tombs beneath the Victorian Line fortifications along the escarpment ridge. After the Bingemma Gap we make our way mainly by coastal paths to Golden Bay where there will be time for a swim.
Option 1 - Mdina to Golden Bay
Distance: 6 miles (9½km) 
Total ascent: 400 feet (120m)
total descent: 800 feet (240m)
In summary: We spend some time in the morning exploring the ancient city of Mdina, setting off on our walk from its walls. We ascend the Mtarfa Ridge, passing the old British Naval Hospital and into the Qleigha valley. We head for Lippija Tower and then take the coastal path to Golden Bay.
Highlight: The historic city of Mdina is worth exploring.
Option 2 - Mdina and the Two Towers
Distance: 8 miles (13km)
Total ascent: 900 feet (270m)
In summary: We too start from the city walls of Mdina, walking the same route for a short time. We then head inland to the Nadur Tower and on to Bingemma Fort via the Victoria Lines. Regaining the coastline, we'll ascend a steep section of path to the Lippija Tower and then on to Golden Bay.
Highlgiht: Golden bay, a beautiful sandy beach, perfect for a swim at the end of the walk.
---
We hope to see you again soon.
---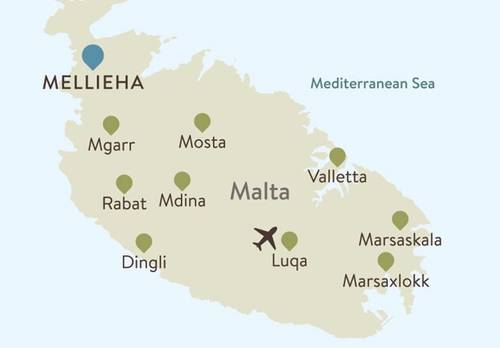 Solana Hotel - Malta
The 4-star Solana Hotel is located in Mellieha village, one of Malta's few traditional villages, away from the hustle and bustle of the main resorts and make it an ideal base for exploring Malta. The local shops and amenities are just a few minutes walk away and the hotel offers an indoor and outdoor swimming pool, wellness centre and two restaurants. 
Rooms
The hotel has 165 ensuite rooms and are all of excellent standard. Each room is decorated in a modern-contemporary style and has
individually-controlled central heating and air-conditioning,
satellite TV,
tea and coffee making,
mini-bar,
hairdryer,
telephone
Wi-Fi.
Facilities
Solana's rooftop pool offers impeccable views of the sea and Malta's sister islands, with a pleasant outside seating area. There is also an indoor pool (heated October - May).
Food & Drink
Guided Walking holidays at the Solana Hotel are on a half-board basis and includes breakfast and your evening meal. 
Our Self Guided holidays are on a bed & breakfast basis with an option for HB.
Breakfast
Breakfast is available at the Bellini  Restaurant and is a self-service buffet.  There is a selection of cereals, fruit juices, breads, pastries and cakes, as well as a hot selection, cold meat and cheese, and fruit.
Lunch (payable locally)
There are several shops and local supermarkets, a short walk away, in Mellieha Village, where you can buy the ingredients to make your picnic lunch.  There will be opportunities to eat in a local café during the day and our leaders will advise you of all the options and directions to the nearest shops.s.
Evening meal
A buffet style evening meal is served to our guests in the Bellini Restaurant, five times a week. There is a good selection of international dishes as well as fish and local meals, as well as antipasta dishes and salads as starters. Desserts will be followed by tea and coffee. On the other two evenings, we will be dining at the Tosca Restaurant which is a served  3-course meal which pre-selected choices.
The hotel does cater for most dietary requirements but we would advise you to speak to our reservation staff and also ensure that you speak to our hotel staff on arrival to avoid disappointment. 
Drinks
There is a well stocked bar offering a variety of pre-dinner drinks, wines, beers and local spirits including an interesting prickly pear liqueur.
Your Evenings
The friendly atmosphere of your holiday continues into the evening.  Enjoy a glass of wine or local beer before hearing about the next day's activities. On some evenings, there will be some kind of entertainment; an excursion to Mdina to see it by moonlight - the effect is amazing; or just relax in the bar area and speak to your fellow guests about your day.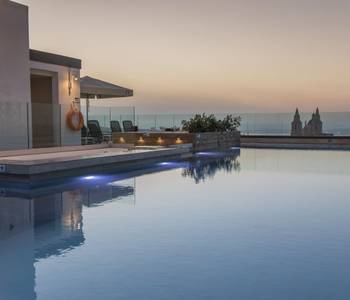 Getting to Solana Hotel - Malta
Find out more about this location including travel details and room types.
More Information
What to Bring
Essential Equipment
To enjoy walking/hiking comfortably and safely, footwear, clothing and equipment needs to be suitable for the conditions. Safety and comfort are our priorities, so our advice is to come prepared for all eventualities.
Footwear with a good grip on the sole (e.g.Vibram sole) is the key to avoiding accidents.
Walking/hiking boots providing ankle support and good grip are recommended (ideally worn in), and specialist walking socks to avoid blisters.
Several layers of clothing, which can be added or removed, are better than a single layer (include spares).
Fabrics (lightweight and fast drying) designed for the outdoors are recommended.
Waterproof jacket and waterproof over trousers.
Warm hat and gloves. Gaiters are an optional but useful extra.
Denim jeans and capes are not suitable on any walks.
Rucksack with a waterproof liner.
Thermos flask for hot drink.
Water bottle (at least 2 litre).
Spare high-energy food such as a chocolate bar.
Small torch.
First aid kit – your leader's first aid kit doesn't contain any medication or blister kits (such as Compeed).
Sun hat and sunglasses
Sun cream.
Optional Equipment
Walking poles are useful, particularly for descents.
Insect repellent.
Sunglasses.
Camera.
All holidays are subject to availability and prices are subject to change.
Non-member associate fee: £10 per person.
These departure dates can be booked with flights or as land only holiday options. All packages that include flights are ATOL protected. Advertised flight prices are based on UK flights departing from London. Regional departures and/or connections to London, if available, can be requested. Cabin upgrades may also be available on request.
Date (Start - End)
Version
Price
Status
Trip Notes
Book
2019
28 Sep - 12 Oct
2019 Itinerary

£949

Unavailable
05 Oct - 19 Oct
2019 Itinerary

£1,009

Unavailable
22 Dec - 29 Dec
2019 Itinerary

£1,199

Available
Book Now
2020
08 Feb - 15 Feb
2019 Itinerary

£949

Available
Book Now
15 Feb - 22 Feb
2019 Itinerary

£949

Available
Book Now
22 Feb - 29 Feb
2019 Itinerary

£949

Available
Book Now
29 Feb - 07 Mar
2019 Itinerary

£949

Available
Book Now
07 Mar - 14 Mar
2019 Itinerary

£949

Available
Book Now
14 Mar - 21 Mar
2019 Itinerary

£949

Available
Book Now
19 Sep - 26 Sep
2019 Itinerary

£1,049

Available
Book Now
26 Sep - 03 Oct
2019 Itinerary

£1,049

Available
Book Now
Date (Start - End)
Version
Price
Status
Trip Notes
Book
2019
28 Sep - 12 Oct
2019 Itinerary

£1,499

Unavailable
05 Oct - 19 Oct
2019 Itinerary

£1,499

Unavailable
12 Oct - 19 Oct
2019 Itinerary

£749

Unavailable
22 Dec - 29 Dec
2019 Itinerary

£849

Available
Book Now
2020
08 Feb - 15 Feb
2019 Itinerary

£699

Available
Book Now
15 Feb - 22 Feb
2019 Itinerary

£699

Available
Book Now
22 Feb - 29 Feb
2019 Itinerary

£699

Available
Book Now
29 Feb - 07 Mar
2019 Itinerary

£699

Available
Book Now
07 Mar - 14 Mar
2019 Itinerary

£699

Available
Book Now
14 Mar - 21 Mar
2019 Itinerary

£699

Available
Book Now
19 Sep - 26 Sep
2019 Itinerary

£799

Available
Book Now
26 Sep - 03 Oct
2019 Itinerary

£799

Available
Book Now
Important Information
Double room for sole occupancy: £22 per night
With flight holidays include flights from Heathrow. Flight supplement from Manchester: £60
Independent travellers can join our transfer from Malta Airport: £17 single