This guided walking holiday offers walking in the beautiful countryside and medieval hill top villages of Piedmont, Montelupo, plus evening wine-tasting at our hotel. Join us as we discover the area's rolling landscapes and stroll through vineyards, hazelnut groves and along ancient trails. The hilltop villages of Barolo, Serralunga d'Alba and Cortemilia will offer plenty of interest and a unique insight into the wines for which this region is famous.  The region of Piedmont is situated in northern Italy, a large area which runs from the Swiss and French Alps in the north almost to the Ligurian Sea in the south. The capital city is Turin, but otherwise there are no large cities. The main town in the Langhe area, which we shall be visiting, is Alba, famous for its gastronomy and 'slow food'. Other local towns may be more familiar from wine labels, including Asti, Barolo and Barbaresco. Our base is the picturesque village of Montelupo Albese and from this elevated position you look down upon the nearby village of Rodello and across the surrounding hills.  On a clear day you can see as far as the Alpine peaks of the Matterhorn and Monte Rosa, which form a beautiful backdrop to the green rolling hills of the Langhe. Montelupo Albese takes its name from a legend, according to which the place was inhabited by wolves (lupo means wolf). The second part of its name comes from the fact that Alba is the nearest big town, which can be seen across the Langhe hills nestling in the Tanaro Valley. Around the village are waymarked walking routes called the Paths of the Wolf. Village amenities are limited, but the villages of Diano d'Alba and Rodello can supply shopping needs and have several wine cellars.
Holiday Highlights
Gentle walking amongst the beautiful rolling countryside of Piedmont
Superb 4-star hotel with an excellent restaurant
Visit medieval hill-top villages, full of character and tradition
Enjoy a glass of wine, produced in the area where you have been walking that day, with your evening meal - compliments of HF Holidays
A peaceful and relaxing holiday – a true taste of rural Italy famous for its culinary heritage 
What's included
A full programme of guided walks with 2 options every walking day
All transport to and from walks
The services of experienced HF Holidays leaders
'With flight' holidays include returns flights from the UK and hotel transfers
7 nights' accommodation in en-suite rooms
Half Board - continental breakfast and evening meal
Welcome to Hotel Ca'Del Lupo. Unpack and settle in.
---
These introductory walks will explore the area close to the hotel and include a visit to Montelupo village.
Option 1 - The Wolf's Trail from Montelupo
Distance: 5 miles (8km)
Total ascent: 650 feet (200m)
In summary: We start our week with a walk into the village of Montelupo's main square. Our route then heads north through vineyards and woodland to the lovely isolated chapel of Capella Torretta. From here we make our way back towards Montelupo through hazelnut orchards for a further exploration of the village.
Highlight: Excellent views down to the neighbouring village of Rodello and the Langhe Hills from Montelupo's main square.
Option 2 - Strada Romantica and The Wolf's Trail
Distance: 7 miles (11km) 
Total ascent: 1,200 feet (360m)
In summary: Our walk today begins by heading towards Brantegna, via the Strada Romatica, then continues on to the Chapel of the Madonna del Oriolo and finally follows a section of the local Wolf's Trail.
Highlight: The fantastic viewpoint on the Strada Romantica.
---
The day starts with a journey to the walled hilltop town of Neive, where we have a short time to explore. Both walks take in nearby Barbaresco, a beautiful village and major wine producing centre, and walk through vineyards, small hamlets and woodland to arrive in the town of Alba. Alba is the largest town in the region and has a very good reputation for gastronomy, wine and chocolate (Ferrero Rocher). Its river, the Tanaro, is one of the main tributaries of the river Po and is 175 miles long.
Option 1 - Barbaresco to Alba
Distance: 5½ miles (9km)
Total ascent: 650 feet (200m)
In summary: We start our walk from the village of Barbaresco, which is dominated by a 120 feet tower, part of a much more extensive 1,000-year-old fortress, characteristic of the Langhe landscape. We walk through the beautiful rolling countryside of vineyards, small hamlets and woodland, down to the Tanaro river and on to Alba with time to get a feel for the town and enjoy some refreshment before meeting the coach.
Highlight: Barabaresco and it's historic tower and fortress.
Option 2 - Neive to Alba
Distance: 8½ miles (13½ km)
Total ascent: 1000 feet (300m)
In summary: The Harder walk begins from Neive and starts by walking to Barbaresco, making our way through beautiful countryside and vineyards to then pick up the route of the easier walk to join them in Alba for refreshments before our transport.
Highlight: The largest town in the area, Alba is a gastronomy hub.
---
Today we head to the west of Montelupo to walk in the Barolo vineyards, the most famous in the area. Barolo wine is very well regarded and renowned for its rich flavour and aroma. The wine is made from the Nebbiolo grape, which ripens quite late, towards the end of October, with bunches that have an intense blue colour.
Option 1 - Barolo vineyards
Distance: 6½ miles (10½km)
Total ascent: 1,000 feet (300m)
In summary: Starting in Barolo, sitting low in the valley, our route heads south through this beautiful wine growing region to the village of Monforte d'Alba with its 18th century palace. We will have time to admire the palace before heading west to take a different route back to Barolo.
Highlight: Monforte d'Alba, a historic hilltop village, built around a castle, with narrow cobbled streets.
Option 2 - Barolo villages
Distance: 8½ miles (13½km)
Total ascent: 1,300 feet (390m)
In summary: Our route today is linear. Starting in La Morra with excellent views to the south we make our way to Barolo. From Castiglione Falletto, the walk descends into the valley before ascending to Serralunga D'Alba for a well-earned drink.
Highlight: Visiting three important winemaking hilltop villages in one day.
---
Each week there is a free day when no guided walks are offered. This is an ideal opportunity to relax around the hotel, walk independently or visit local places of interest. Some options for your free day may include:
Local: Walk to nearby picturesque Rodello village (approx 20 mins walk) for a relaxing lunch in a café. Bike hire: Hire a bike from the hotel and explore the pretty country roads, visiting local villages.
Alba: A little further afield, Alba is an attractive town with a medieval centre. It offers excellent shopping and a wide selection of restaurants. Travel would be by taxi or minibus.
Grinzane Cavour: Visit the Museo delle Langhe. Only 20 mins from Montelupo, this elegant castle has an interesting exhibition of local history and an Enoteca Regionale Piedmont selling local food and wine.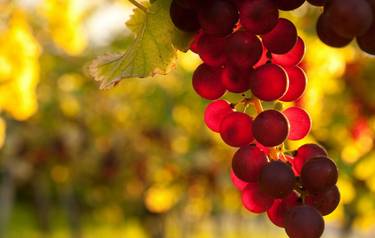 ---
The Bormida river flows through the heart of the Langhe Hills and our walks today follow the wooded ridge on its western side that separates the main valley from that of the river Uzzone. Walks end in the small town of Cortemilia, one of the most attractive in the area. The river divides the town into two villages: San Michele on the west bank and San Pantaleo on the east. The 12th century church is well worth a visit, being one of the most interesting examples in the Langhe.
Option 1 - Above Prunetto
Distance: 5 miles (8km)
Total ascent: Minimal
Total descent: 1,300 feet (390m)
In summary: Our day will start in Prunetto, a small hilltop town with a proud standing 12th century sandstone castle. Here we will have a chance to visit the sights before re-boarding our coach to Bergolo. From here we will make our way down through wooded hillside to Cortemilia and our transport home.
Highlight: Visit the 12th century castle with a local guide.
Option 2 - Prunetto to Cortemilia
Distance: 8 miles (13km)
Total ascent: 500 feet (150m)
Total descent: 1,900 feet (570m)
In summary: The harder walk starts from Prunetto where we take a gentle ascent towards the summit of Bocca delle Forche. From here we head through the woods and descend into Bergolo, where the easier walk started and follow the same route to Cortemilia.
Highlight: Discovering 15th century frescoes with a local guide .
---
Both groups visit the pretty village of Bossolasco (so called Village of the Roses) for a village trail.
Option 1 - The Tanaro valley
Distance: 6 miles (9½km) 
Total ascent: 700 feet (210m)
In summary: We are then taken by coach to Serravalle delle Langhe where the walk starts and progresses via Albaretta della Torre to finish at a café in Tre Cunei where we can celebrate a great week of walking.
Highlight: The view of the Alps from the village of Serravalle.
Option 2 - The village of Roses
Distance: 9 miles (14½km) 
Total ascent: 1,100 feet (330m)
In summary: We walk to Serravalle delle Langhe and then largely follow the route of the easier group, finishing and joining the celebratory drinks at Tre Cunei.
Highlight: Wide ranging views all day and a fitting finale to the week.
---
We hope to see you again soon.
---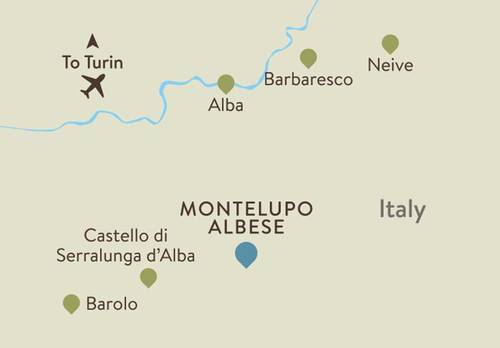 Hotel Ca'del Lupo - Piedmont
The 4-star Hotel Ca'del Lupo is highly regarded by our guests and regularly top in our Customer Surveys. The hotel is owned and run by two brothers, Savio and Stefano Drocco. The brothers reputation for outstanding food and service has become well established over the last 18 years. The hotel enjoys peaceful surroundings and has been purpose built and designed so that all rooms look out over vineyards towards the hill-top villages of Rodello and Montelupo. 
Rooms
Hotel Ca'del Lupo has 29 en-suite bedrooms, each with their own private terrace. The rooms are spacious and light with ample storage and large bathrooms. 

All bedrooms have a: 
Flat screen TV
Mini-bar
Electronic safe
Hairdryer
Central heating
Air conditioning
Internet access
Facilities
There is an open-plan breakfast room and bar area, doors opening onto a large terrace. 

The hotel is terraced down to the ground floor where there is an outdoor swimming pool with seating and grassed areas; a pleasant area to relax in on your free day or after a day's walk. 

The hotel has a boot storage area in the cellar, and offers a laundry service in 48 hours.
Food & Drink
Our holidays at Hotel Ca'del Lupo are on a Half Board basis and include breakfast and evening meal.
Breakfast
The hotel offers a continental buffet breakfast, with an amazing selection of breads, cakes and pastries, homemade in the wood-fired oven.
Lunch (payable locally)
Picnic lunches can be ordered from the hotel; these should be ordered the night before. Alternatively, ingredients for your picnic lunch can be bought from shops in the villages you will visit. On certain days it may be possible to eat in a café; your leaders will advise you of the options.
Evening meal
Dinner at Hotel Ca'del Lupo is taken in their well established restaurant. Very popular with locals, you will experience a four-course meal of regional specialities. At each course there are two choices which you are asked to select at breakfast.

The restaurant is next door to the hotel and is set in its own garden.

One evening, our group dines out in a local restaurant while enjoying a performance by local musicians.
Drinks
Every evening meal you have the opportunity to sample the wine grown in the area which you have walked through that day, this is included in the price of your holiday. The origins and qualities will be explained to you by the somelier.
Your Evenings
The friendly atmosphere of our Guided Walking holidays continues into the evening.
Enjoy a glass of wine or local beer before hearing about the next day's walk. The main focus of your evening will be a leisurely meal.
Your leader will check for any local events going on nearby, or you may like to relax on the terrace or in the bar, with a drink and chat with your fellow guests.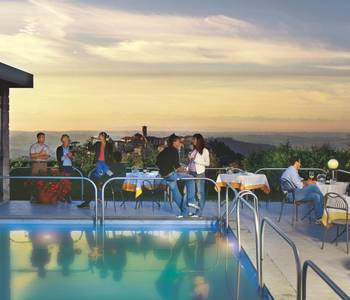 Getting to Hotel Ca'del Lupo - Piedmont
Find out more about this location including travel details and room types.
More Information
What to Bring
Essential Equipment
To enjoy walking/hiking comfortably and safely, footwear, clothing and equipment needs to be suitable for the conditions. Safety and comfort are our priorities, so our advice is to come prepared for all eventualities.
Footwear with a good grip on the sole (e.g.Vibram sole) is the key to avoiding accidents.
Walking/hiking boots providing ankle support and good grip are recommended (ideally worn in), and specialist walking socks to avoid blisters.
Several layers of clothing, which can be added or removed, are better than a single layer (include spares).
Fabrics (lightweight and fast drying) designed for the outdoors are recommended.
Waterproof jacket and waterproof over trousers.
Warm hat and gloves. Gaiters are an optional but useful extra.
Denim jeans and capes are not suitable on any walks.
Rucksack with a waterproof liner.
Thermos flask for hot drink.
Water bottle (at least 2 litre).
Spare high-energy food such as a chocolate bar.
Small torch.
First aid kit – your leader's first aid kit doesn't contain any medication or blister kits (such as Compeed).
Sun hat and sunglasses
Sun cream.
Optional Equipment
Walking poles are useful, particularly for descents.
Insect repellent.
Sunglasses.
Camera.
All holidays are subject to availability and prices are subject to change.
Non-member associate fee: £10 per person.
These departure dates can be booked with flights or as land only holiday options. All packages that include flights are ATOL protected. Advertised flight prices are based on UK flights departing from London. Regional departures and/or connections to London, if available, can be requested. Cabin upgrades may also be available on request.
Date (Start - End)
Version
Price
Status
Trip Notes
Book
2019
29 Sep - 06 Oct
2019 Itinerary

£1,199

Unavailable
06 Oct - 13 Oct
2019 Itinerary

£1,199

Unavailable
13 Oct - 20 Oct
2019 Itinerary

£1,199

Unavailable
2020
19 Apr - 26 Apr
2019 Itinerary

£1,249

Available
Book Now
26 Apr - 03 May
2019 Itinerary

£1,249

Available
Book Now
03 May - 10 May
2019 Itinerary

£1,249

Available
Book Now
10 May - 17 May
2019 Itinerary

£1,249

Available
Book Now
17 May - 24 May
2019 Itinerary

£1,249

Available
Book Now
24 May - 31 May
2019 Itinerary

£1,249

Available
Book Now
31 May - 07 Jun
2019 Itinerary

£1,249

Available
Book Now
07 Jun - 14 Jun
2019 Itinerary

£1,249

Available
Book Now
14 Jun - 21 Jun
2019 Itinerary

£1,249

Available
Book Now
06 Sep - 13 Sep
2019 Itinerary

£1,249

Available
Book Now
13 Sep - 20 Sep
2019 Itinerary

£1,249

Available
Book Now
20 Sep - 27 Sep
2019 Itinerary

£1,249

Available
Book Now
27 Sep - 04 Oct
2019 Itinerary

£1,249

Available
Book Now
04 Oct - 11 Oct
2019 Itinerary

£1,249

Available
Book Now
11 Oct - 18 Oct
2019 Itinerary

£1,249

Available
Book Now
Date (Start - End)
Version
Price
Status
Trip Notes
Book
2019
29 Sep - 06 Oct
2019 Itinerary

£999

Unavailable
06 Oct - 13 Oct
2019 Itinerary

£999

Unavailable
13 Oct - 20 Oct
2019 Itinerary

£999

Unavailable
2020
19 Apr - 26 Apr
2019 Itinerary

£1,049

Available
Book Now
26 Apr - 03 May
2019 Itinerary

£1,049

Available
Book Now
03 May - 10 May
2019 Itinerary

£1,049

Available
Book Now
10 May - 17 May
2019 Itinerary

£1,049

Available
Book Now
17 May - 24 May
2019 Itinerary

£1,049

Available
Book Now
24 May - 31 May
2019 Itinerary

£1,049

Available
Book Now
31 May - 07 Jun
2019 Itinerary

£1,049

Available
Book Now
07 Jun - 14 Jun
2019 Itinerary

£1,049

Available
Book Now
14 Jun - 21 Jun
2019 Itinerary

£1,049

Available
Book Now
06 Sep - 13 Sep
2019 Itinerary

£1,049

Available
Book Now
13 Sep - 20 Sep
2019 Itinerary

£1,049

Available
Book Now
20 Sep - 27 Sep
2019 Itinerary

£1,049

Available
Book Now
27 Sep - 04 Oct
2019 Itinerary

£1,049

Available
Book Now
04 Oct - 11 Oct
2019 Itinerary

£1,049

Available
Book Now
11 Oct - 18 Oct
2019 Itinerary

£1,049

Available
Book Now
Important Information
Double room for sole occupancy: £25 per night
Independent travellers can join our transfer from Turin Airport: £21.50 single
Our airport taxi service operates at this resort: £121 per single journey