Jersey is the largest of the Channel Islands, between England and France. An independent, English-speaking territory with a mix of British and French cultures, it's known for its beaches and walking trails, as well as its defensive castles. On this holiday you can enjoy a choice of the best walking that Jersey has to offer from our base in beautiful St Aubin. Rugged stretches of coast in the north are contrasted by sweeping sandy bays in the south and west, while the east has pretty harbours and the iconic Mont Orgueil Castle to enjoy. Inland you'll find patchwork fields, wooded valleys and the island's largest reservoir.
Holiday Highlights
Choice of walks exploring the best of Jersey's coast and countryside
Fascinating history from Neolithic burial chambers to the concrete defences built by occupying German forces in World War II
Discover dramatic geological features of the island, including the Devil's Hole and the Pinnacle
Experiencing the laid-back charm of island life
What's included
Half Board en-suite accommodation
Experienced HF Holidays Walking Leaders
5 days of guided walking and 1 free day
Choice of two guided walks per walking day
All transport to and from the walks
Transfer to and from Jersey Airport to your hotel
'With flight' holidays include return flights from London
Please note, any admission costs into local attractions are in addition to your holiday price.
Trip Notes
Trip notes are detailed, downloadable PDF's for each holiday, please click the button below to find the right trip notes for your departure date.
Walks ranging from 6 miles to 9.5 miles on 5 walking days, with a maximum daily ascent of 900 feet
You're welcome to check in at the Somerville Hotel from 3pm onwards. Your HF walking leaders will be on hand from 6:30pm, when we'll gather to give you a warm welcome and explain the plan of action before dinner.
---
Today's walks leave directly from our hotel and head along Jersey's south coast to explore the delightful headland of Noirmont Point, with its dramatic sea views and German occupation remains.  We'll have ample time to explore the quaint seaside resort of St Brelade and its parish church.
Option 1 – Noirmont Point & St Brelade
Distance: 6 miles (9.5 km)
Ascent: 450 feet (140m)
In Summary: Following the Jersey Coast Path to Noirmont Point, we get spectacular sea views and the chance to investigate various remains of German artillery and defences. We then head gently down to Ouasine Bay and the Paleolithic site of La Cotte de St Brelade before continuing to St Brelade. Stroll along the promenade to visit St Brelade Church and Fisherman's Chapel, the oldest place of worship on the island, before returning to St Aubin by bus.
Highlight: The rocky headland of Ouaisne Bay contains one of the most important archaeological sites in Europe, La Cotte de St Brelade, once home to Neanderthals.
Option 2 – Circular via Noirmont Point, St Brelade & the old Railway Line
Distance: 8 miles (12.6 km)
Ascent: 650 feet (200m)
In Summary: Starting out on the same route as the Option 1 walk, after exploring Noirmont Point we continue to the headland above Ouaisne Bay and take steep steps down through a quarry to reach the wide sandy bay below. Depending on the tide, we either continue along the beach to St Brelade or follow the route via Le Grouin.  After time to enjoy St Brelade Church and Fisherman's Chapel, we retrace our steps to Le Mont Sohier and take green lanes to join the old railway track, following its shady path back to our hotel.
Highlight: View the restored bunkers and gun emplacements of Batterie Lothringen at Noirmont Point, Jersey's WWII war memorial.
---
We explore the island's east coast, travelling to Rozel where our walks begin and finishing in the fishing port of Gorey, dominated by the imposing Mont Orgueil Castle. We'll enjoy coastal stretches plus the chance to visit Jersey's finest dolmen and the island's largest reservoir.
Option 1 – Dolmens, Woods, Reservoir & Mont Orgueil Castle
Distance: 6.5 miles (10.5 km)
Ascent: 500 feet (150 m)
In Summary: Starting on the outskirts of Rozel, we descend to the Dolmen de Couperon, a 2,500-year-old Neolithic passage grave, before heading inland to join the St Martin's Perquage (Sanctuary Path) taking us through a delightful, wooded valley. We then re-join the Coastal Path around St Catherine's Bay to the Archirondel Tower. Heading inland, we reach our second dolmen of the day, the Dolmen de Faldouet.  Continuing on minor lanes, our route then takes us to the Queen's Reservoir before descending to the coast and following the promenade towards the harbour at Gorey.  You may choose to visit Mont Orgueil Castle, or simply spend time admiring the boats in the harbour or enjoying the various cafes and bars.
Highlight: Striking medieval Mont Orgueil Castle towering above Gorey harbour.
Option 2 – Dolmens and Queen's Reservoir to Gorey Harbour
Distance: 9.2 miles (14.7 km)
Ascent: 700 feet (215 m)
In Summary: Starting from Rozel, we descend to visit the Neolithic Dolmen de Couperon before following the Coast Path via Fliquet Tower to the mid-19th Century naval harbour of St Catherine's with its breakwater. From here we head inland to the Dolmen de Faldouet before continuing to the Queen's Reservoir to follow the undulating path that circumnavigates it, with a chance to spot birds and wildlife on its waters and surrounding woodland. From here we return to the coast to finish our walk with views of Mont Orgueil Castle as we enter Gorey Harbour.
Highlight: A great mixture of inland and coastal walking, with the option to visit Mont Orgueil Castle.
---
These walks explore the rugged scenic north coast of Jersey, starting with a journey to the inland village of St John's. Both routes begin on minor lanes, but then take us along superb stretches of the Coast Path and passing the Devil's Hole, a major geological landmark. Both walks finish at Greve de Lecq with its superb beach and cafes.
Option 1 – St John's to La Greve de Lecq via the Coast Path
Distance: 6 miles (9.6 km)
Ascent: 450 feet (140 m)
In Summary: Starting with a brief visit to the 13th century St John's Church, we take a short diversion to the village graveyard to see the ornate tomb of the holiday camp entrepreneur, Billy Butlin who lived in the parish. Retracing our steps we then head west along quiet country lanes to reach the coast at Sorel Point to admire the view. Continuing west along the undulating coast path, we reach our next landmark – Devil's Hole – a yawning chasm in the cliff.  From here our path takes us over a number of rocky headlands to reach the charming beach resort of La Greve de Lecq, with time for a swim or paddle before returning to our hotel. 
Highlight: Peer into Devil's Hole, a collapsed cave where the sea has formed a blowhole.
Option 2 – St John's to Greve de Lecq via Bonne Nuit and the Coast Path
Distance: 9 miles (14.2 km)
Ascent: 750 feet (230 m)
In Summary: Starting in St John's our route heads east along green lanes before descending to the coast at Bonne Nuit Bay, with its sheltered harbour. We then turn west and follow the Coast Path around Fremont Head and on to Sorel Point for some splendid views. As with the Option 1 walk, we continue to Devil's Hole and on over a number of rocky headlands to reach the La Greve de Lecq with a chance for a dip before our transport returns us to the hotel.
Highlight: Striking clifftop views on the most dramatic part of the island.
---
Today no walks are organised, allowing you to explore the island on your own or relax. Bring your National Trust card if you have one, as it can be used in Jersey.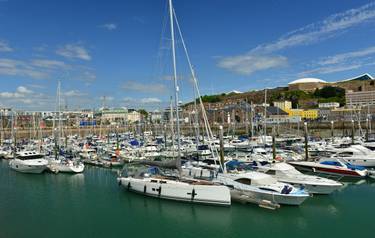 ---
Today we return to the dramatic north coast, this time to explore the north-east corner, including Plemont, Grosnez Castle and the Pinnacle.
Option 1 – Jersey Pearl to Greve de Lecq
Distance: 6 miles (9.5 km)
Ascent: 450 feet (135 m)
In Summary:  From our drop off at the Jersey Pearl, we will either walk along the beach or the foreshore around St Ouen's Bay to Le Grande Etacquerel, depending on the tide.  We then ascend to the cliff path skirting the island's horse racing course and pass the Pinnacle, the site of a prehistoric settlement. Reaching the ruins of 14th-century Grosnez Castle, on a clear day we can enjoy fantastic views out north to the other Channel Islands. We then continue east along the Coast Path to Plemont Bay and a chance for refreshments before finishing in Greve de Lecq.
Highlight: Dramatic rock formations and views from a ruined castle.
Option 2 – St Ouen's Church to Greve de Lecq via Le Valle de la Mare Reservoir
Distance: 9.5 miles (15 km)
Ascent: 800 feet (250 m)
In Summary: Starting with a visit to St Ouen's Church, we walk on green lanes and paths to La Valle de Mare Reservoir, home to many species of birds and wildlife. Our route then returns us to the coast in the middle of St Ouen's Bay, where we follow the Coast Path north to the Jersey Pearl. From here our walk follows the Option 1 description as we pass the striking Pinnacle and the ruins of Grosnez Castle to reach Plemont Bay. Our day finishes at the beach resort of Greve de Lecq.
Highlight: The contrast of the rugged coastal path with Jersey's inland greenery and second-largest reservoir.
---
Our final day of walking explores the south-east corner of the island, including the dramatic headland of La Corbière with its iconic lighthouse flanked by rocks and reached via a causeway.
Option 1 - St Brelade to St Aubin via Corbière
Distance: 6.4 miles (10.3 km)
Ascent: 700 feet (215 m)
In Summary: A short transfer takes us to St Brelade Church where our first day's walk finished.  We follow the Coast Path above Beau Port and past the island's prison at La Moye to reach the south-west tip of the island at Corbière.  If tidal conditions permit, we can walk out across the causeway to the lighthouse itself (additional 1 mile/1.5 km).  We then return to St Aubin and our hotel using the tree-lined footpath which follows the old Corbière railway line.
Highlight: Striking views of Corbière Lighthouse, the most photographed spot in Jersey.
Option 2 – St Brelade to St Aubin via Corbiere & Les Quennevais Dunes
Distance: 8 miles (12.5 km)
Ascent: 900 feet (275 m)
In Summary: Beginning in St Brelade, we follow the Coast Path to reach the south-west tip of the island at Corbière with spectacular views of the lighthouse and the chance to cross the causeway to reach it, if tidal times permit (additional 1 mile/1.5 km). From here our walk continues on the Coast Path past La Pulente to Le Braye. We then head inland across Le Quennevais dunes, considered to be the fourth richest in Europe for flowering plant life, and pass a Neolithic standing stone sometimes known as La Dame Blanche. Finally we join the Corbière Trail following the old railway line back to St Aubin and our hotel.
Highlight: Exploring the sand dunes at Le Quennevais, known as Les Blanches Banques, one of the ten largest single dune systems in the British Isles and home to a large variety of scarce insects.
---
Enjoy a leisurely breakfast before making your way home. We have arranged transfers for you to be taken to the airport to catch your flight.
---
Somerville Hotel
The family-owned 4-star Somerville Hotel is a delightful country house hotel, nestled in the hillside overlooking the quaint village of St Aubin. Enjoying fabulous views over the harbour and across the bay to Elizabeth Castle, the hotel is a great base for our walking holiday with nearby access to public transport to explore on your free day. You will find friendly service and all the modern conveniences to make your holiday comfortable. Tides restaurant focuses on top-quality food using seasonal ingredients, and the Voyager lounge and bar offer a stylish and relaxing environment to enjoy a glass of something delicious. The hotel is set in lush gardens and has an outdoor swimming pool (heated mid-May to mid-September). Rooms have been recently refurbished and have tea and coffee making facilities, hairdryer, bathrobes, toiletries, TV and Wi-Fi.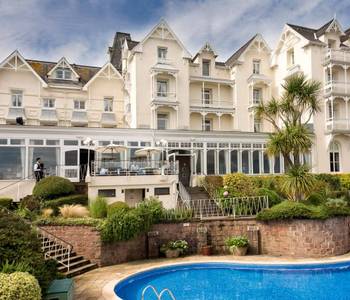 Getting to Somerville Hotel
Find out more about this location including travel details and room types.
More Information
Essential Information
Essential Equipment
To enjoy walking/hiking comfortably and safely, footwear, clothing and equipment need to be suitable for the conditions. Safety and comfort are our priorities, so our advice is to come prepared for all eventualities.
Footwear with a good grip on the sole (e.g.Vibram sole) is the key to avoiding accidents
Waterproof walking/hiking boots providing ankle support and good grip are recommended (ideally worn in), and specialist walking socks to avoid blisters.
Several layers of clothing, which can be added or removed, are better than a single layer (include spares)
Fabrics (lightweight and fast-drying) designed for the outdoors are recommended
Waterproof jacket and waterproof over trousers
Warm hat and gloves. Gaiters are an optional but useful extra
Denim jeans and capes are not suitable on any walks
Rucksack with a waterproof liner
Thermos flask for a hot drink
Water bottle (at least 1 litre)
Spare high-energy food such as a chocolate bar
Small torch
First aid kit – your leader's first aid kit doesn't contain any medication or blister kits (such as Compeed)
Optional Equipment
Walking poles are useful, particularly for descents
Insect repellent and a midge hood is highly recommended for Scotland
Sun hat
Sunglasses
Sun cream
Camera
All holidays are subject to availability. Prices are subject to change.
Prices based on two people sharing. Supplements may apply.
Non-member fee: £30 per person.


These departure dates can be booked with flights or as land only holiday options. All packages that include flights are ATOL protected. Advertised flight prices are based on UK flights departing from London. Regional departures and/or connections to London, if available, can be requested. Cabin upgrades may also be available on request.
Date (Start - End)
Itinerary
Double / Twin Room
Single Room
Notes / Offers
Trip Notes
Book
2023

15 Apr - 22 Apr 2023

7 nights

Guided Walking

Single from

£1,853 £1,793

Double from

£1,559 £1,499 pp

from

£1,559 £1,499 pp

from

£1,853 £1,793

Save £60 pp

Trip Notes

Book Now

03 Jun - 10 Jun 2023

7 nights

Guided Walking

Single from

£2,123 £2,063

Double from

£1,759 £1,699 pp

from

£1,759 £1,699 pp

from

£2,123 £2,063

Save £60 pp

Trip Notes

Book Now

02 Sep - 09 Sep 2023

7 nights

Guided Walking

Single from

£2,123 £2,063

Double from

£1,759 £1,699 pp

from

£1,759 £1,699 pp

from

£2,123 £2,063

Save £60 pp

Trip Notes

Book Now
Date (Start - End)
Itinerary
Double / Twin Room
Single Room
Notes / Offers
Trip Notes
Book
2023

15 Apr - 22 Apr 2023

7 nights

Guided Walking

Single from

£1,693 £1,633

Double from

£1,399 £1,339 pp

from

£1,399 £1,339 pp

from

£1,693 £1,633

Save £60 pp

Trip Notes

Book Now

03 Jun - 10 Jun 2023

7 nights

Guided Walking

Single from

£1,963 £1,903

Double from

£1,599 £1,539 pp

from

£1,599 £1,539 pp

from

£1,963 £1,903

Save £60 pp

Trip Notes

Book Now

02 Sep - 09 Sep 2023

7 nights

Guided Walking

Single from

£1,963 £1,903

Double from

£1,599 £1,539 pp

from

£1,599 £1,539 pp

from

£1,963 £1,903

Save £60 pp

Trip Notes

Book Now
Important Information
Double room for sole occupancy: From: £294 (complete holiday)
With flight holidays: Flights from London Gatwick included