Italy's second largest lake after Lake Garda, the shimmering Lake Maggiore is adored for its beautiful scenery, delicious food, and postcard-worthy towns. Highlights include taking lakeside strolls around Cannero and Cannobio, discovering the picturesque streets of Orta San Giulio, and venturing to the foothills of Mount Rosa and the Anzasca Valley. You can also take an optional boat ride to the Borromean Islands, the most famous of which is the enchanting Isola Bella, which translates as 'beautiful island.'
What you'll love
Visiting the Cannero Riviera and Cannobio
Discovering Lake Orta
Walking in the foothills of Monte Rosa, one of Italy's highest mountains
The option to take a train to Milan or a boat to the Borromean Islands
What's included
Full programme of guided walks led by local HF Holidays Leaders
HF Holidays Tour Manager
Comfortable accommodation
Half-board (breakfast and evening meal)
All sightseeing and entrance fees (as per itinerary)
Air-conditioned transport
Return flights from the UK including hold baggage and airport transfers
Trip Notes
Easy to download as a PDF, our trip notes provide detailed information for every holiday. Please click below to find the trip notes for your departure date.
All our carefully-curated itineraries are designed by our experts. While we make every effort to adhere to the described itinerary, we may take alternative routes or adapt the running order for weather and/or operational reasons.
Welcome to the Hotel Pesce d'Oro. Once you arrive, settle in and get acquainted with where you'll stay for the week.
---
Known locally as the chestnut route, this walk starts in a small lakeside village south of Stresa. Hop in a boat and we'll sail across the lake to Belgirate. Then following old mule trails, we'll pass by pretty churches, small hamlets, and the gardens of Villa Pallavicino on our way back to Stresa.
Option 1  Chestnut Walk
Distance: 5 miles (8km)
Ascent: 800ft (240m)
Descent: 900ft (280m)
From the shore, we'll walk up to the Romanesque church of Santa Maria to see the views and the frescoes. Then following a mule track, you'll see how farming used to be before we arrive at the church of Saint Paolo. Step through a chestnut forest, passing the ruins of Sanin Albino, to the village of Passera and the gardens of Villa Pallavicino.
Option 2 Chesnut Walk via Calogna
Distance: 7½ miles (12km)
Ascent: 1,300ft (400m)
Descent: 1,150ft (360m)
Taking the same route as option one until the church of Saint Paolo, we'll then venture off on another mule trail uphill to the hamlet of Calogna. Crossing moorland to a beech forest, we'll pass by old shepherd huts while glimpsing the lake down below. Once we reach the village of Magognino, we'll start descending through Passera to the gardens of Villa Pallavicino.
---
Option 1 Suna to Cavandone
Distance: 4miles (6.5km)
Ascent: 900ft (260m)
Descent: 1,150ft (360m)
We'll take the bus to Suna from where we'll follow an ancient trail past the chestnut wood and medieval tower, climbing further for impressive views of Lake Maggiore below. At Cardavone, you'll see a 400-year-old yew tree.
Option 2 Lake Mergozzo
Distance: 7½miles (12km)
Ascent: 1,200ft (360m)
Descent: 1,200ft (360m)
We'll take the train to Verbania to set off on a path that hugs the eastern shore, passing through chestnut woods and meadows that open out onto views over Lake Mergozzo. Stop for lunch in Mergozzo before taking the Sentiero Azzuro (Blue Path), pausing at Montorfano for far-reaching views of Lake Maggiore and the Toce River. We'll visit the Romanesque church before descending to Verbani where we'll catch the train back.
---
We'll head north to the town of Cannero Riviera. The village may have a slightly more Swiss feel, but the flora is distinctly Mediterranean thanks to the area's microclimate.
Option 1 Cannero to Cannobio
Distance: 5½miles (9km)
Ascent: 1,200ft (360m)
Descent: 1,200ft (360m)
Following the lakeside, the path begins to climb gently through citrus groves to Carmine Superiore, a castle-like village carved out of the rock. Visit the church before continuing to the tiny hamlet of Molineggi and the pretty lakeside town of Cannobio. Time to relax with a well-deserved drink in one of the bars.
Option 2 Cannero to Cannobio
Distance: 7½miles (12km)
Ascent: 1,700ft (540m)
Descent: 1,650ft (500m)
After leaving Cannero, we'll follow a short, steep descent mixing small country roads and mule tracks to the village of Viggiona. The views of the lake are spellbinding, and you can enjoy exploring the maze of small lanes and coloured houses. We'll stay on a ridge gently ascending to Molineggi - once a milling area for rye - passing shepherds' huts down into Cannobio for a drink.
---
There are plenty of things to see and do, from relaxing at the hotel pool, to taking the train to Milan, or jumping on a boat to visit the Borromean Islands. You could even head to Switzerland for the day on the boat and take the train back.
---
Today we head over to Lake Maggiore's little sister, Lake Orta. Both walks start in the hills above the lake and finish in Orta San Giulio, one of the most beautiful towns in Italy.
Option 1 Armeno to Orta San Guilio
Distance: 6miles (9km)
Ascent: 450ft (140m)
Descent: 1,150ft (360m)
We'll start in the town of Armeno following trails through farms and meadows, crossing a Roman bridge, and entering another village called Armeno. We'll head down through lush parkland to Vacciago, once a rich retreat away from the lake. We'll descend to Legro and from here to the lake with time to explore Orta San Giulio.
Option 2 Armeno to Orta San Guilio
Distance: 8½miles (14km)
Ascent: 700ft (220m)
Descent: 1,450ft (460m)
Following option one from Armeno to Armeno, we then ascend to Monte Mesma and the Franciscan convent of the same name. We'll get a wonderful view of Lake Orta, then after circling the small peak we'll head down into the village of Vacciago and onto the painted village of Legro. A final descent takes us to Orta San Guilio with time to explore.
---
Today we head into the mountains and the Anzasca Valley to Macunaga, home to the Walser people. This small region still has its own language and keeps to its historic traditions. After both walks, we'll take you to the village of Macunaga sitting below Mount Rosa.
Option 1 Piedimulera to Castiglione
Distance: 3½miles (6km)
Ascent: 1,250ft (380m)
Descent: 500ft (160m)
We start in the pretty village of Piedimulera, which sits at the mouth of the Anzasca Valley looked over by Torre Ferreiro. Our path takes us out of town, through the valley, following the course of the Anza river. Passing chestnut woods, fruit trees, and old watercourses, we'll see ancient settlements and traces of old trades. We'll finish in the hamlet of Castiglione before heading to the Walser village of Macunaga.
Option 2 Piedimulera to Molini
Distance: 6 miles (10km)
Ascent: 1,850ft (560m)
Descent: 1,100ft (340m)
From Piedimulera we'll follow the same route as option one. After the village of Castiglione, we'll head along the valley and into the deep forested hills as we follow the old road with occasional glimpses of the cobalt blue torrent. We soon enter the outskirts of the village of Molini, which clings to the hillside flanked by the river. Finally, we'll have time to explore Macunaga.
---
We'll leave for Milan and our flight back home.
---
Hotel Pesce d'Oro
Run by the Piazza family for 40 years, Hotel Pesce d'Oro offers a warm, relaxed, family atmosphere in a prime location. Just a few steps from the beach on the Verbania-Suna lake promenade, it's perfectly situated for beautiful views of the Borromean Gulf and is less than a mile from Pallanza where boat trips to the Borromean Islands depart. The hotel has 57 bright-and-airy rooms with all mod cons, as well as an outdoor terrace, a bar, and a restaurant.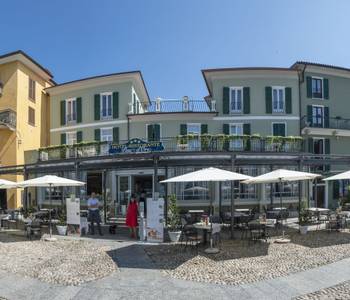 Getting to Hotel Pesce d'Oro
Find out more about this location including travel details and room types.
More Information
Essential information
It's best to be prepared for all weather conditions. To make it easier, here is a list of items you should consider packing.   
Essentials  
Walking boots 
Waterproof jacket 
Waterproof trousers 
Insulated jacket/top 
Walking clothing  
Walking socks (plus spares)  
Sunhat 
Gloves/mitts and warm hat
Water bottle (minimum 2 litre capacity)  
Headtorch 
High-factor sunscreen (minimum SPF 30)  
Sunglasses with a dark lens 
Rucksack (15-30 litres)  
Mobile phone 
Personal first aid kit (containing your medication, blister plasters, etc.) 
Passport 
Visa (if applicable) 
Copy of your travel insurance policy 
UK Global Health Insurance Card (formerly known as EHIC) 
Recommended
Collapsible walking poles 
Swimwear and travel towel
Snacks
Dry bags
Rubbish bags
Insect repellent
Optional extras
Camera 
Sit mat
Flask for hot drinks 
Durable lunch box
Gaiters 
GPS device 
All holidays are subject to availability. Supplements may apply.

Non-member fee: £30 per person.
All packages that include flights are ATOL protected. Advertised prices listed below show the lowest economy flight price option for that departure. On holidays where we offer local UK airports, details will appear in the "Important Information" section below and available alternative flight options will be offered when you book. Seating upgrades may be available on request and at an additional charge, please call 020 3974 8865 for a quote.


Date (Start - End)
Itinerary
Double / Twin Room
Single Room
Notes / Offers
Trip Notes
Book
2024

27 Apr - 04 May 2024

7 nights

Itinerary Flight from London Heathrow Airport

Double from

£1,399 pp

from

£1,399 pp

from

£1,574

Trip Notes

Book Now

04 May - 11 May 2024

7 nights

Itinerary Flight from London Heathrow Airport

Single Call to Enquire

Double Call to Enquire

Call to Enquire
Call to Enquire

Trip Notes

11 May - 18 May 2024

7 nights

Itinerary Flight from London Heathrow Airport

Single Call to Enquire

Double from

£1,429 pp

from

£1,429 pp

Call to Enquire

Trip Notes

Book Now

18 May - 25 May 2024

7 nights

Itinerary Flight from London Heathrow Airport

Single from

£1,604 £1,504

Double from

£1,429 £1,329 pp

from

£1,429 £1,329 pp

from

£1,604 £1,504

Save £100 Per Person

Trip Notes

Book Now

07 Sep - 14 Sep 2024

7 nights

Itinerary Flight from London Heathrow Airport

Double from

£1,529 pp

from

£1,529 pp

from

£1,704

Trip Notes

Book Now

14 Sep - 21 Sep 2024

7 nights

Itinerary Flight from London Heathrow Airport

Double from

£1,499 pp

from

£1,499 pp

from

£1,674

Trip Notes

Book Now

21 Sep - 28 Sep 2024

7 nights

Itinerary Flight from London Heathrow Airport

Single Call to Enquire

Double Call to Enquire

Call to Enquire
Call to Enquire

Trip Notes

28 Sep - 05 Oct 2024

7 nights

Itinerary Flight from London Heathrow Airport

Single Call to Enquire

Double from

£1,459 pp

from

£1,459 pp

Call to Enquire

Trip Notes

Book Now

05 Oct - 12 Oct 2024

7 nights

Itinerary Flight from London Heathrow Airport

Double from

£1,429 pp

from

£1,429 pp

from

£1,604

Trip Notes

Book Now
Date (Start - End)
Itinerary
Double / Twin Room
Single Room
Notes / Offers
Trip Notes
Book
2024

27 Apr - 04 May 2024

7 nights

Itinerary

Double from

£1,259 pp

from

£1,259 pp

from

£1,434

Trip Notes

Book Now

04 May - 11 May 2024

7 nights

Itinerary

Single Call to Enquire

Double Call to Enquire

Call to Enquire
Call to Enquire

Trip Notes

11 May - 18 May 2024

7 nights

Itinerary

Single Call to Enquire

Double from

£1,299 pp

from

£1,299 pp

Call to Enquire

Trip Notes

Book Now

18 May - 25 May 2024

7 nights

Itinerary

Single from

£1,474 £1,374

Double from

£1,299 £1,199 pp

from

£1,299 £1,199 pp

from

£1,474 £1,374

Save £100 Per Person

Trip Notes

Book Now

07 Sep - 14 Sep 2024

7 nights

Itinerary

Double from

£1,359 pp

from

£1,359 pp

from

£1,534

Trip Notes

Book Now

14 Sep - 21 Sep 2024

7 nights

Itinerary

Double from

£1,329 pp

from

£1,329 pp

from

£1,504

Trip Notes

Book Now

21 Sep - 28 Sep 2024

7 nights

Itinerary

Single Call to Enquire

Double Call to Enquire

Call to Enquire
Call to Enquire

Trip Notes

28 Sep - 05 Oct 2024

7 nights

Itinerary

Single Call to Enquire

Double from

£1,299 pp

from

£1,299 pp

Call to Enquire

Trip Notes

Book Now

05 Oct - 12 Oct 2024

7 nights

Itinerary

Double from

£1,259 pp

from

£1,259 pp

from

£1,434

Trip Notes

Book Now
Important information
With flights holidays: Price includes return flights to Milan Malpensa Airport, hold baggage and airport transfers
Regional flights: Please click BOOK NOW to view alternative UK airport options
Our airport taxi service operates at this resort – price available on request
Independent travellers can join our transfer from Milan Malpensa: £39pp one way