Nicknamed the "green heart of Italy" for good reason, Umbria rewards with stunning landscapes, deep green valleys, cloud-shrouded mountains, and plentiful Roman and Etruscan towns that set the scene for some incredible walks. Highlights include our hotel location in Assisi within easy access of the Basilica of St Francis sampling wine in Montefalco, and admiring the Bridge of Towers - a colossal structure measuring over 236 metres long and some 80 metres high.
What you'll love
Discovering Assisi, birthplace of St Francis
Getting a taste for Umbrian wine in Montefalco
Walking through vineyards, olive groves, and woodlands
Climbing to the treeline of Mount Subasio, known as the holy mountain
Admiring the Bridge of Towers, a feat of engineering
Staying at a traditional, family run hotel just minutes from the centre of Assisi
What's included
Full programme of guided walks led by local HF Holidays Leaders
HF Holidays Tour Manager
Comfortable accommodation
Breakfast every morning plus 6 dinners and 5 packed lunches
Wine tasting experience
All transport to and from the walks
Return flights from the UK including hold baggage and airport transfers
Trip Notes
Easy to download as a PDF, our trip notes provide detailed information for every holiday. Please click below to find the trip notes for your departure date.
All our carefully-curated itineraries are designed by our experts. While we make every effort to adhere to the described itinerary, we may take alternative routes or adapt the running order for weather and/or operational reasons.
Transfer to your hotel. Welcome drink and meeting followed by dinner.
---
Our first full day is an introduction to the postcard-pretty town of Assisi. We'll follow in the footsteps of St Francis and explore the footpaths of Mount Subasio - Italy's so-called holy mountain.
Option 1 - The Forest of St Francis
Distance: 6.5 miles (10km)
Ascent: 1,950ft (600m)
Leaving the hotel we'll head into the woods of St Francis, following the ancient rocky path below the Basilica of St Francis.
Option 2 - Mount Subasio
Distance: 10 miles (16km)
Ascent: 3,150ft (960m)
Today's harder walk takes us into the foothills of Monte Subasio, known as the holy mountain. The scenery changes as you go from town to forest to meadows, full of flowers in spring. After taking in the views from the treeline, we descend on a different path back into the town. 
---
Starting in the walled medieval town of Bevagna, we'll set off through the vineyards to Umbria's wine capital, Montefalco - most famous for its Sagrantino red wine.
Option 1 - Bevagna to Montefalco
Distance: 5 miles (8km)
Ascent: 1,200ft (400m)
Take some time to explore Bevagna before following a series of tracks through olive groves and criss-crossing the vineyards for views of the valley. We'll climb into the medieval walled town of Montefalco, where you'll get time to explore this beautiful town known as the balcony of Umbria, and of course the chance to buy and taste its famous wines.
Option 2 - Bevagna Circular via Montefalco
Distance: 10 miles (16km)
Ascent: 1,730ft (530m)
After discovering Bevagna, we'll climb out of town to follow a ridge passing through vineyards, tiny hamlets, and pretty chapels whilst taking in the views. Rest up in Montefalco, where you can sample a glass of local wine at one of the cafes before setting off on a lower trail through the vineyards back to Bevagna.
---
Each week there is a free day when no guided walks are offered. This is an ideal opportunity to relax around the hotel, walk independently, or visit local places of interest. Options include:
Spello
You could easily spend the day enjoying Spello. Explore its warren of medieval streets and visit the church of Santa Maria Maggiore to admire frescoes painted by Pinturicchio, Umbria's most famous artist.
Perugia
Alternatively, take the train to the region's capital, Perugia, and head up to the hilltop viewpoint - on a clear day you can see Lake Trasimeno. Explore the subterranean Etruscan temple and wander the traffic-free streets to Piazza V Novembre with its gothic cathedral and impressive fountain. There's no dinner provided on this day so you could have a large lunch in Perugia or head to one of the many restaurants in Spello.
---
This morning our walks depart directly from the hotel and follow the St Francis Way on Monte Subasio to the town of Spello.
Option 1 - Lower Route to Assisi
Distance: 7.5 miles (12km)
Ascent: 1,200ft (455m)
Descent: 1,739ft (530m)
Leaving Assisi, we stick to the lower trail along Monte Subasio where there are fantastic views over the Umbra Valley. Making our way through vineyards and olive groves to Spello, we'll eventually pass behind Villa Fidelia – a grand Baroque manor complete with exotic gardens and expansive grounds.
Option 2 - Higher Route to Assisi
Distance: 9 miles (15km)
Ascent: 2,790ft (850m)
Descent: 2,790ft (850m)
This is our hardest option of the week but certainly worth the effort. As you climb the foothills of Monte Subasio the views over the Umbra Valley are jaw-dropping. We'll pass by the ornate Abbey of San Benedetto before dropping down into Spello.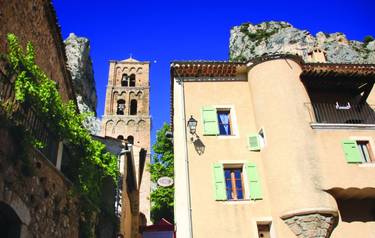 ---
The ancient hillside town of Spoleto is our destination today.  Explore the town's grand viaduct and Roman amphitheatre with two different walking options.
Option 1 – Monteluco and the Bridge of Towers
Distance: 4.5 miles (7.2km)
Ascent: 1,476 ft (450m)
Leaving Spoleto behind we cross the Bridge of Towers, climbing through forested trails to Monteluco. This peaceful woodland, encircled by meadows, is where the rich of Spoleto once holidayed. Today it's a tranquil spot, where you can picnic and enjoy the peace and quiet. We'll take a different trail back down to Spoleto where there will be free time to explore the town.
Option 2 - Monteluco and the St Francis Way
Distance: 7.5 miles (12km)
Ascent: 1,673 ft (510m)
Heading south out of Spoleto, we climb steeply through the Sacred Wood of Monteluco, following the St Francis Way to Monteluco and Le Aie. We'll encounter dense forests overlooking glittering rivers before making our descent back into Spoleto
---
Today's walks leave from the hotel passing the impressive Porta Montanara. Follow the course of an ancient viaduct to climb above Spello into the olive groves for views of Monte Subasio and Vale of Spoleto. Tonight's farewell dinner includes a wine tasting and is held in a local enoteca.
Option 1 - To Collepino and Back
Distance: 7 miles (11km) 
Ascent: 1,500ft (470m) 
After passing the Porta Montanara, we follow the ancient aqueduct that fed water to the town. Admire the views across the valley as you walk through olive-laden fields and onto the pretty village of Collepino. From here you head downhill following a section of the Olive Trail to Spello.
Option 2 - Collepino and Foothills of Subasio
Distance: 8.5 miles (13.5km)
Ascent: 2,200ft (700m)
Following the same route as option one to the village of Collepino, you then climb to circle Monte Pietrolungo passing through olive orchards, before taking the Olive Trail back into Spello.
---
It's the final day – we'll depart for Rome Airport, which is about a three-hour drive away. 
---
Hotel La Terrazza
Surrounded by eye-pleasing views of the countryside and yet just 900m from the historic centre of Assisi, the Hotel La Terraza is an ideal base for exploring Umbria. Rooms are simple yet comfortable and come with all mod cons including Wi-Fi and air conditioning. As for facilities, the hotel boasts an outdoor swimming pool, a spacious restaurant serving local food and wine, and a full spa - perfect for indulging in post-walk relaxation or a treatment.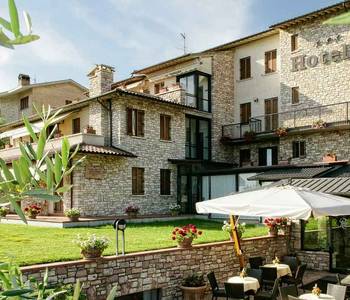 Getting to Hotel La Terrazza
Find out more about this location including travel details and room types.
More Information
Essential information
It's best to be prepared for all weather conditions. To make it easier, here is a list of items you should consider packing.   
Essentials  
Walking boots 
Waterproof jacket 
Waterproof trousers 
Insulated jacket/top 
Walking clothing  
Walking socks (plus spares)  
Sunhat 
Gloves/mitts and warm hat
Water bottle (minimum 2 litre capacity)  
Headtorch 
High-factor sunscreen (minimum SPF 30)  
Sunglasses with a dark lens 
Rucksack (15-30 litres)  
Mobile phone 
Personal first aid kit (containing your medication, blister plasters, etc.) 
Passport 
Visa (if applicable) 
Copy of your travel insurance policy 
UK Global Health Insurance Card (formerly known as EHIC) 
Recommended
Collapsible walking poles 
Swimwear and travel towel
Snacks
Dry bags
Rubbish bags
Insect repellent
Optional extras
Camera 
Sit mat
Flask for hot drinks 
Durable lunch box
Gaiters 
GPS device 
All holidays are subject to availability. Supplements may apply.

Non-member fee: £30 per person.
All packages that include flights are ATOL protected. Advertised prices listed below show the lowest economy flight price option for that departure. On holidays where we offer local UK airports, details will appear in the "Important Information" section below and available alternative flight options will be offered when you book. Seating upgrades may be available on request and at an additional charge, please call 020 3974 8865 for a quote.


Date (Start - End)
Itinerary
Double / Twin Room
Single Room
Notes / Offers
Trip Notes
Book
2024

27 Apr - 04 May 2024

7 nights

Itinerary Flight from London Heathrow Airport

Single from

£1,788 £1,663

Double from

£1,599 £1,474 pp

from

£1,599 £1,474 pp

from

£1,788 £1,663

Save £125 Per Person

Trip Notes

Book Now

04 May - 11 May 2024

7 nights

Itinerary Flight from London Heathrow Airport

Single from

£1,988 £1,888

Double from

£1,799 £1,699 pp

from

£1,799 £1,699 pp

from

£1,988 £1,888

Save £100 Per Person

Trip Notes

Book Now

11 May - 18 May 2024

7 nights

Itinerary Flight from London Heathrow Airport

Single from

£1,848 £1,748

Double from

£1,659 £1,559 pp

from

£1,659 £1,559 pp

from

£1,848 £1,748

Save £100 Per Person

Trip Notes

Book Now

18 May - 25 May 2024

7 nights

Itinerary Flight from London Heathrow Airport

Single from

£1,848 £1,748

Double from

£1,659 £1,559 pp

from

£1,659 £1,559 pp

from

£1,848 £1,748

Save £100 Per Person

Trip Notes

Book Now

07 Sep - 14 Sep 2024

7 nights

Itinerary Flight from London Heathrow Airport

Single from

£1,888 £1,788

Double from

£1,699 £1,599 pp

from

£1,699 £1,599 pp

from

£1,888 £1,788

Save £100 Per Person

Trip Notes

Book Now

14 Sep - 21 Sep 2024

7 nights

Itinerary Flight from London Heathrow Airport

Single from

£1,888 £1,788

Double from

£1,699 £1,599 pp

from

£1,699 £1,599 pp

from

£1,888 £1,788

Save £100 Per Person

Trip Notes

Book Now

21 Sep - 28 Sep 2024

7 nights

Itinerary Flight from London Heathrow Airport

Single from

£1,888 £1,788

Double from

£1,699 £1,599 pp

from

£1,699 £1,599 pp

from

£1,888 £1,788

Save £100 Per Person

Trip Notes

Book Now

28 Sep - 05 Oct 2024

7 nights

Itinerary Flight from London Heathrow Airport

Single from

£1,888 £1,788

Double from

£1,699 £1,599 pp

from

£1,699 £1,599 pp

from

£1,888 £1,788

Save £100 Per Person

Trip Notes

Book Now
Date (Start - End)
Itinerary
Double / Twin Room
Single Room
Notes / Offers
Trip Notes
Book
2024

27 Apr - 04 May 2024

7 nights

Itinerary

Single from

£1,648 £1,523

Double from

£1,459 £1,334 pp

from

£1,459 £1,334 pp

from

£1,648 £1,523

Save £125 Per Person

Trip Notes

Book Now

04 May - 11 May 2024

7 nights

Itinerary

Single from

£1,688 £1,588

Double from

£1,499 £1,399 pp

from

£1,499 £1,399 pp

from

£1,688 £1,588

Save £100 Per Person

Trip Notes

Book Now

11 May - 18 May 2024

7 nights

Itinerary

Single from

£1,668 £1,568

Double from

£1,479 £1,379 pp

from

£1,479 £1,379 pp

from

£1,668 £1,568

Save £100 Per Person

Trip Notes

Book Now

18 May - 25 May 2024

7 nights

Itinerary

Single from

£1,668 £1,568

Double from

£1,479 £1,379 pp

from

£1,479 £1,379 pp

from

£1,668 £1,568

Save £100 Per Person

Trip Notes

Book Now

07 Sep - 14 Sep 2024

7 nights

Itinerary

Single from

£1,688 £1,588

Double from

£1,499 £1,399 pp

from

£1,499 £1,399 pp

from

£1,688 £1,588

Save £100 Per Person

Trip Notes

Book Now

14 Sep - 21 Sep 2024

7 nights

Itinerary

Single from

£1,688 £1,588

Double from

£1,499 £1,399 pp

from

£1,499 £1,399 pp

from

£1,688 £1,588

Save £100 Per Person

Trip Notes

Book Now

21 Sep - 28 Sep 2024

7 nights

Itinerary

Single from

£1,688 £1,588

Double from

£1,499 £1,399 pp

from

£1,499 £1,399 pp

from

£1,688 £1,588

Save £100 Per Person

Trip Notes

Book Now

28 Sep - 05 Oct 2024

7 nights

Itinerary

Single from

£1,688 £1,588

Double from

£1,499 £1,399 pp

from

£1,499 £1,399 pp

from

£1,688 £1,588

Save £100 Per Person

Trip Notes

Book Now
Important information
With flights holidays: Price includes return flights to Rome Fiumicino International Airport, hold baggage and airport transfers
Our airport taxi service operates at this resort – price available on request