For walkers seeking peace and tranquillity, few places can compare to Rondane National Park. This pristine Scandinavian wilderness became Norway's first national park in 1962 and it's easy to see why. Moss-covered mountain plateaus give way to deep valleys and plummeting waterfalls, while high peaks and lakes provide a scenic backdrop for hiking trails. Highlights include a walk over Venabygdsfjellet for knockout views over the park and trekking a section of the Peer Gynt Trail to take in typical Norwegian farmsteads, forests, and lakes.
What you'll love
Exploring Norway's oldest national park, Rondane
Walking scenic trails along Søre Vola, Venabygdsfjellet, and Ringebufjellet
Tasting typical Norwegian food
Looking out for huge herds of reindeer
Enjoying a free day in Lillehammer
Staying at a family-run, eco-certified 'fjellhotell' on Venabygdsfjellet
What's included
Full programme of guided walks led by local HF Holidays Leaders
Full-board accommodation*
Two guided walking options per day
All in-destination transport
Free day with transfer to local train station
International flights to Oslo Gardermoen

Return flights from the UK including hold baggage and airport transfers


* Lunches are made up using breakfast items (this is standard in DNT huts and Fjellstues in Norway)
Trip Notes
Easy to download as a PDF, our trip notes provide detailed information for every holiday. Please click below to find the trip notes for your departure date.
All our carefully-curated itineraries are designed by our experts. While we make every effort to adhere to the described itinerary, we may take alternative routes or adapt the running order for weather and/or operational reasons.
Fly to Oslo, then transfer to Venabu, which takes around three hours with a stop off at Brumunddal. Arrive at the hotel for a welcome meeting and briefing with the guides (depending on arrival times).
---
Walks on Venabygdsfjellet will help orientate us and provide good views of Rondane National Park.
Option 1 - Veslefjellet and Dørfallet waterfall
Distance: 6 miles (10km)
Ascent: 885 feet (270m)
From the hotel, we'll walk out to the dramatic canyon and Dørfallet waterfall, passing the summer farm of Mysætrin. Our route then takes us over the small peak of Veslefjellet, which gives us great views of the Venabygdsfjellet plateau and surrounding hills. We'll visit the DNT (Norwegian Trekking Association) cabin, Veslefjellbua, on our way back for a short transfer back to the hotel.
Option 2 - Svartfjellet
Distance: 9 miles (15km)
Ascent: 1210 feet (370m)
A 10-minute transfer by minibus takes us to the start of our walk at Holtersætra, a summer farm with an infamous past. We'll hike up over the craggy peak of Svartfjellet for extensive views over Venabygdsfjellet and beyond. Our walk is a loop which brings us along Flaksjøen, the largest lake in the area, and back to the hotel.
---
This expansive landscape is wild, rocky, and covered in reindeer 'moss'. You might be lucky enough to see reindeer from afar.
Option 1 - Ringebufjellet
Distance: 5 miles (8km)
Ascent: 660 feet (220m)
Our walk takes in some of the small peaks above Ringebufjellet. The views are fantastic - to the west are the peaks and glaciers of the Jotunheimen, to the north Dovrefjell, and the Rondane National Park.
Option 2 - Rondane Trail
Distance: 10 miles (17km)
Ascent: 1210 feet (370m)
This hike takes us on a journey through breathtaking landscape and back to the hotel. We'll follow the marked "T" trail that connects the DNT cabins of Jammerdalsbua and Veslefjellbua. This is a section of the long-distance Rondane Trail.
---
The mountains of Norway's Peer Gynt region are ideal for walking the cross-country skiing trails.
Option 1- Peer Gynt Trail
Distance: Both viewpoints - 8 miles (13km)/ One viewpoint - 6.5 miles (11km)
Ascent: 820 feet (250m)
We'll walk along the Peer Gynt Trail from Vendalen to Fagerhøy taking in the viewpoints of Vendalshøgda and Kantaliaknappen on the way. This walk takes us through a gentle, open mountain landscape of summer farms. We'll visit two small tops with extensive northerly views to the Rondane, Dovrefjell, and Jotunheimen national parks.
Option 2 - Gråkampen
Distance: 9 miles (15km)
Ascent: 1280 feet (390m)
This circular route takes in the top, Gråkampen, with views south towards Kvitfjell and beyond. On our return, we'll visit the peaceful lake of Storrøgna and head along the Peer Gynt Trail. You can also add the bonus top of Dørdalsknappen, an extra 100m ascent and 2km.
---
Transfers are available to Ringebu railway station (20 minutes by minibus) if you'd like to visit Lillehammer. Maihaugan Open-Air Museum is a great option to understand more of Norwegian culture and heritage.
Or Visit Ringebu Stave Church, which dates back to around 1220, and IS one of 28 remaining in Norway today. The vicarage also hosts an art gallery and new exhibitions each summer, plus its garden has been carefully restored with heritage varieties of roses, fruits, and vegetables. Combined tickets are available (not included) and we can arrange transport here if needed.
---
One of the oldest National Parks in Norway.
Option 1: Søre Vola, Atnabrua, and Sohlbergplassen
Distance: 5 miles (8km)
Ascent: 720 feet (220m) (this walk can easily be extended to Midtvola, adding 4km and 60m ascent)
This walk takes us to Søre Vola for magnificent views of the peaks in the Rondane National Park. We'll walk through Scots pine forest, passing pretty lakes, and up onto a grassy top with fantastic views over Atnasjøen and the Rondane. From there we'll descend to Atnabrua where there are restored water-workings on Atnabrufossen. We can visit Sohlbergplassen, the classic viewpoint for the Rondane and the inspiration for Harald Sohlberg's "Winter Night in the Rondane", one of Norway's most loved paintings.
Option 2 - Bjørnhollia DNT cabin and Sohlbergplassen
Distance: 9 miles (15 km)
Ascent: 885 feet (270m)
We'll walk from Straumbu through the pine forest to the picturesque DNT cabin of Bjørnhollia where we can stop for refreshments. We'll continue along a track under Langluppdalen before plunging once more into the forest and returning to our starting point. There are a lot of moose in this area and you might be lucky enough to catch sight of one.
---
Venabygdsfjellet is a beautiful alpine plateau surrounded by dense peaks that create a special internal microclimate.
Option 1 - Svarthammaren and Flaksjølia
Distance: 6.5 miles (11km)
Ascent: 1080 feet (330m)
From Spidsbergseter, a steady ascent takes us past summer farms and up onto Svarthammaren where the views out towards the Rondane peaks are stunning. We'll walk past small mountain lakes to the top of Flaksjølihøgda for views over the largest lake on the plateau, Flaksjøen. From here we'll descend into rocky Kvandalen before a short climb gives us further views of Svartfjell and the Jotunheimen in the far distance. We'll return above the lake shore through more summer farms.
Option 2 - Muvatnet to Spidsbergseter via Svarthammaren and Flaksjølihøgda
Distance: 9 miles (15km)
Ascent: 1345 feet (410m)
A short transfer takes us out to Muvatnet and the start of our hike. Walking above the lake, we'll head into a rocky pass to visit ancient reindeer traps. These prehistoric pitfalls were built by the hunters who followed animals into the mountains after the last ice age. Our walk then continues above Bølvatnet and up onto Svarthammaren where spectacular views open out. We'll then join the route taken by the day's shorter hike.
---
Depart Venabu via private transfer to Oslo Gardermoen and connecting international flights.
---
Venabu Fjellhotell, Venabygd
This family-run 'fjellhotell' has everything you need for a cosy stay on Venabyggsfjellet plateau, right on the edge of Rondane National Park. Log cabins, open fire in the lounge, board games, and a library are just a few of this eco-hotel's amenities. Its well-known for its excellent food as well as activities from its doorstep, while inside you'll find traditional, down-to-earth décor.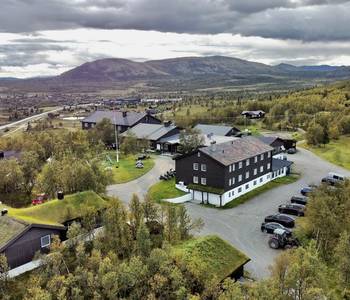 Getting to Venabu Fjellhotell, Venabygd
Find out more about this location including travel details and room types.
More Information
Essential information
It's best to be prepared for all weather conditions. To make it easier, here is a list of items you should consider packing.   
Essentials  
Walking boots 
Waterproof jacket 
Waterproof trousers 
Insulated jacket/top 
Walking clothing  
Walking socks (plus spares)  
Sunhat 
Gloves/mitts and warm hat
Water bottle (minimum 2 litre capacity)  
Headtorch 
High-factor sunscreen (minimum SPF 30)  
Sunglasses with a dark lens 
Rucksack (15-30 litres)  
Mobile phone 
Personal first aid kit (containing your medication, blister plasters, etc.) 
Passport 
Visa (if applicable) 
Copy of your travel insurance policy 
UK Global Health Insurance Card (formerly known as EHIC) 
Recommended
Collapsible walking poles 
Swimwear and travel towel
Snacks
Dry bags
Rubbish bags
Insect repellent
Optional extras
Camera 
Sit mat
Flask for hot drinks 
Durable lunch box
Gaiters 
GPS device 
All holidays are subject to availability. Supplements may apply.

Non-member fee: £30 per person.
All packages that include flights are ATOL protected. Advertised prices listed below show the lowest economy flight price option for that departure. On holidays where we offer local UK airports, details will appear in the "Important Information" section below and available alternative flight options will be offered when you book. Seating upgrades may be available on request and at an additional charge, please call 020 3974 8865 for a quote.


Date (Start - End)
Itinerary
Double / Twin Room
Single Room
Notes / Offers
Trip Notes
Book
2024

21 Jun - 28 Jun 2024

7 nights

Itinerary Flight from London Heathrow Airport

Single from

£2,129 £2,029

Double from

£1,999 £1,899 pp

from

£1,999 £1,899 pp

from

£2,129 £2,029

Save £100 Per Person

Trip Notes

Book Now

05 Jul - 12 Jul 2024

7 nights

Itinerary Flight from London Heathrow Airport

Single Call to Enquire

Double from

£1,999 pp

from

£1,999 pp

Call to Enquire

Trip Notes

Book Now

26 Jul - 02 Aug 2024

7 nights

Itinerary Flight from London Heathrow Airport

Single from

£2,079 £1,979

Double from

£1,949 £1,849 pp

from

£1,949 £1,849 pp

from

£2,079 £1,979

Save £100 Per Person

Trip Notes

Book Now

16 Aug - 23 Aug 2024

7 nights

Itinerary Flight from London Heathrow Airport

Single Call to Enquire

Double from

£1,899 pp

from

£1,899 pp

Call to Enquire

Trip Notes

Book Now
Date (Start - End)
Itinerary
Double / Twin Room
Single Room
Notes / Offers
Trip Notes
Book
2024

21 Jun - 28 Jun 2024

7 nights

Itinerary

Single from

£1,979 £1,879

Double from

£1,849 £1,749 pp

from

£1,849 £1,749 pp

from

£1,979 £1,879

Save £100 Per Person

Trip Notes

Book Now

05 Jul - 12 Jul 2024

7 nights

Itinerary

Single Call to Enquire

Double from

£1,849 pp

from

£1,849 pp

Call to Enquire

Trip Notes

Book Now

26 Jul - 02 Aug 2024

7 nights

Itinerary

Single from

£1,929 £1,829

Double from

£1,799 £1,699 pp

from

£1,799 £1,699 pp

from

£1,929 £1,829

Save £100 Per Person

Trip Notes

Book Now

16 Aug - 23 Aug 2024

7 nights

Itinerary

Single Call to Enquire

Double from

£1,749 pp

from

£1,749 pp

Call to Enquire

Trip Notes

Book Now
Important information
With flights holidays: Price includes return flights to Oslo Gardermoen Airport, hold baggage and airport transfers
Regional flights: Please click BOOK NOW to view alternative UK airport options
Our airport taxi service operates at this resort – price available on request