HF Holidays Strategy for Growth
HF Holidays has a clear strategy to bring about company growth. This plan came about as a result of a collaborative effort between the Management Team and delegated Board Directors, a comprehensive review of the HF 2020 goals and analysis of relative research that we had, in conjunction with market trends and team survey data. The goal was to make the strategy relevant to a wide audience, from our internal teams and members of the Board, to members of HF Holidays and our guests.
Our mission remains the same – to provide shared holiday experiences, which inspire friendship, fun, and an active enjoyment of the great outdoors. And our vision is to remain an independent, self-sustaining society, with growing, engaged membership, offering guests high quality programmes and facilities, and a sociable welcome on all our walking and activity holidays. The new strategy has been created to support this, and to achieve an evolution of what we do. It is based on the success of the HF 2020 Goals, which provided focus, laid out the priorities and gave consistency and a common understanding to our activity, which resulted in improved performance across the five year period they were created for.
The new strategy objectives were to be achieved over the three years up to 2023, and to bring about company growth that can be measured against key performance indicators.
HF Holidays 'Strategy wheel'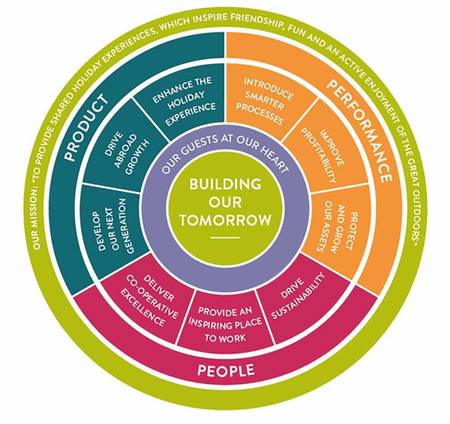 At the centre of the wheel, and at the heart of what we're doing, lies the statement 'Building Our Tomorrow', which states that we're 'building' on current solid foundations, for all of 'our' futures, to be realised 'tomorrow' in both the shorter and longer term.
Central to the strategy is also the statement 'Our guests at our heart' because we continue to be committed to our guests, and to being customer focused.
The strategy has three key areas: Product, Performance and People.

Associated with each of these three 'P's are three associated, action-orientated goals
• Develop our next generation
• Drive abroad growth
• Enhance the Holiday experience
• Introduce smarter processes
• Improve profitability
• Protect and grow our assets
• Deliver co-operative excellence
• Provide an inspiring place to work
• Drive sustainability
Below, watch Steve Swift, Vice Chair of HF Board of Directors, and chair of the Strategy Working Group, launch the new strategy to the company at the start of 2020, and explore what each of the 3 'P's and their related goals means in turn.
The intention at the time of launch was to progress all strategy goals at the same speed. But due to the pandemic, we have understandably had to give extra weight to some of them, for fairly obvious reasons. The hope is that the strategy will be back on track in 2021 and will therefore now run through to 2024. The structure it provides though has come into its own, and has provided a great deal of help when making the often-difficult decisions required to mitigate the impact of Covid-19 on HF Holidays.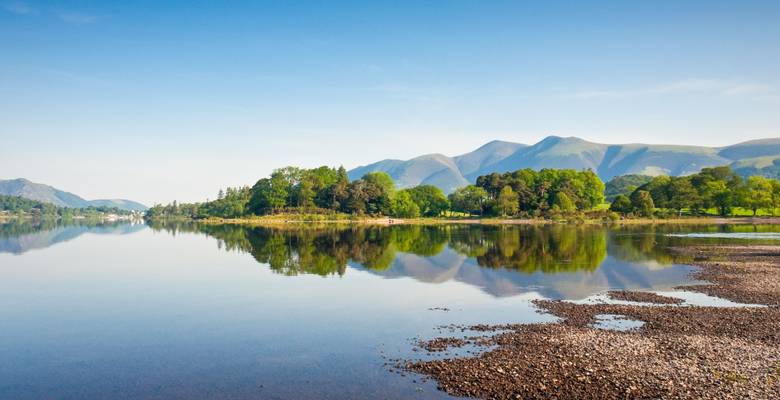 HF Holidays: Book with confidence
ATOL Protected
Which? Recommended Provider
Celebrating more than 100 years' experience
Our own UK country houses
Hand-picked European Partners
Start planning your next holiday