Details
Reading time: 2 - 4 minutes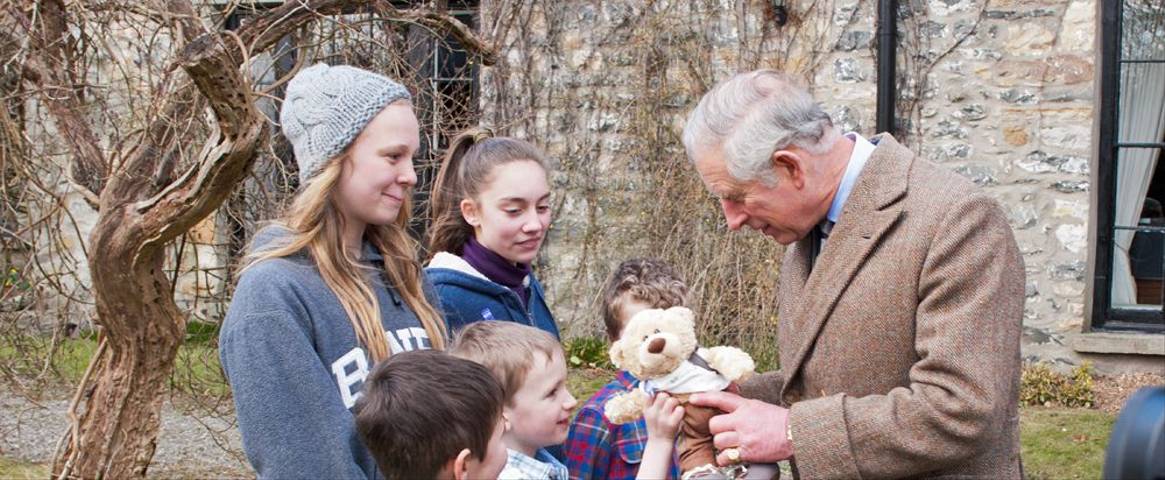 The coronation of His Majesty King Charles III will take place on Saturday 6 May 2023 at London's Westminster Abbey. To mark this momentous occasion, we're hosting fabulous celebrations across our 16 UK country houses.
Where to watch King Charles III's coronation
We'll be broadcasting the event live on a big screen alongside a themed afternoon tea complete with bunting, big slices of Victoria sponge, and a splash of fizz to toast the crowning of the new king.  The screening will be followed by an inter-house royal quiz with prizes. 
It won't be the first time Charles III has made an appearance in our houses. Our centenary year in 2013 was royally marked by His Majesty's visit to Thorns Hall – our Grade II-listed country house just a skip away from the Cumbrian market town of Sedbergh. Then the Prince of Wales, he was briefed about the history of HF Holidays and invited to cut a special 100-year anniversary cake. He also chatted to our guests and kindly signed a commemorative copy of The Story of HF Holidays. Watch the visit in the video below.
The ceremony in its current form is based on rituals drawn up by St Dunstan, Archbishop of Canterbury, for the grand coronation of Edgar, first King of England, at Bath Abbey in 959AD. Its main purpose is to see the British monarch swear an oath to affirm in the Church and rule with honour, wisdom, and mercy. This centuries-old initiation rite sees the monarch of the United Kingdom formally invested with regalia and crowned in the coronation chair – a remarkable medieval relic that's been part of the custom since 1308.
Why has it taken so long for King Charles to be crowned?
Despite being automatically declared king upon the sad death of his mother, Her Majesty Queen Elizabeth II, the delay in Charles' official investiture is in keeping with the rules of royal succession in the United Kingdom. Coronations aren't held for several months after the passing of the previous monarch in order to observe a period of mourning and make the necessary preparations for ascension to the throne.
History of the coronation
King Charles III's coronation in Westminster Abbey follows centuries of tradition that started with William the Conqueror in 1066. After his victory at the Battle of Hastings, William sought to legitimise his claim to the throne by being crowned in the abbey built by Edward the Confessor – the last long-serving Anglo-Saxon king before Harold Godwinson's short-lived reign. Prior to this there was no set location for the ceremony, but William's strong rule and that of his sons helped establish Westminster Abbey as England's (and later the United Kingdom's) official coronation church.  
Since then, every British monarch bar two (Edward V and Edward VIII) have been anointed in the abbey's vaulted halls. This May, King Charles III will be the 40th reigning monarch to be crowned at Westminster Abbey. 
If you'd like to learn more about Britain's royal past, check out our 7-night Snowdonia Discovery Tour. You'll visit a trio of UNESCO-listed castles that each played a pivotal role in the history of the British monarchy. And to cap it all, there'll be a train ride aboard the Snowdon (Yr Wyddfa) Mountain Railway to the summit of Snowdon (Yr Wyddfa) itself.