Details
Reading time: 3 - 5 minutes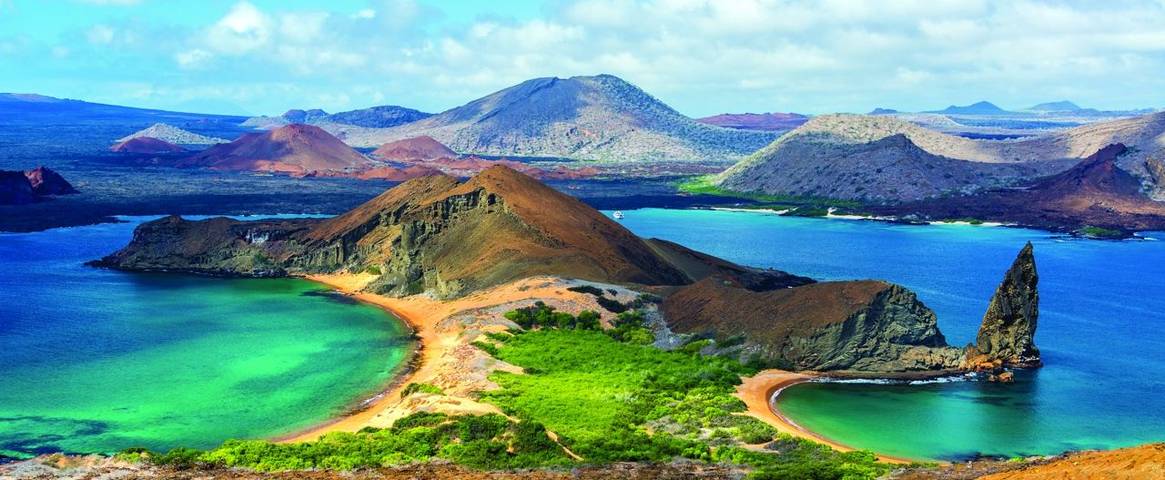 Named after the Equator, Ecuador thrills with steamy Amazon jungle, Andean foothills, and the ecologically-rich paradise that is the Galápagos Islands. Opportunities for one-of-a-kind adventures are limitless here, all of which will generate plenty of Instagram envy. Here's some of our favourite spots in this South American stunner.
Set inside a two-mile-wide ancient caldera that resulted from a massive explosion, this watery stunner has plenty to please. Meaning Rainbow Lake (Kuychikucha)and Lake of the Guinea Pigs (Kuykucha) in the indigenous Kichwa language, it's also known as Lake of Gods. Aside from marvelling at the surrounding Cayambe, Imbabura, and Cotacachi volcanoes, you can tackle the well-marked walking trail, stop off at lookout points located around the rim, and enjoy showstopping views of oddly-shaped islands and clear blue waters. 
Less than 25 miles from the capital of Quito, Cayambe Coca Eco Reserve rewards with over 4,000 square kilometres of Andean foothills, subalpine forests, grasslands, and glaciers. Cut through by the Equator, this huge national park showcases otherworldly landscapes of Andean páramo and no less than 60 lakes. Keep your eyes peeled for Andean Condor flying overhead and the most incredible views of the park's namesake volcano poking through the clouds – Ecuador's third largest peak.
High up in the Andes mountains and just 30 miles from Quito, Ecuador's best-loved national park after the Galápagos Islands covers an area of almost 334 square kilometres sprawled across three different provinces: Cotopaxi, Napo, and Pichincha. The clue's in the title when it comes to the show-stealing attraction: the snow-covered Cotopaxi volcano. The country's second-highest peak stands at a whopping 5,897 metres and has erupted 87 times since records began - the most recent lasting from August 2015 to January 2016.
Perfect for bird watchers, waterfall lovers, and those who like a seamless mix of nature and adventure, the small and unassuming village of Mindo in the Andean Mountains is one of the best places for learning more about Ecuador's exceptional biodiversity. Measuring over 100 square miles, the cloud forest is home to more than 500 species of bird, multiple species of exotic butterflies, and a huge variety of animals. For further thrills, ride the open-air cable car across the Mindo River and access the waterfalls and cascades of varying sizes.
Easily one of the most celebrated wildlife-watching destinations in the world, the Galápagos Islands are a bucket-list must. This incredible archipelago is one of the few places on the planet where human impact is kept to a minimum. And given that it was these very islands that inspired Charles Darwin's theory of evolution, the sights are as spectacular as you'd imagine. Expect to see the Galapagos giant tortoise, great frigate birds, marine iguana, Galapagos penguin, and more.
Located to the south side of Santa Cruz Island, this white sand beach backed by sparklingly clear waters is named for the black sea turtles that nest here. While walkers can hit the Tortuga Bay Trail that takes under an hour to complete, nature lovers can keep their eyes peeled for all sorts of weird and wonderful wildlife; mostly brightly-coloured Sally Lightfoot crabs, brown pelicans, blue-footed boobies, sea lions, and iguanas. Those visiting in January and February may catch sight of the black turtles laying eggs while those here between April and May can watch the hatchlings break out (this usually happens at night).
Don't be fooled by Sierra Negra's small stature. What this volcano lacks in height, it makes up for in reach. Although only 1,124 metres tall, it's the widest caldera of all the Galápagos National Park's volcanoes and stretches for six miles in diameter across the southern end of Isabella – one of the archipelago's youngest and most volcanically active islands. A huge draw for walkers is the chance to hike around the crater rim and onto the newly formed lava fields from the volcano's most recent eruption in 2018.
More than a kilometre in length, the lava tunnels of Santa Cruz are a spectacular monument to Mother Nature's power. These extraordinary tube-like caves were formed millions of years ago when violent underground rivers of molten magma burst through the surface and cooled to form an outer shell. Nowadays you can delve deep into the belly of the country's lava tunnels and admire the staggering rock formations carved out by the forces of Earth's fiery core.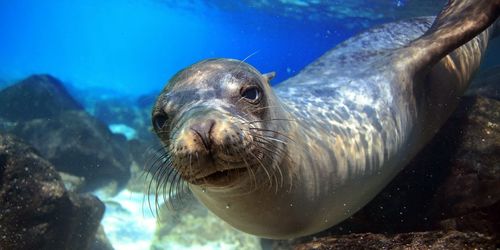 Galápagos and Ecuador experience
Accommodation: Various partner hotels
Departuring: 15 Oct 2023, 12 nights
Price from: £2900
Call 020 3974 8865 or click here to book