Details
Reading time: 4 - 7 minutes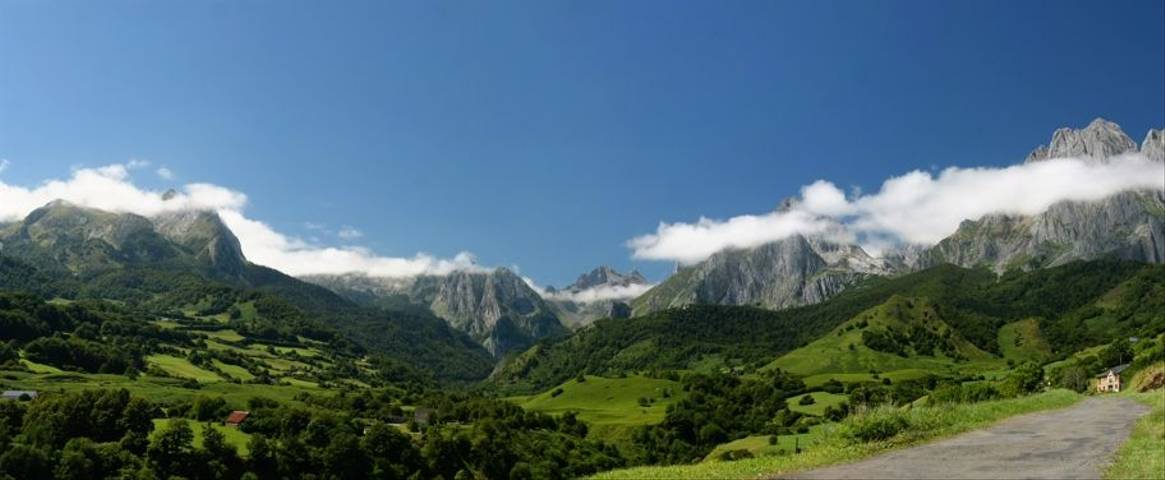 Cloud-covered peaks, snow-topped summits, and remote highland landscapes; mountains make for incredible walking territory – with or without the climb. Choose challenging hikes that require more stamina or try more straightforward walks that minimise inclines without compromising on sights or scenery. With mountain walking holidays led by our experienced leaders who know a place best, we've lined up 11 of our favourite destinations to try this year. 
Stretching for almost 310 miles and hitting heights of up to 3,404 metres above sea level, the Pyrenees Mountains form a spectacular border between France and Spain. For the best this mighty mountain range has to offer, those in-the-know trek the Cathar Trail. One for the history buffs and fans of Dan Brown's Da Vinci Code, this long-distance trail explores an incredible line-up of ruined castles and chateaus that tell the tragic tale of the Cathars – a persecuted religious group destroyed by the Spanish Inquisition in the 13th century. Highlights include Chateau de Foix, the spa town of Ax-les-Thermes, and Cadí-Moixeró Natural Park – a mountainous wonderland with peaks that reach over 2,500 metres.
At a whopping 4,807 metres above sea level, Mont Blanc is the highest mountain in the Alps and the tallest in Western Europe. Guided walking holidays to the Mont Blanc region wind through the eye-popping Alpine passes of France, Switzerland, and Italy with all sorts of sightseeing opportunities along the way. A highlight is Courmayeur, one of Italy's most popular ski resorts found on Mont Blanc's southern side. Here you can elevate your senses by taking a ride on Skyway Monte Bianco – a cable car that ascends to an altitude of 3,466 metres at its final stop. 
With invigorating Alpine air, showstopping scenery, and nothing but the sound of tinkling cowbells for company, Switzerland is music to the ears of anyone looking for a memorable mountain holiday. The Bernese Oberland region boasts walking opportunities through gentle Sound of Music-style hills, beneath the snow-capped peaks of the Engstligen Valley, and the chance to walk across one of the longest suspension bridges in Europe – if you dare. A gondola ride to the beautiful Oeschinensee Lake and an ascent up the 2,341-metre summit of Elsighorn are also big highlights here.
Located between Lake Garda and Selva, the Brenta Dolomites are the headline act of northern Italy's UNESCO-listed Adamello Brenta Natural Park. These jagged limestone peaks give way to alpine pastures and pristine lakes, providing a dramatic backdrop to hundreds of spectacular walking trails. Stay in the mountain village of Madona Di Campiglio and hop between high plateaus using the handy network of cable cars and you'll have a mountain walking holiday that covers everything from sky-high ridge hikes to forested rambles, all steeped in fascinating WWI history.
Austria is full of showstopping walks, but one of the best by far is the Dachstein Trail>. The Dachstein Mountains are one of the highest elevations in the Northern Alps and hikes here reward with a fairytale-like landscape of alpine pastures, cloud-piercing peaks, and glistening glacial lakes. Venture into the Notgasse gorge in search of UNESCO-protected prehistoric petroglyphs, ascend from the shores of Lake Hallstatt to cross a sky- high suspension bridge overlooking the Salzkammergut range, and stay in a traditional mountain hut where the welcome and hospitality are almost on par with the views.
Stretching south-west of Innsbruck and spanning the gap between North and South Tyrol, the Stubai Alps is the biggest glacier skiing area in Austria. There's year-round snow, amazing mountain views, and satisfying ski runs (many of the pistes here exceed 1,000 metres). The big draw here is Neustift – the charming village closest to the Stubai glacier noted for its excellent outdoor activities, lively après ski scene, and large network of mountain walking trails.
Another Austrian walking holiday favourite, the Zillertal Alps are stocked with eye-popping views of mountains up to 11,500ft high. Surrounded by postcard-worthy panoramas and a plentiful supply of pistes, the resort town of Mayrhofen is a magnet for the winter sports crowd. But there's much more to Zillertal than just ski runs and snow drifts. Over 285 miles of hiking trails provide thrills for every level of walker while a wonderful selection of spas and typical Tyrolean restaurants tick boxes for holiday relaxation. 
Adored by mountain-lovers and cross-country skiing fans, walking holidays to Austria's Seefeld Plateau also satisfy foodies who fancy sampling Tyrolean specialities in typical restaurants. Walk through the waterfall-splashed landscapes of the Leutasch Spirit Gorge and venture into the Gaistal Valley – a trail flanked by the Mieming range to the south and the Wetterstein Mountains to the north. And after a day of alpine hiking, fill up on steaming plates of gröstl – golden pan-fried potatoes, onions, and crispy bacon bits, all topped with a fried egg. Be sure to save room for strudel, Austria's famous flaky pastry treat.  
For highland hikes in northern Germany, it has to be the Harz Mountains. Stretching for 68 miles across the spectacular landscapes of Lower Saxony, Saxony-Anhalt, and Thuringia, these thickly-forested mountains make for an incredible summer walking holiday destination. Explore the ancient city walls, half-timbered houses, and mining heritage of medieval Goslar and Quedlinburg (both UNESCO World Heritage sites) and visit showstopping Wernigerode where you can marvel at its dazzling fairytale-like castle and catch a steam train to the top of the Brocken - the highest peak in the Harz Mountains at 1,141 metres-tall. 
The impressive Tatra Mountains take centre stage on any Poland walking holiday – and they're one challenge every walker wants to tick-off the list. The crowning glory of the Carpathian Mountain range rises to heights of up to 2,000 metres and over 300 peaks form a formidable – but beautiful – border with neighbouring Slovakia. Tatra National Park is also a UNESCO Biosphere Reserve, so you can expect guided mountain walks that line-up sparkling glacial lakes, ancient woodland, and opportunities to spot wildlife including Tatra chamois, wild lynx, and Carpathian brown bears.
As one of Scandinavia's superstars, it takes something special to stand out in Norway. But by far one of its most photogenic spots is the Lofoten Islands – a far-flung archipelago extending about 70 miles from north to south. Located 800 miles from Oslo and 95 miles north of the Arctic Circle, it rewards with snow-topped mountains, white-sand beaches (including the famous Haukland and Uttakleiv), clear turquoise waters, traditional fishing villages, and well-established trails perfect for a summer walking holiday in Norway.  
All destinations featured are included in our carefully-curated itineraries. We offer a fabulous selection of mountain holidays all of which promise excellent walking and hiking opportunities. Please note, all itineraries are subject to change.