Details
Reading time: 3 - 6 minutes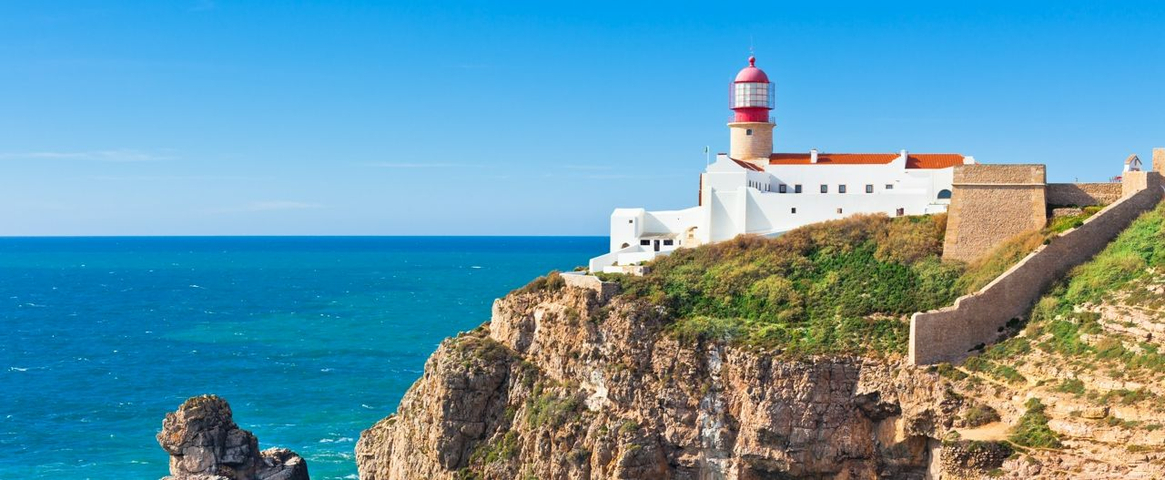 Stretching the entire length of Portugal's south coast, the Algarve's golden beaches, tucked-away bays, and soaring sea cliffs draw in over four million visitors every year. So it's mighty impressive that the western corner of this incredible coastline has managed to maintain such a low profile. Not only is it home to two of the region's tallest mountains, but also sea-facing fortresses rich in maritime history, average year-round temperatures of 22C, and mainland Europe's most south-westerly point.  
Here's our handy guide to this refreshingly undeveloped part of Portugal.
A place where you're more likely to spot rare birds and rock formations than Brits abroad, Sagres is the gateway to the Western Algarve and an ideal base from which to explore. Long and slender like a ship's prow, this small village sits atop sky-high sea cliffs and overlooks some of the Algarve's most dramatic coastal scenery. Having played an important role in Portugal's nautical past, there are plenty of historic sights to visit, no less than four pristine beaches to unwind on, plus a cluster of low-key bars and restaurants for alfresco drinks and dining.
When it comes to hotels in the Western Algarve, the 4-star Meemo Baleeira Hotel is ideal for those that love the coast. All rooms come with sea views and stylish décor, and you'll be just a three-minute walk from the beach and Baleeira harbour – the charming fishing port overlooked by the remains of the tiny 16th-century Fortaleza da Baleeira. Alongside its standout spot overlooking the Atlantic Ocean, the hotel also boasts an outdoor pool and terrace area, as well as an elegant restaurant serving Mediterranean classics cooked in a traditional wood-fired oven.
Perched on a rocky headland above the churning waters of the Atlantic Ocean, Fort Sagres tells the tale of Portugal's maritime history. Built to protect the town from coastal invasion, this 15th century fort sits on a blustery outcrop that has had religious significance since Neolithic times. Ships often sheltered here waiting for calmer seas before rounding Cape St Vincent to avoid being smashed against the coastal rocks. Nowadays it's home to walking trails that follow clifftop paths used by local fishermen for centuries.
Where to get the best snaps and selfies
If there's an end-of-the-earth feel about Cape St Vincent that's because until the early 14th century it marked the edge of the known world. Europe's most south-westerly point is a wild, windswept headland of jagged cliffs that rise to 70 metres above the crashing waves of the Atlantic. A scenic 4.5-mile walk along the coast from Sagres will take you to the epic viewpoint at Cape St Vincent Lighthouse. As one of Europe's brightest lighthouses, it helps ships avoid disaster by throwing out a beam visible from 60 miles. Look to the horizon and imagine how Portugal's first intrepid explorers must have felt before venturing into the unknown and ushering in the Age of Exploration.
Wildlife to watch out for
Miles of unspoiled coastline peppered with sea caves, scalloped bays, and sandy islands make the Western Algarve a magnet for rare birds and marine life. In fact, Sagres is the only place in the world where white storks are known to nest on cliff faces. Elsewhere there's the Alvor estuary, an important wetland area that has helped life thrive for centuries. Not only do the local fishermen net clams and oysters here, but countless species of birds gather to do the same. Keep your eyes peeled for little terns, sandwich terns, black-winged stilts, redshanks, ringed plovers, black-tailed godwits, avocets, and even flamingos.
The historic town of Lagos is easily accessible from Sagres by bus. Take a stroll through the warren of cobbled streets in its old town to admire ancient Roman and Moorish walls or head to the waterfront to explore the pretty harbour. Lagos was once the capital of the Algarve and has a rich seafaring past. One of the area's heroes is Henry the Navigator whose expeditions to explore Africa in the 15th century departed from Lagos harbour. Mercado dos Escravos, the building which housed Europe's first slave market, is still standing and now home to a museum which details the cruel realities of the slave trade. 
When you're not busy exploring the best of the Western Algarve, spend time sampling some of the local cuisine. Portuguese petiscos are more than just a selection of snacks to munch on – they're a way of life. These traditional tapas-style nibbles are best enjoyed while sipping an ice-cold Sagres beer, the number one local lager. If you want to take home a taste of Portugal, you can't go wrong with a traditional cooking pot known as a cataplana. These dome-shaped copper dishes are used to make a meat and seafood dish also called a cataplana.
A panoramic landscape of sea and mountains scattered with small, whitewashed villages, the Monchique Mountains are almost made for trekking. This igneous rock massif of low mountains is famous for its diverse indigenous wildlife and features two of the Algarve's tallest peaks - Foia and Picota at 997 and 773 metres respectively.  
There's also the Seven Hanging Valleys Trail. Named for the seven watercourses that have shaped the sea cliffs into spectacular formations, the route passes the Alfanzina Lighthouse and rises above Carvalho Beach. Along the way, admire the otherworldly limestone stacks and natural arches on the beaches of Benagil and Corredoura.