Details
Reading time: 2 - 4 minutes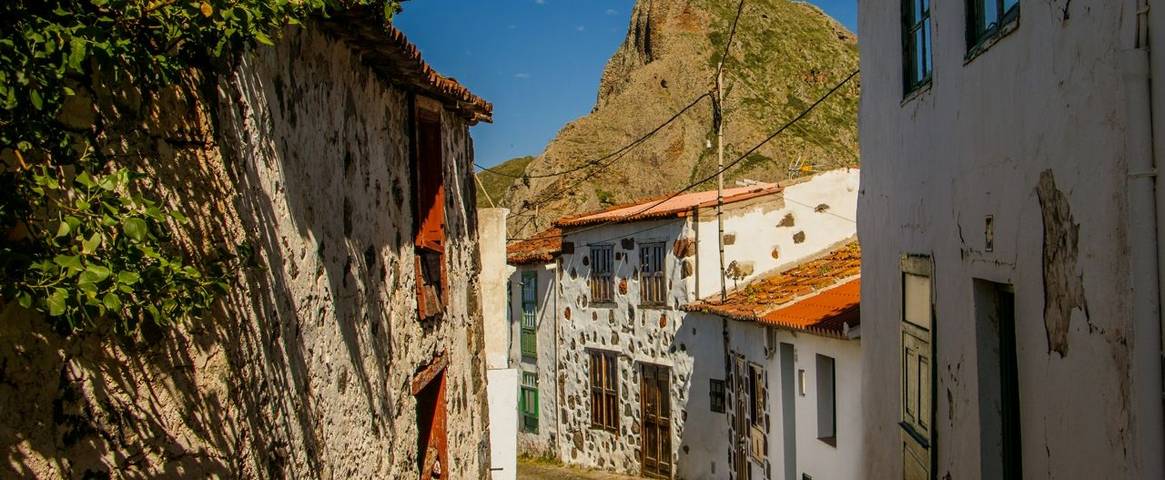 Bathed in year-round sunshine, Spain's Canary Islands are always a persuasive draw. This handsome Atlantic archipelago is made up of eight main islands, all with their own character and charm. We shine the spotlight on two of its most cherished destinations for outdoor adventures and walking opportunities: Tenerife and La Palma.
Affectionally known as La Isla Bonita, this lesser-known island lures with gorgeously unspoiled landscapes, enchanting forests, pine groves, verdant hills, starry skies, and almost 1,000km of paths for walkers. Interestingly, the island was the first biosphere reserve of the Canary Islands, and one of the first in Spain. In 1983, UNESCO declared just over 500 hectares of the island a reserve; by 2002, the entire island was bestowed this status. 
While undeniably the greenest of the Canaries, La Palma is also blessed with volcanic black-sand beaches, star-lit skies (the island is protected as a Starlight Reserve), and the impressive Parque Nacional de la Caldera de Taburiente. This spectacular expanse of dense pine forests and volcanic craters is home to the 2426 metre-summit of Roque de los Muchachos, the island's highest peak. For history buffs, the architecturally-rich capital, Santa Cruz de la Palma, offers cobbled streets, pavement cafés, colonia-era buildings, a slew of interesting museums, and a distinctly Caribbean flavour.  
La Palma's rich volcanic soil has allowed vegetation to thrive, so much of the island is covered by swathes of Euphorbia scrub - mostly Euphorbia balsamifera and Euphorbia canariensis. Plants have yet to colonise areas where there has been more recent volcanic activity, so parts of the island have a barren kind of beauty. Fruits such as oranges, lemons, figs, avocados, mangoes, pears, apples, and cherries are grown here, but bananas are the main crop. 
More things you'll love on our Walking on the island of La Palma holiday: 
Exploring the ancient laurel forest of La Galga 
Spending time in the charming village of San Andrés 
Visiting the archaeological site of El Tendal 
The views from La Tosca viewpoint 
Reaching Roque de Los Muchachos, the highest point of the island 
As the biggest of the Canary Islands, Tenerife, has no shortage of otherworldly volcanic landscapes, pine-scented forests, and wide-open spaces. Most standout, of course, is Spain's highest peak, Mount Teide – the smoking hotspot with a summit 12,198 feet above sea level (you can tackle the peak on foot or ride the cable car to the top station of La Rambleta for knockout island views). 
For walkers, there's no better way to explore the island than on foot. There are endless opportunities to hike along Atlantic-facing clifftop coastal paths, palm-lined promenades, and work your way through primeval laurel forests. Equally rewarding is visiting UNESCO-listed San Cristobal de La Laguna to lose yourself in its maze of historic streets flanked by churches, religious buildings, pastel-hued mansions, and delightful courtyards.  
For nature lovers, Tenerife boasts the greatest biological diversity in the whole archipelago. You'll find over 800 species of fauna and flora and the island's abrupt topography affects its local weather conditions, leading to a huge variety of microclimates, wildlife habitats, and walking terrains.  
More things you'll love on our Walk the Trails of Tenerife holiday: 
Discovering the lush green laurel forests of the Anaga Peninsula 
Marvelling at volcanic landscape dominated by El Teide 
Travelling to the tiny village of Chamorga 
Wildlife-watching in Anaga Biosphere Reserve 
Spotting migrating birds at the Charcas de Erjos ponds 
Our 7-night holidays to La Palma and Tenerife both include two guided walk options every walking day, each led by an experienced local leader. There's also half-board accommodation (continental breakfast and evening meal), all transport to and from walks, and an HF Holidays Tour Manager to take care of in-destination travel arrangements.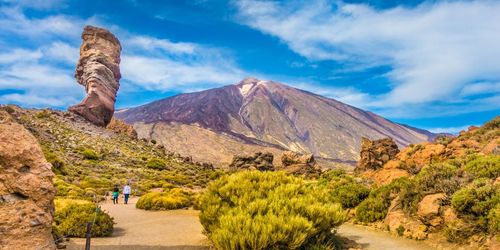 Walk the Trails of Tenerife
Accommodation: Hotel Laguna Nivaria, Tenerife
Departures: Nov 2023 - Mar 2024, 7 nights
Price from: £1,299pp (excl. flights)
Call 020 3974 8865 or click here to book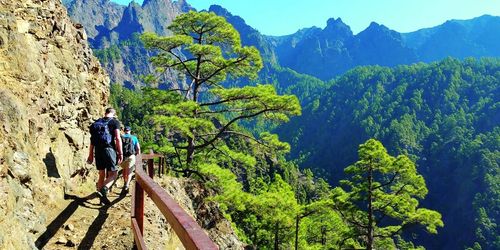 Walking on the Island of La Palma
Accommodation: Parador de La Palma, La Palma
Departures: Nov 2023 - Mar 2024, 7 nights
Price from: £1,269pp (excl. flights)

Call 020 3974 8865 or click here to book