HF Holidays has a proud history spanning over 100 years. During a century of changes, the ethos at the heart of our holidays has remained the same as it was in 1913 - exceptional walking experiences in beautiful locations.
0
Years of holidays at Glen Coe
0
Years of Special Interest holidays
0
Years of Worldwide Journeys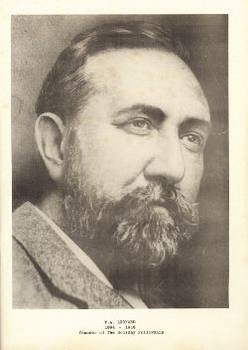 Our Founder - Thomas Arthur Leonard
Thomas Arthur Leonard is one of the key figures in the British outdoor movement, who helped create numerous organisations, including HF Holidays.
Having created the Co-operative Holidays Association he founded the Holiday Fellowship and was our General Secretary until 1934. In the 1930's he helped create the Youth Hostels Association and was one of the founders of the Friends of the Lake District. He also chaired the first national meeting of the Ramblers Association in 1935.
TA Leonard took 30 people from Blackburn on a 'strenuous and simple' walking group to Ambleside in the Lake District
This group became the Co-operative Holiday Association - CHA. This organisation grew very quickly – by 1913 there were 18 holiday centres around the UK and 16,000 guests took a holiday every year.
TA Leonard feels that CHA has become too 'middle class' so sets up the Holiday Fellowship. The new organisation has a simpler ethos and a greater emphasis on internationalism. The first holidays operate in 1914 at Conwy, the Lake District, Yorkshire Dales and Germany.
Right from the start Holiday Fellowship offered holidays abroad. This makes us one of Britain's very first overseas tour operators. Our first abroad holidays were to Kelkheim in Germany - in hindsight not the best choice of location!
1929
First holidays at Alltshellach at Glen Coe. Situated on the shores of Loch Leven and surrounded by some of Britain's highest mountains, it continues to be a premier destination for mountain walking.
Newfield Hall at Malhamdale opens. For many years this operated as one of our ''Youth Centres' - simple accommodation for schools and families. Over the years thousands of children experienced their first taste of the countryside at one of these centres.
Derwent Bank in the Lake District is purchased - a premier location on the shores of Derwent Water.
Holidays continue to operate at a handful of locations through the Second World War, but many houses are requesitioned by the government and used to accommodate troops.
Holidays re-start after the Second World War. Monk Coniston in the Lake District is leased from the National Trust. Our Country Houses at Alnmouth and Bourton-on-the-Water follow soon after.
Our founder TA Leonard dies aged 84 at his home in Conwy.
First holidays run at Freshwater Bay House on the Isle of Wight. As one of our largest properties and an enviable location right on the beach it remains one of our most popular locations, particularly for family holidays.
1959
First publication of our 'Holidays that are Different' brochure which contained holidays ranging from pony trekking and golf to photography, sketching and 'old-time' dancing. This collection has evolved over the years and our brochure now contains almost 200 different holidays.
Our 50th birthday - by this date 1½ million people had taken a holiday with us.
Cheap air travel results in a decline in the traditional British walking holiday as guests flock to the blossoming resorts in Spain and Italy. Conversely this proves to be a great boost to our overseas holidays throughout Europe.
Our name changes from the 'Holiday Fellowship' to 'HF Holidays' with new logos and brochures. The following year Peter Brassey is appointed Chief Executive who sets about transforming the organisation into a modern holiday provider.
Our final Youth Centres are closed, with Newfield Hall at Malhamdale being converted into a Country House for our walking and leisure activity holidays. Thorns Hall at Sedbergh in the Yorkshire Dales is also purchased.
1989
Our first Worldwide brochure is launched with long-haul destinations including the Canadian Rockies, New Zealand and the USA National Parks. These holidays have grown rapidly in popularity and now encompass 40 destinations in all corners of the globe.
Foot & Mouth outbreak results in widespread closure of the countryside. Many of our Country Houses stay shut for the whole year.
A specialist cycling holiday company is purchased and our new cycling brochure is launched. Cycling holidays have grown in popularity over the last decade and remain a perfect complement to our walking holidays. These holidays are now operated in partnership with cycling specialists Saddle Skedaddle.
HF Holidays join Co-operatives UK, becoming Britain's only co-operative holiday provider. Dolserau Hall at Dolgellau is purchased, setting new standards with its high quality accommodation.
Expansion continues with four new Country Houses opening: Craflwyn Hall at the foot of Snowdon, Lulworth Lodge in Lulworth Cove, the Longmynd at Church Stretton, and the Peveril of the Peak at Dovedale.
2013
HF Holidays celebrates its Centenary with a range of special events and Centenary Holidays. Prince Charles joined us at Sedbergh to mark our birthday celebrations.
Our active and sociable holidays continue around the world. To date over 5 million people have taken a holiday with us.
100 Years Young: 1913 - 2013
Read more about the wonderful and expansive history of HF Holidays, spanning the first 100 years from the inception of the Society through to its Centenary celebrations.
Read the full story of HF Holidays