Exmoor National Park's sweeping hills, wooded combes, and coastline reward every footstep with an astonishing range of landscapes and moods on this gentle guided walking holiday. Vibrant yellow gorse and purple heather add a splash of colour to this treasured national park and on top of its good looks, Exmoor is a haven for some of Britain's rarest wildlife. Be on the lookout for buzzards flying overhead, plus ponies and red deer roaming free across the moors. And when you're not busy exploring the great outdoors, spend time in a selection of charming villages and postcard-worthy towns.
What you'll love
Discovering sweeps of wide-skied moorland and heather-clad hills
Soaking up panoramic sea views at Exmoor National Park
Spotting wildlife such as red deer and Exmoor ponies
Visiting the charming villages of Watchet and Dunster 
Learning more about Europe's first International Dark Sky Reserve
Staying at Holnicote House near the pretty village of Selworthy
What's included
Comfortable en-suite accommodation in our country house
Cream tea on arrival day
Cooked or continental breakfast every morning
Daily packed lunches
Three-course evening meals, plus tea & coffee
Guided walking with experienced HF Holidays Leaders

Choice of up to three different-grade daily walks

All transport to and from walks where necessary
Easy-to-follow routes, maps, and information in our Discovery Point if you want to explore independently
Trip Notes
Easy to download as a PDF, our trip notes provide detailed information for every holiday. Please click below to find the trip notes for your departure date.
All our carefully-curated itineraries are designed by our experts. While we make every effort to adhere to the described itinerary, we may take alternative routes or adapt the running order for weather and/or operational reasons.
You're welcome to check in from 4pm onwards. Enjoy a complimentary cream tea on arrival.
---
Option 1 - Holnicote to Selworthy
Distance: 3 miles (5km)
Ascent: 800 feet (240m)
In summary: We walk on a circular route from Holnicote House today to Selworthy. We will take time to explore  the 15th century church, thatched cottages around the green and, maybe, visiting the tea room, before returning to the house.
Highlight: Visit the picture-postcard village of Selworthy.
Option 2 - Selworthy
Distance: 6 miles (10km)
Ascent: 1550 feet (460m)
In summary: Setting off from Holnicote House, our route takes us to the coast via the historic Pack Horse Bridge at Allerford and Bossington village. After enjoying spectacular views from the historic coastguard look-out at Hurlstone Point, we return along the wooded slopes to charming Selworthy village. 
Highlight: Selworthy village was rebuilt in 1828 by the Acland family to house the elderly workers of the Holnicote estate. The tea room is a delightful spot to relax in towards the end of the walk.
Option 3 - Selworthy Beacon
Distance: 7½ miles (12km) 
Ascent: 1,350 feet (420m) 
In summary: Ascend through the woods to the Iron Age hillfort and the glorious viewpoint of Selworthy Beacon. After a hilltop walk, we'll descend through the fields to Selworthy village with its thatched cottages. 
Highlight: It's a steep climb to the top of Selworthy Beacon, but your efforts will be rewarded with a great view north over the Bristol Channel to Wales and south towards the hills of Exmoor.
---
Option 1 - Dunster Trail
Distance: 1½ miles (2.5km)
Ascent: 150 feet (30m) 
In summary: Follow a trail around medieval Dunster – a valley-nestled village crowned with an impressive red sandstone castle. Let your guide lead you through cobbled streets and cottage-lined lanes as you discover the rich history of this charming village perched on the River Avill. After the walk there'll be plenty of time to explore.
Highlight: Visit Dunster's impressive castle.
Option 2 - Headon Cross to Dunster
Distance: 5½ miles (9km) 
Ascent: 700 feet (220m) 
In summary: Today we enjoy a steady climb and ridge-walk through the woods of Wootton Common before a steady descent all the way down into Dunster Castle. 
Highlight: Dunster Castle was the home of the Luttrell family for over 600 years, and is now managed by the National Trust.
Option 3 - Webbers Post and Dunster
Distance: 8½ miles (14km) 
Ascent: 1,550 feet (480m)
In summary: Walk from Holnicote House to historic Dunster. Our route takes us through the woods to the viewpoint at Webber's Post, then enjoy the fine views as we follow the ridge over Wootton Common. 
Highlight: Dunster Castle was the home of the Luttrell family for over 600 years, and is now managed by the National Trust.
---
Option 1 - A Stroll Around Lynmouth
Distance: 4½ miles (7km) 
Ascent: 450 feet (140m) 
Descent: 900 feet (280 m)
In summary: We start with a descent to Watersmeet House today, a Victorian fishing lodge now owned by the National Trust, where two fast flowing rivers meet in a spectacular wooded valley. Walking downstream beside the East Lyn River past deep rock pools, we'll reach Lynmouth and enjoy time to explore the town. Options include stretching your legs further with a walk out to Valley of Rocks, visiting exhibitions on the great flood of 1952, riding the funicular cliff railway up to Lynton, or relaxing with an ice cream and enjoying the scenery.
Highlight: Exploring the many tea shops and artists' studios of Lynton and Lynmouth.
Option 2 - Valley of Rocks
Distance: 7 miles (11km) 
Ascent: 1,150 feet (340m)
Descent: 1,700 feet (520m)
In summary: A walk with two distinct sections. From high above Lynmouth at an Iron Age barrow, we descend into the wooded valley to Watersmeet, then continue along the East Lyn River to Lynmouth. We'll then take the funicular railway to explore Valley of Rocks, where goats graze among the jagged pinnacles of rock, before returning to Lynton.
Highlight: Soak up the views as you ride the Victorian cliff railway from Lynmouth to Lynton. This uses water power to lift you 500ft to the town above.
Option 3 - Around Lynton
Distance: 8½ miles (13.5km)
Ascent: 1,800 feet (540m)
Descent: 2,750 feet (840m)
In summary: From Barna Barrow we take in the sea views from Butter Hill and visit Countisbury Church before descending to Watersmeet. We'll continue along the Tarka Trail to the Victorian town of Lynton, climbing to a panoramic viewpoint above the Valley of Rocks. Finally we descend to Lynmouth via the cliff railway.
Highlight:  Valley of Rocks is a local beauty spot with its own herd of wild goats who roam the precipitous hillsides.
---
Option 1 - Hilltop to Nether Stowey
Distance: 5 miles (8km)
Ascent: 500 feet (160m)
Descent: 1350 feet (420m)
In summary: From high on the Quantock Hills we're treated to fantastic views and glorious scenery as we follow moorland paths walked by Iron Age peoples and Roman soldiers. Descending past Walford's Gibbet through woodland, we arrive at the village of Nether Stowey, home of the poet Coleridge, with the chance to visit Coleridge Cottage itself.
Highlight: Enjoy the wonderful moorland scenery that inspired poets Samuel Taylor Coleridge and William Wordsworth.
Option 2 - Quantock Foothills
Distance: 6½ miles (10.5km)
Ascent: 1,250 feet (400m)
Descent: 1,150 feet (350m)
In summary: From the village of Kilve we walk up into the Quantock Hills, with views of Hinkley Point Power Station and over the Bristol Channel to Wales. Descending past Walford's Gibbet, we finish our day at Nether Stowey, with its charming buildings and literary connections.
Highlight: The Quantock Hills are home to a herd of wild red deer, as well as an abundance of other wildlife.
Option 3 - Ridge and Combe
Distance: 8½ miles (14km) 
Ascent: 1,050 feet (320m) 
Descent: 1,250 feet (380m)
In summary: From the Bristol Channel at West Quantoxhead with its pretty church, our walk takes us up onto the Quantock Hills, picking up the Macmillan Way West as we head over the ridge. We then descend through wooded combes and rocky streams to reach Nether Stowey and its ancient Castle Mound.
Highlight: The variety of scenery encompassed in Britain's first designated Area of Outstanding Natural Beauty, from the high windswept moorland plateau to deep wooded combes, or valleys.
---
Option 1 - The Mineral Line to Watchet
Distance: 4 miles (6km)
Ascent: 350 feet (100m)
In summary: From Bilbrook we follow one of the longest river fords in the area to reach the quintessential village of Old Cleeve with its 17th century church of St Andrews. We then follow along the Monks Path to Washford and on to walk the Mineral Line track to reach Watchet. There'll be time to explore its harbour, originally built at the time of Alfred the Great, and take in the views across the Bristol Channel, or perhaps visit the Market House Museum to learn about the fascinating history of this once important town.
Highlight: Follow in the footsteps of the monks who once made their way to Cleeve Abbey.
Option 2 - Carhampton to Watchet
Distance: 6 miles (10km)
Ascent: 400 feet (120m)
In summary: Leaving Carhampton, we follow fields to the Bristol Channel coast and walk beside the West Somerset Railway line to the pretty station of Blue Anchor. We then turn inland to the 13th century village of Old Cleeve, finishing at Watchet with its harbour and heritage railway station, via the Mineral Line track which formerly carried iron ore to the harbour. 
Highlight: The wander along the sands and shingles of Blue Anchor Bay.
Option 3 - Dunster to Watchet
Distance: 8 miles (13km)
Ascent: 650 feet (200m)
In summary: From the parkland at Dunster Castle, we circumnavigate the gardens and water mill to enter the Deer Park, where red deer and Exmoor ponies can be seen, and on to Carhampton with its church dating back to the Middle Ages. We continue to Blue Anchor Bay with its heritage railway station to reach 13th century Binham Grange. After visiting Old Cleeve church we take the lanes to Washford and follow the old Industrial Revolution railway line to Watchet harbour, with shops, cafes and East Quay arts centre.
Highlight: Glorious coastal scenery and historic railways
---
Enjoy a leisurely breakfast before making your way home.
---
Holnicote House
There's plenty to look forward to at this beacon of Somerset hospitality near the impossibly pretty village of Selworthy. The location couldn't be more perfect; within rolling-out-of-bed distance from Exmoor National Park and an easy drive from Dunster Castle, Coleridge Cottage, the twin villages of Lynton and Lynmouth, and the sandy delights at Porlock and Minehead. The walking opportunities here are standout, too, not least for the trails around the Quantock Hills, Dunkery Beacon, Bossington, and a section of the England Coast Path that takes you on a glorious journey along the county's coastline.    
Rooms
Designed with your comfort in mind, Holnicote House has 32 well-appointed guest rooms available in three categories: Classic, Premium, and Superior. 
Classic Rooms are comfortable en-suite guest rooms, ideal for a peaceful night's sleep. Amenities include free Wi-Fi, tea and coffee-making facilities, toiletries (hand wash, shampoo, and shower gel), and a TV. 
Premium Rooms are more spacious en-suite guest rooms. Amenities include free Wi-Fi, tea and coffee-making facilities, toiletries (hand wash, shampoo, body lotion, shower gel), and a 32-inch TV. Extras include bathrobes, slippers, and comfortable mattresses.
Superior Rooms are even more spacious en-suite guest rooms offering upgraded views of the surrounds. Amenities include free Wi-Fi, tea and coffee-making facilities, toiletries (hand wash, shampoo, body lotion, shower gel), and a 32-inch TV. Extras include bathrobes, slippers, and comfortable mattresses. 
We love: The rooms in the main building or the thatched grounds, especially Rooms 1 and 4. The first floor rooms have fabulous views across Crawter Hill and Dunkery Hill. 
The Choose Your Room service is available at our UK country houses, allowing you the option of choosing and confirming a specific room for an extra charge of £30 per room. This is subject to availability. Upgrade supplements apply. 
Check in & check out
You are welcome to check in from 4:00pm at the earliest. On arrival, you'll enjoy a complimentary cream tea and get to meet your fellow guests, our HF Holidays Leaders, and the rest of the friendly team.  
On the day of departure, we kindly ask all guests to check out by 10:00am. You'll be asked to settle your bill prior to leaving. You may, of course, make a charitable donation to our HF Holidays Pathways Fund if you wish. Please note that we only accept card payments. 
Room supplements
| | | | |
| --- | --- | --- | --- |
| Superior | Premium single | Premium double/twin | Choose your room |
| £25 pppn | £20 pppn | £20 pppn | £30 per room |
About your stay
A warm welcome
We want you to feel comfortable from the moment you arrive. You'll find a welcome pack in your room with guest registration forms, menus, order forms for dinners and picnic lunches, the Wi-Fi password, and the front door code. Our houses are locked at night, so we recommend noting the Duty Manager's number on arrival in case of an emergency (or getting locked out). 
Evening entertainment
While evening entertainment varies from house to house, the HF Holidays Big Pub Quiz held after dinner on Wednesdays is a weekly staple. Your HF Holidays Leader may be around for tips on guided and self-guided walking routes as well as visit-worthy local attractions. 
Walks talks 
Our HF Holidays Leaders host guided walking information briefings before dinner on arrival days. This is followed by a group Walks Talk for information on the following day's walking delights (held before dinner every evening). Self-guided walking guests are, of course, welcome.  
The walking day
Prior to setting off on walks, your HF Holidays Leader will run you through a short safety briefing. There's also an up-to-date weather forecast on display at the house to ensure you have appropriate clothing and footwear. If you choose to do your own walks or are on a self-guided walking holiday, we ask that you please complete an Independent Walker Card each day. These can be found near the Discovery Point in the house. 
Food & drink
Led by experienced chefs, we serve a wide range of dishes made with fresh and seasonal ingredients. We always aim to source the best produce available and use home-grown herbs and vegetables from our own gardens whenever possible. Additionally, we have a licensed bar with beers, soft drinks, and a superb selection of spirits. Full-board comes as standard and includes a cream tea on arrival and a hearty breakfast on departure day.
HF Holidays understands the importance of managing allergens effectively to ensure food is safe for guests with food allergies. Whilst we are always able to confidently inform guests which allergens are present in our ingredients and dishes, we are unable to guarantee absolute freedom from the 14 main allergens in our kitchens. Vegetarian and vegan menu choices are available. If you have allergies, food intolerances, or any special dietary requirements, please inform our reservation team at the time of booking.
Accessibility
For accessibility and assistance information, please contact our expert team on 020 3974 8865 or view the accessibility information online for Holnicote House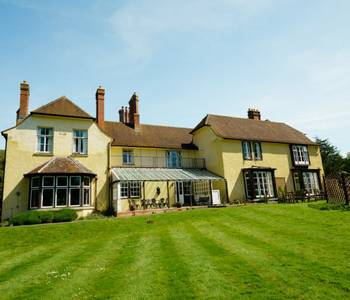 Getting to Holnicote House
Find out more about this location including travel details and room types.
More Information
Essential information
Please note
Admission fees are payable locally and aren't included in your holiday price. Many of you have English Heritage (EH) or National Trust (NT) memberships already, which entitle you to free or reduced price entry to some of the attractions visited. Please see below, approximate totals for entrance fees, should you choose to visit all the highlighted attractions during your holiday. If you have National Trust or English Heritage membership – please make sure to bring your membership identification with you. 
| | | | |
| --- | --- | --- | --- |
| Approx. cost of entrance fees | 3 night holiday | 4 night holiday | 7 night holiday |
| NT & EH members | £0 | £0 | £0 |
| NT members | £0 | £0 | £0 |
| EH members | £18.50 | £8.50 | £27 |
| No memberships | £18.50 | £8.50 | £27 |
Essential information
The UK has a famously unpredictable climate so it's best to be prepared for weather that's sunny one minute and raining the next.  To make it easier, here's a list of items you should consider packing.  
Essentials 
Suitable footwear such as waterproof walking boots that provide ankle support and good grip 
Waterproof and windproof jacket, preferably insulated 
Comfortable clothing (jeans & waterproof capes are not suitable) 
Waterproof overtrousers 
Gloves and a warm hat (or sunhat) 
Rucksack 
Water bottle (at least 1 litre capacity) 
A small torch 
Sunscreen 
Mobile phone and portable charger 
Watch 
UV sunglasses 
Recommended 
Several base layers (long-sleeve or short-sleeve) 
Cushioned walking socks to avoid blisters 
First aid kit, including plasters and insect repellent 
Sit mat  
Spare pair of socks 
Energy snacks 
Waterproof pouch for valuables 
Rubbish bag (remember to always leave no trace) 
Wallet/purse 
Optional extras
Walking poles, useful for descents 
Flask for hot drinks 
Durable lunch box 
Gaiters 
Blister kit  
Waterproof rucksack liner 
Head torch 
GPS device 
Holnicote House Calendar
Guided Walking
Self-Guided Walking
Special Interests
Unavailable to Book
All holidays are subject to availability. Supplements may apply.

Non-member fee: £30 per person.
All our carefully-curated itineraries are designed by our experts. While we make every effort to adhere to the described itinerary, we may take an alternative route, or vary the running order for weather and/or operational reasons.

Holiday prices
Date (Start - End)
Itinerary
Double / Twin Room
Single Room
Notes / Offers
Trip Notes
Book
2024

07 Jun - 14 Jun 2024

7 nights

Gentle Walks

Single Call to Enquire

Double from

£1,199 pp

from

£1,199 pp

Call to Enquire

Trip Notes

Book Now

28 Jun - 05 Jul 2024

7 nights

Gentle Walks

Single from

£1,339 £1,289

Double from

£1,199 £1,149 pp

from

£1,199 £1,149 pp

from

£1,339 £1,289

Save £50 Per Person

Trip Notes

Book Now

13 Sep - 20 Sep 2024

7 nights

Gentle Walks

Double from

£1,199 £1,149 pp

from

£1,199 £1,149 pp

from

£1,024 £974

Save £50 Per Person

Trip Notes

Book Now