Details
Reading time: 3 - 6 minutes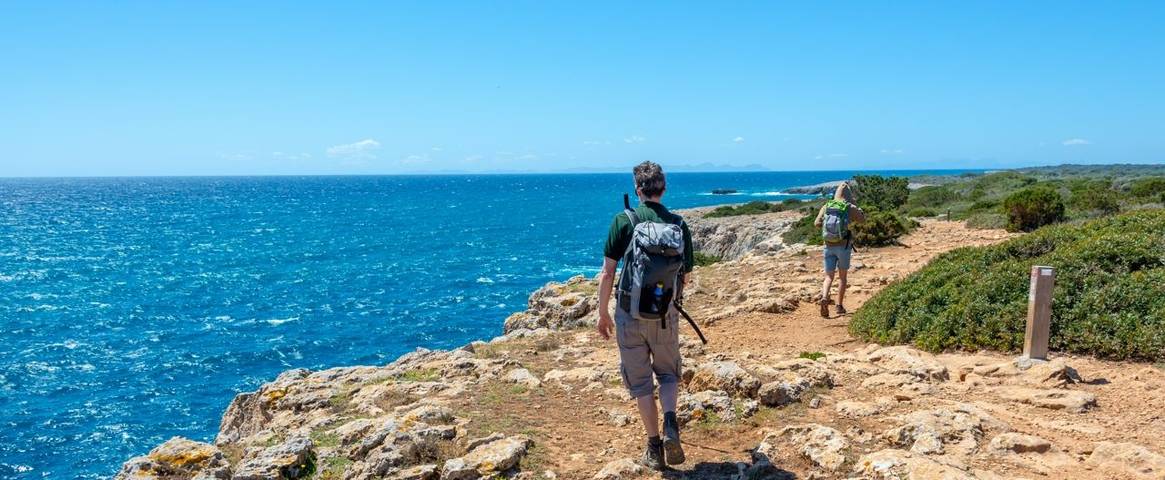 As two of the big-name Balearics, Menorca and Mallorca offer glittering beaches, sparkling Mediterranean waters, superb food and wine scenes, and reliably good weather. But while they may appear similar, each has their own individual character, charm, and walking opportunities. Here's our guide to the five prettiest places to visit on each island.
Set on the northwest coast, this small coastal village is one of the most visually stunning spots on the island. While you can easily fill your days in hippy-chic boutiques, interesting museums, and excellent restaurants, most worthy of your attention are the old stone houses clinging to the rocks, the great coastal walks, and the Mediterranean views. Also noteworthy are the literary connections with Robert Graves. What was the English poet and novelist's family home for over half a century is now a museum with much of the original furniture and décor. 
Named for the tall trees that line the waterfront, the atmospheric and elegant capital of Palma is worth a detour. Visit Es Baluard Museum of Contemporary Art, spend time in Joan Miró's studio, take a stroll on the promenade that stretches for miles along the seafront, and explore the narrow backstreets and cobbled squares. It's also impossible to miss the colossal La Seu – the magnificent 14th century cathedral that's also one of Europe's tallest Gothic structures (the central nave measures 44 metres).
Nestled in a picturesque valley at the foot of the UNESCO-listed Serra de Tramuntana (Tramuntana Mountains), Santuari de Lluc is one of Mallorca's most sacred spots. This former monastery and pilgrimage site was founded in the early 13th century although archaeologists believe the site predates Christian times. Nowadays it's the starting point for several standout walking routes and former monk's quarters now serve as a handy hostel for hikers. There's also a restaurant serving freshly squeezed orange juice from nearby Soller, plus a rockery and garden area with over 200 rare plants and medicinal herbs. 
A protected area of 1671 hectares on Mallorca's northeast coast, this walker's paradise is cherished for its remote beaches, mountain goats, and exceptional bird life. It became a Special Area of Protection for Birds and Site of Community Interest in 2000 and is home to the red kit, booted eagle, peregrine falcon, and Audouin's gull. The park also covers much of Artà's mountain range and includes the tallest peaks of the Serres de Llevant: Puig Morei (564 metres), Puig des Porrassar (491metres), and Puig de sa Tudossa (441 metres).
As one of the best-loved spots for hikers and walkers, Cúber and its surrounds remain the start and end point of most mountain itineraries. Located in the Tramuntana Mountains between the rocky Biniarix Ravine and Puig Major (the highest peak on the island at 1,436 metres), this man-made reservoir was built in 1972 to supply water to Palma. Over 50 years later, it remains a huge draw for visitors eager to picnic by the crystal-clear turquoise waters and take in wonderful mountain views.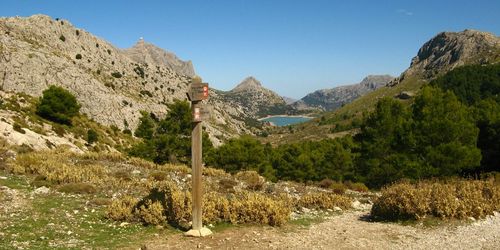 The best of Mallorca
Accommodation: Hoposa Hotel Uyal - Mallorca
Departing: Apr-Oct 2023, 7 nights
Price from: £1,339pp excl. flights
Call 020 3974 8865 or click here to book
Menorca's small but charming capital is adored for its historic houses, cobbled streets, wonderful markets, and one of the largest natural harbours in the world. Head to the Museum of Menorca to learn about the island's history, take a water taxi to La Mola to marvel at military architecture, and admire the façade of Teatro Principal de Mahón – one of Spain's oldest opera houses dating back to 1829. Further thrills include the fish market on Plaza de España, the Church of Santa María on Plaza de la Constitución, and Destilerías Xoriguer – the factory that makes Gin Xoriguer, the island's local gin.
Built by the Spanish government between 1848 and 1875, this well-preserved military fortress (also known as Fortress Isabel II) sits in a prime location at the tip of a peninsula overlooking the mouth of Mahón's harbour. Must-sees include the former barracks, prison, tower, underground tunnels, powder magazines, and two huge naval guns – one of which was operational during the Spanish Civil War. Also recognised as a Special Protection Area for Birds, this is one of the best places on the island for spotting migrating birds during spring and autumn.
Once the island's capital, this eye-pleasing port city on the west coast is one of the island's most-visited for good reason. Small enough to explore on foot, it tempts with narrow streets lined with honey-coloured houses, plenty of number of bars, cafés, and restaurants, and a wealth of Roman, Byzantine, and British antiquities. Highlights include the handsome Plaça des Born square, the historic Ses Voltes street, and the Gothic-style cathedral dating back to the 14th century.
Known simply as the Cave Bar, this dramatic hangout is set in the upper section of a 30-metre-high cliff face in Cala en Porter on the island's south coast. While a cover charge applies, this is easily the most popular place for grabbing a cocktail, admiring Mediterranean sunsets from the wide terrace, and enjoying relaxing music during the daytime (it doubles as a nightclub in the summer months so it's best to arrive early). The cave itself is a place of mystery, with legend stating that Xoroi was a pirate who survived a shipwreck, took refuge in the cave, frightened the neighbours, and jumped into the sea never to been seen again.
Located in the laid-back and attractive coastal town of Santo Tomas, this three-kilometre stretch of gloriously spotless sand is one of Menorca's longest. You'll find umbrella and sunbed rentals for all-day lazing, shallow Mediterranean waters for swimming and watersports, and plenty of peaceful spots for summer picnics. While there's no fear of the beach feeling overcrowded, a couple of secluded spots at either end as well as unspoilt coves beyond provide options to those who don't fancy bumping into another soul.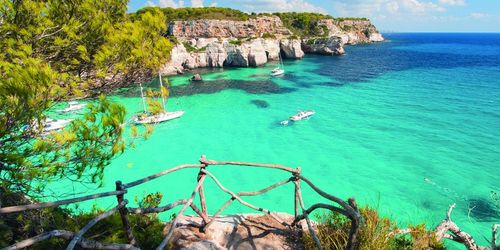 Highlights of Menorca
Accommodation: Seth 55 Santo Tomàs
Departing: Apr-Oct 2023, 7 nights
Price from: £1,029pp excl. flights
Call 020 3974 8865 or click here to book
Most destinations featured are included in our carefully-curated Menorca or Mallorca itineraries - or can be visited on a free day.