Details
Reading time: 2 - 4 minutes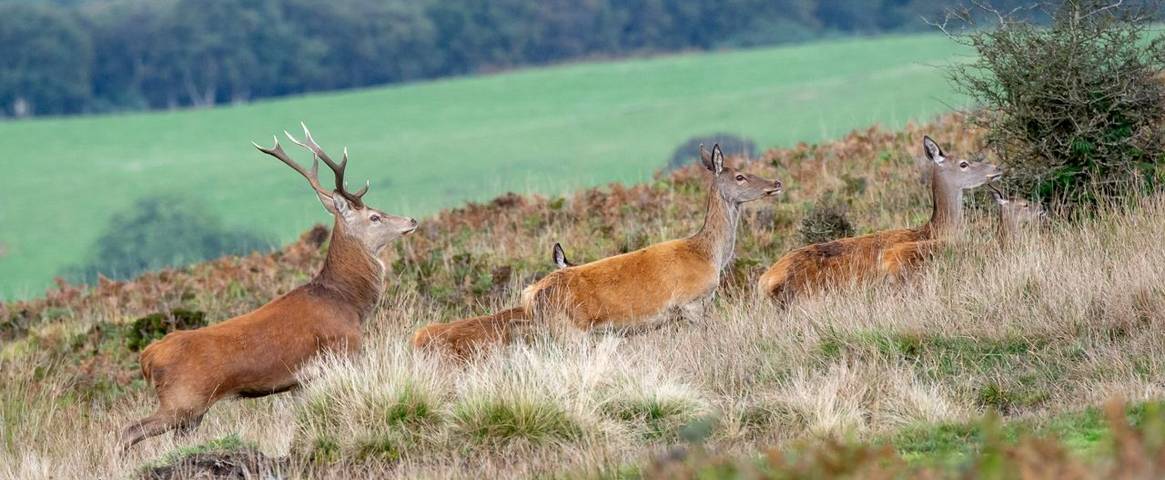 Britain is home to some extraordinary wildlife, including red deer stags, mighty white-tailed eagles, and even killer whales. From ancient forests and rich grasslands to freshwater habitats and marine reserves, we shine a light on seven wonderful locations where you're in with a chance of seeing British wildlife at its best.
Closer to Norway than mainland Scotland, the Shetland Isles mark one of the farthest reaches of the United Kingdom. The subarctic waters surrounding the Shetlands are a regular playground for orca whales (also known as killer whales). Recognised by their distinctive black and white colouring, these powerful predators have developed a taste for seals and often come here to hunt them in the kelp channels off the Eshaness Peninsula.
Awarded Area of Outstanding Natural Beauty status, Northumberland's rugged coastline is a haven for herds of seal and squawking seabird colonies. The Farne Islands lie just offshore between the villages of Seahouses and Bamburgh and provide some fine wildlife watching opportunities. During the summer months there are regular boat trips to these uninhabited isles where Atlantic grey seal haul-up onto the beaches and thousands of black headed gulls and puffins nest between the rocks. 
Another cluster of wild Scottish isles, the Hebrides host the occasional visit from one of the world's largest species of shark. Between May and October, basking sharks flock to the Sea of Hebrides to feed on the plentiful supply of plankton. When fully grown, basking sharks can measure up to 11 metres in length and weigh around 4,500kg. For the best chance of spotting these gentle giants, head to the Isle of Mull. With a little luck, you might also catch sight of huge white-tailed eagles – Britain's largest bird of prey.
After being made almost extinct by the invasive grey squirrel in the 1800s, red squirrels are now a protected species found only in small pockets across the UK. One of the spots you're likely to see them is the Lake District. Keep your eyes peeled for these cute, copper-coloured creatures skittering through the undergrowth and climbing trees. Top squirrel-spotting locations include Coniston, Aira Force waterfall near Ullswater, and wooded areas along the shores of Derwentwater. 
Bird watchers love the beautiful Welsh island of Anglesey. Sitting just off the northwest tip of the mainland, this part of Wales is best known for its ancient castles and incredible coastline. But the bird watching opportunities are equally impressive. Almost every inch of Anglesey is an Area of Outstanding Natural Beauty and thousands of rare bird species flock to its scenic shores every year. Summer walks along the coast are often accompanied by sightings of manx shearwater, gannet, grey plover, oystercatchers, and more.
It should come as no surprise that the Scottish Highlands have earned a place on the list. Rugged and remote, Glen Coe in the central highlands showcases Scotland's untamed landscape at its most dramatic. Wildlife here is boosted by National Nature Reserve status and the wooded glens and heather-clad hills are home to herds of Scottish red deer
England's most westerly corner boasts 422 miles of coastal paths along its shores. And being regularly blessed with better than average British weather, Cornish waters in warmer months are often visited by one of world's favourite sea creatures. Spend time in St Ives during summer, and coastal walks to Cornwall's fantastic selection of white sand beaches can come with the bonus of dolphin-watching. Common dolphin, bottlenose, and Risso's dolphin are the species most sighted here and these playful creatures are frequently seen frolicking in the seas off St Ives Bay.