Details
Reading time: 3 - 6 minutes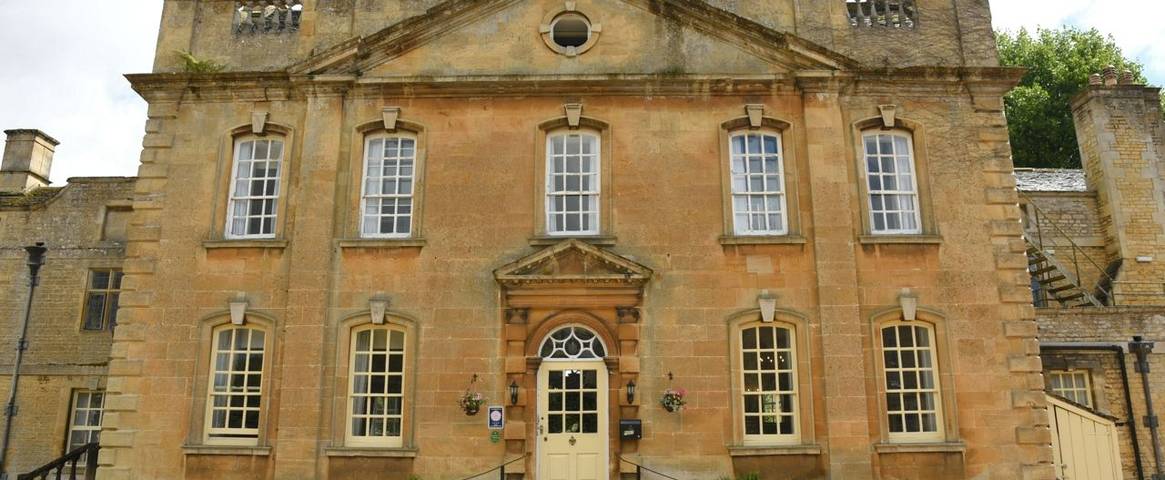 Just a skip away from the chocolate-box cottages, old-fashioned tearooms, and low-arched stone bridges of Bourton-on-the-Water, Harrington House is a complete treat of a Cotswold country escape. There's no shortage of thrills for walkers nearby, especially those keen to explore the well-trodden trails and paths around the Windrush Valley, Lower and Upper Slaughter, Gloucestershire Way, Cotswold Way, and Monarch Way. Read on to find out what makes staying here so fabulous.
Built in 1662, this stately house showcases a mix of Tudor, Palladium, and Georgian architectural styles. Its first owner was most likely Anthony Collett, whose niece Elizabeth inherited the property and extended it to its current glory with her influential lawyer husband, William Moore. In 1776, after Moore's death, his second wife (also Elizabeth), married Sir James Harrington, for whom the house is named. 
Harrington House remained in the family thereafter and was then purchased by a Mr Hall in the early 19th century. In 1860, it was sold to a Mr Mills who ran Jubilee Cottage (currently guest accommodation) as the Jubilee Inn, using the premises opposite as a malting house for brewing beer. The subsequent owner, Alfred Hadley, continued to use the house much in the same way and lived here from 1870 until 1922 when it changed hands yet again. It became part of our HF Holidays line-up in 1947. 
Following a refurbishment in 2017, there's a pleasing interior design theme throughout. Expect interesting plasterwork, a grand stairway, and a cupola at the top of the house built in the 1730s which is believed to have been used by William Moore as a lookout and viewpoint to keep an eye on his workmen and neighbours.
Open February to November and during the festive season, there's 27 well-appointed guest rooms in three categories: Classic, Premium, and Superior. You'll also find two lounges, a licensed bar, and an attractive dining room for a wide range of dishes made with fresh and seasonal ingredients.
Elsewhere, there's a handy boot and drying room, a walled garden, a large croquet lawn, landscaped grounds, and books and games to borrow during your stay. A Discovery Point providing easy-to-follow routes, maps, and local information for self-guided walks tops things off nicely. 
Wonderful walking options
As the UK's largest Area of Outstanding Natural Beauty, the Cotswolds is prime walking country. Highlights include Bourton and Quarry Lakes, Bibury, Leckhampton Hill, Stow-on-the-Wold, The Slaughters, Broadway Tower, and more. You can also walk along the Windrush and Gloucestershire Ways to arrive in Cold Aston – a lovely village with a huge sycamore tree dominating its centre. Another must-do is strolling along the banks of the Windrush River, a tributary of the Thames that's home to several fish species as well as a series of stone bridges (the reason that Bourton-on-the-Water is nicknamed the 'Venice of the Cotswolds').
Whether you're enjoying one of our guided or self-guided walking holidays, there's plenty to see and do within easy travelling distance of Harrington House. Here's some of our favourites: 
The Model Village: the only Grade II-listed model village in the country, this one-ninth scale replica of the heart of Bourton-on-the-Water took five years to build. It was officially opened by King George VI and Queen Elizabeth (the late Queen Mother) in 1937.

Cotswold Wildlife Park & Gardens: a 25-minute drive away, this 160-acre park is home to over 260 species of animals. It also has one of the largest reptile collections in the UK; expect to see crocodiles, lizards, frogs, snakes, such as green anacondas, and venomous snakes including black mambas.  

Chipping Campden: a 30-minute drive north of Bourton-on-the-Water, this small market town was once at the heart of the Arts and Crafts Movement. A not-to-be missed highlight is the National Trust-owned Hidcote Manor Gardens in the nearby village of Hidcote Bartrim.  

Bibury: described by William Morris as 'the most beautiful village in England' for good reason, this charming town is just a 20-minute drive away. Don't miss the National Trust-owned Arlington Row – England's most photographed street.  

Broadway: just a 30-minute drive away, this lovely town is best known for its horse chestnut tree-lined High Street, Broadway Tower, Broadway Museum & Art Gallery, and the historic Lygon Arms Hotel where Oliver Cromwell spent the night before the Battle of Worcester in 1651.  

Cotswold Farm Park (home of Adam Henson): established in 1971 by Joe Henson, father of farmer and BBC's Countryfile presenter Adam, this fun-filled park is a 10-minute drive away. There's over 50 flocks and herds of farm animals, including Gloucestershire Old Spot Pigs and Highland cattle.   

Stratford-upon-Avon: the birthplace of William Shakespeare, this attractive market town is a 40-minute drive away. Highlights include The Swan Theatre and the Royal Shakespeare Theatre, Shakespeare's Birthplace, Shakespeare's Distillery, and Anne Hathaway's Cottage. 

Gloucestershire Warwickshire Steam Railway: this volunteer-operated and lovingly-restored steam and diesel heritage railway uses part of the former Great Western Railway's main line route from Birmingham to Cheltenham (it used to run via Stratford-upon-Avon). It is just a 30-minute drive away.    

Blenheim Palace: home to the 12th Duke of Marlborough and the birthplace of Sir Winston Churchill, this designated UNESCO World Heritage Site is set in extensive parkland. Don't miss the famous Marlborough Tapestries (the 'Victories Series') in the Green Writing Room.  

Cheltenham: a 25-minute drive away, this Gloucestershire spa town is most famous for its horseracing, festivals and Regency heritage. Highlights include the award-winning Pittville Park for its magnificent pump room and Montpellier for its independent boutiques.   

Gloucester: home to one of the UK's most stunning cathedrals, this historic city on the River Severn is a 35-minute drive away. Don't miss the Gloucester Docks, Robinswood Hill Country Park, Soldiers of Gloucestershire Museum, and the Gloucester Quays.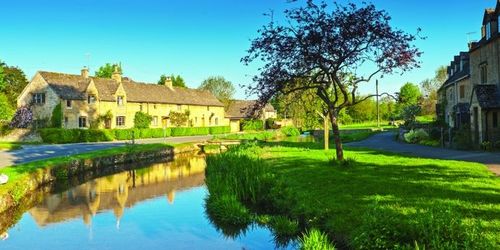 7-night Cotswolds Guided Walking
Accommodation: Harrington House, Bourton-on-the-Water
Departures: Mar-Dec 2023, 7 nights
Price from: £875pp
Call 020 3974 8865 or click here to book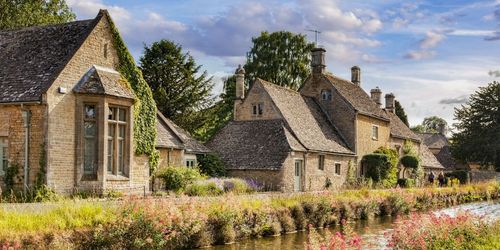 3-night Cotswolds Self-Guided Walking
Accommodation: Harrington House, Bourton-on-the-Water
Departures: Mar-Dec 2023, 3 nights
Price from: £349pp

Call 020 3974 8865 or click here to book