Details
Reading time: 3 - 6 minutes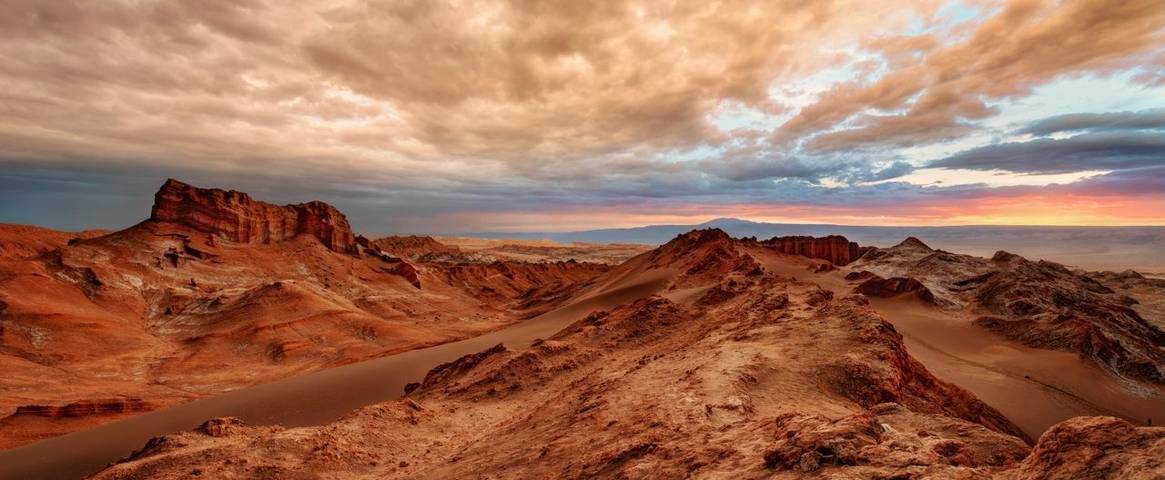 Tucked between the Andes and the Pacific Ocean, Chile is a persuasive draw when it comes to Andean peaks, ancient forests, vast glaciers, crystalline lakes, and lush wine-growing valleys producing rich reds, crisp whites, and aromatic rosés. It's also where you'll find the driest non-polar desert on Earth. Here's some of the best places for adventure-filled fun in the world's narrowest country.
While Santiago's knockout backdrop of snow-capped Andes is a big draw, Chile's capital is also a cultural powerhouse. Spend time at the Museum of Chilean Art, watch a performance at Centro de Gabriela Mistral (named after the famous Chilean poet), and join the crowds at the 18th century La Moneda (Presidential Palace). Or make like a local and relax at Cerro Santa – one of the city's oldest public green spaces. Further highlights include admiring the many historic buildings around the palm tree-lined Plaza de Armas, browsing the street markets for handicrafts and souvenirs, and hiking to the top of Cerro San Cristóbal – the 1,000ft island hill famous for its towering statue of the Virgin Mary.
Few deserts rival Chile's remote Atacama Desert – the oldest and driest non-polar desert on Earth measuring 600 to 700 miles from north to south. Located mainly between the south bend of the Loa River and the mountains separating the Salado-Copiapó drainage basins, the average rainfall here is as low as 5mm each year. For adventurous souls and keen photographers, this lunar-like landscape impresses with Andean mountains, thermal pools, rust-coloured ravines, mineral-rich lagoons, wind-sculpted canyons, velvet dark starry skies, and salt flats. It's also home to a huge amount of bird species, including Andean Condors, Humboldt penguins, Chilean woodstars, and pink-hued Andean flamingos.
Translating as Moon Valley, this otherworldly landscape is part of the Cordillera de la Sal (Salt Mountain Range) belonging to the Los Flamencos National Reserve. A small depression of salt ground measuring 1,650 feet in diameter, it has four main hiking areas: Duna Mayor Viewpoint, Amphitheatre, Victoria Mine, Tres Marías, and Ckari Viewpoint. Expect a stark and barren stretch filled with unusual rock formations sculpted by centuries of wind and erosion. Due to its extreme dryness, this unique ecosystem is said to strongly resemble the moon (NASA tested its prototype Mars rover here during its 2018 season of field tests).
At an altitude of 4,320 metres, the geothermal field of El Tatio is within the Andes range and just metres from the Bolivian border. With 80 active geysers, it's the largest geyser field in the southern hemisphere and the third largest in the world. This spectacle of water and steam columns spouting from deep underground is best viewed as soon as the sun rises. We recommend wrapping up warm (bear in mind, once the sun rises the temperature will increase) and keeping your distance to avoid coming into contact with boiling water.
The only place in the world where you can watch northern Humboldt and southern Magellanic penguins nest side by side, this colony on Chiloé Island is best visited during breeding season (October to March). Declared a National Monument in 1999, it encompasses three rocky islets off the coast that are accessed by small boats if the weather's kind. You'll get to float near the colonies and spot a variety of seabirds, including kelp goose, cormorants, gulls, and sea otters.
Standing at a height of 2,652 metres, this conical stratovolcano set between Osorno Province and Llanquihue Province is in the Los Lagos Region of southern Chile. While 11 historical eruptions have been recorded between 1575 and 1869, it was most famously remarked upon when Charles Darwin watched the two-minute eruption whilst aboard HMS Beagle on 19 January 1835 (the main shock destroyed much of Concepción in just six seconds). Nowadays, the volcano is considered safe for hikers eager to catch a glimpse of the turquoise-blue Todos Los Santos Lake which is framed by mountains and forests and filled with pumas, foxes, river otters, and other wildlife. There's also a wealth of birds here, including the small hummingbird, black woodpecker, huala, kingfisher, common tagua, and eagle. 
Alerce Andino National Park
Established in 1982, this 970,000-acre reserve is spread over a peninsula east of Puerto Montt and makes up the northernmost point of Chile's 1700-kilometre Route of the Parks. Almost half its area is covered by alerce forest – the trees that carpet the mountain slopes, grow to 60 metres in height, and live for over 4,000 years. The park is ideal for hiking along marked trails, birdwatching (keep your eyes peeled for black-necked and coscoroba swans), and spotting Chilean deer, cougars, vizcacha, and monitos del monte. The rainfall here is exceptionally high (approximately 157 inches annually), so we recommend packing waterproofs and boots as you're likely to encounter muddy trails.
As Chile's most colourful and charismatic port city and UNESCO World Heritage Site, Valparaíso (simply known as Valpo) is best known for its 45 hills, old-style funicular railways, and incredible street art and graffiti. Highlights include strolling around the bustling harbour, learning about the Chilean navy at the National Maritime Museum, and spending time at La Sebastiana – the former home of Nobel Prize-winning Chilean poet, Pablo Neruda. Further thrills include exploring the winding alleys of Cerro Concepcion, strolling around the bohemian-stye Paseo Dimalow neighbourhood, and relaxing on Playa Torpederas – the city's most scenic beach located at the end of Altamirano Avenue.
A remote and mysterious isle in the middle of the Pacific Ocean, Easter Island (Rapa Nui to native Polynesians) is home to the moai – huge rock-carved statues of bizarrely-shaped human heads whose purpose have been lost in the mists of time. Standing up to 10 metres tall these towering figures are believed to have been erected between 1250 and 1500. Over the centuries they've witnessed the Rapa Nui people survive civil war, famine, environmental collapse, slave raids, and contact with colonial powers. Nowadays, Easter Island is a protected national park and UNESCO World Heritage Site attracting hundreds of thousands of visitors each year.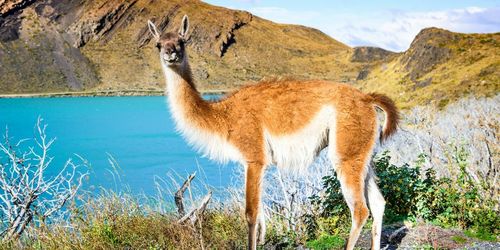 Chile Uncovered
Accommodation: Various partner hotels
Departing: 2 Oct 2023, 12 nights
Price from: £4,299pp excl. flights
Call 020 3974 8865 or click here to book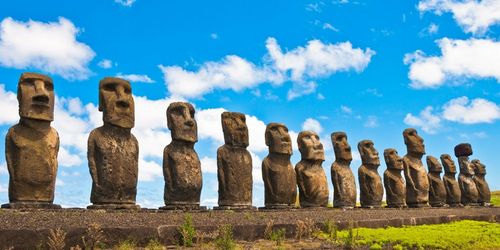 Chile Uncovered & Easter Island
Accommodation: Various partner hotels
Departing: 2 Oct 2023, 18 nights
Price from: £5,850pp excl. flights

Call 020 3974 8865 or click here to book