Details
Reading time: 3 - 5 minutes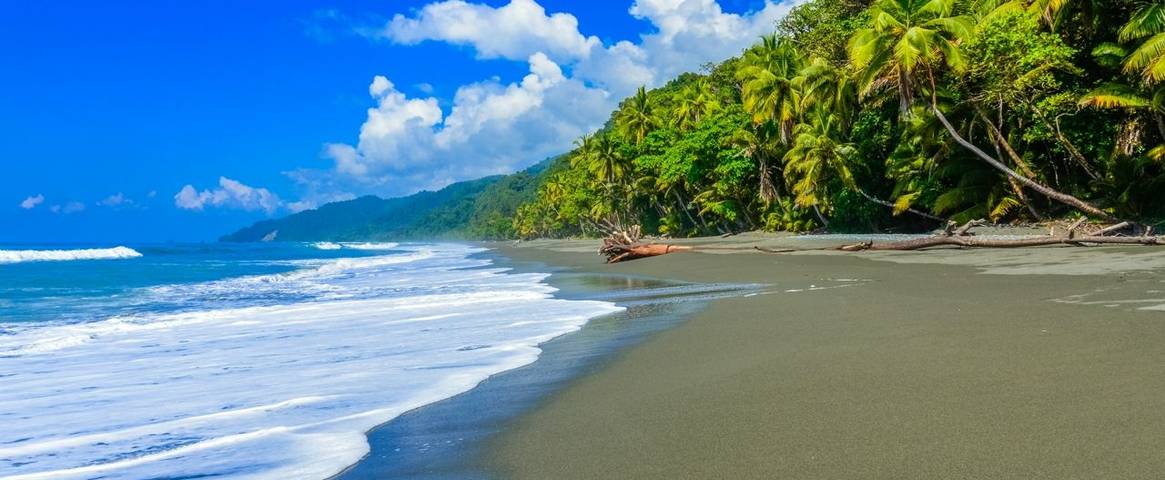 Located at the exact centre of the Americas, Costa Rica is the tiny republic that packs a huge punch when it comes to misty rainforests, smoking volcanoes, sublime beaches, and amazing wildlife. Home to an incredible 6.5% of the world's biodiversity, it's nature's perfect playground. Whether you're an adventurous spirit or looking for peace and relaxation, here's some unmissable experiences in this eco hotspot.
Marvel at Costa Rica's most photogenic volcano
Of all Costa Rica's smoking hotspots, the colossal Arenal Volcano gets the love for looming large over the green hillsides surrounding its base. At a staggering 5,357-feet tall, this active stratovolcano is approximately 7,500 years old – but still considered a newcomer compared to other big-name giants. It last erupted in 1968, burying three small villages (Tabacón, Pueblo Nuevo, and San Luís), destroying 232 square kilometres of land, and killing 87 people. Thankfully, it now sits at rest and volcanologists don't anticipate any high levels of activity anytime soon. 
Explore Arenal Volcano National Park
Once you're done gazing at the volcano, spend time at the 29,692-acre Arenal Volcano National Park located within the larger 504,094-acre Arenal Conservation Area – an area that protects some 16 reserves between the Tilarán and Guanacaste mountain ranges. There's plenty to keep you busy here: hiking trails of varying lengths, hot springs, rivers, waterfalls, and striking surrounds. It's also equally rewarding on the wildlife front, too. Keep your eyes peeled for deer, sloths, jaguar, tapir, white-faced capuchin monkeys, and various snakes.
Discover the Caño Negro Refuge
Located near the Nicaraguan border, this ecologically-rich area was declared Costa Rica's first RAMSAR (Wetlands of International Importance) site in 1991. Not only is it a key migration route for birds coming from the north, but it provides habitats for thousands of resident species including the glossy ibis, black-necked stilt, American widgeon, northern shoveler, black-bellied whistling-duck, and green-backed heron. The refuge is also home to over 5,000 animal species (including three species of monkeys), over 1,000 plant species, and a series of lagoons, rivers, swamps, and marshes.
Hike through Rincón de la Vieja National Park
As part of the UNESCO-listed Guanacaste Conservation Area since 1999, this eco-adventure hotspot in the north-west region of Costa Rica thrills with wetlands, cloud forests, mangroves, hot springs, boiling mud pits, freshwater lagoons, and one of Central America's largest remaining tropical dry forests. It's also the home to several endangered or rare plants as well as multiple species of birds, reptiles, amphibians, and mammals. Also worthy of your attention is Rincon de la Vieja Volcano – Costa Rica's third most active and the largest in the Guanacaste province with an elevation of 1,895 metres.
Relax on one of Guanacaste's stunning beaches
It's all postcard-worthy beaches in Guanacaste, the province bordered by Nicaragua in the north and the Nicoya Peninsula in the south. With the Pacific Ocean as a glistening backdrop, some of our favourite sandy spots include Playa Conchal for its pink sands and perfect swimming waters, Playa Avellenas for its white sands and huge waves during peak surfing season, and Playa Langosta for its rocky shoreline and coastal landscape.
Visit Las Pumas Wildlife Sanctuary
Of the six species of wild cat in Costa Rica, five can be seen at this not-for-profit sanctuary founded in 1960 by Swiss environmentalist Lilly Bodmer and her husband, Werner Hagnauer. Their aims were simple; to rescue, rehabilitate, and release (where possible) animals to the wild. Lily and Werner passed away in 2001 and 2015 respectively, but the shelter is still run by the family (the Hagnauer Foundation was set up in their honour in 2003). The centre provides a safe haven for jaguars, pumas, ocelots, margays, and jaguarundis as well as injured or orphaned monkeys, badgers, turtles, and birds. 
Spend time at Santa Rosa National Park
As Costa Rica's first official national park, this 94,000-acre landscape protects some of the world's last remaining tropical dry forest. While most revered as the site of the 1856 Battle of Santa Rosa – the most important military victory in Costa Rica's history – this is also where you'll find excellent hiking trails, two sea turtle nesting beaches (Naranjo and Nancite), a wide range of habitats, interesting flora and fauna, and a history museum. It's also home to over 250 bird species, including the parrot, parakeet, raucous white-throated magpie jay, and more. 
Be wowed at Pierella Ecological Garden
Of the 1,500 species of butterfly native to Costa Rica, 69 are bred at Pierella Ecological Garden – a conservation project founded in 1995 by William Camacho on a 20 metre-square patch of farmland. Once he learned that breeding butterfly pupae for export was a valid career choice, he began the laborious task of cultivating feed plants, attracting butterflies, gathering eggs, raising caterpillars, and then harvesting the pupae. The result is a stunning butterfly garden with the perfect balance of sunlight, wind shelter, and nectar-rich host flowers. Here you'll get to tour the gardens, learn about the incredible life cycle of a butterfly, and much more.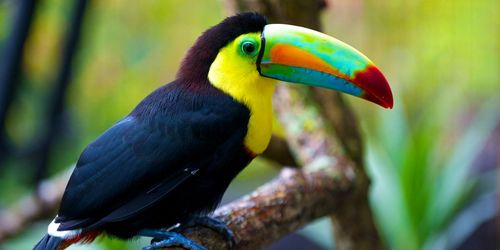 Jungles & Volcanoes of Costa Rica
Accommodation: Various partner hotels
Departing: Nov-Dec 2023, 11 nights
Price from: £3,299pp excl. flights
Call 020 3974 8865 or click here to book