Details
Reading time: 3 - 6 minutes
Living up to its 'Little Switzerland' moniker for its alpine-like setting in the Shropshire Hills, the market town of Church Stretton has plenty to please. So it's easy to see the appeal of Longmynd House, our characterful characterful property within easy distance of showstoppers such as the Stiperstones, Caer Caradoc, Ironbridge Valley of Invention, and the Long Mynd itself. Here's what makes staying here such a treat.
Built in 1900, this Church Stretton landmark opened as The Hydropathic Hotel in July 1901 at a cost of £20,000. It was hyped as a glamorous addition to the flourishing spa town, not least for its nine acres of land, dormer windows, fine pitched roof, healing waters from the saline spring five miles away, and interior furnishings by Heal's of London (then known as Heal and Son Limited). However, in spite of its ambitions, the venture was not a commercial success.  
Renamed the Longmynd Hotel soon after, the building became the WWII headquarters of St. Dunstan's - a charity for blinded ex-service personnel (now Blind Veterans UK). Classrooms and a machine shop were set up to train approximately 700 men and women on lathes, presses, routers, and upholstery equipment in the hope they would find post-war employment in manufacturing. You'll notice a blue plaque commemorating this historic period at the entrance, installed during the charity's centennial year in 2015.  
Part of our HF Holidays line-up since 2012, the property enjoyed a £1.2 million makeover 2023. Works include external design touches that give a nod to the building's Edwardian past, decorating public areas, and creating an open-plan lounge area complete with a floor-to-ceiling window offering stunning views of the Stretton Hills. Plans are also in place for guest room refurbishments using British-made carpets and soft furnishings.  
Open from January to December and during the festive season, Longmynd House has 51 well-appointed guest rooms in two categories: Classic and Premium. There's also a licensed bar and a large dining room serving dishes made with fresh and seasonal ingredients alongside beautiful views across the Stretton Valley.  
Elsewhere, there's several comfortable lounges, a handy boot and drying room, books and games to borrow during your stay, and a Discovery Point offering a wide range of easy-to-follow routes and maps for self-guided walks. The extensive grounds include an animal-themed woodland sculpture trail crafted by chainsaw sculptor, Dave Bytheway. 
Given that the Shropshire Hills National Landscape covers almost a quarter of the county, the scenery is every bit as outstanding as you'd imagine. You'll be just a 10-minute walk from Church Stretton, the market town with dramatic hills on both sides of the valley. It has retained much of its Edwardian charm, tempting with independent shops, traditional tea rooms, family-run pubs, and plentiful mountains and valleys. It's also within easy distance of Long Mynd – the large and long plateau that stands between the Stiperstones to the west and the Stretton Hills and Wenlock Edge to the east, reaching its highest point of 1,595ft (486m) at Pole Bank. Owned mostly by the National Trust since 1965, this area of registered common land has been cared for by a group of farmers (the self-named commoners) who have grazed sheep and ponies here for generations. 
All well-worn trails and timber-framed villages cut through by the River Severn, Shropshire is rich in rural splendour. For walkers, highlights include the Three Stretton Hills – a trail that lets you conquer a trio of peaks in a single day: Ragleth Hill, Caer Caradoc Hill, and Hope Bowdler Hill. You can also walk around the lower slopes of the iconic Wrekin, along tracks through the ancient Royal Hunting Forest, and through beautiful countryside to the UNESCO-listed Ironbridge Gorge. Equally inspiring for walkers are the mineral-rich Marches, the quartz ridges of Stiperstones, and Mitchell's Fold – a Bronze Age stone circle where legend states that King Arthur drew Excalibur from a stone. 
Whether you're enjoying one of our guided or self-guided walking holidays, there's plenty to see and do within easy travelling distance of Longmynd House. Here's some of our favourites:
Ironbridge Valley of Invention: a 45-minute drive away this collection of award-winning museums stretches along the River Severn. All are within six square miles of the UNESCO-listed Ironbridge Gorge, hailed as the birthplace of the Industrial Revolution. 
Much Wenlock: a 30-minute drive away, this small Shropshire town was the birthplace Dr William Penny Brookes – the founder of the modern Olympic Games. Must-see are the remains of Wenlock Priory, the side of an Anglo-Saxon monastery founded in about AD 680. 
Attingham Park: a 25-minute drive away, this 18th century estate with 200 acres of parkland is managed by the National Trust. The Mansion has an evolving visitor programme and different areas of the house open throughout the year.
Powis Castle: a 45-minute drive away, this 13th century castle, world-famous garden, and historic collection has been cared for by the National Trust since 1952. The paintings, sculptures, furniture, and tapestries on display throughout the house are rather impressive. 
Severn Valley Railway: operating steam-hauled passenger trains between Bridgnorth, Bewdley, and Kidderminster, this 16-mile journey takes you along the beautiful Severn Valley. The nearest station at Bridgenorth is a 40-minute drive from Church Stretton. 
Chirk Castle: occupied as a castle and stately home for over 700 years, this fine medieval hilltop fortress is just under an hour's drive away. Highlights include the military displays, elegant state rooms, and award-winning gardens covering 5.5 acres of manicured lawns. 
Ludlow: just 20 minutes' drive from Longmynd House, this attractive market town rewards with its historic centre, beautiful period buildings, and a castle dating back to the 11th century. Visit-worthy places include St. Laurence's Church, Ludlow Museum, and Ludlow Millennium Green. 
Shrewsbury: a 30-minute drive away, Shropshire's county town charms with an imposing redbrick castle, higgledy-piggledy streets, and quirky buildings. Be sure to tick-off a visit to Shrewsbury Museum & Art Gallery, relax in the 29 acres of parkland at Shrewsbury Quarry, and follow the Darwin Town Trail. 
Hereford: an hour's drive away, this attractive cathedral city is home to the famous Mappa Mundi, a medieval map of the world dating from the 1300s. Further highlights include the Chained Library, the Black and White House Museum, and the life-sized Hereford Bull Statue.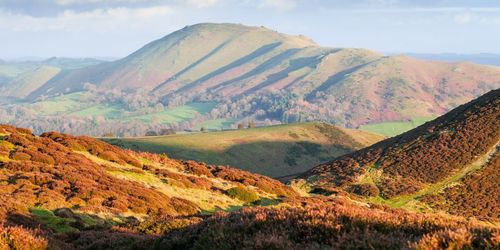 3-night Shropshire Hills Guided Walking
Accommodation: Longmynd House, Church Stretton
Departures: Mar-Oct 2023, 3 nights
Price from: £419pp
Call 020 3974 8865 or click here to book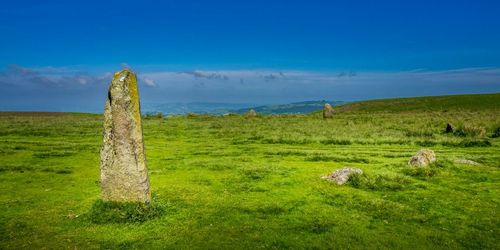 A Shropshire Way Guided Trail
Accommodation: Longmynd House, Church Stretton
Departures: May-Aug 2023, 7 nights
Price from: £1,149pp

Call 020 3974 8865 or click here to book