Details
Reading time: 2 - 4 minutes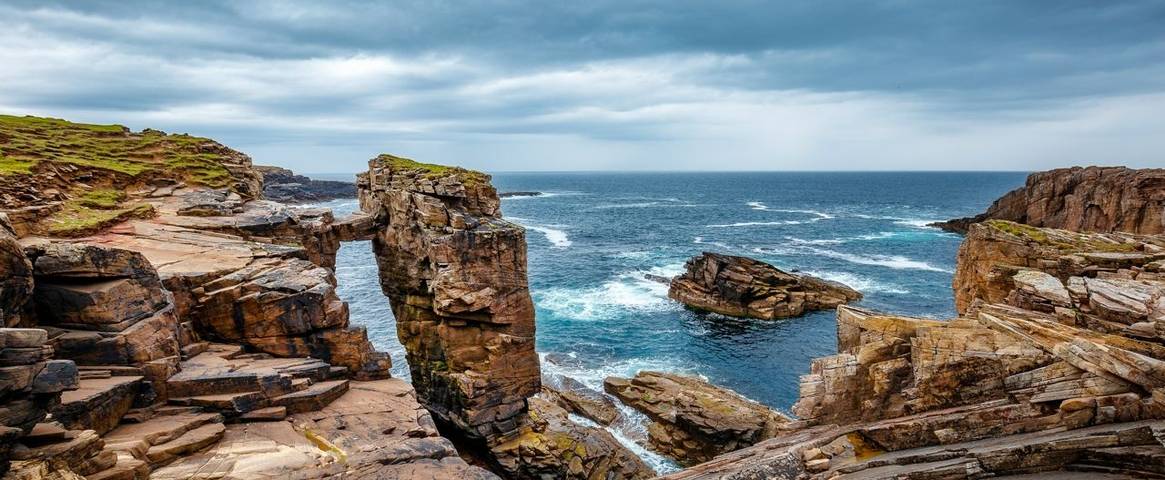 Scattered off the northeast coast of Scotland, Orkney and the Shetland Islands are staggeringly beautiful. In a land that's been largely tamed, they remain rare unspoiled outposts of big skies, squawking seabird colonies, rugged coastline, and remote beauty. Fiercely independent and sprinkled with Scandinavian tradition, this pair of wild windswept archipelagos fly under the radar for many – but that deserves to change. Here's why.
A tale of two archipelagos
Though collectively known as the Northern Isles, Orkney and Shetland are distinctly different. Both were part of the Kingdom of Norway until the 15th century when they were gifted to King James III of Scotland. Orkney, being just a skip away from the Scottish mainland, adopted many of the customs of their new rulers. Shetland, however, is closer to Norway than it is to Edinburgh - and Scandinavian ties are still celebrated today. The annual Up Helly Aa festival sees Shetlanders go full Viking by burning longboats, adorning horned helmets, and electing a Jarl (Norse for Earl).
With a combined population of less than 50,000 people, these barely tamed isles are one of the few places in Britain you can experience a stunning seabound landscape in near total solitude. You can walk for hours here with only the sound of crashing waves for company, leaving you free to contemplate incredible coastal scenery in peace. Highlights include Orkney's clifftop coastal walk from Marwick Bay to the Brough of Birsay, the spectacular red sandstone sea stacks at Yesnaby, and Shetland's magnificent granite coastline around Muckle Roe. 
Despite the occasional lashing from the North Sea and the Scottish weather, there are some benefits to inhabiting one of the most remote corners of the British Isles. Walks here come with the bonus of brilliant wildlife watching opportunities. Orkney's Marwick Head RSPB reserve will have bird watchers twitching with excitement at the prospect of spotting arctic and great skuas as well as guillemot, razorbill, kittiwake, fulmar, purple sandpiper, and more. Over on Shetland, thousands of rare seabirds flock to RSPB Sumburgh Head every year, while colonies of common and grey seal spend autumn in the waters off the Eshaness peninsula.
Norsemen weren't the first to settle on these shores, far from it. In fact, Orkney is home to some of the most treasured Neolithic sites in Europe. Built from huge sandstone blocks over 5,000 years ago, Maes Howe is a mysterious tomb that aligns perfectly with the winter solstice – testament to an advanced knowledge of astronomy by its architects. Then there's Skara Brae, another remarkable feat of ancient engineering that predates the pyramids of Egypt and even Stonehenge. Together with the Ring of Brodgar and the Standing Stones of Stenness, they form the Heart of Neolithic Orkney UNESCO World Heritage Site. Entry and visits to all four are included on our Orkney and Shetland Guided Island Hopping holiday. 
When the weather is less than kind and you're ready to relax, there's no better feeling than cosying up somewhere comfortable. On Orkney, we've had a long love affair with the family-run Merkister Hotel, not least for its enviable setting on the shores of Harray Loch. It's just six miles from Skara Brae and has an award-winning restaurant overlooking the loch that serves outstanding Scottish seafood and Aberdeen Angus beef. In the Shetlands, it's all about Busta House. A 16th century laird's manor, this remotely located hotel has bags of historic charm plus a well-stocked whisky selection. And on a clear night you can gaze up at the starry skies and search for the swirling ribbons of neon green, pink, and purple known as the northern lights.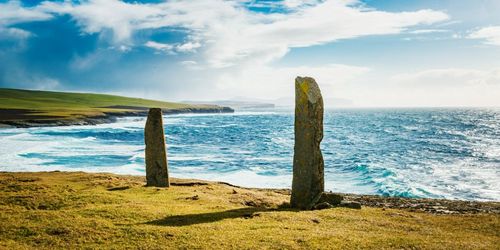 Orkney Guided Island Hopping
Accommodation: The Merkister Hotel, Orkney (HF Holidays partner accommodation)
Departing: May-Sept 2023, 7 nights
Price from: £1,499 (excl. flights)
Call 020 3974 8865 or click here to book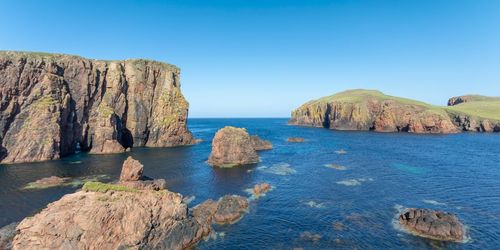 Orkney & Shetland Guided Island Hopping
Accomodation: Various partner accommodation
Departing: April-Sept 2023, 7 nights
Price from: £1,659 (excl. flights)
Call 020 3974 8865 or click here to book