Details
Reading time: 2 - 3 minutes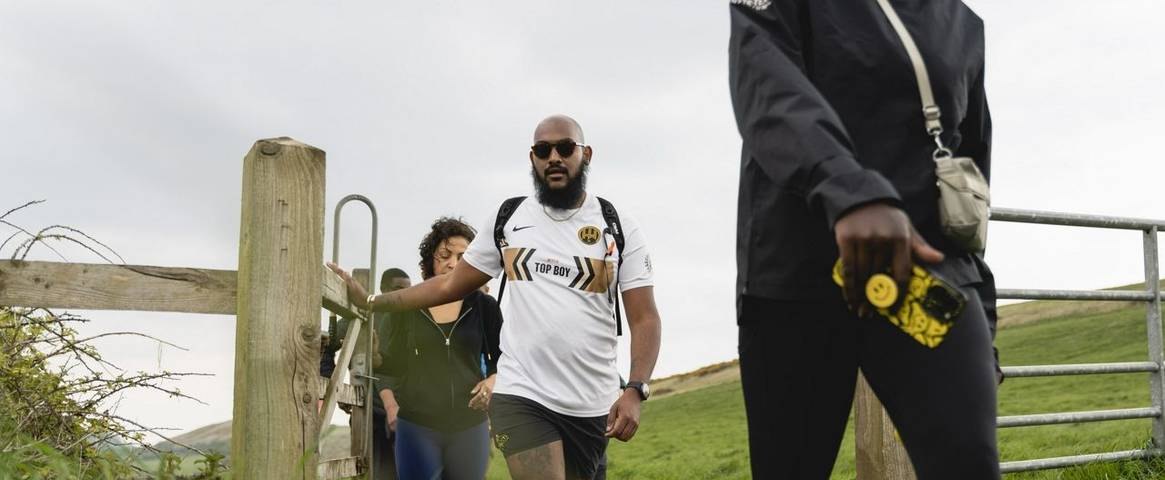 HF Holidays hosts successful second Outsiders Summit at Lulworth Cove on the Dorset coast
Lulworth Cove was the chosen location for the second Outsiders Summit - a unique opportunity for outdoor community group leaders from different cultures to come together and share their experiences. The event is a joint Outsiders Project and All the Elements initiative supported by HF Holidays and Patagonia. 
The Outsiders Project and All the Elements formulated a plan for the event to bring together outdoor community group leaders working to increase access and representation for people of colour in the UK outdoors at the inaugural Outsiders Summit in September 2021 at Derwent Bank. 
Supporting the summit with HF Holidays renowned hospitality provides us with brand exposure to a new and diverse audience of people. 
HF Holidays hosted the second event at Lulworth Cove in April 2022, where representatives from eight outdoor community groups included Ultra Black Running, Black Trail Runners, Swim Dem Crew, and Clmbxr. Changemakers also represented nature connection, art in nature, watersports, and polar exploration. We also welcomed representatives from National Governing body, British Canoeing, and the Association of British Climbing Walls.  
The event was a great success and a platform to give speakers and guests the opportunity to champion their inclusion strategies in an open forum and shine the spotlight on barriers faced by those who feel their voices are not being heard. 
Here's some lovely words from The Outsiders Summit 2022 participants
"Growing up, I always struggled with feeling like an outsider – this weekend, I felt right at home. An absolute pleasure to spend the weekend with such a beautiful, vibrant, energetic, and inspiring group of people." Adam Raja Campbel 
"It is not often that I have been in the outdoor environment and not been the minority. This weekend I was not the minority and it felt comforting." Preet Chandi 
"Both Phil and I had experienced living and working as people of colour in the outdoor sector pre-2020, we had both talked and written publicly about the subject of diversity in the outdoors, the next logical step forward was setting up The Outsiders Summit." Soraya Abdel-Hadi, All The Elements Founder 
We're looking forward to once again hosting the Outsiders Summit in 2023 - watch this space!