Details
Reading time: 3 - 6 minutes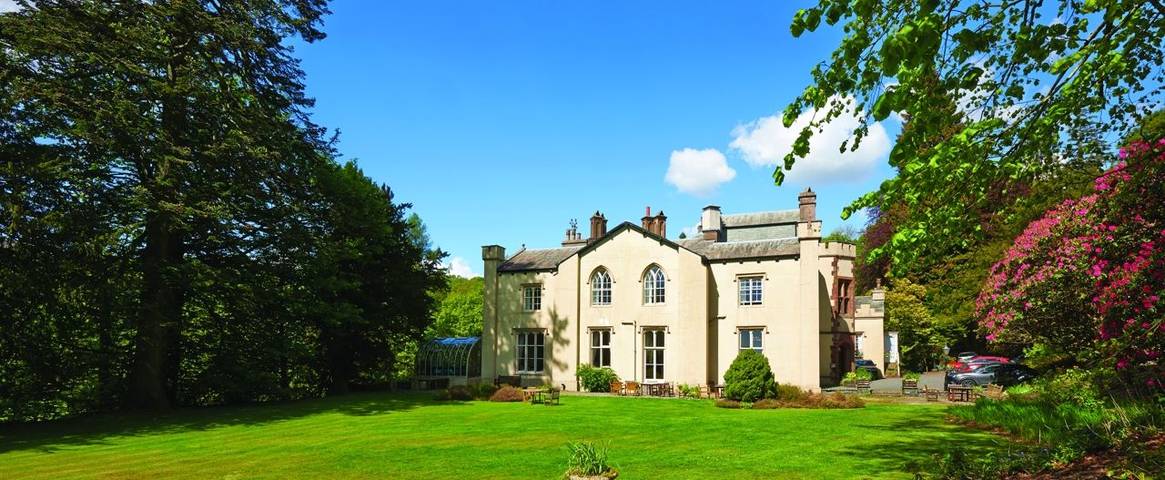 For woodland walks from the doorstep, décor that stays true to the period feel, and plenty of Beatrix Potter references, our characterful Grade II-listed house overlooking Coniston Water is a delight. It also ticks the boxes for natural wonders, especially for those keen to discover beauties such as the Langdales and the Old Man of Coniston. Here's what makes staying at Monk Coniston so fabulous.
Known as Waterhead House and later as Monk Coniston Hall, this Gothic-stye property dates from the 1770s. Successively the home of the Harrison, Ford, and Knott families, the 4,000-acre estate was purchased by wealthy Leeds industrialist James Marshall in 1836. Not only did Marshal hugely extend and improve the property, but it was his idea to join three smallish ponds in a boggy valley to create Tarn Hows – now a Lake District classic. He spent much time at Monk Coniston, pursuing his life-long interest in geology and entertaining eminent friends such as Thomas Carlyle, Adam Sedgewick, Alfred Tennyson, John Ruskin, and Lewis Carrol.  
However, family fortunes declined and in 1926 Monk Coniston Hall and its gardens were sold to Wigan businessman, John Perry Bradshaw. The rest of the estate, including Tarn Hows and several farms, was then bought by children's author and illustrator, Beatrix Potter, for £15,000 in 1929. While she did not at any stage live at the house (her beloved home was Hill Top, bought in 1905 with the royalties from The Tale of Peter Rabbit), she worked closely with the National Trust and helped to acquire land and manage farms to ensure long-term preservation. 
Beatrix immediately sold half the estate at cost price to the National Trust, who bought the land with a generous donation made by Sir Samuel Scott of Windermere. The rest of the land passed to the organisation after her death in 1943. In 1945, the National Trust purchased the hall and gardens from John Perry Bradshaw's widow, reuniting the estate once more. It has been part of our HF Holidays line-up since 1945. 
Open March to November and during the festive season, there's 30 well-appointed guest rooms in three categories: Classic, Premium, and Superior. You'll also find a hidden walled garden, putting green and croquet lawn, a converted barn with exposed beams, a minstrels' gallery, plus a handy boot and drying room. 
Elsewhere, there's a licenced bar alongside a spacious dining room for a wide range of dishes made with fresh and seasonal ingredients. Extensive gardens enjoy views over Coniston Water and include an arboretum with a collection of conifers – some planted in the early 19th century. The Discovery Point offers easy-to-follow routes, maps, and local information for self-guided walks. Other facilities include free on-site parking and electric vehicle charging points. The large oil canvas of Beatrix Potter in the hallway at the bottom of the main stairs painted by her brother, Walter Bertram, adds a nice touch. 
As you'd expect, there's a wealth of dramatic landscapes to explore. Monk Coniston overlooks Coniston Water, the fifth-largest lake in the Lake District after Windemere, Ullswater, Derwentwater, and Bassenthwaite. There's a direct path from the house to
Coniston, the village that owes its prosperity to its copper mining and slate quarrying heritage.  
Most irresistible to walkers and hikers are the well-marked trails to the 2,633-foot-high summit of the Old Man of Coniston for views that include much of the southern Lake District, Morecambe Bay, Blackpool Tower, Winter Hill, the Lancashire coast, and, on a clear day, all the way to the Isle of Man. 
Further thrills include Grasmere for its William Wordsworth connections at Allan Bank and the 17th century Dove Cottage. Equally visit-worthy is the man-made Tarn Hows for its 1.5-mile path around the lake (this has been well maintained by the National Trust and is suitable for wheelchair users). 
Whether you're enjoying one of our guided or self-guided walking holidays, there's plenty to see and do within easy travelling distance of Monk Coniston. Here's some of our favourites: 
Steam Yacht Gondola: managed by the National Trust, this restored steam-powered yacht on Coniston Water was built by the Furness Railway Company in 1859. It stops at the Monk Coniston jetty at the bottom of the meadow below the house and calls at Coniston and Brantwood House. 
Brantwood House: a couple of miles away, this 250-acre Lakeland estate was once home to English writer, philosopher, art critic, and social revolutionary, John Ruskin. The eight beautiful gardens were created by Ruskin, his cousin Joan Severn, and head gardener Sally Beamish. 
Blackwell House: designed by esteemed architect Mackay Hugh Baillie Scott between 1898 and 1900, this Grade I-listed building is one of the UK's finest examples of Arts & Crafts architecture. Don't miss the well-preserved interiors and the formal terraced garden. 
Grizedale Forest: set right in the heart of the Lake District between Windermere and Coniston, this vast woodland is perfect for walking, mountain biking, and swinging through the trees on a Go Ape course. There's also a visitor centre with a gift shop, tearoom, and playground. 
Levens Hall & Garden: a 50-minute drive away, this privately-owned Elizabethan mansion is cherished for its award-winning topiary gardens – the oldest in the world. Inside, there's fine oak panelling, ornate plasterwork, leather wall coverings, and the earliest examples of English patchwork. 
Windermere: the largest natural lake in England, this watery wonder measures 10.5 miles long, one mile wide, and 220 feet deep. Ferries connect Ambleside in the north to Bowness and Lakeside in the south, where you can board the Lakeside and Haverthwaite Railway. 
Ravenglass & Eskdale Railway: known locally known as La'al Ratty meaning 'little railway', this is one of England's oldest and longest narrow-gauge railways dating back to 1873. A trip here can easily be combined with a walk over Muncaster Fell or to the Stanley Ghyll Waterfall.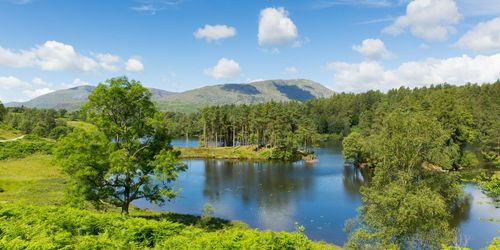 7-night Southern Lake District Guided Walking
Accommodation: Monk Coniston, Coniston
Departures: May-Nov 2023, 7 nights
Price from: £875pp
Call 020 3974 8865 or click here to book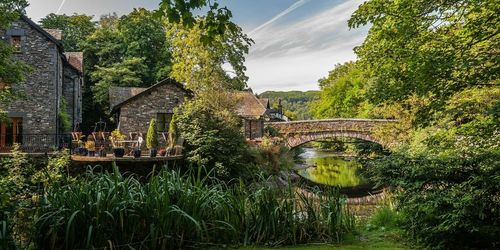 3-night Southern Lake District Walking with Sightseeing
Accommodation: Monk Coniston, Coniston
Departures: May-Sept 2023, 3 nights
Price from: £489pp

Call 020 3974 8865 or click here to book