Details
Reading time: 2 - 3 minutes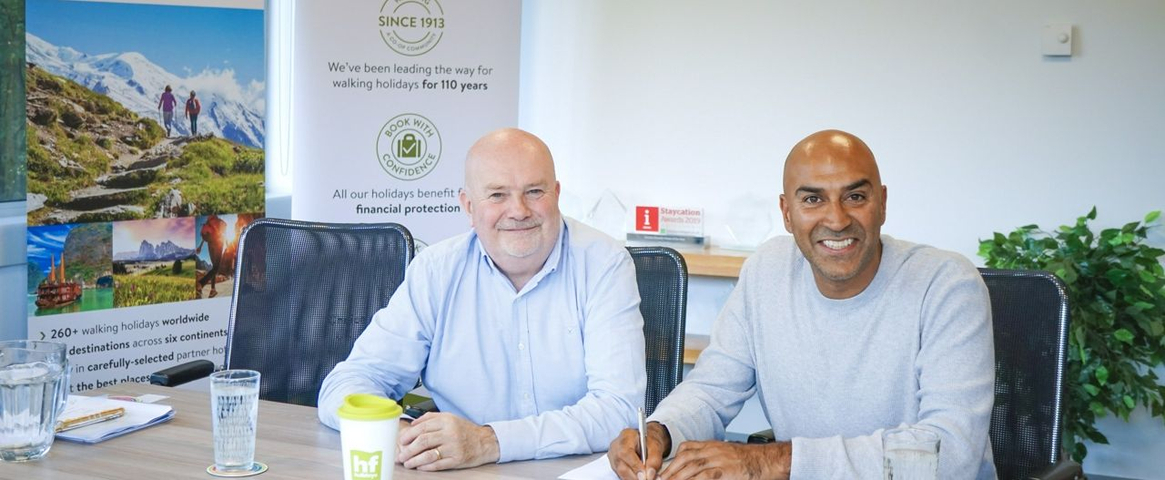 Introducing our partnership with world-unique tour operator Traveleyes
We're delighted to announce that we will be partnering with world-unique tour operator, Traveleyes, to open up group travel to blind and visually-impaired travellers.   
From spring 2024, HF Holidays will power Traveleyes itineraries in the UK, Europe, and worldwide to offer a range of exciting new adventures and shared travel experiences for both blind and sighted people, travelling together.     
Our CEO, David Harrington, said: "We are honoured to join forces with Amar Latif and his company, Traveleyes, to continue their groundbreaking work in challenging preconceptions surrounding vision-impaired travel and provide greater inclusivity to travel experiences. Here at HF Holidays, we are excited to learn from operating, and powering the Traveleyes product, whilst providing our group walking holiday expertise to Traveleyes." 
World-unique experiences
Traveleyes is an award-winning, world-unique commercial tour operator founded in 2004 by entrepreneur and television presenter, Amar Latif, OBE, who had lost 95% of his sight by the age of 18. Amar, established Traveleyes to allow blind and visually impaired holidaymakers from all over the globe to explore the world with freedom and independence.
Connecting like-minded travellers
Amar Latif, OBE, founder of Traveleyes, said: "I wanted to create holidays with a difference for both blind and sighted travellers to engage and stimulate all the senses. With Traveleyes, fully-sighted travellers guide and describe the sights for our visually impaired holidaymakers and in return they enjoy an enriching, sociable and sensory holiday experience. I'm delighted about our partnership with HF Holidays which means that Traveleyes continues to move forward and expand, opening up more of the world to all our travellers and helping them create more shared memories whilst enjoying the HF Holidays' ethos of fun, friendship, fellowship and fresh air." 
Traveleyes assures a one-to-one personal descriptive guide for vision impaired travellers at every stage of the trip plus the chance to make new blind and sighted friends from all walks of life and sighted travellers simply share their sight by describing the wonderful world around them to a different blind traveller each day. No experience is needed of blindness and, as an added benefit, Traveleyes subsidise the cost of the holiday for sighted customers by up to 50%. Traveleyes holidays have proven to be incredibly enriching experiences for sighted travellers, enticing them to return time and time again.
Here's to the next exciting chapter of Traveleyes and HF Holidays
Traveleyes phone systems will be operational for enquiries from Friday 1 December, and our holidays for 2024 will be ready to book from Tuesday 12th December 2023.
Whether you're travelling solo, with a partner, family member, or friend, together with Traveleyes, we cannot wait for you to join us on a meaningful and memorable holiday.   
To stay up to date with this latest news on this exciting new chapter for Traveleyes and HF Holidays sign-up at traveleyes-international.com   
Hear from Amar Latif, OBE, on the new partnership with HF Holidays