Details
Reading time: 2 - 4 minutes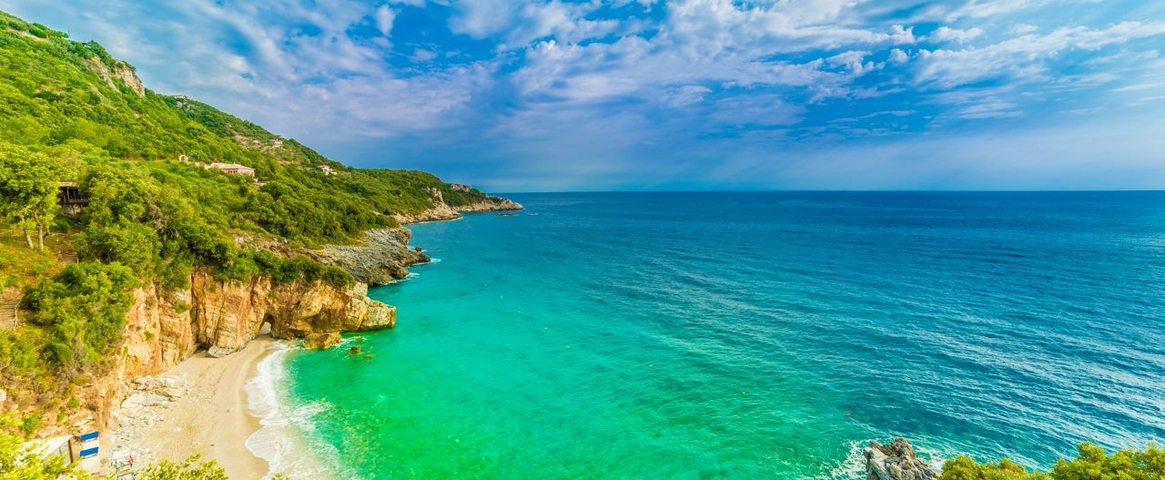 Few things spark wanderlust like a stunning stretch of coastline. We've rounded up six European beaches that go beyond the typical sun, sea, and sand experience. From secluded coves and black sand beaches to shorelines strewn with ancient ruins, these blissful spots add an extra dimension to a day by the seaside.
A regular fixture on the list of Europe's 10 best beaches, Praia da Marinha is known for its steep cliffs, soft sand, and calm clear waters that are ideal for snorkelling. Situated along Portugal's famously beautiful Algarve region, photographs struggle to do it justice. Wooden stairs lead down to the shoreline where towering limestone rocks give the feel of a natural sculpture gallery backed by the Atlantic Ocean.
Set on Mallorca's northeast coast near Puerto Pollensa, this arch of white sand rewards visitors with sparkling waters, gorgeous views of the Tramuntana Mountains, and a touch of old school glamour. You'll find the Hotel Formentor nestled in the pine trees – the former holiday haunt of actors, writers, and politicians such as Audrey Hepburn, Charlie Chaplin, F. Scott Fitzgerald, Ava Gardner, Grace Kelly, Elizabeth Taylor, Sir Winston Churchill, and Agatha Christie. 
Southern Turkey's seaside resort of Side boasts two beaches. While West Side Beach is backed by a long line of hotels and luxury resorts, East Side Beach has been spared the shovels of developers thanks to the remarkably well-preserved ruins of the Temple of Apollo. When you're not busy sunning yourself on the sand or swimming in the turquoise waters, you can explore this 2,000-year-old seafront shrine which legend suggests was a gift from Anthony to Cleopatra.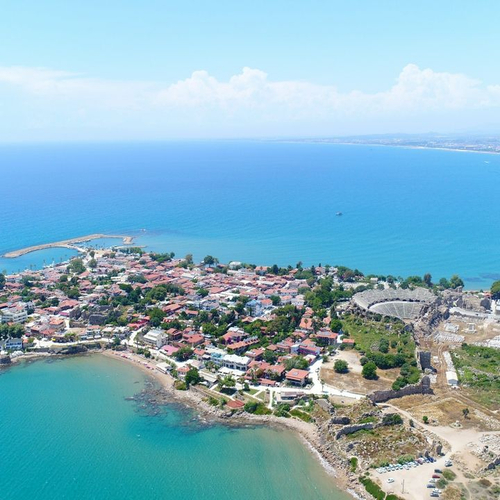 Tucked between two cliffs tumbling into the sea, it's safe to say Camara de Lobos is one of Madeira's most easy-on-the-eye spots. Other than a bathing area and a brand-spanking new prom, little has changed here over the years - it still maintains the feel of a typical fishing village. Praia de Vigário is the main seaside spot. This short stretch of shingle beach, just five-minute's walk from the centre of town, tempts with refreshing dips in the Atlantic and a popular seafood restaurant overlooking the coast.
A seductive swathe of pebble-dashed powder-white sand reaching out into the Adriatic, Zlatni Rat is Croatia's most popular and most photographed beach. Its strikingly unusual shape changes depending on the current and though it looks like a sandy beach it's actually made up of smooth, tiny pebbles that unfurl for half a mile on either side of the tip. This is also a great spot for windsurfing, jet-skiing, and stand-up paddle boarding. And when you want to find some lunch, the upmarket port of Bol is just a short stroll away.
Menorca moves at a different speed to its larger, louder, Balearic neighbours – and Cala Macarella is the ideal escape from the crowded beaches of Mallorca and Ibiza. Located on the island's southwest coast, getting there requires a two-mile hike along the cliffs from nearby Cala Galdana, or a drive down a rough and winding road from Ciutadella, followed by a 20-minute walk through a pine forest. But the promise of ultra-fine sand, sunshine, and a well-earned swim in the Med are well worth the effort.
You can visit all of the beautiful beaches featured in this blog on our fabulous range of European walking holidays. Check out our full range of European destinations here.